Found March 29, 2013 on The Phillies Blunt:
A few years ago, before I had a child and could afford to live a more raucous lifestyle, I worked in a well known Philadelphia music studio that had ties to all the Philadelphia sports franchises.  One afternoon we got a call from a member of the Phillies front office, looking to arrange a day of fun at the Martin Guitar factory for the once beloved, now despised, Raul Ibanez.  1 phone call, 2 emails, and a handshake later and it was all arranged; Mr. Ibanez was all set to tour the Martin plant. I'd like to tell you that Raul called me, personally, on my cell and said, "yo KA – I'm off this weekend, lets kick it."  I'd like to nonchalantly mention that he swung through the hood, we shredded for an hour or so (with J-Roll on the mic & Victorino on drums), before driving out to Martin for the tour, but it didn't happen that way.  That's not how it works. Baseball franchises are multi-million dollar businesses that take very good care of their products.  They have teams of people whose lives are dedicated to the lives of ballplayers.  They arrange activities, flights home, show tickets, and restaurant reservations, all while the athlete sleeps (more than likely with someone who is not their spouse).  And, one would imagine that there are really only two major criteria for getting such a cush-job; 1) know someone  with a lot of pull, and 2) know all the best places in town to wine, dine, and chill out. So how the **** does Ben Revere end up at Chickie's & Pete's, of all places, for a cheesesteak? And, how the **** does that cheesesteak come out with green and red **** on top of it?  What is that and how does that happen? When this photo first appeared on Ben Revere's twitter account, I gave him the benefit of the doubt.  The man had just arrived from Minneapolis, Minnesota and it doesn't get any more non-descript than that.  He spent the last year of his life in a city that is known for…wait for it… its lakes.  Do they even have food in Minnesota or do they just chew on cardboard for sustainance?  I was more than happy to overlook the lettuce and tomato indiscretion.  I was even willing to bite my tongue and not make a thing out of the fact that he went to Chickie's & Pete's for an overpriced, soggy, **** sandwich… Then, he told Doug Glanville that the thing he was looking forward to most, in Philly, was the famous Philly cheeseCAKE.  To make matters worse, he repeated himself.  He told Glanville, TWICE, that he was looking forward to the cheeseCAKE.  After realizing the severity of his mistake, Revere went back to Twitter in an effort to clear the air, but it was too late… Just relaxed I did say cheesecake instead of cheesesteak lol my bad PhillyI had a cheesecake on my mind haha.. — Ben Revere (@BenRevere9) March 27, 2013 It's no laughing matter, Ben.  You might want to consider eating a Geno's steak at home plate on opening day.  Furthermore, you may want to talk to the front office about ****-canning the dope that's in charge of feeding you, in Philly.  They're going to get you killed… or worse, salmonella. SW – Kevin Anderson
Original Story:
http://feedproxy.google.com/~r/thephi...
THE BACKYARD
BEST OF MAXIM
RELATED ARTICLES
Is 2013 the last time we'll see Chase Utley in a Phillies uniform? Last week, I was having a discussion with an old friend about the upcoming Phillies season when he posed a question to me: Do you re-sign Chase Utley after 2013? "Ask me in six months," was my concise, detached response. This type of exchange is not exclusive to my friend and me. All over the Delaware Valley...
During Friday's exhibition game at Citizens Bank Park between the Blue Jays and Phillies, CSN Philadelphia cameras caught a glimpse of Phillies Opening Day starter Cole Hamels in the dugout. Hamels, who sported a beard for most of the spring, shaved the beard off...but left his mustache, giving himself a stache that Tom Selleck would be proud of. Hopefully, the mustache sticks...
Cole Hammels and Cliff Lee took time firing hot dogs into the stands at Citizens Pank Ballpark on Friday. Hamels must have been so thrilled to fire the hotdog gun that he grew out a celebratory mustache. All jokes aside, Hamels will start the Phillies opener on Monday against the division rival Atlanta Braves. Cliff Lee will pitch the Phillies third game of the season after Roy Halladay...
Adams could be the best acquisition in the majors. (AP) Q: Which transaction by Ruben Amaro Jr. this offseason do you think will reap the greatest reward for the Phillies in 2013?  Jon Nisula: I think that Ruben's decision to send Darin Ruf back to the minors will help the Phillies the most in 2013. The move means that Domonic Brown will finally be given an opportunity to play...
Categories: BREAKING NEWS News PhilliesTags: PhilliesStarting Pitchers Cole Hamels: The ace of the staff. He's been sharp through out Spring Training, and should be primed for another big season. Also, he's grown one heck of a mustache. Cliff Lee: The team hopes the lefty will bounce back from a disappointing 2012 campaign and become a dominant anchor in the rotation once...
Today the Phillies announced their Opening Day roster. The usual players are there but there are a few surprises. For the third time in four years, the Phillies will carry a Rule 5 pick. Pitchers: Cole Hamels Roy Halladay Cliff Lee Kyle Kendrick John Lannan Jonathan Papelbon Mike Adams Antonio...
The Philadelphia Phillies will play in their final spring training game tonight at Citizens Bank Park against the Toronto Blue Jays. Their 25 man roster is set and they look ready to start the season. Here is their final exhibition lineup:
Cliff Lee finished up spring training by having a little fun. Soon after pitching four sharp innings against Toronto in his final tuneup, the Philadelphia ace teamed up with Cole Hamels and joined the Phillie Phanatic in shooting hot dogs into the stands. ''I asked if I could jump in there and get close to that action and see what it was all about,'' Lee said after...
The Phillies and Blue Jays squared off one more time this afternoon in the final game of spring training. Kyle Kendrick took the hill for his team with Josh Johnson on for Toronto. The Jays jumped ahead to an early lead in the top of the first after Jose Bautista...
MLB News

Delivered to your inbox

You'll also receive Yardbarker's daily Top 10, featuring the best sports stories from around the web. Customize your newsletter to get articles on your favorite sports and teams. And the best part? It's free!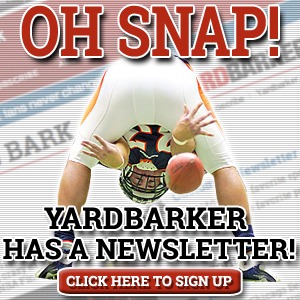 Latest Rumors
Best of Yardbarker

Today's Best Stuff

For Bloggers

Join the Yardbarker Network for more promotion, traffic, and money.

Company Info

Help

What is Yardbarker?

Yardbarker is the largest network of sports blogs and pro athlete blogs on the web. This site is the hub of the Yardbarker Network, where our editors and algorithms curate the best sports content from our network and beyond.