Found January 23, 2012 on Pirates Prospects:
For the first time ever, John Sickels of MinorLeagueBall.com has released a ranking of the top farm systems in baseball. Normally Sickels ranks the prospects for each team in the majors and leaves it at that. This year he went a step further to put a ranking on every system in the majors. The Pittsburgh Pirates finished 12th on his list. Go here to read the rankings.
Sickels started off with a disclaimer on the ranking process, and why he never ranked teams prior to this. He mentioned about how the end result of saying "the Athletics are 11th and the Pirates are 12th" is very subjective to the person doing the rankings. He also mentioned that he considers depth more than other analysts, which explains the ranking for the Pirates. His number one team, the Toronto Blue Jays, had eight players with a B-plus rating to headline their system. Following that they had eight more players with a B-minus rating. By comparison, the Pirates had Gerrit Cole rated an A, Jameson Taillon rated an A-minus, Josh Bell a B-plus, then two B's and three B-minuses.
The Pirates have the better system at the top. If you take the top five or six prospects and match them up, the Pirates end up better off than Toronto. But going beyond that, Toronto easily wins. A lot of publications seem to be top heavy with their analysis. I'd expect a top ten by Baseball America, and wouldn't be surprised with a top five ranking. Baseball America has focused more on the top of the system in the past, rather than taking the approach Sickels took by weighing the middle guys heavier.
The difference is that there is no difference. It all comes down to subjectivity, and what the person doing the rankings values. Both rankings tell the same story about the farm systems. If I'm correct on my guess for Baseball America's rankings, it will just illustrate what we know: the Pirates have a lot of impact talent at the top of the system. Sickels points out another thing that we know: the system isn't loaded with top talent in the middle like the situation with Toronto. There's a lot of guys who are rated C+ right now who have breakout potential, but right now we're still waiting on those players to break out.
Original Story:
http://feedproxy.google.com/~r/BuccoF...
THE BACKYARD
BEST OF MAXIM
RELATED ARTICLES
Starling Marte is the number seven outfield prospect, according to MLB.com. Jonathan Mayo of MLB.com released his top ten outfield prospects today, and had Pittsburgh Pirates outfielder Starling Marte on the list. Marte ranked seventh. Mayo cited Marte's Eastern League batting title in 2011, along with his increase in power as strengths. He also brought up that the Pirates could...
Follow me on Twitter @jim_krug Image credit amherst I know the majority of my articles are about Pirates' GM Neal Huntington, and the Pirates' much-maligned ownership in general.  I honestly don't set out to do so; I would love to write more positive stories about the Pirates, but: 1.  It can be trying to glean positivity from a team that's a lock to lose for the 20th straight...
Before I get into this post, I want to take a second to highly recommend Pirates Prospects' 2012 Prospect Guide. The 2011 version was invaluable to me when I was in Bradenton last spring and throughout the year as I tried to keep up with the Pirates' minor league system. The 2012 book is every bit as comprehensive. I can't imagine anyone anywhere knows more about the...
Pirates' Offseason Explained Here's a hilarious GM Neal Huntington quote pointed out to me by a friend, from an interview during the Winter Meetings: "We could have invested everything in one big blue-chip stock, or we could have invested it in a portfolio," general manager Neal Huntington said. "We decided to take the portfolio approach. Again, we wanted to fill the...
On this date in 1921 the Pittsburgh Pirates traded infielder Walter Barbare, outfielders Billy Southworth and Fred Nicholson, along with $15,000 to the Boston Braves in exchange for shortstop Rabbit Maranville. It was a lot to give up for one player, Southworth was an everyday outfielder who hit .284, Nicholson batted .360 in 99 games, Barbare was a solid backup infielder and all...
Not too many Pirates' players and friends left in the mix, as the four Caribbean leagues continue their championship series:   DOMINICAN LEAGUE   (best of 9) Aguilas Cibaenas  1,  Leones del Escogido  0 Los Aguilas earned their first win of the championship series, and took only 2 hits to do it.  In the bottom of the 1st, with two out and a walk, a single by RF Brandon Moss...
It's been a slow week for Pirates news and discussion, but the Bucs' minor league system has been getting some attention lately…and there's nothing else to talk about…so here goes: John Sickels of MinorLeagueBall.com ranked the Pirates' overall minor league system 12th in MLB. That's obviously not where we want it to be, but it is still a vast improvement over past...
Here's a two-tweet sequence from Jerry Crasnick on Friday:  Lefty Jeff Francis is starting to attract more interest from teams in the market for a starting pitcher. — Jerry Crasnick (@jcrasnick) January 20, 2012 The #Mariners, #Reds, #BlueJays and #Mets are among the clubs believed to be keeping tabs on Francis. — Jerry Crasnick (@jcrasnick) January 20, 2012 You...
Jonathan Mayo from MLB.com recently released his top 10 prospects lists for each position. 4 Pirates' farmhands made the cut. When it came to naming the top 10 right handed pitchers, Mayo rated 2010 1st round pick Jameson Taillon #3 and 2011 1st rounder Gerrit Cole #6. Taillon is expected to start off the season for Bradenton in the Florida State League after completing his first...
It seems like Joel Hanrahan has sacrificed some strikeouts for better control and to that I say "well done sir!" His strikeout rate in 2011 (22. K%) doesn't jump off the page like his previous high in 2010 (34 K%), but it's still better than league average and he's a much better pitcher for it. Just look at his improvements in ERA (1.83 down from 3.62), WHIP (1.05 down...
Don't look now, but second base is deep. Even with a disappointing 2011 season that still saw Neil Walker rank as the 119th best player overall, we didn't elect to rank him inside the top 125. That's not a knock on Walker, but rather an affirmation of the other talent at the position. Consider that this is the same position where you could draft Dustin Pedroia, Robinson Cano...
In a report for ESPN.com, BP's minor league reporter Kevin Goldstein lists 22-year-old Mets RHP Cory Mazzoni among 10 breakout prospects for 2012. The Mets selected Mazzoni with the 71st overall pick in the second round of last year's draft out of North Carolina State University. He then appeared in 12 games for St. Lucie and Brooklyn, during which he was 2-1 with a 1.38 ERA...
MLB News

Delivered to your inbox

You'll also receive Yardbarker's daily Top 10, featuring the best sports stories from around the web. Customize your newsletter to get articles on your favorite sports and teams. And the best part? It's free!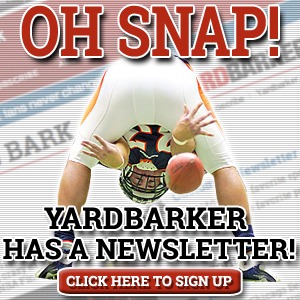 Latest Rumors
The Backyard

Today's Best Stuff

For Bloggers

Join the Yardbarker Network for more promotion, traffic, and money.

Company Info

Help

What is Yardbarker?

Yardbarker is the largest network of sports blogs and pro athlete blogs on the web. This site is the hub of the Yardbarker Network, where our editors and algorithms curate the best sports content from our network and beyond.