Found September 06, 2012 on Fox Sports Florida:
PLAYERS:
Elliot Johnson
,
Ryan Roberts
,
Derek Jeter
,
Matt Moore
,
Adam Jones
,
Ichiro Suzuki
,
Steven Pearce
,
Jayson Nix
,
Joe Maddon
,
Kyle Farnsworth
,
Jose Molina
,
Wade Davis
,
Jeff Keppinger
,
Hiroki Kuroda
TEAMS:
Tampa Bay Rays
,
Baltimore Orioles
,
New York Yankees
ST. PETERSBURG Elliot Johnson's face still bears the bruises and scrapes from an ill-fated slide into home last weekend. But the lingering marks were nothing compared to the hurt he felt on the inside Wednesday night or the painful loss he ultimately caused the Tampa Bay Rays. It was a triple-frown performance. Three costly miscues one with his bat, one with his glove and one with his arm added up to a 6-4 loss to the New York Yankees and kept the Rays from gaining valuable ground in the mad dash for the AL East title. When the dust settled, the Yankees had moved back into sole possession of first in the East with a record of 77-59, with Baltimore one game back at 76-60 and the Rays 2.5-games out of the lead at 75-62 trailing the O's and Oakland A's by 1.5 games in the Wild Card hunt. Johnson's solemn expression and quiet words told the story as stood by his locker facing a crowd of reporters and cameras in an otherwise silent clubhouse and recollecting a game he'd just as soon forget as a fill-in second baseman for starter Ryan Roberts His gaffes led directly or indirectly to five New York runs, and cost his team at least one. But Johnson did made one commendable play later on: Looking everyone in the eye and readily accepted the blame for an outcome that prevented the Rays from completing a sweep of the Yankees, snapped their winning streak at four and kept them from capitalizing on a loss Wednesday night by the other team they're chasing: the Baltimore Orioles, who fell 6-4 in Toronto. "You never want to be in one of these situations, and you never want to be that guy," he said. "But I'm a grown man. I can handle this sort of stuff. It's not something you ever want to do." There was his poorly executed squeeze bunt with one out in the bottom of the second that left runners stranded at second and third, deflating a golden scoring opportunity with Tampa Bay leading 1-0. There was his muffed chance to catch a Derek Jeter bloop to shallow center in the fourth, with rookie pitcher Matt Moore off to his finest start of the season. Johnson chased the ball down but allowed it to pop out of his glove, putting Jeter on first with none out and opening the door to a three-run New York rally. But the worst gaffe by far came in the top of the seventh after the Rays twice rallied from behind, tying the score 4-4. The Yankees had gotten to Moore with a pair of singles by Adam Jones (replaced by pinch-runner Ichiro Suzuki) and Steve Pearce. The runners then advanced on a sacrifice bunt by Jayson Nix, and Rays manager Joe Maddon proceeded to lift Moore for reliever Kyle Farnsworth to face Jeter. The infield was pulled in and Farnsworth got just the result he wanted: a routine grounder to second base. Johnson fielded the ball cleanly, but double-clutched for an instant, then threw the ball wildly to the third base side of the plate. The ball sailed past catcher Jose Molina, allowing Suzuki and Pearce to score what proved to be the decisive runs. "I knew Ichiro was running and the ball wasn't hit particularly hard," he recounted. "I heard Luke (Scott) yelling (to throw home) and I saw him coming down and did my best to get rid of it as quickly as I could and get it there as fast as I could. It was one of those plays where you don't want to throw it to the first base side of the plate because that just gives them an open lane, so I went to the third base side and went too far. It wasn't a good throw and two runs came inIt was the play that cost us the game." Maddon couldn't argue with that assessment. "We had everything set-up right there," he said. "Kyle does a great job, makes a perfect pitch to Jeter and we got the play we wanted. There was plenty of time to make the throw and get the out. It was all there for us, that's my point. That play right there, if it's made, we're in really good shape moving forward. They have to use their bullpen differently, so I think we could have won the game under those circumstances." But he stopped short of taking Johnson to task further. "We're going to make mistakes," he said. "No one on this team is perfect. We made mistakes tonight that we're not going to make for the rest of the year. It was just one of those moments it happens. I'm really pleased with our guys." Maddon was particularly pleased with the pitching. Moore was spectacular in the first three innings notching six of his nine strikeouts. The bullpen effort of Farnsworth, Jake McGee and Wade Davis allowed no hits and upped the strikeout total to 15 the third time the Rays have struck out at least that many batters and lost, tying a major league record. Moore eventually yielded eight hits over 6.1 innings, though the general consensus on the Jeter bloop that Johnson misplayed was that it should have been ruled an error. And many of his problems stemmed from Johnson's botched plays in the field. "Matt pitched well he deserved to do a little bit better," Johnson said. "Even the ball that Jeter hit to center that (centerfielder) Sam (Fuld) came in on, I should have made that play to. That led to a bunch of runs. So there's another play if you want to write that one down. Those runs shouldn't have gone toward Matt. That's why I feel bad about that. That's probably an error and I really don't think he deserved those runs." On the second-inning bunt, Johnson pushed the ball just out front of home plate instead of toward the right side of the infield where it was intended to go. It wasn't pushed far enough for Jeff Keppinger to try and score, and Yankees pitcher Hiroki Kuroda was able to throw Johnson out at first. Maddon said that he had given Johnson the bunt sign, liking its chance for success with the less battle-tested Nix at second and Pearce at first. "Joe had talked to me before the game he liked the idea of going to the first base side with the defense today," Johnson said. "It was a slider on the outside corner and maybe a little bit off. I wasn't going to take the chance of it being strike two. So I tried to go down the third base line at the last second and bunted it right to him." The Rays have an off day Thursday before hosting a weekend series against AL West leader Texas (81-55), while the Yankees begin a four-game series Thursday night in Baltimore. The Rays will then go on the road next week first to Baltimore's Camden Yards for three, then to Yankee Stadium for three. The way things have been going, it's anybody's guess who'll be on top by the end of next week. And that's why Maddon remained upbeat after the game. "Listen, of course I wanted to win that game," he said. "We played and pitched well enough to win, absolutely we did. But we didn't. They're good. They took advantage of our mistakes. Two out of three is not bad. I'll take it." And leave the Johnson's bad night behind. "Mistakes are mistakes," he said. "When you harp on a physical error, it only creates more physical errors. He knew what he did wrong. And you just move on from there. He works hard. He plays hard. He cares. He's a great athlete. It's a mistake."
Original Story:
http://www.foxsportsflorida.com/09/06...
THE BACKYARD
BEST OF MAXIM
RELATED ARTICLES
Rays pitcher Matt Moore is tipping his pitches, and that could explain why the Yankees hit him harder than any team had in two months. Former All-Star first baseman and current ESPN analyst John Kruk figured out Moore's tell and revealed it on "Baseball Tonight" Wednesday. Moore's tell is pretty simple: When he taps the ball in his glove as he's getting ready to pitch...
A member of the Tampa Bay Rays grounds crew pulled off a great version of the "Carlton" dance made famous by Alfonso Ribeiro on 'The Fresh Prince of Bel Air.' In front of thousands on Tuesday night at the Tampa Bay vs. Yankees game the grounds crew 'fellow' put on a show which was asily one of the most entertaining parts of the game. Thanks to @Cjzero and SportsGrid...
Bobby Valentine dragged Joe Maddon's name into the conversation during his contentious interview on WEEI on Wednesday, and the Rays manager has responded. Valentine was defending himself for arriving to the ballpark later than usual for a recent game when he brought up Maddon. To make himself look better, he told the hosts that Rays manager Joe Maddon only arrives to the park...
There are few dances moves from the 1990's better remembered than the "Carlton Dance" from the Fresh Prince Of Bel-Air.Last night, one Tampa Bay Rays crew member decided to show off his version of the Carlton for the cameras.I'm pretty sure that Alfonso Ribeiro would have been proud: (Courtesy of Sports Grid)
FUNNY GUY
Rays manager Joe Maddon joked with reporters and on Twitter about how Red Sox manager Bobby Valentine incorporated his name into his bizarre interview.
The Tampa Bay Rays could have been closer to the top had they not thrown away Wednesday's game. But with 25 games left -- including three against the New York Yankees and six with the Baltimore Orioles -- manager Joe Maddon likes where his team is just fine. "We're doing a lot of things well," he said Wednesday after Tampa Bay's 6-4 loss to New York. &quot...
ST. PETERSBURG -- That commanding AL East lead the New York Yankees held not so long ago has officially been razed. Welcome to the hottest division in baseball: A first-place deadlock between New York and the Baltimore Orioles -- with the Tampa Bay Rays suddenly 1.5 games behind both teams and a month of baseball still to play. Who could have imagined this back on July 18 when...
Evan Longoria hit a go-ahead homer and the Tampa Bay Rays beat New York 5-2 on Tuesday night to drop the struggling Yankees into a tie for first place in the AL East. Coupled with Baltimore's 12-0 win at Toronto, the Yankees fell into a tie for the division lead with the surging Orioles after sitting atop the standings by themselves for 84 consecutive days -- New York's...
ST. PETERSBURG, Fla. (AP) -- Evan Longoria hit a go-ahead homer and the Tampa Bay Rays beat New York 5-2 on Tuesday night to drop the struggling Yankees into a tie for first place in the AL East. Coupled with Baltimore's 12-0 win at Toronto, the Yankees fell into a tie for the division lead with the surging Orioles after sitting atop the standings by themselves for 84 consecutive...
The Rays entered this series 3 1/2 games back behind the AL East leading New York Yankees. With a chance to sweep the series and climb to a 1/2 game behind New York, Tampa Bay found themselves gaining just one game in the division after losing the final game of the series. The Rays found themselves down 4-3 in the sixth inning until Luke Scott hit his 13th home run on the year to...
ST. PETERSBURG, Fla. - The New York Yankees had held sole possession of first place of the American League East for 84 consecutive days. Now they have to share. The Tampa Bay Rays used three home runs and a stalwart pitching effort from Alex Cobb on Tuesday at Tropicana Field to beat New York 5-2, allowing the Baltimore Orioles to climb into an AL East tie by routing the Blue...
The Tampa Bay Rays (75-61) beat the New York Yankees (76-59) 5-2, tonight in Tropicana Field. W - Alex Cobb (9-8), L - Freddy Garcia (7-6), S Fernando Rodney (42) Game Stats: Robinson Cano hit a two-run HR (29) to start the game in the first inning. Derek Jeter had two hits as he raises hit batting average to .316 on the season. Freddy Garcia had an awful game as he...
MLB News

Delivered to your inbox

You'll also receive Yardbarker's daily Top 10, featuring the best sports stories from around the web. Customize your newsletter to get articles on your favorite sports and teams. And the best part? It's free!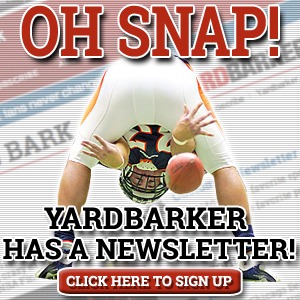 Latest Rumors
The Backyard

Today's Best Stuff

For Bloggers

Join the Yardbarker Network for more promotion, traffic, and money.

Company Info

Help

What is Yardbarker?

Yardbarker is the largest network of sports blogs and pro athlete blogs on the web. This site is the hub of the Yardbarker Network, where our editors and algorithms curate the best sports content from our network and beyond.