Found March 08, 2012 on Ted's Army:
The man who became famous for wearing a Bud Light cardboard box on his head has decided to sound off on his perceptions of the intelligence of Red Sox fans. Via Michael Silverman of the Herald comes this quote comparing his old and new fan bases.
"The difference between Boston and Philadelphia, the Boston fans are a little bit more hysterical when it comes to the game of baseball," Papelbon said in an interview with a Philadelphia CBS radio station.  "The Philly fans tend to know the game a little better, being in the National League, you know, the way the game is played.
"I've had a guy take of his prosthetic leg and throw it in the bullpen in Boston," Papelbon said.
Now, I'm not going to try to defend all Sox fans since a good percentage -- as with almost any fanbase -- can act pretty stupid. But the team he uses as a comparison is laughable. I know he's trying to endear himself to the Philly faithful -- and smart move on his part -- but to try to make Philadelphia fans out as smarter and better behaved than Boston fans is crazy.
Philly fans are notorious. The stories about applauding Michael Irvin's injury and throwing snowballs at Santa are well known. They once threw batteries at JD Drew. I mean, these are not Cardinals fans. 
And somehow Sox fans are insanely into the games but don't know the game of baseball? What were people doing while watching the games for decades? It's not like it's an action-packed sport where you tune in for the spectacle. If you follow baseball with any regularity, you get to know it pretty intimately. What else are we supposed to do when it takes 25 seconds for a pitch to be delivered?
But keep talking, Pap. I'm sure after a few months in Pennsylvania (or have you even gotten there yet?) and two weeks in Florida, you're in a position to judge.
Original Story:
http://www.tedsarmy.com/blog/2012/03/...
THE BACKYARD
BEST OF MAXIM
RELATED ARTICLES
BOYZ II MEN PERHAPS?
Now that Jonathan Papelbon is closing games in Philly and not Boston, the lead singer of the Dropkick Murphys says the pitcher can no longer use their song as his entrance music.
Jonathan Papelbon was one of the many faces of an era of success in Boston. If there is one thing Phillies fans don't have to worry about with Papelbon as their closer, it's how he will respond to pressure. Having been the closer for the Red Sox during their World Series run in 2007, Papelbon knows how to pitch with some of the most rabid fans and arguably the most rabid media...
VERBAL CHIN MUSIC
During an interview with a Philly radio station, the former Boston closer ingratiated himself to his new fan base by arguing that Phillies fans are more knowledgeable about baseball than Red Sox fans.
Jonathan Papelbon has already endeared himself to Phillies fans without throwing a meaningful pitch. Papelbon, the former Boston Red Sox closer, had high praise for Philadelphia fans, even though he's only been with the team a few months. ''The difference between Boston and Philadelphia, the Boston fans are a little bit more hysterical when it comes to the game of baseball...
Now that Jonathan Papelbon has shipped down to Philadelphia, he'll be looking for a new entrance song. Not only has Ken Casey of Dropkick Murphys stated that he doesn't want Papelbon keeping the band's famous "Shipping Up to Boston" -- which became a staple in Papelbon's Fenway Park entrances throughout his seven years with the team -- but it wouldn'...
Days after stating that Jonathan Papelbon could not use "Shipping Up to Boston" while pitching for the Philadelphia Phillies, the Dropkick Murphys are trying to clear the air. The band released a statement on their Facebook page claiming that lead singer/bassist Ken Casey was misquoted during an interview with ESPN. "What's this we hear about us telling Papelbon...
Jonathan Papelbon is losing fans from the Boston area by the minute. But at the same time, the right-hander is quickly gaining a stamp of approval throughout Philadelphia. Much of that stems from Papelbon's recent comments comparing the two fan bases. "The difference between Boston and Philadelphia, the Boston fans are a little bit more hysterical when it comes to the game...
10) After a couple of weeks in Clearwater, clearly qualified enough to make a decision9) Since Philadelphia is in the National League, they have to know about bunts, pinch hitting, and all of those other things that only super-intelligent people can comprehend8) That much exposure to Dan Shaughnessy over the years will, in fact, make you stupider than that much exposure to Howard...
Papelbon was one of the few effective Phils today. (AP)The Fightins suffered a tough loss on Wednesday, scattering only 3 runs and 5 hits against the lowly Astros. Phillies pitchers struggled to keep the Astros off the basepaths, surrendering 10 runs over 15 hits and allowing six walks. Vance Worley was tagged for 2 runs and 4 runs were dropped on Pat Misch, 3 unearned. Dontrelle...
This Philly fan who just tipped over this car recently graduated at the top of his class at at the University of Oxford. It's fine that you left us for the Phillies in the offseason; we didn't want to have to give you a horrible contract like the Phillies did. But dissing Red Sox fans after years of loyalty from us? Classless. In a radio interview he decided to diss Boston fans...
From Deadspin.com- The Guy From The Dropkick Murphys Would Like You To Know He Didn't Really Say Jonathan Papelbon Couldn't Use His Entrance Music Yesterday, ESPN Music(?!) reported that Ken Casey, vocalist for the Dropkick Murphys, did not want Jonathan Papelbon using his old entrance song. That song, "I'm Shipping Up To Boston," is reserved for the Red Sox...
I can't tell if they're really in to the game, or if they are wondering if they need to upgrade to a New iPad. We all knew that Shane Victorino was now a Hollywood star. After a brief cameo on TV a few weeks back, Victorino joins Jonathan Papelbon and Cliff Lee for a March Madness comercial. NCAA.com March Madness Live Promo from Lauren Shannon on Vimeo. NCAA.com produced...
MLB News

Delivered to your inbox

You'll also receive Yardbarker's daily Top 10, featuring the best sports stories from around the web. Customize your newsletter to get articles on your favorite sports and teams. And the best part? It's free!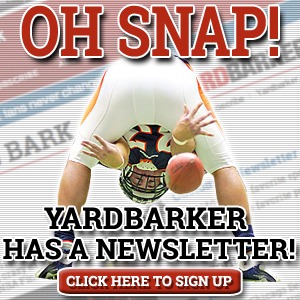 Latest Rumors
The Backyard

Today's Best Stuff

For Bloggers

Join the Yardbarker Network for more promotion, traffic, and money.

Company Info

Help

What is Yardbarker?

Yardbarker is the largest network of sports blogs and pro athlete blogs on the web. This site is the hub of the Yardbarker Network, where our editors and algorithms curate the best sports content from our network and beyond.