Found February 10, 2012 on 1313 Sports:
Josh Hamilton, the 2010 American League MVP and star Center Fielder for the 2-time defending American League Champion, Texas Rangers has once again relapsed. Hamilton as most baseball fans know has had a long and difficult struggle with addiction and with a variety of substances. The story has been well documented over the years as Hamilton, who was once a highly touted prospect in the Tampa Bay Rays system had started to lose control of his vices and was subsequently banished from Major League Baseball during his hardest days in 2004. Hamilton's addiction's caused him to blow through a $4 million signing bonus after his banishment and has admitted to doing coke, drinking a bottle of Crown Royal a day and as he noted in a interview with Sports Illustrated back in May of 2008 was having "dreams that were so real, I'd wake up and take a real deep breath in, like I was hitting the crack pipe." Things got so bad for Hamilton that his wife, Katie had to kick him out of the house and Josh then moved in with his maternal grandmother, Mary Holt. There were nights that got soo bad for Hamilton that when he woke up with the sweats he had to go to his grandmother's room and crawl under the covers with her to feel safe. And then things turned around. As we know now Hamilton sobered up and fought his demons and eventually signed with the Cincinnati Reds in 2007. In just 90 games that season Hamilton hit 19 HRs had 47 RBIs and hit .292. Those kind of numbers drew the interests of several teams such as the Texas Rangers who actually secretly sent scouts to his speaking engagements regarding his addictions and were so impressed that they traded for Hamilton before the start of the 2008 season.
Since joining the Rangers, Josh has had 3 very good seasons with one injury filled campaign in 2009. As mentioned above he has won an MVP award in 2010 and his Texas Rangers have advanced to the World Series for the last two seasons. With players such as Prince Fielder and Albert Pujols signing huge contracts this off-season and Hamilton in the last year of his current contract the Rangers as expected entered into contract extension talks with Hamilton. With his skill set and playing a very difficult defensive position in the outfield there was no doubt that Hamilton was on the verge of an extremely lucrative deal and then the bottom dropped out again.
On the evening of January 30th, Hamilton had a relapse. He was out at a bar and contacted teammate Ian Kinsler, who later claimed that he had no idea Hamilton was even drinking. Hamilton has held a press conference to address the relapse. The entire transcript is block quoted from the Star Telegram in Dallas below if you would like to read it. There is more to this story as has been revealed within the last day that I will add below as well.
"My life in general is based on making the right choices, everything as far as my recovery, as far as my baseball goes, it's all based around my relationship with the Lord. I look at it like this, you know how hard I play on the field and I give it everything I absolutely I have. When I don't do that off the field, I leave myself open for a weak moment and I had a weak moment Monday night in Dallas, personal reasons with a family member.

"But I walked to a restaurant to have some dinner, and did just that, had dinner and ended up ordering a drink and probably had three or four drinks. I ended up calling Ian [Kinsler] just to come hang out with me. Ian did not know I had been drinking. Once I do drink, I can be very deceptive, very sneaky in a lot of ways, so while he was there I did not drink in front of him.

"[After the restaurant closed], we go across the street to another place that stayed open. We're talking baseball, talking life, how are families were, all these things, stay 25-30 minutes. He [Kinsler] has to go home, and drives me back where I need to be, quarter-mile away. His words were, 'I'll see you later. You're not going to go back out, are you?' I said, 'No, I am in. I am good.' I did exactly what I told him I wouldn't do. I went back to the place we had just left and had some more drinks. Nobody saw me actually with a beer in my hand or drink in my hand. I can find ways where people can't see that. That doesn't excuse the fact I was doing something knowing it does not work for me.

"No drugs were used at all. Never thought about it. I've had two drug tests since Monday, so I have no concerns there at all. Anytime I drink, there is a point that comes where the switch flips. You never know when it might be reached, the first three or four, or the 15th, and that's what's so dangerous about it.

"Things happen to me personally that I'm not proud of after I drink, they are personal and being handled as that. … I did take pictures with people, and it was just wrong. That's all it comes down to. I needed to be in a different place, I needed to be responsible that day, period. And I was not responsible. Those actions of mine hurt a lot of people who are very close to me.

"As far as baseball and the Rangers, they've shown nothing but support to me and told me they're continuing to support me. I can not take a break from my recovery. My recovery is Christ, it's an everyday process. Because when I take that one day off, it leaves me open for a moment a weakness, it's always been that way.

"For everybody I have hurt – fans, kids, people who have addictions who look up to me – I apologize to you. When you're doing this you don't mean to hurt anybody. As I know, it hurts a lot of people. I have a lot to look at as far as things going on, inside, not bad things, and not things that are worrisome as far as me running back out going to drink. It's about getting to the point where I understand, like I told you I understand, I can't take a break. Again, how hard I play on the field is how hard I need to take my relationship with the Lord. That is my recovery, and everybody understands that. I just ask everybody who is watching and listening to pray for me, pray for my family because as we go through this difficult time, it never gets easy.

"I've put my wife through a lot in our marriage, and she's a very strong woman. But it's about time I become the strong one in the relationship, take responsibility, take the lead, stepping up and being the man I am supposed to be and not continuing to hurt her. And putting my kids in situation where they might hear things, it's just not a good thing. I am going to do a lot of soul searching. I have a great support team.

"Before I make that bad decision to take a drink, I just need to talk to somebody. It's OK to be vulnerable, it's OK to show weakness, everybody has it. People are here for that reason, and they love me, and they've done nothing but support me. It's a blessing for me to have them in my life.

"I will be flying to New York at some point soon to meet with doctors, Major League side and players [union] side. I'll talk with them about what happened, and continue doing my testing as I have been for a long time. Anytime this happens, you want to go back, visit things, see where you went wrong, and let everybody who helped you in the past and want to help you really help you. I feel terrible about this. I let a lot of people down. I have been beating myself up for the last four or five days, for this. There's nobody that feels worse than I do. I am going to do everything I can to lean on shoulders, and hopefully I can get back to the point that it won't be on my mind again.

"I am going to do everything I can to take the steps necessary, whether it's going to counseling, talking to somebody, everything is open at this point. I am hurt by it, tremendously, more so for my wife and my kids. Then to the Rangers organization, they've been nothing but great, supportive of me. It's awesome to work for somebody who really cares for you and not just what you can do for them.

"I am sorry it had to be this way. It'd be nice if it was talking about a contract, but we'll put that on the backburner for a while."
A really unfortunate turn of events for Josh, his family and the Rangers and then the story gets worse. According to a report on DeadSpin an unnamed Dallas television network claims that someone offered to sell them a video of Hamilton having sex in the bathroom at Sherlock's, which is the steakhouse Hamilton was having dinner at that evening. As the article further notes Hamilton is luckily protected by privacy laws due to the fact that the incident happened in the bathroom so the video will not be seen unless the person recording the video is willing to go to jail for it. The television network smartly refused to buy the video for what was said to be offered at a random amount of $41,000 as they too would be breaking the law by purchasing the video and airing it. There are no abuse or harassment allegations from the situation but to say that the contract extensions have come to a screeching halt would be an understatement.
As a baseball fan and a fan of people overcoming their demons and beating the odds, these tragic events have certainly hit me the wrong way. Making such errs is a human error that can be forgiven, but I can't help but think that Josh Hamilton needs to take a giant step away from the game and get his life back on track. I am not sure who is helping to guide this young man along the way as he has said that he will let his Lord, Jesus Christ and his family help guide him. I am glad he has some direction to turn to, but at some point a co-dependent person is going to have to find strength in himself on this issue. Trading chemical addictions for a religious addiction and an addiction to the love of your family and friends is a step in the right direction, but eventually Josh will have to find peace with the reflection in the mirror as well. As a baseball fan and fellow human in general I am pulling for Josh to get this right and become the person that he has shown he can be without relying on so many people to lead him there. I would much rather hear a story about Hamilton doing well outside of baseball than to see him hit 35 HRs  a year in baseball and have these recurrences. For the sake of himself, his family, friends, the Rangers organization and baseball fans everywhere I hope he gets past this once and for all. Through perseverance people can accomplish great things. Keep fighting the fight Josh, there are fans everywhere in your corner.
Original Story:
http://1313sports.com/2012/02/10/josh...
THE BACKYARD
BEST OF MAXIM
RELATED ARTICLES
TO PAY OFF STUDENT LOANS?
We think we'll call this a sob story. Some poor sap is trying the sell a game-worn Josh Hamilton (your 2011 AL MVP!) jersey to pay off a student loan debt. The price: $37,103.70, which is also what someone owes the federal government for their student loan payment. The auction is happening on eBay and in addition to the photos of the jersey and description, there's also a...
For whatever reason, the Josh Hamilton "relapse" story was a big one last week.And I get it, the Texas Rangers star is the drug and alcohol rehabilitation poster child, but just as the story was fading into the night...there's this.Not only was dude hammered, but he went all Roethlisberger at the Dallas eatery and relapsed in the bathroom with a lady...ifyouknowwhatImean...
When asked for his advice on how the Rangers should deal with the recent Josh Hamilton relapse, Curt Schilling said the organization needs to get Hamilton everything they can to help him get his life back in order. "This kid's a once in a generation talent," Schilling said on The Ben and Skin Show KESN-FM. "The story to get where he's gotten is worth a movie...
There's some salacious rumors going around right now about Josh Hamilton. I really, really hope that they're not true. But if they are–I forgive the guy. For Christmas I came across Hamilton's book Beyond Belief: Finding the Strength to Come Back at the book store and decided it would make a great Christmas gift for my wife. Hamilton is her only athlete crush and I think...
Texas Rangers outfielder Josh Hamilton visited doctors for both Major League Baseball and the players' association this week after admitting to a relapse with alcohol. After his admittedly "weak moment" in which he had "three or four" drinks during dinner and more later in the evening, Hamilton met with doctors on Monday. General manager Jon Daniels said...
Johnny Narron keeps the faith in Josh Hamilton.
The Rangers announced Tuesday night that Shayne Kelley has been named a major league staff assistant and part of his duties will be to support Josh Hamilton.
Dennis "Oil Can" Boyd, Josh Hamilton and Mickey Mantle had varying degrees of success in the big leagues. But how much better could they have been if not for their harmful use of alcohol and/or drugs?
(Spend $190m on players talent + uncertainties at the back of the rotation)  x owners own another sports team  = small market team. I've (only slightly) simplified his argument but that is the basic thesis of Jon Heyman' latest column. Fresh off declaring that Josh Hamilton's recent relapse means he should feel morally obligated to turn down a multi-year contract extension...
RSBS Special Correspondent and part time ninja, Mr. Johanna Mahmud reports: Sunday in the Park with George I want children so I can play dodge ball with them or at the very least have them pose while I paint a mural of them getting eaten by large cats for my own amusement. But that's not why I called… In my favorite Mandy Patinkin musical he sings "I need to finish the hat"...
MLB News

Delivered to your inbox

You'll also receive Yardbarker's daily Top 10, featuring the best sports stories from around the web. Customize your newsletter to get articles on your favorite sports and teams. And the best part? It's free!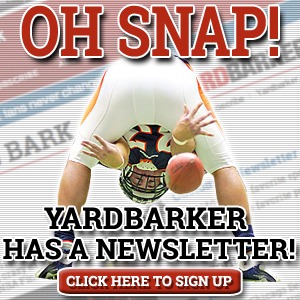 Latest Rumors
Best of Yardbarker

Today's Best Stuff

For Bloggers

Join the Yardbarker Network for more promotion, traffic, and money.

Company Info

Help

What is Yardbarker?

Yardbarker is the largest network of sports blogs and pro athlete blogs on the web. This site is the hub of the Yardbarker Network, where our editors and algorithms curate the best sports content from our network and beyond.