Found January 20, 2012 on SF Giants Nirvana:
PLAYERS:
Johnny Monell
,
Dylan Bundy
,
Brett Pill
,
Angel Villalona
,
Nick Noonan
,
Jose Cuevas
,
Roger Kieschnick
,
Tyler Graham
,
Juan Perez
,
Justin Fitzgerald
,
Shawn Sanford
,
Jose Casilla
,
Steve Edlefsen
,
Ben Snyder
TEAMS:
San Francisco Giants
As I jump into to my prospect list, I thought I'd tell you guys who I considered but did not make my list and who I like as a sleeper heading into the 2012 season.
Catchers
Alex Burg
Johnny Monell
Eric Sim
Drew Stiner
I considered Burg and Monell for their offensive chops and Sim and Stiner for their defensive reputations. Unfortunately they all had too many questions for them to make my top 30. Monell, Sim, and Burg were all a bit old for their levels last year and Stiner was an older draft pick. Monell has good patience and power and is a rare lefthanded batting catcher, but there are questions about his defense behind the plate and with Fred Stanley saying they plan to have Monell repeat AA, I couldn't fit him in. Sim and Stiner both have stellar defensive reputations with Stiner having caught Orioles first round pick Dylan Bundy in high school. But Sim was a college pick in 2010 playing in the AZL and Stiner was a 43rd round draft pick who already has a PED violation to his name. Burg came the closest to making this list as he split time at catcher, 1st base, 2nd base, 3rd base, and DH last year, posting a .298/.369/.550 line. His year kind of came out nowhere as in 2010 he split time between three levels and got just 121 plate appearances. I imagine he'll go to AA next year splitting time around the infield again.
1B
Brett Pill
Angel Villalona
 I probably should have found a way to put Pill on the list, given that his 53 PA's and 16 games are more than most that did make my list are going to get. But when I look at Pill I can't get over the fact that he's a RH 1B with more gap power than HR power, who only hit 7% better than league average in his second attempt at AAA. It's just not an exciting package. As for Villalona, he was raw when he played, and missing the last two years away from the game isn't going to help him. It sounds like he still has the tools but he's missed a lot of at bats.
2B
Ryan Cavan
Jean Delgado
Nick Noonan
Carlos Willoughby
Cavan is an interesting guy-he doesn't have loud tools but does a solid job of maximizing them. It isn't a good sign that his power decreased from the SAL to the CAL. He could work his way into a utility role. Delgado has an interesting bat from Puerto Rico. He posted a strong K/BB in his AZL debut this year and is fairly young as he'll be 19 in 2012. Noonan just hasn't developed as hoped and looks like org fodder at this point, unfortunately. Willoughby is fast and a good defensive 2B. He does a solid job of getting on base, but needs more pop.
SS
Carter Jurica
Travious Relaford
Kelby Tomlinson
Jurica was a guy who kind of got lost in the shuffle, getting injured last year and with Panik entering the org, it'll be interesting where he plays next year. Relaford is the cousin of ex-big leaguer Desi, and is athletic but raw. Tomlinson has solid defensive skills and a decent approach, but lacks power. I imagine he'll be the everyday starter at Augusta next year.
3B
Garrett Buechele
Jose Cuevas
Cristian Paulino
Buechele was the Giants 14th round draft pick this year, and the son of ex-big leaguer Steve. I liked the value when the Giants picked him. He struggled at Salem-Keizer last year, but that was likely related to fatigue. Cuevas was the AZL MVP, but he spent the year as a 23 year old. Paulino is the guy I like as a potential sleeper. He had a solid year in the AZL, splitting time between 2B and 3B and posting a 16/17 BB/K and 10/1 SB/CS. He looks like a guy who has solid polish and could make a full season debut next year.
RF/LF
Carlos Cartagena
Leo Fuentes
Roger Kieschnick
Brett Krill
Eric Valdez
Cartagena, Fuentes, and Valdez are recent high profile international signings, though not on the level of Villalona and Rafeal Rodriguez. But they're still very raw and weren't considered elite international prospects, so I couldn't add them just yet. Krill was considered a potential late bloomer and had a decent year at Salem-Keizer, but given his age I couldn't put him in the top 30. Kieschnick still has power, but I'm not totally confident that his approach and propensity to strikeout will allow him to excel.
CF
Tyler Graham
Kentrell Hill
Chris Lofton
Shawn Payne
Juan Perez
 Graham and Lofton are both guys with very good speed and defense, but lack power. Graham has spent the majority of the last two years at AAA and stole 60 bases last year so he could be a potential 5th OF. Lofton is still young and transitioning from splitting time between football and baseball, so he could potentially have some more upside. Perez spent last year at AA and he has an intriguing combination of power/speed/and defense but he lacks a solid approach and is a bit old. Payne came the closest to making the top 30, making a good debut at Salem-Keizer. He makes contact and can work a walk, and is another very good defender. He also flashed good speed, but his age and power output held him back. Hill was the Giants 10th round pick this year. He has athleticism but is a bit raw.
RHSP
Jorge Bucardo
Justin Fitzgerald
Chris Heston
Joan Gregorio
Lorenzo Mendoza
Shawn Sanford
Gregorio was the one of my last two cuts on this list, and I wanted to find a way for him to make this list. Unfortunately I couldn't find the tall righthander on the list, but he is still a very interesting player to watch. Mendoza was right on that bubble too as he had a very solid year for a 19 year old in the Northwest League. Jorge Bucardo had some velocity questions at the end of last year, and then didn't pitch this year. It's too bad because he was a very intriguing guy at the end of last year. Sanford won the SAL ERA title, but isn't a guy with overpowering stuff. Heston is in a similar vein, as he does a good job of limiting walks and getting groundballs. Fitzgerald has solid stuff that could possibly play up in the bullpen, where he began his career.
RHRP
DeMondre Arnold
Ray Black
Brett Bochy
Jose Casilla
Steve Edlefsen
Derek Law
Dan Otero
Otero was my very last cut, and I think he could play a solid role in the big league bullpen this year. Edlefsen is in a similar vein, though I prefer Otero. Casilla was a bit like Bucardo in that they were interesting but their injuries put me in a wait and see mode. Black is a guy with good stuff, but needs reps. Bochy had a solid debut and could move quickly, but I do have some concerns with his age. Arnold and Law are intriguing draft picks who both made solid debuts in the AZL.
LHP
Bryce Bandilla
Edwin Escobar
Emmanuel DeJesus
Bandilla was the Giants 4th round draft pick, but I couldn't put him on my list because of reports of a shoulder injury that the Giants found after he took his physical. Escobar was the return for Ben Snyder, he had a rough year last year, but he is still young and has the potential to miss bats. DeJesus put up interesting numbers, but DSL stats should always be viewed cautiously, and there are reports that his fastball is more in the 80′s range.
So to end I'll give a sleeper hitter and pitcher. Last year I had Edwin Escobar as a sleeper, so hopefully these picks will work out better.
Sleeper hitter: Cristian Paulino
Sleeper pitcher: Ray Black
Original Story:
http://feedproxy.google.com/~r/Splash...
THE BACKYARD
BEST OF MAXIM
RELATED ARTICLES
He was one of the top relievers in all of baseball last season. Now, he's going to be a Giant for another year. A day after the team's PR department released this photo of Romo's Cinco de Mayo promotional giveaway bobblehead, San Francisco avoided arbitration with right-hander Sergio Romo today, signing the 28-year-old pitcher to a one-year, $1.525 million dollar contract...
Bobbleheads can be tricky. There's a science and an art to getting the doll to look like the player. Sometimes, the bobblehead engineers succeed. Sometimes they fail. Sometimes ... Take the bobblehead issued by the San Francisco Giants for popular relief pitcher Sergio Romo, scheduled to be given away at AT&T Park on May 5. The overall likeness isn't bad. Designers obviously...
The San Francisco Giants have signed right-handed reliever Sergio Romo to a one-year deal, avoiding arbitration.Romo will earn $1.575 million in 2012, according to Jon Heyman of CBS Sports.The Giants' set-up man had impressive numbers in 2011, posting an ERA of 1.50, and striking out 70 batters in 48 innings pitched.
Right-handed relief pitcher Sergio Romo and the San Francisco Giants have settled on a $1,575,000, one-year contract to avoid an arbitration hearing.
Tim Lincecum and the Giants are at the bargaining table again, and the stakes could not be higher. Not just for the franchise and "The Freak," but the rest of the baseball world, which will undoubtedly be intrigued to see what happens if an arbitration hearing is held.
Former Red Sox shortstop Orlando Cabrera announced his retirement on a radio show in his home country of Colombia on Wednesday after 15 MLB seasons. Cabrera will be forever known by Sox fans as the man who replaced Nomar Garciaparra after being acquired from the Montreal Expos in a four-team deal in the final moments before the 2004 trade deadline. While Garciaparra was shipped to...
The Giants cleared their final potential arbitration case besides Tim Lincecum's on Friday when they reached a one-year deal with reliever Sergio Romo worth $1.575 million. Romo gets slightly more than the midpoint...
Right-handed relief pitcher Sergio Romo and the San Francisco Giants have settled on a $1,575,000, one-year contract to avoid an arbitration hearing. The 28-year-old earned himself a nice raise after making $450,000 last year. He had asked for $1.75 million and the club had offered $1.3 million. Romo went 3-1 with a 1.50 ERA in 65 outings and 48 innings last season for the 2010 World Series...
Vice president Joe Biden said got booed at a private fund raiser in San Francisco for saying, "The Giants are on their way to the Super Bowl." Biden quickly realized his gaffe and then said he confused the San Francisco Giants with the New York football Giants. Biden has a reputation for gaffes....
Happy birthday to former Giants outfielder Marvin Bernard, who turns 41 today. A 50th round draft pick in 1992, Bernard played for the Giants from 1995 to 2003. On this date in Giants history… 1916: The New York Giants buy center fielder Edd Roush from the Newark Peppers of the defunct Federal League for $7,500. Roush will hit just .188 in New York before being packaged...
Giants News

Delivered to your inbox

You'll also receive Yardbarker's daily Top 10, featuring the best sports stories from around the web. Customize your newsletter to get articles on your favorite sports and teams. And the best part? It's free!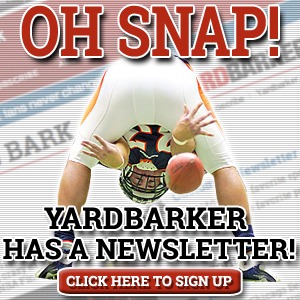 Latest Rumors
The Backyard

Today's Best Stuff

For Bloggers

Join the Yardbarker Network for more promotion, traffic, and money.

Company Info

Help

What is Yardbarker?

Yardbarker is the largest network of sports blogs and pro athlete blogs on the web. This site is the hub of the Yardbarker Network, where our editors and algorithms curate the best sports content from our network and beyond.