Found April 13, 2013 on Obstructed View OLD:
PLAYERS:
Logan Watkins
,
Brett Jackson
,
Cory Wade
,
Ryan Sweeney
,
Nick Struck
,
Esmailin Caridad
,
Jaye Chapman
,
Rubi Silva
,
Jae Hoon Ha
,
Trey McNutt
,
Javier Baez
,
Zeke DeVoss
,
Micah Gibbs
TEAMS:
Chicago Cubs
Albuquerque Isotopes 15 @ Iowa Cubs 5 This game was ugly. I'll start with the only bright spot: Logan Watkins went 0-2 with 3 walks. That's kind of cool. Brett Jackson 2.0 went 0-3 with no walks or strikeouts. He was double switched for Cory Wade, who got a hit. The nobodies on the bottom of the roster provided the bulk of the offense: I'm talking Bogusevic (2-3), Boscan (2-3), and Maysonet (1-3, 3 RBI). Ryan Sweeney had only a single hit, but it was a longball. Nick Struck needed 83 pitches to get through 4 innings, but he only surrendered 2 runs on 5 hits and a walk. He also struck out 3. After Struck, Esmailin Caridad, an apparent sleeper agent of the Albuquerque Isotopes, surrendered 5 runs in a single inning. His line wasn't pretty: 3 hits, 3 walks, a home run, and a strikeout. Jaye Chapman was, incredibly enough, worse. He recorded only 2 outs, scattered 6 hits, a walk, and 2 home runs. That was good for 5 runs as well. Cory Wade mopped 3 innings of no-hit ball; of course, he still allowed 2 runs off of a trio of walks. He also struck out 5.  The vaunted Iowa Cubs are 1-7 on the season. Chattanooga Lookouts 1 @ Tennessee Smokies 2 Tennessee only had 4 hits, so I'll just list everyone who had one: Rubi Silva: 1-3 Jonathon Mota: 1-3 Jae-Hoon Ha (RF): 1-3, RBI Matt Szczur (LF): 1-3, BB, RBI, R No other hits in the game. Alcantara has gone ice cold since the first week, with 2 strikouts and a walk for a 0-3 performance. He's down to just .242 on the season. Villanueva also had a bad day, going 0-4 with a K.  Eric Jokisch had a phenomenal day. He really only made one mistake, a solo bomb in the 3rd inning. His line was 6 IP, 4 H, 1 ER, 1 BB, 3 SO. Zych and Rosscup worked nondescript 7th and 8ths, giving up a hit and walk respectively. Trey McNutt closed it out in the bottom of the ninth. Daytona Cubs 5 @ Tampa Yankees 0 The only notable performance belonged to Taiwan Easterling. He went 2 for 5 with a double and 3 RBI. His average is .353 on the season. Javier Baez brought up his average to a stratospheric .147 with a 1-4 performance (with a walk and strikeout). Zeke DeVoss was held hitless, but drew a walk and would come around to score. He also had an RBI. As a team, the Cubs had 6 hits, 4 walks (a pair from DH Micah Gibbs) and 7 SO. Both Austin Kirk and Yao-Lin Wang had great perfomances today. Kirk pitched the first 5 innings and allowed 6 baserunners (4 walks, a single, and a double). None of the runs would score; Kirk would add a pair of strikeouts. Wang was even more dominant, fanning 5 and allowing only a pair of baserunners (a walk and single each) over the remaining 4 innings.  I'm actually fairly impressed with Wang's line. Until today, I knew absolutely nothing about him. Wang's been in the organization for 4 years now (including this year), and over 180 or so innings has put up pretty solid numbers, with a FIP in the low-3s each year. He's even had a little bit of hit-unluckiness, paired with a decent strikeout and walk ratio. He got some work as the closer at Peoria last year (now the Kane County Cougars are that affiliate), which leads me to believe he probably doesn't have any secondary stuff (i've seen scouting reports talk about a curveball; these reports are from 2011 and as such are hard to believe given the change in his usage); however, his peripherals indicate that he could definitely have some talent. I'm keeping my open for him. Kane County Cougars @ Wisconsin Timber Rattlers Postponed due to snow. The post Journeymen of Tomorrow: 4-12-13 appeared first on Obstructed View.
Original Story:
http://www.obstructedview.net/minor-l...
THE BACKYARD
BEST OF MAXIM
RELATED ARTICLES
BAD IDEA
Chicago Cubs prospect Jorge Soler has been suspended five games for charging an opposing team's dugout while wielding a bat during a game on Wednesday.
This is a continuation of the weekly series of of writing about a Cubs prospect. Early on, I will be writing about guys that Dave and I did not cover in our Prospect Ratings. Links for past ratings and past profiles at at the end. Who is Nick Struck? Nick Struck was drafted in the 39th round of the 2009 Draft out of Mount Hood Community College in Gresham, Oregon. He's 1 of 44...
The Chicago Cubs season has taken another step towards disappointment as the team has placed closer Kyuji Fujikawa on the 15-day disabled list with a strained right forearm. Instead of returning Carlos Marmol to the closer's role, manager Dale Sveum is going to focus on matchups, focusing on using Shawn Camp and James Russell in the ninth. Marmol lost the closer's job...
Injury update: Steve Clevenger, who was going to get another start at 3B today, is instead on the sidelines with a strained oblique, suffered on the final, ugly swing in Saturday's loss. He is expected to miss at least six weeks. The Cubs will go shorthanded today, then fill Clevenger's roster spot Tuesday, when Darwin Barney returns from his brief rehab stay in Iowa. (Barney...
The Chicago Cubs tied a major league record when Edwin Jackson and Michael Bowden combined to throw five wild pitches in an inning. Jackson threw two and Bowden three as the San Francisco Giants scored four runs in the sixth to take a 5-4 lead Sunday. Rick Ankiel of the St. Louis Cardinals threw five wild pitches in the third inning of the 2000 NL division series opener against...
The Cubs got quality starts from Chris Rusin (pictured), Iowa; Dau-Eun Rhee, Tennessee; and Zach Cates, Dayton, as all three affiliates won on Sunday. Kane County was snowed out.
Edwin Jackson and Michael Bowden tied a major league record by combining to throw five wild pitches in an inning, and the San Francisco Giants got another big assist from a Cubs pitcher in a three-run 10th in Sunday's 10-7 victory over Chicago. The Cubs matched the record for wild pitches by a team in an inning during a four-run sixth that put San Francisco ahead 5-4, but the...
When you see a rank relief post you always have a good chance of the Cubs being involved – usually one the bad side.  Well today they played both parts.  The Cubs were looking at a 2-0 victory if they could hold off the Giants in the top of the 9th.  Well Kyuji Fujikawa would have none of that.  Cubs fans may have thought they got rid of this kind of thing with Carlos Marmol...
The Chicago Cubs today placed their closer Kyuji Fujikawa on the 15-day disabled list due to a muscular strain in his right forearm. The recently appointed finisher replaced Carlos Marmol who's approval ratings in Chicago are close to that of Kim Jong Un. And they should be that low, since Marmol was about as good at closing games as Nick Nolte is to staying sober. The Chicago...
Every now and then we just need to think out loud.  Or I guess in this case, since you're reading instead of listening to us (have you checked out our podcast by the way?), we're typing out loud.  Or just typing so you can see stuff before you.  Whatever, the analogy sucks.  Just keep reading.  I like to ramble.  This is definitely a ramble. Reflections I forgot who said...
Cubs News

Delivered to your inbox

You'll also receive Yardbarker's daily Top 10, featuring the best sports stories from around the web. Customize your newsletter to get articles on your favorite sports and teams. And the best part? It's free!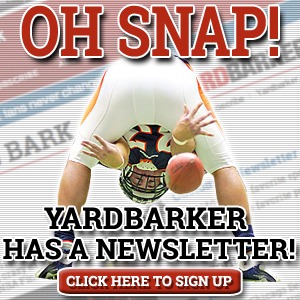 Latest Rumors
The Backyard

Today's Best Stuff

For Bloggers

Join the Yardbarker Network for more promotion, traffic, and money.

Company Info

Help

What is Yardbarker?

Yardbarker is the largest network of sports blogs and pro athlete blogs on the web. This site is the hub of the Yardbarker Network, where our editors and algorithms curate the best sports content from our network and beyond.