Found February 27, 2013 on Larry Brown Sports:
Toronto Blue Jays catcher JP Arencibia may have a difficult responsibility this season if the team allows him to catch for R.A. Dickey. Knuckleball pitchers like Dickey and Tim Wakefield will oftentimes have their own personal catcher, but Arencibia is hoping to convince the Jays that he is up to the task. According to ESPN the Magazine's Chris Jones, Arencibia has been living life on the edge while working with Dickey in spring training. While catching for Dickey during practice and drills, Arencibia has been using only a mask and the oversized catcher's mitt that that Dickey takes with him wherever he goes. That means no leg guards, no chest protector and no — gulp — athletic supporter. "I don't want to miss every fifth game," Arencibia explained. "It also makes you really, really concentrate." Arencibia said he has been bothered by the belief that he is an average defensive catcher, and he is hoping to prove that he is more than that. Opting to not protect his family jewels is ce...
Original Story:
http://larrybrownsports.com/baseball/...
THE BACKYARD
BEST OF MAXIM
RELATED ARTICLES
The Toronto Blue Jays didn't have a great 2012. Their season collapsed like a house of cards when Jose Bautista broke his wrist and the pitching staff suffered injury after injury. This offseason, Alex Anthopolous made his move. He had accumulated several talented prospects that weren't going to be ready for the majors in 2013, and cashed them in to pick up Jose Reyes, RA...
The first scary collision of the major league baseball season occurred in a spring training game Saturday when Toronto Blue Jays outfielders Mike McCoy and Ryan Langerhans collided while chasing down a fly ball in right-center field. Langerhans came down with the ball and managed to hold on to it, but both players went down and took their time getting up. McCoy took the worst...
A preface: (1) The Blue Jays are of tremendous interest this year, after having spent the offseason adding R.A. Dickey and the Marlins. Many expect that the Jays will win their division for the first time since 1993. At the very least, if they're not favorites, they're close to it. (2) Ricky Romero is of tremendous interest, because what the hell happened? (3) We're suckers...
In the This Is My Nightmare series, we'll take a look at what the absolute worst case scenario for each team would be in 2013. Think of it as the negative complement to our You May Say I'm A Dreamer series that we'll be running during our preview series. A nightmare season for the Blue Jays...well, let's see. You can immediately start with the health of Toronto...
Everyone knows the key players on the Toronto Blue Jays: Reyes, Bautista, Encarnacion, Dickey, Cabrera, and so on and so forth. But after the stars that everyone knows, there's a dropoff to the lesser players: guys like Arencibia, Lind, and Rasmus, who have tons of potential, but have generally underperformed during their careers with the Blue Jays. Picking a player from either...
Continuing from our season preview of the Toronto Blue Jays earlier today... What makes the 2013 Blue Jays different from the 2012 Marlins? The Blue Jays-Marlins comparison is bound to come up a lot this season if the Blue Jays struggle out of the gate. Just like the 2012 Marlins, the 2013 Blue Jays experienced a major retooling in the offseason, bringing in numerous stars...
The Boston Red Sox had their first game against the Toronto Blue Jays on Monday, and this was the first time that Manager John Farrell coached against his former team. As expected the fans of the Blue Jays were slightly upset about Farrell choosing to become the manager of the Boston Red Sox and voiced their opinions before, during and after the game. Farrell was the manager of Toronto...
Is Rush Canada's most popular export? As much as we love maple syrup and moose, it's probably true. Well, singer, bassist and frontman Geddy Lee is sticking with his home country, and has been a Toronto Blue Jays fan for years. In fact, he's often been spotted hanging out at Rogers Centre, cheering the team on. Likewise, with the Jays having completed an impressive offseason...
Outfield prospect George Springer hit a three-run homer off Jeremy Jeffress in the fourth inning and a two-run drive against Claudio Vargas in the fifth, helping the Houston Astros beat the Toronto Blue Jays 10-1 Wednesday. Houston, 29th among the 30 teams in batting average last year, had 18 hits, including two each by Springer, J.D. Martinez, Matt Dominguez and Carlos Corporan...
Matt Harvey (pictured on the left with his father at Blue Jays spring training in 2011) by all accounts looks like your typical 31-year-old. The St. Catharines, Ontario man has a job he enjoys, a girlfriend he adores, an affinity for Twitter, and an almost unhealthy passion for baseball and the Toronto Blue Jays. He also has Asperger's Syndrome, a form of autism. Harvey had a...
Steven Wright is 28 years old, but he hasn't sniffed the big leagues yet. In order to change that, the knuckleballer has been seeking help from others who have thrown the unique pitch. Wright, who pitched two scoreless innings for the Red Sox on Monday, said that he sends out a group text message to fellow knuckleballers Tim Wakefield, R.A. Dickey, Tom Candiotti and Charlie Hough...
The New York Mets' top prospect list is a lot stronger now than it was when the off-season began, thanks to the R.A. Dickey trade with Toronto that brought two of the club's Top 3 prospects into the system. The club lacks impact bats but it has a plethora of high-ceiling arms.   #1 Zack Wheeler (P) Age G GS IP H HR K/9 BB/9 ERA FIP 22 25 25 149.0 115 4 8.94 3.56 3.26...
MLB News

Delivered to your inbox

You'll also receive Yardbarker's daily Top 10, featuring the best sports stories from around the web. Customize your newsletter to get articles on your favorite sports and teams. And the best part? It's free!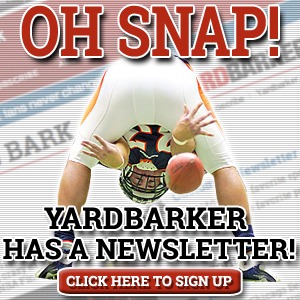 Latest Rumors
Best of Yardbarker

Today's Best Stuff

For Bloggers

Join the Yardbarker Network for more promotion, traffic, and money.

Company Info

Help

What is Yardbarker?

Yardbarker is the largest network of sports blogs and pro athlete blogs on the web. This site is the hub of the Yardbarker Network, where our editors and algorithms curate the best sports content from our network and beyond.