Found February 28, 2012 on Fox Sports Wisconsin:
By John Pesetski Special to FOXSportsWisconsin.com PHOENIX -- They're big. They're strong. They're smart. And, with more than 5 million in signing bonuses between them they are also two of the highest-paid prospects Brewers history. This spring, the Brewers are getting their first extended look at 2011 first-round draft picks Taylor Jungmann and Jed Bradley. Jungmann, a right-hander out of the University of Texas was selected with the No. 12 overall pick. Bradley, a left-hander from Georgia Tech, was picked three slots later. Both were among the top pitching prospects in the nation last year, but protracted contract negotiations kept them on the sideline in 2011. It was the first time since 1993 that a pitcher selected by Brewers in the first round did not get minor league action in the year in which he was drafted. "Both players have great arms, and it's good to see them," Brewers manager Ron Roenicke said Tuesday. "Neither player is going to make our roster out of camp, but it's good to have them here throwing." Originally selected by the Los Angeles Angels in the 24th round of the 2008 draft, Jungmann instead went to Texas, where he was a two-time All-American. As a junior in 2011, the 6-foot-6, 208-pounder went 13-3 with a 1.60 ERA, striking out 126 with only 36 walks in 141 innings. Bradley, also a power pitcher, garnered second-team All-ACC honors in 2010 and 2011. Last season with the Yellow Jackets, the native of Huntsville, Ala., was 7-3 with a 3.49 ERA and 106 strikeouts and 31 walks in 98 innings. Both players participated in Brewers fall instructional league games in September. Fall instructionals are an opportunity for the club's top prospects to receive personal instruction from the team's minor league coaches in unofficial games. "I threw 10 to 15 innings in instructionals and that helped," Jungmann said. "It helped me get used to a different atmosphere. Getting used to all the guys so you don't feel like a loner was nice." Bradley, articulate but soft-spoken, saw additional action in the Arizona Fall League. A showcase for top prospects, the Fall League limits the number of players who can participate from each major league team. Appearing in five games, the 6-foot-4, 234-pounder went 1-0 with a 6.48 ERA, striking out eight in 8 13 innings. "I couldn't ask for a better way to start my pro career," Bradley said. "It was great to face guys that have played in the major leagues and some that are knocking on the door. It was good to compete against those guys and see what pro ball is about." While Jungmann, a Texan, characterized himself as excited on the first day of 2012 camp, Bradley admitted to being nervous. However, both players like the atmosphere in the Brewers' clubhouse. "I'd been waiting for spring training since I was drafted last June," Jungmann said. "I was just a little shy at first, but the guys are all great guys. Not just one or two guys, but everybody. They'll help you with anything, any time." Bradley cited veteran pitcher Randy Wolf as a particularly good example. "It's been great to watch Randy," he said. "He's played this game for a long time and has done so much. He's methodical in the way he goes about his business and gets ready. It's been great to be able to talk to a guy like him." Conversely, the team's veteran pitchers have enjoyed watching the young guns. "It's always fun coming into spring training and seeing young guys like Bradley and Jungmann throw the ball," pitcher Chris Narveson said. "It looks they've got some great stuff. I like watching them." Bradley, who has been slowed by a groin strain, has thrown only light bullpen sessions so far. Originally, the team had hoped to get Bradley into in its first intrasquad game. "Bradley, we're holding back," Roenicke said. "He's getting better, but with a young pitcher we really want to make sure he's healthy. The worst thing is to invite a young guy to major league camp who's not 100 percent and have him push too hard. But he's got a great arm and we're excited to see him." Jungmann, who will play in the intrasquad game, has not gone unnoticed by Roenicke. "I like Jungmann's stuff a lot," the manager said. "He's got a little different delivery. Our coaches are trying to clean things up a bit. But I like his stuff a lot. When you're talking about delivery, it's the same thing as a batting stance for a hitter. With a pitcher, you make delivery adjustments and it's not a big deal. You don't always want somebody to be generic. Sometimes the funky guys can be the ones that are hard to hit. If you can repeat the delivery and be effective that's great. Arm slot is a different. But a delivery, you can change that." Jungmann, rated by Baseball America as the organization's No. 2 prospect, and Bradley, rated by the same publication as the Brewer's No. 3 prospect, recognize that success at the collegiate level doesn't guarantee success at the next level and that hard work is important. "I'm focusing on my changeup in spring training," Jungmann said. "It's not one of my better pitches. I didn't really have to use it in college. I'm working on getting a feel for it so I can throw it when I want to at the next level." Bradley, too, realizes, that even as a top prospect, playing in the majors is not a guarantee. "I'm just trying to get reps at spring training and get better," he said. "I'm working on command and working on controlling the running game a little better. I'm just trying to get better and get to the big leagues."
Original Story:
http://www.foxsportswisconsin.com/02/...
THE BACKYARD
BEST OF MAXIM
RELATED ARTICLES
Let me be clear by stating that Alex Rodriguez has never said anything about Ryan Braun's failed drug test having to do with him taking medicine for herpes. Of course A-rod wouldn't because he knows better, as Derek Jeter would have failed way before Braun… right? Kidding again. But now to the point, as this Braun saga is getting annoying but I wanted to weigh in my opinion...
Last season, Chris Narveson was one of the most pleasant surprises on the Milwaukee Brewers' roster.Installed as the fifth starter, behind aces Yovani Gallardo, Zack Greinke, Shaun Marcum and fellow lefty Randy Wolf, little was expected of the then-29-year-old.Quickly, though, Narveson established himself as a bona fide link in one of the National League's best starting rotations...
  Taylor Jungmann With Spring Training finally upon us and speculation surrounding the future of baseball's brightest prospects spreads like wildfire, The Golden Sombrero will highlight some of the notable and intriguing Spring Training invitees from each organization. Wily Peralta*, RHP:  Widely considered to be the Brewers' top prospect, Peralta was signed out of the Dominican...
PHOENIX (AP) -- John Axford was fighting food poisoning last spring, leaving the Milwaukee Brewers uncertain about his future with the team. After a breakthrough season, they no longer have any doubts about the tall Canadian closer. "Command wasn't good, velocity wasn't good, so we weren't sure," Brewers manager Ron Roenicke recalled. "You can't make...
During Ryan Braun's news conference last Friday, the Milwaukee Brewers outfielder made a number of insinuations about the integrity of the MLB's sample collecting process and the specific collector who took his positive test sample. On Tuesday, a man revealing himself to be the collector of Braun's test, Dino Laurenzi Jr., sent an email to ESPN The Magazine to state his...
By all accounts, 2011 was a lost season for Zach Braddock. After posting a 1-2 record with a 2.94 ERA in 2010, the 24-year-old made the opening day roster for the first time in his brief major league career last spring and figured to be a key part of the Brewers' bullpen. In early May, though, Braddock went to the 15-day disabled list with a sleep disorder. At the time, some...
((HT: Fox6now.com Milwaukee))The gentleman's name is Dino Laurenzi...And he isn't going to take being accused of a felony lightly...At his welcome back press conference, Milwaukee Brewers reigning Emm-Vee-Pee Ryan Braun basically intimated that Laurenzi was the one who tampered with both of Braun's samples to give the "false positive."On both... With exactly...
While Ryan Braun's suspension over a positive drug test has ended with it being overturned, I think everybody recognizes that his trial has only just begun. While the suspension being lifted was a boost to the Milwaukee Brewers, it probably would have actually been better for Braun's reputation had he gotten suspended but for reasons
Let the Countdown to games being as we now stand 5 days shy of the 1st game of Spring Training against the San Francisco Giants.  I've avoided talking much about what the Brewers lineup and fielding will look like because we knew so little about what would happen to Braunie.  Well now we know and it's as good a time as any to try and construct what a potential Brewers lineup...
Last year at this time, right-hander Marco Estrada was toiling in the Brewers' Minor League minicamp with little chance to make the Opening Day roster. What a difference a year makes.
There are players on the Milwaukee Brewers who boast more than twice the major-league experience Corey Hart does. But no one can top the big rightfielder's tenure within the organization.
Brewers closer John Axford had another successful Oscar night, correctly predicting 11 of the 15 winners at Sunday night's Academy Awards after going 11-for-13 last year. Perhaps some day, the Brewers' resident film buff will hold a statuette of his own.
MLB News

Delivered to your inbox

You'll also receive Yardbarker's daily Top 10, featuring the best sports stories from around the web. Customize your newsletter to get articles on your favorite sports and teams. And the best part? It's free!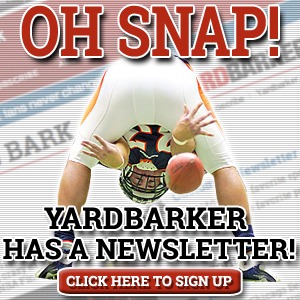 Latest Rumors
The Backyard

Today's Best Stuff

For Bloggers

Join the Yardbarker Network for more promotion, traffic, and money.

Company Info

Help

What is Yardbarker?

Yardbarker is the largest network of sports blogs and pro athlete blogs on the web. This site is the hub of the Yardbarker Network, where our editors and algorithms curate the best sports content from our network and beyond.