Found August 19, 2012 on Buzz On Broad:
PLAYERS:
Kyle Kendrick
,
Randy Wolf
,
Michael Martinez
,
Brian Schneider
,
Mike McClendon
,
John Axford
,
Michael Schwimer
,
Roy Halladay
,
Mike Leake
,
Ryan Braun
,
Kevin Frandsen
,
Ryan Howard
,
Ty Wigginton
,
Carlos Gomez
,
John Mayberry
TEAMS:
Philadelphia Phillies
,
Milwaukee Brewers
,
Cincinnati Reds
,
Washington Nationals
,
New York Mets
Final: Phillies 8, Brewers 0.
WP: Kyle Kendrick (6-9, 4.20 ERA) LP: Randy Wolf (3-10, 5.69 ERA).
One of the most unlikely players to kickoff the game scoring-wise this afternoon was none other than second baseman Michael Martinez.  Martinez came into today's action with just seven hits in a total of 54 2012 at-bats, and managed to take former Phillie, Randy Wolf, deep to left center field on a two-run home run.  That was his second home run of the season, and fifth of his 110-game MLB career.
The following inning, Domonic Brown hit his fourth double of the season, which cleared the bases. He nearly scored himself later that inning off of a Michael Martinez single, but was called out at home plate.  It turns out that the Milwaukee Brewers would go scoreless in the game's entirety, and the base-running blunder would prove to be inconsequential.  
The Phillies' scoring did not stop from the first few frames.  They picked up two insurance runs from Brian Schneider off of Mike McClendon on a one-out, two-run double in the 8th, and they scored another in the 9th on a RBI-single from Domonic Brown off of John Axford.
Kyle Kendrick had just about everything going for him today, as he secured the series split for the Phillies.  He threw eight shutout innings, giving up just three hits and walking one batter.  80 of his 114 total pitches were for strikes.  In Kendrick's previous two starts, he has given up 0 runs in 15 innings pitched, and has struck out 13 batters.  Opposing starter Randy Wolf gave up runs early, and his team could not escape the early deficit. Wolf lasted seven innings, giving up five runs on 10 hits and two walks.  Michael Schwimer retired the Brewers in the 9th without allowing a run, and secured the Phillies their 56th victory of the 2012 season.
The seven-game road trip has come to a close, with the Phillies posting a (4-3) overall record.  They return home to Citizens Bank Park to open a ten-game homestand, playing the Cincinnati Reds four games and three each against the Washington Nationals and New York Mets.  This homestand will be a true testament to whether or not the Phillies have one last fight in them to grab the final wildcard spot in the National League.
Roy Halladay (6-7) opens up the series Monday night against Mike Leake (5-7) and the Reds, who have one of the best records in all of baseball this season.  Roy last faced the Reds on August 30th, 2011 away at Great American Ballpark.  He lasted seven innings that game, and received a winning decision after allowing just two hits and no earned runs.  The game, starting at 7:05 pm EST, can be seen on CSN Philadelphia and can be heard on 1210 WPHT AM and 94 WIP FM.
Attendance: 42,224.
Starting Pitching Summary:
Kyle Kendrick: 8.0 IP, 3 H, 0 R, 0 ER, 1 BB, 7 SO, 0 HR, 4.20 ERA
Randy Wolf: 7.0 IP, 10 H, 5 R, 5 ER, 2 BB, 4 SO, 1 HR, 5.69 ERA
In the 'Pen:
Philadelphia
Michael Schwimer (9th): 1.0 IP, 2 H, 0 R, 0 ER, 0 BB, 2 SO, 0 HR, 4.46 ERA
Milwaukee
Mike McClendon (8th): 1.0 IP, 2 H, 2 R, 1 ER, 0 BB, 0 SO, 0 HR, 5.93 ERA
John Axford (9th): 1.0 IP, 2 H, 1 R, 1 ER, 1 BB, 1 SO, 0 HR, 5.22 ERA
Scoring Summary:
Top of the 2nd (Phillies 2, Brewers 0): Michael Martinez homers (2) on a fly ball to left center field. Domonic Brown scores.
Top of the 3rd (Phillies 5, Brewers 0): Domonic Brown doubles (4) on a line drive to left fielder Ryan Braun. Kevin Frandsen, Ryan Howard and Ty Wigginton score.
Top of the 8th (Phillies 7, Brewers 0): Brian Schneider doubles (5) on a fly ball to center fielder Carlos Gomez. Domonic Brown, Michael Martinez score.
Top of the 9th (Phillies 8, Brewers 0): Domonic Brown singles on a line drive to center fielder Carlos Gomez. John Mayberry scores.
What's Next:
Monday, August 20, 2012; 7:05 pm EST

Philadelphia Phillies (56-65)

 vs. Cincinnati Reds (74-48)

Roy Halladay (6-7, 3.80 ERA)

 vs. Mike Leake (5-7, 4.29 ERA)
TV: CSN
Radio: 1210 WPHT, 94 WIP
Matt Rappa is a contributor for Buzz on Broad. You can find him on Twitter at @mattrappa.
Original Story:
http://www.buzzonbroad.com/2012/08/ke...
THE BACKYARD
BEST OF MAXIM
RELATED ARTICLES
MILWAUKEE When Cliff Lee signed with the Philadelphia Phillies in December2010, putting the finishing brush strokes on a piece de resistance of a pitching rotation, the baseball world took notice. The Phillies, it appeared, had just constructed one of the best rotations in the history of major league baseball. That's not a title that anyone around the sport takes lightly...
Cole Hamels, Philadelphia Phillies The Phillies have found their secret to success. Unfortunately, they only get to put their plan in action every fifth day. The secret? Run Cole Hamels out to pitch. He'll either deliver a complete game or get you deep enough to forgo the Phillies' sieve of a bullpen. In Cole Hamels last three outings for the Phillies, he has shown exactly why...
Philadelphia Phillies (55-63) at Milwaukee Brewers (53-65) Kyle Kendrick (5-9, 4.54) vs. Randy Wolf (3-9, 5.65) Time: 2:10, Miller Park TV: CSN Weather: Overcast Media: Twitter and Facebook A Phillies win today splits the series.  Kyle Kendrick and Randy Wolf have both struggled this season. The goal for Kendrick is to keep Ryan Braun in the yard.  The outfielder has been...
We're back with another semi-weekly minor league review, where we take a look at the various developmental levels of the Phillies' organization and some noteworthy players from each club. This time, it's a glance at some top performers of late, as well as those that aren't doing so well. Triple-A Lehigh Valley IronPigs… Who's hot: RHP Jonathan Pettibone (pictured, right...
Another beauty of an outing from Cole Hamels tonight helped snap a three-game losing streak for the Phillies. The Phillies got ahead to a 2-0 lead in the second inning on a two-run dinger by John Mayberry, Jr. which scored Laynce Nix. To follow, Erik Kratz sent a monster home run into the second deck seats in left field. Those back-to-back homers gave the Phils a 3-0 lead. Aramis...
John Mayberry Jr. hit a two-run homer and Ryan Howard and Erik Kratz had solo shots to back Roy Halladay, helping the Philadelphia Phillies beat the Cincinnati Reds 12-5 on Monday night. Halladay (7-7) wasn't sharp, allowing five runs and 10 hits in seven innings. But the offense bailed out the two-time Cy Young Award winner. Domonic Brown hit a go-ahead two-run double off...
  Hamels saved the day again yesterday, with help from the offense, breaking a three game losing streak in a 4-3 win for the Phils.  The Phillies had an early lead with John Mayberry Jr's two run homer, and stayed strong with Erik Kratz's monster that reached the second deck seats in left. Chase Utley scored on Howards double in the fourth to give the Phils their winning run...
This is why you don't fall asleep drunk at Major League Baseball games... Check out out what happened to this Phillies fan who got three beer can stacked on his head during last Sunday's St. Louis Cardinals/Philadelphia Phillies game: (Courtesy of The Post Game)
Philadelphia Phillies (54-63) at Milwaukee Brewers (53-64) Cole Hamels (13-6, 2.91) vs. Mike Fiers (6-5, 2.63) Time: 7:10, Miller Park TV: CSN Weather: Partly Cloudy, 70 Media: Twitter and Facebook The Phillies dropped two straight to the Brewers, and will look to end their three-game losing streak.  The bullpen has been the problem for the Phillies in the last two games...
MILWAUKEE -- In an otherwise disappointing season, Cole Hamels has been one of the few bright spots for the Philadelphia Phillies. Since signing a six-year, $144 million contact at the end of July, Hamels has been spectacular, allowing just two earned runs in his last three starts and pitching back-to-back complete-game shutouts. He continued his strong season Saturday, striking...
Many of us fans believe the Philadelphia Phillies are completely done, but are they? With a win over the Brewers last night, the Phillies record is now 56-65 putting the 11 games out of the Wild Card. With 41 games remaining this season, it becomes a long shot, but definitely not impossible. If the Fightins win 34 of their next 40 games, they will improve their record to 90-71. In...
MLB News

Delivered to your inbox

You'll also receive Yardbarker's daily Top 10, featuring the best sports stories from around the web. Customize your newsletter to get articles on your favorite sports and teams. And the best part? It's free!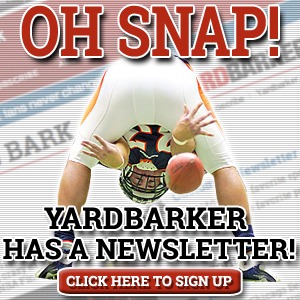 Latest Rumors
The Backyard

Today's Best Stuff

For Bloggers

Join the Yardbarker Network for more promotion, traffic, and money.

Company Info

Help

What is Yardbarker?

Yardbarker is the largest network of sports blogs and pro athlete blogs on the web. This site is the hub of the Yardbarker Network, where our editors and algorithms curate the best sports content from our network and beyond.