Found April 05, 2012 on Fox Sports Arizona:
PLAYERS:
Ian Kennedy
,
Greg Maddux
,
Tim Lincecum
,
Clayton Kershaw
,
Justin Verlander
,
Curt Schilling
,
Matt Cain
,
Kirk Gibson
TEAMS:
Arizona Diamondbacks
,
San Francisco Giants
,
Los Angeles Dodgers
,
Detroit Tigers
PHOENIX -- Ian Kennedy knows how difficult it can be to win 20 games, having lived through it last year. So he limits his numerical goals to those more in his control, liking being in good enough condition to make every start and log 200 or more innings. Still ... "It is something you can build off," Kennedy said last week. The construction begins Friday, when Kennedy will make his second career opening-day start against San Francisco at Chase Field. Kennedy has not minded that matchup since he joined the D-backs in 2010, when his style and demeanor drew comparisons to Greg Maddux. Kennedy beat the Giants three times in five quality starts last season, outpitching his opening-day opponent, Tim Lincecum, in a crucial Sept. 3 game in San Francisco to keep the Giants from picking up momentum in the NL West race. He also was the winning pitcher on Sept. 24, the day after the D-backs clinched the division title, to finish 3-0 with a 1.22 ERA in 37 innings against the Giants. Kennedy, 27, could become the first D-backs pitcher in 10 years to post back-to-back 20-win seasons after going 21-4 last year. It appears to be the furthest thing from his mind, although he did take time over the winter to savor what was a career year in his second full season in a rotation. "Seriously, I was just really happy. You have to step back and think how special that really is. I know that. Three guys got 20 wins last year, and to be up with those two Cy Young Award winners and an MVP, and be in contention ... I dont take it for granted," Kennedy said. The Los Angeles Dodgers' Clayton Kershaw and Detroit's Justin Verlander were the only others with 20 victories last season. Each won a Cy Young award, and Verlander was the AL MVP. Kennedy would join Randy Johnson and Curt Schilling the only D-backs pitchers to win 20 games in consecutive seasons, with Johnson and Schilling doing it in 2001-02. Brandon Webb is the D-backs' only other 20-game winner, winning 22 in 2008. "A lot of things have to line up for it. Its not even in my sights," Kennedy said. "Wins are just something that are out of our control." San Francisco's pitchers know about that. Lincecum won 18 and 15 games in his consecutive Cy Young seasons of 2008-09 despite ERAs of 2.62 and 2.48. Matt Cain, who will start the third game of this series Sunday, has won 14, 13 and 12 games the last three seasons despite ERAs of 2.89, 3.14 and 2.88. Kennedy and Cain had very similar numbers last season, except for the win total. Lincecum told reporters this week that the Giants consider this a "statement" series after watching the D-backs celebrate the division title at their expense at Chase Field last September. Kennedy said his job will be to harness the emotions that come into play on Opening Day. "You have not pitched in an adrenaline-filled game for four or five months. It is a little different then spring training. Because it is against the Giants, at home, it is going to be a little bit more (emotional). For myself, I will try to keep it at a minimum. It is that first inning, and tying to get through the first," he said. The first inning. The eighth. One of Kennedys learned traits last season was an ability to maintain focus and control in just about every situation. He made 24 quality starts (the D-backs were 21-3 in those) and threw at least 100 pitches in 22 consecutive appearances. He was 13-1 with a 2.26 ERA after the second week of July, a constant down the stretch. "I like pitching nice and cool and calm. That is something I tried to learn the last couple of years, and I really learned it last year. When you have all that adrenaline in big games, you really have to tone it down because it can get away from you," Kennedy said. "For me, I have done pretty good at least making note of it and then focusing more." Kennedy is aware of the challenge ahead. The D-backs and Giants seem to be about equally favored to win the division in preseason polls, not that they have much bearing on the season. Many picked the defending World Series champion Giants to repeat last season, while the D-backs were not considered contenders after consecutive seasons of at least 92 losses. "Thats not going to change the way we play. People dont think we can do it again," Kennedy said. "I know 'Gibby' (manager Kirk Gibson) said, 'Why not?' Last year, he said, 'Why not us?' I say, 'Why cant we do it again?' I know the target is going to be on our backs, which happens every year, whoever wins the division. I like that. I think it falls into our team personality. I know the players in the clubhouse will respond how they need to."
Original Story:
http://www.foxsportsarizona.com/04/05...
THE BACKYARD
BEST OF MAXIM
RELATED ARTICLES
PHOENIX -- Diamondbacks teammates Paul Goldschmidt and Chris Young were both a little out of place in Friday's opening-day lineup against the San Francisco Giants. D-backs manager Kirk Gibson slotted Young, the center fielder, second in the batting order, a spot he hadn't hit in all spring and had hit in only once in 2011, exactly one year earlier. Goldschmidt, meanwhile...
PHOENIX -- Diamondbacks reliever Takashi Saito will open the season on the disabled list with a medial right calf strain, D-backs manager Kirk Gibson said Wednesday. Saito, 42, tweaked the calf warming up on Tuesday and was scratched from a scheduled appearance in Tuesday's exhibition at Chase Field. He went for an MRI on Wednesday morning, and the injury was a little more serious...
PHOENIX -- Diamondbacks manager Kirk Gibson revealed his Opening Day roster Wednesday morning with no major surprises, though Takashi Saito's calf injury shook things up a bit in the bullpen. Saito (medial right calf strain) will open the season on the 15-day disabled list after suffering the injury Tuesday, opening up a spot in the bullpen for Wade Miley. Miley, who started...
Tim Lincecum loses to Arizona and Ian Kennedy beats San Francisco. Those facts persisted through all of last season and carried over to the reigning NL West champion Diamondbacks' 5-4 season-opening victory over the Giants on Friday night. Chris Young and Paul Goldschmidt hit first-inning home runs, then Ryan Roberts' two-run double broke a sixth-inning tie as Arizona defeated...
Chris Young and Paul Goldschmidt hit first-inning home runs off Tim Lincecum and the Arizona Diamondbacks opened defense of their NL West title with a 5-4 victory over the San Francisco Giants on Friday. Ryan Roberts' two-run double broke a sixth-inning tie as Arizona defeated Lincecum (0-1) for the fourth time in a row. Ian Kennedy (1-0) allowed three runs on nine hits in...
Willie Bloomquist, who really shouldn't even be batting leadoff, hit a single off Tim Lincecum to get things going for the Diamondbacks. The next batter, Chris Young, hit a home run. And that pretty much set the tone for the game; Lincecum gave up a couple bombs in the first inning, and ultimately couldn't get through six innings. His fastball velocity sat around 90, topping...
PHOENIX (AP) -- Chris Young and Paul Goldschmidt hit first-inning home runs off Tim Lincecum and the Arizona Diamondbacks opened defense of their NL West title with a 5-4 victory over the San Francisco Giants on Friday. Ryan Roberts' two-run double broke a sixth-inning tie as Arizona defeated Lincecum (0-1) for the fourth time in a row. Ian Kennedy (1-0) allowed three runs...
Alfredo Marte's three-run homer in the top of the first provided instant offense, and RHP Trevor Bauer tossed five scoreless innings as the BayBears defeated the Mississippi Braves 5-2 on Thursday night. The victory is Mobile's fourth consecutive Opening Day win. They have now won five straight over the M-Braves dating back to last year.
PHOENIX (AP) -- The game between the San Francisco Giants and Arizona Diamondbacks has just about everything a season opener needs. Rivals that expect to contend send a pair of the National League's best pitchers to the mound -- two-time Cy Young winner Tim Lincecum for San Francisco and Ian Kennedy, 21-4 with a 2.88 ERA in a breakout season a year ago, for Arizona. A capacity...
MLB News

Delivered to your inbox

You'll also receive Yardbarker's daily Top 10, featuring the best sports stories from around the web. Customize your newsletter to get articles on your favorite sports and teams. And the best part? It's free!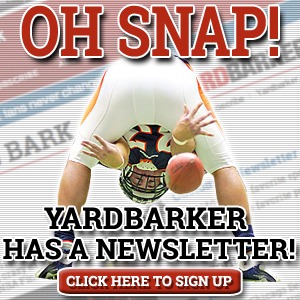 Latest Rumors
The Backyard

Today's Best Stuff

For Bloggers

Join the Yardbarker Network for more promotion, traffic, and money.

Company Info

Help

What is Yardbarker?

Yardbarker is the largest network of sports blogs and pro athlete blogs on the web. This site is the hub of the Yardbarker Network, where our editors and algorithms curate the best sports content from our network and beyond.