Found May 20, 2012 on Mike Silva's New York Baseball Digest:
PLAYERS:
Kerry Wood
,
Jeff Bagwell
,
Craig Biggio
,
Derek Bell
,
Moises Alou
,
Roger Clemens
,
Nolan Ryan
,
Mark Prior
,
Dusty Baker
,
Pedro Martinez
,
Randy Johnson
,
Dwight Gooden
,
Stephen Strasburg
,
Dayan Viciedo
TEAMS:
Chicago Cubs
,
Texas Rangers
,
Boston Red Sox
,
Cincinnati Reds
,
Washington Nationals
,
Chicago White Sox
Kerry Wood announced his retirement this past weekend. It's more of a Chicago story, although Wood briefly played for the Yankees in 2010. The news didn't created a ripple here in New York, but its interesting how Wood symbolizes such a promising, yet frustrating era in Cubs history. The lessons learned from it can be applied to any sport in any town.
Everyone remembers the 20-strikeout game against the Astros in 1998. Twenty K's is remarkable, but the fact he was able to do it against that lineup is amazing. Houston had Jeff Bagwell, Craig Biggio, Derek Bell and Moises Alou all in their prime. This was a team that averaged 5.5 runs a game that season with the pitcher batting. They combined to strike out nine times, six by Bagwell and Alou. Truly an accomplishment for any pitcher; much less a 21-year old kid making his fifth big league start.
Wood would not only become the second pitcher in history to strike out 20 that day (Roger Clemens is the other), but he would tie Clemens and Nolan Ryan for most strikeouts over a two game span when he fanned another 13 against the Diamondbacks five days later. The Cubs finally had their ace and were entering a new era. Even elbow problems that led to Tommy John surgery couldn't dampen their hopes. Wood had a 100 mph fastball and a nasty curve and slider as secondary pitches. He wasn't just a fireballer, he had the tools to be a pitcher. Even Ryan didn't possess that at the same age.
Wood was teamed with Mark Prior in 2001. In a three year span the Cubs possessed the two most talked about young pitchers in the game. How could anyone beat them in a 7-game series? If they didn't blow a 3-1 lead to the Marlins in that '03 NLCS they had a great shot at defeating the Yankees. An inferior Miami team did, so why not the Cubbies?
I know what you are thinking: Steve Bartman. Regardless, the pitching foundation was in place for the Cubs to rebound from that tough loss. The Red Sox lost an equally crushing series that October and rebounded the following season.
You could blame the Billy Goat curse or Dusty Baker pushing both Wood and Prior too hard, too soon. The reality is Wood, just like Prior, didn't have the mechanics to sustain health for any period of time. Former Cy Young Award winner and Cubs broadcaster, Steve Stone, pointed out how Wood throwing across his body put extreme pressure on his arm.  The window for Wood, Prior and the Cubs came and went in 2003. They squeezed another year of contention the following season, but both pitchers already were breaking down.
Could you imagine how baseball would be in the city of Chicago if both these pitchers stayed healthy? With Wood and Prior at the top of the rotation it's hard to believe they wouldn't be contenders on a yearly basis. Perhaps it would be the Cubs, not the Cardinals that have two World Series championships the last five years. Maybe they could have gone on a "Red Sox type" yearly playoff run in the National League.
The lesson learned from Wood and Prior is you could never prevent injuries to young pitchers. No innings limit would help these two kids. Science dictated they were bound to get hurt, and it was only a matter of time before it happened. You have to be responsible and put young kids in a position to stay as healthy as possible. You can't, however treat them like glass china that could break at any moment. That's because they can, and will, regardless of planning. When you have an opportunity to win you go for it.
The Cubs did that with their two young hurlers and it didn't work out. Wood started Game 7 in 2003 and didn't get it done. There is nothing you can do about it. That's why the Nationals treatment of Stephen Strasberg is laughable. He also suffers from poor mechanics. He will also get hurt- how often or serious we don't know- and keeping him parked in the driveway won't change a thing. The Nationals are only hurting themselves.
The fact that Wood was able to stick around for 14 seasons is remarkable. Prior is a true "flash in the pan," but Wood excelled as a starter and reliever. Want to know how good his first season was? Since 1901 only Pedro Martinez ('99) and Randy Johnson ('01) had a better K/9 rate than Wood's 12.6. His rookie campaign was better than anything Dwight Gooden produced in his heyday of 1984 and '85. Stephen Strasburg produced a 12.2 in 2010, but unlike Wood, he didn't come close to qualifying for the ERA title.
Kerry Wood seemed content after he struck out Dayan Viciedo to finish his inning of work and cap off his career. "I had a blast. I wouldn't trade it in. I learned from the injuries, I learned about my body and what it takes to compete and go out and play every day, 'he said to reporters after his Friday appearance, ironically against the Cubs cross-town rivals, the White Sox.
What if? No use thinking about it today. It's better to enjoy what you have when it's in front of you. Sounds like Kerry Wood did that and is leaving the game fulfilled, even though he never lived up to the promises of 1998.
Wood and the Cubs gave it their best shot. They came up short.
Original Story:
http://mikejsilva.com/2012/05/20/kerr...
THE BACKYARD
BEST OF MAXIM
RELATED ARTICLES
CHICAGO- For a pitcher that at one point delivered some of the hottest stuff that the MLB has seen over the past 15 years, Kerry Wood seemed to be one step away from immortality. His career runs semi-parallel to the NFL's Dan Marino in the sense that.... To read this feature that features press conference footage of Wood and quotes from the front office on his next step, please...
Kerry Wood was in a coat and tie rather than a baseball uniform as he stood at home plate at Wrigley Field on Saturday and thanked many people for his 14 years in the major leagues. Wood, who retired after Friday's game, will likely join the Chicago Cubs in another role after taking some time off to spend with his family. Wood, who struck out 20 batters as a rookie in 1998...
Kerry Wood retired from Major League Baseball on Friday, putting an end to a career that was up and down but solid all-around. Wood made one final appearance at Wrigley Field before officially calling it a career. He faced one batter on Friday and put an exclamation point on his resume by throwing three straight strikes to record his final K. Wood spent parts of 14 seasons split...
Kerry Wood, once one of the most promising prospects in the history of baseball, is reportedly expect to walk away from the game on Friday. Wood will retire 14 seasons with three different teams, ESPN.com reports. The 34-year-old has struggled this season in his second go-around with the Cubs as he battles injuries and inconsistencies. When Wood came up with the Cubs in 1998 as a...
Big news out of Chicago, as Cubs reliever Kerry Wood will be retiring today. Wood hasn't been healthy all season, and it appears that the 34 year-old just can't take it anymore. Wood first gained acclaim with the Cubs as a starting pitcher, striking out a record 20 hitters in a start in his 1998 rookie year. That game is generally regarded as the best pitched game of all...
The first ever professional baseball game I went to was Kerry Wood's 20-K, one-hitter against the Houston Astros on April 12th, 1998. I was six years old, so I don't remember much of anything from that game, but I do remember being told over and over again that I was witnessing MLB history. That day Chicago Cubs fans and I fell in love with Kerry Wood. Fast forward to May 18th...
Kerry Wood retired from MLB today. He ended his career with the same team he begun with, the Chicago Cubs. He also had some time with the Cleveland Indians and New York Yankees. Wood set a single game strikeouts record, had some big postseason moments in 2003, suffered major injuries due to aggravating motions in his mechanics, and still had a fine 14 year career. It was just a...
Last week Kerry Wood announced that he would be retiring mid-season, but it doesn't seem like Wood has truly left Chicago for good. Sunday night Kerry Wood was seen with Pearl Jam lead singer Eddie Vedder and former Chicago Blackhawks and Detroit Red Wing defenseman Chris Chelios at Stanley's Kitchen and Tap in Chicago where Vedder and Chelios sung karaoke while Wood stood...
It was hinted at on twitter last night that big Cubs news was coming today and news did come. Somewhat reminiscent of Ryne Sandberg's in-season retirement, Kerry Wood will announce that he's retiring from baseball. I'm sure he'll give his reasons at the press conference, but when elite athletes can no longer do the things that made them elite, the fire to compete...
On May 6th, 1998 Kerry Wood burst on the national stage. He tied a major league record set by his childhood hero Roger Clemens with 20 strikeouts in a game. The Texas born hurler made mince meat of the Houston Astros that day in route to the Rookie of the Year award that season. He finished that 1998 season with a 13-6 record and 233 strikeouts. He was only 21 years...
FoxSports.com's Jon Paul Morosi joins Rob Dibble to discuss Kerry Wood's retirement.
MLB News

Delivered to your inbox

You'll also receive Yardbarker's daily Top 10, featuring the best sports stories from around the web. Customize your newsletter to get articles on your favorite sports and teams. And the best part? It's free!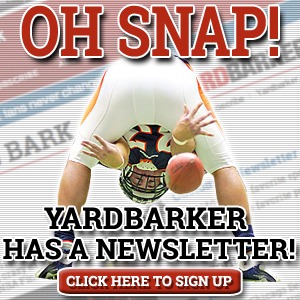 Latest Rumors
Best of Yardbarker

Today's Best Stuff

For Bloggers

Join the Yardbarker Network for more promotion, traffic, and money.

Company Info

Help

What is Yardbarker?

Yardbarker is the largest network of sports blogs and pro athlete blogs on the web. This site is the hub of the Yardbarker Network, where our editors and algorithms curate the best sports content from our network and beyond.