Found November 02, 2011 on Waiting For Next Year:
PLAYERS:
Derek Lowe
,
Grady Sizemore
,
Ubaldo Jimenez
,
CC Sabathia
,
Cliff Lee
,
Victor Martinez
,
Drew Pomeranz
,
Adrian Beltre
,
Jason Kipnis
,
Lonnie Chisenhall
,
Matt LaPorta
,
Jack Hannahan
,
Dustin Pedroia
,
Jason Donald
TEAMS:
Cleveland Indians
,
New York Yankees
,
Philadelphia Phillies
,
Detroit Tigers
,
Colorado Rockies
,
Texas Rangers
,
Boston Red Sox
With the Indians having already addressed their fifth starter spot in a quick, smart trade for veteran Derek Lowe, the focus will now shift to the badly needed right-handed bat. Letting CF Grady Sizemore walk into free agency frees up a $9 million hole in the payroll if you believe the Indians will indeed spend that. I do.
GM Chris Antonetti has already added $5 million extra that wasn't expected with the acquisition of Lowe. He also knows that this division is still very winnable. All he has to do is look at how his completely banged up Indians team lead the Central into August, despite the fact that they spent huge chunks of time without three of their best players, then watched as one of their key kids missed most of the stretch run.
Antonetti showed last year that he knows he is in the middle of a window with his core players where he can compete for a playoff spot and go deeper. Therefore, he has been aggressive in taking steps to improve his team for the now, and not just for the future. 
Yes, he caught a ton of flack for the Ubaldo Jimenez trade, but it was mostly classic Cleveland complaining. For years, we have wanted the team to go out and get a big name to improve the club instead of trading the likes of CC Sabathia, Cliff Lee, and Victor Martinez for prospects. Antonetti actually did that last year, and people were outraged that we would deal our top two pitching prospects.
You can't have it both ways. You have to strike while the iron is hot sometimes, and Antonetti took that chance when he snagged Ubaldo. The jury will be out on that deal as we see how Jimenez responds this season with the Tribe as well as the maturation of Alex White and Drew Pomeranz in Colorado.
In the meantime, the Indians still have a gigantic need for a right-handed, middle of the order, bat in the Nelson Cruz/Adrian Beltre mold. With their financial constraints, signing a free agent is probably not in the cards, unless its of the one year variety on a guy they'd have to take a chance on. Kind of like someone they just let walk in those same circumstances; Sizemore. The reality is that for Antonetti to acquire that impact bat, its going to have to come through a trade.
Which brings us to what the Indians would have to give up to get such a legitimate stick.
With White and Pomeranz now gone, and top position prospects such as Jason Kipnis and Lonnie Chisenhall now at the major league level, the Indians AA and AAA top tier depth is not very sought after. Of Baseball America's top 100 prospects of 2011, only Chisenhall (#25) and Kipnis (#54) were ranked in terms of position players. Next on the Tribe's list are the likes of Class A's LeVon Washington, Tony Wolters, and the chronically injured and under-achieving Nick Weglarz.
Weglarz is actually a guy who should be that  power outfielder that the team could be bringing up to play everyday. His failings, coupled with the lackluster play of 1B Matt LaPorta, have put the Indians in this predicament.
I believe Antonetti is going to be faced with the prospect of needing to trade one of his key future pieces, either Kipnis or Chisenhall, to get that middle of the order right-handed run producer. I don't want to trade either, but you have to give something to get something.
To me, if you must deal one, Chisenhall would be the guy.
While The Chiz showed some some promise at last year at the plate, he also struggled mightily at times. He was kind of "just there" when the Indians were driving towards a division title. Defensively, he is still a work in progress. While the Indians made a second surge in late July, it was when Jack Hannahan regained the third base job from Chiz.
On the other hand, Kipnis's call-up was greeted with huge fanfare and he disappoint. From his first hit – a walk-off single against the Angels – on, Kipnis became a key cog in the Indians offense. He was quickly moved into the two-hole and fit in perfectly. He hit five homers in seven games in his just his second and third weeks in the majors and was only derailed by an oblique injury which robbed him (and the Indians) of three key weeks where the team floundered.
Kipnis has that Dustin Pedroia thing going on. He is fiery and plays extremely hard. Maybe Chisenhall will show more of that, but as of right now, if you told me I could keep just one of these two, I'm sticking with Kipnis, hitting him second and playing second every day.
Don't be stunned if one of these two kids is the centerpiece of a deal that would bring a right-handed bat that could play first, corner OF, or even third (if Chisenhall is indeed the guy). I'd add Lonnie to a deal if it could net the Indians what they need. You can roll with another year of a Hannahan/Jason Donald type platoon (although Jackie raked against lefties last year).
Original Story:
http://www.waitingfornextyear.com/201...
THE BACKYARD
BEST OF MAXIM
RELATED ARTICLES
So we've been hiding out for a little while trying to let the pains of the season slip away, but we're here for a quick Halloween update. According to ESPN, the Braves have sent Derek Lowe to Cleveland for pitching prospect Chris Jones. The Braves will pay about $10 million of the $15 million that Lowe is owed in 2012. After going 9-17 in 2011, it's a move the Braves had to...
While We're Waiting serves as the early morning gathering of WFNY-esque information for your viewing pleasure. Have something you think we should see? Send it to our tips email at tips@waitingfornextyear.com. Comparing the Browns with, the Browns- "The 2011 Browns are not expansion level terrible. They have a ways to go before they reach the dark depths of the so-called Darrin...
Derek Lowe has been traded to the Cleveland Indians in a deal where the Atlanta Braves get rid of arguably their most overpaid player. In return, the Braves received minor leaguer Chris Jones. In addition to Lowe, the Indians got $10 million toward the $15 million Lowe is due next season. The Indians are obviously hoping Lowe can bounce back. The former ace for both the Boston Red...
Three days before the opening of the free-agent market, the Cleveland Indians acquired pitcher Derek Lowe from the Atlanta Braves for minor league left-hander Chris Jones on Monday in the first significant trade of the offseason.
The Braves traded Derek Lowe to the Indians yesterday for minor league pitcher. The Braves will pay Lowe $10 million of the $15 million he is owed in 2012.This is bad news for the Phils. The drunk-driving home-wrecker was 1-4 with a 5.14 ERA against the Fightins last year. He would have been a great asset for the Phillies by pitching for the Braves next season. Instead, he'll...
Happy Halloween, Braves fans! Only instead of trick-or-treat, the Atlanta Braves gave its fans all treats. With a wealth of young arms and a shortage of dependable bats, the Braves made a pair of moves about 90 minutes apart Monday afternoon that should amount to a major step forward. At around noon, the Braves announced they were picking up the option on veteran Eric Hinske,...
A person familiar with the trade says the Cleveland Indians have acquired pitcher Derek Lowe from the Atlanta Braves for a minor league pitcher. Lowe, who has 166 career wins, was acquired Monday for left-hander Chris Jones, said the person who spoke to The Associated Press on condition of anonymity because the deal is not finalized.
According to sources close to John Kreger the Atlanta braves have traded right handed pitcher Derek Lowe to the Cleveland Indians. Buster Olney of ESPN adds that the Braves will "absorb" all but $5 million of Lowe's contract. Jon Heyman of Sports Illustrated adds that the Braves will also receive a Minor League pitcher. Back in July, we learned that the Braves had interest...
Here is a quick round-up of hot stove news and rumors making their way around MLB: This afternoon, the Cleveland Indians declined the 2012 option on center fielder Grady Sizemore, making him a free agent. The Indians also acquired RHP Derek Lowe from the Braves in exchange for a minor leaguer. The Braves will absorb all but $5 million of Lowe's remaining $15 million salary, tweets...
The Braves have traded Derek Lowe to the Indians, sources tell ESPN The Magazine's Buster Olney.
Teams looking to take a chance on a center fielder now can ponder the Grady Sizemore option. The Cleveland Indians pondered and decided Sizemore was not worth keeping at 9 million. The oft-injured center fielder has played just 210 games the past three seasons, so the Indians declined to pick up Sizemores option. That means the one-time Sports Illustrated cover boy is on the open...
MLB News

Delivered to your inbox

You'll also receive Yardbarker's daily Top 10, featuring the best sports stories from around the web. Customize your newsletter to get articles on your favorite sports and teams. And the best part? It's free!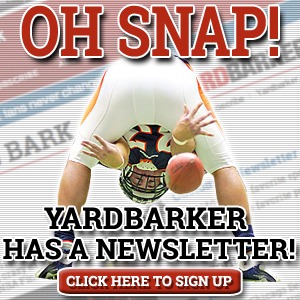 Latest Rumors
Best of Yardbarker

Today's Best Stuff

For Bloggers

Join the Yardbarker Network for more promotion, traffic, and money.

Company Info

Help

What is Yardbarker?

Yardbarker is the largest network of sports blogs and pro athlete blogs on the web. This site is the hub of the Yardbarker Network, where our editors and algorithms curate the best sports content from our network and beyond.