Found October 31, 2012 on Monkey with a Halo:
PLAYERS:
Jerry Dipoto
,
Ernesto Frieri
,
Scott Downs
,
Kevin Jepsen
,
Jordan Walden
,
Nick Maronde
,
LaTroy Hawkins
,
Jason Isringhausen
,
David Carpenter
,
Michael Kohn
,
Ryan Brasier
,
Andrew Taylor
,
Rafael Soriano
,
Joakim Soria
,
Jonathan Broxton
,
Kyle Farnsworth
,
Jon Rauch
,
Matt Lindstrom
,
Takashi Saito
,
Koji Uehara
,
Kevin Towers
TEAMS:
Los Angeles Angels
,
New York Yankees
,
Kansas City Royals
,
Cincinnati Reds
,
Tampa Bay Rays
,
New York Mets
,
Colorado Rockies
,
Arizona Diamondbacks
,
Texas Rangers
With the World Series on the verge of beginning, that means we are mere days away from the free agency market opening for business and the Angels sure have themselves some business to get done if they want to end their playoff drought.  To prep you for the ensuing craziness, we're previewing how the market could unfold for the Halos, position-by-position.  Up next, the bane of your existence and mine: the Angels bullpen.  Long gone are the days of K-Rod and Shields turning the every Angel game into a seven-inning affair.  Instead, opposing lineups lick their chops at the idea of chasing the Angels starter so that they can feast on the Halos meatball-hurling relievers.  What once was the team's greatest strength is now its biggest weakness and it will be up to Jerry Dipoto to fix the mess that his predecessor created. Who we got? What the Angels have isn't exactly inspiring, but it isn't dreadful either.  Ernesto Frieri started his Angel tenure looking absolutely dominant, but eventually regression struck and Frieri began looking shakier and shakier.  For now, he's the Angels closer, but that is something that could change quickly depending on what the Halos do this off-season. While Frieri has captured much of the fans' attention and ire, he is probably the least of their problems.  Though Ernasty did have a few memorable meltdowns down the stretch, the real issue is middle relief.  Scott Downs got old in a hurry during the All-Star break apparently and may not be anything more than a decent left-handed specialist now.  Kevin Jepsen somehow emerged as the Angels' most trusty middle reliever, which is kind of frightening.  The only other guaranteed returning reliever (barring a trade) is former closer Jordan Walden who did nothing after returning from injury last season to convince anyone that he is ready to return to a high leverage role. The x-factor in the bullpen fold could be Nick Maronde.  The rookie looked pretty great after being called up in September and might have earned himself a return to the big league bullpen next season with his work, that is if the Halos decide he isn't better off continuing to develop as a starting pitcher in the minors.  If he does, Maronde could serve as a quality LOOGY or maybe work his way up to being a setup man who can handle any kind of batter. Meanwhile, expect the Angels to quickly kick veterans LaTroy Hawkins and Jason Isringhausen to the curb.  In their place, the Angels could bring in new blood or turn things over to a crew of internal candidates which includes Bobby Cassevah, Steve Geltz, David Carpenter, Michael Kohn, Ryan Brasier and Andrew Taylor.  None of those guys figures to be much of an impact player in 2013 though. Who we want? Who the fans want and who Jerry Dipoto are probably very different things.  Fans want a "proven closer" to come in and settle down the high leverage situation.  That is why you will surely hear names like Rafael Soriano, Chris Perez, Joakim Soria and Jonathan Broxton bandied about.  However, Jerry Dipoto has said in no uncertain terms that he doesn't really believe in making large financial investments in relief pitchers.  That might be a tough pill to swallow for some fans, but it is music to my ears. Even with Dipoto's stance on relief spending, he could still drop a little bit of coin on the market.  There are plenty of seemingly reliable middle relief arms available in free agency.  Mike Adams, Kyle Farnsworth, Jon Rauch, Matt Lindstrom, Takashi Saito, Ramon Ramirez and Koji Uehara are all guys who have some experience closing and setting up, which could make them a nice compromise for Dipoto although many of them carry concerns regarding age, consitency and/or injury. Of course, we could find out that Dipoto doesn't even care to spend on those guys either.  After all, he did study under Kevin Towers for years and a big part of Towers' long record of success has been predicated on his ability to find cheap but effective relievers.  We saw Dipoto make such a move when he pilfered Frieri from the Padres, so he could well try and go that route once again.  Of course, I can't speculate as to who he might target because, well, then they wouldn't be a hidden gem, would they? Why we care? Do I really even need to explain this part?  I mean, the Bullpen of Perpetual Sorrow has undermined the Halos for three straight years now.  With just a league average bullpen this last season they probably could've made the playoffs.  So, yeah, we care about what the Angels do with the bullpen this off-season.  Like, A LOT. [follow]
Original Story:
http://www.monkeywithahalo.com/2012-a...
THE BACKYARD
BEST OF MAXIM
RELATED ARTICLES
Be prepared for the Angels to make at least one trade this week. At this point, it will be an upset if they do not. The team, according to major-league sources, is aggressively trying to move right-handers Dan Haren and Ervin Santana before deciding on their respective -- and expensive -- club options for 2013. "I think they trade both guys," one rival executive said...
Our AngelsWin.com minor league photographer Jeremy Long was recently credentialed by MLB.com with a photographer's pass and captured some amazing shots of  three of our top ten prospects heading into 2013 in Travis Witherspoon, Randal Grichuk & Kaleb Cowart. See the slideshow under my reports!  In talking to a scout recently and Jeremy who has seen these three guys this...
Yesterday, the Kansas City Royals traded for pitcher Ervin Santana.  Santana had spent his entire career with the Los Angeles Angels up to this point and had seen equal amounts of success and failure. He was a main part of the Angels rotation in 2011 and threw a no-hitter.  Then, in 2012, something changed.  He regressed.  There was no apparent reason for the regression.  Now...
With the World Series on the verge of beginning, that means we are mere days away from the free agency market opening for business and the Angels sure have themselves some business to get done if they want to end their playoff drought.  To prep you for the ensuing craziness, we're previewing how the market could unfold for the Halos, position-by-position.  Up next, we wonder...
Free agency opens in just a few days and we've all already heard a great deal about who the Angels are interested in or should be interested in.  In fact, we've probably heard these speculative suggestions more than any of us care to.  Yet what nobody ever mentions are the guys that could interest the Angels but really shouldn't.  As the Tony Reagins era taught us...
The Kansas City Royals continued their quest to build a legitimate starting rotation on Wednesday by acquiring Ervin Santana from the Los Angeles Angels.  Santana endured the worst season of his career in 2012 when he posted an ERA over 5 and gave up a league high 38 homeruns.  However, Santana is a former all-star and has proven on more than one occasion that he's capable...
Here are the latest rumors regarding Free Agent in the Major Leagues: – The Angels' top priority this offseason is to re-sign right handed pitcher Zack Greinke according to Danny Knobler of CBSSports.com. They will face some fierce competition though, since the Rangers are interested in him also. – Even though the White Sox declined Kevin Youkilis' option, they would...
Ben and Sam discuss what the Ervin Santana trade says about the Royals` rotation and the pitching market, then talk about what Rick Hahn`s ascension to the GM role in Chicago means for the future of front offices.
Tweet     The Kansas City Royals need starting pitching help. The Los Angeles Angels had two whom they held pricey club options on for the 2013 season. Now, they have just one. Today the Angels sent 29-yeard old right-hander Ervin Santana to the Royals in exchange for left-handed pitcher Brandon Sisk and cash considerations. [...]
J.J. Hardy thought he'd hit a home run, only to be robbed when Mike Trout made one of the most sensational grabs of the season.
MLB News

Delivered to your inbox

You'll also receive Yardbarker's daily Top 10, featuring the best sports stories from around the web. Customize your newsletter to get articles on your favorite sports and teams. And the best part? It's free!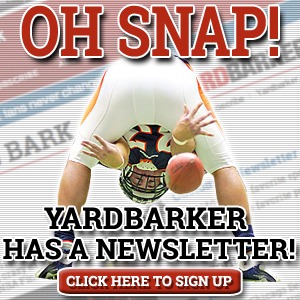 Latest Rumors
Best of Yardbarker

Today's Best Stuff

For Bloggers

Join the Yardbarker Network for more promotion, traffic, and money.

Company Info

Help

What is Yardbarker?

Yardbarker is the largest network of sports blogs and pro athlete blogs on the web. This site is the hub of the Yardbarker Network, where our editors and algorithms curate the best sports content from our network and beyond.