Posted April 17, 2012 on AP on Fox
Jury selection in the Roger Clemens perjury case was temporarily put aside Wednesday as the two sides argued over the scope of testimony that former teammate Andy Pettitte can provide. The detour was the latest delay in picking a jury, which U.S. District Judge Reggie Walton said probably won't be completed until next week. Pettitte is expected to testify that Clemens acknowledged using human growth hormone in 1999 or 2000, and Pettitte will also say that he tried HGH himself a few years later. Prosecutors want Pettitte to be allowed to testify that the source of his HGH was Clemens' former strength trainer, Brian McNamee, who says he injected Clemens with steroids and human growth hormone. Clemens denies using the drugs, and has said Pettitte ''misremembers'' their conversation. In a filing with the court Wednesday, Clemens' lawyers said that Pettitte's use of HGH has nothing to do with Clemens. ''The proffered evidence would be unfairly p...
Original Story:
http://msn.foxsports.com/mlb/story/ro...
THE BACKYARD
BEST OF MAXIM
RELATED ARTICLES
From Mark Hale:The way things looked for Andy Pettitte after yesterday's minor league outing, it seemed possible he would need just two more starts before rejoining the Yankees. Pettitte's return to the major league seemed imminent, meaning Phil Hughes might get just two more turns to solve his woes. Both Pettitte and Hughes, however, will be getting more time. Following...
Questioning of potential jurors in the Roger Clemens perjury case was completed Thursday after nearly four days, and opening arguments are set for Monday afternoon The judge, prosecutors and defense lawyers settled Thursday on the pool of 36 prospective jurors from which the final 12 jurors and four alternates will be picked on Monday morning. The extra 20 are needed because Clemens...
One potential juror was questioned for 68 minutes. Another for 64 -- and he didn't even make the cut. Along the way, Roger Clemens' lawyer offered some clues as to his strategy once testimony gets under way, including a challenge to whether Congress had a legitimate purpose in holding the hearing at which the seven-time Cy Young Award winner testified -- and whether Clemens...
The Justice Department, embarrassed by blundering into a mistrial of Roger Clemens last year, has added more prosecutors as it tries again to convict the famed pitcher of lying to Congress when he said he never used performance-enhancing drugs. Jury selection in the new trial begins Monday. The legendary former pitcher, who famously reveled in staring down hitters, will face a...
After the last go-round ended on a mistrial, the Feds are hoping to bag pitcher Roger Clemens at this stanza of their bout with him. The Cy Young Award winner is still charged with charged with perjury, false statements and obstruction of Congress. Jury selection begins today and the government has ramped up the numbers in their prosecution party (five lawyers) but then again so...
The specific charges against Roger Clemens in U.S. District Court relating to his sworn deposition to the staff of the House Oversight and Government Reform Committee on Feb. 5, 2008, and his testimony before the committee on Feb. 13, 2008: Count 1) Obstructed Congress when he: (1) Said in his deposition he never used human growth hormone. (2) Said in his deposition he never spoke...
Back in 2006, the Atlanta Braves thought they had their slugger of the future in 6-foot-4, 240-pound Cody Johnson. Atlanta spent its first-round pick on the strapping Johnson, luring the native of Panama City, Fla., away from a scholarship at the University of Florida. Johnson did not disappoint. In 2007, playing with the Danville Braves of the Appalachian League, Johnson, in 62...
The perjury retrial of Roger Clemens is back and more ridiculous than ever. This Wednesday, U.S. District Judge Reggie Walton allowed the feds to respond to a filing from Clemens' lawyers over the potential testimony of former/future Yankee and Ex-Clemens' teammate – Andy Pettitte. Do I smell a very special episode of "Arli$" here? Pettitte is expected to testify that...
Roger Clemens stood and uttered ''Morning'' to the 90 potential jurors who had gathered in the ornate, sixth-floor ceremonial courtroom, the one deemed big enough to hold them all. After he sat down, he swiveled his chair, as if trying to make eye contact with as many as possible.
Prosecutors said they might call former baseball players Barry Bonds and Jose Canseco, current baseball commissioner Bud Selig and New York Yankees general manager Brian Cashman as witnesses in the Roger Clemens perjury case. The defense said it might call former Clemens teammates Paul O'Neill, Jorge Posada and Mike Stanton, and baseball writer Peter Gammons.
Yankees News

Delivered to your inbox

You'll also receive Yardbarker's daily Top 10, featuring the best sports stories from around the web. Customize your newsletter to get articles on your favorite sports and teams. And the best part? It's free!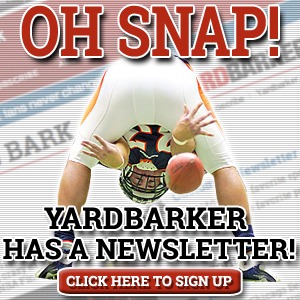 Latest Rumors
Best of Yardbarker

Today's Best Stuff

For Bloggers

Join the Yardbarker Network for more promotion, traffic, and money.

Company Info

Help

What is Yardbarker?

Yardbarker is the largest network of sports blogs and pro athlete blogs on the web. This site is the hub of the Yardbarker Network, where our editors and algorithms curate the best sports content from our network and beyond.