Found May 16, 2012 on Fox Sports Southwest:
PLAYERS:
Colby Lewis
,
Mitch Moreland
,
Eric Hosmer
,
Jarrod Dyson
,
Billy Butler
,
Brayan Pena
,
Chris Getz
,
Mike Moustakas
,
Bruce Chen
,
Vin Mazzaro
,
Elvis Andrus
,
Nelson Cruz
,
David Murphy
TEAMS:
Texas Rangers
,
Kansas City Royals
ARLINGTON, Texas Texas right-hander Colby Lewis was historically bad in his last start against Baltimore. Tuesday night against Kansas City, Lewis was just bad and may have been his own worst enemy. Lewis (3-3) allowed four runs in the first inning that was aided by his throwing error and seven overall as the Royals completed a two-game sweep of the Rangers with a 7-4 victory. The two-game sweep by Kansas City marks the first time since July 8-11, 2010 the Rangers have been swept at home. Lewis, the Opening Day starter for the Rangers, has had a dreadful month of May. He's now 0-3 with an ERA of 6.52 this month. He came into April with a 1.93 ERA. In 19 13 May innings, he's allowed 23 hits and eight home runs and is now tied for the major-league lead in homers allowed with 12. Against Baltimore he allowed three-consecutive homers to start the game. Tuesday night he didn't allow a first-inning homer but did give up four hits and added an ugly error on an easy ground ball to the game's second batter as his throw to first was nowhere near Mitch Moreland. It was the first of two errors in the game for Lewis and both of them led to unearned runs. "I checked the runner and told myself nice easy toss over there," said Lewis, who grabbed a comebacker of the bat of Eric Hosmer after a leadoff double by Jarrod Dyson. "I forced him (Dyson) back and threw it too long. Everybody commits errors sometimes and it just so happened I committed one and they took advantage of it." The Royals took advantage of Lewis in a big way. Following the error which put runners on second and third with no outs, Billy Butler hit an RBI grounder. After getting the second out, Lewis allowed the next four batters to reach with Brayan Pena and Chris Getz collecting run-scoring singles. By the time the inning ended, the Royals had batted around and Lewis was battered. It didn't get much batter in the next two innings as a Lewis error on a pickoff helped the Royals score another run in the second and Mike Moustakas hit a solo homer in the third. Despite an outing in which he threw 113 pitches in just 5 23 innings and allowed eight hits, walked two and hit one, Lewis is confident he can bounce back. "I was real good in the first five starts and just like anything else, it's just a little spell, a hiccup, whatever you want to call it," Lewis said. "I've got to bounce back and move on." Lewis lamented the first-inning error because that led to more pitches thrown and changed the complexion of the game. "It takes a lot of air out of the team especially when you go out there and give up four in the first," he said. "And two walks. And more pitches. If that doesn't happen, I go seven or eight innings easily." Lewis wasn't alone in wondering what the game would have been like without the errors by Lewis. The two throwing errors meant only two of the seven runs he allowed were owned. "If those plays don't happen it's a different ballgame," Texas manager Ron Washington said. "We've done that drill 1,000 times but pitchers keep throwing them away." While Lewis put the Rangers in a 6-0 hole, the offense did little to make a rally a possibility. One night after being baffled by soft-tossing lefty Bruce Chen, the Rangers were beat by Vin Mazzaro, who was making his first start for the Royals this season after spending the first month of the season starting in the minors. Mazzaro kept the Rangers off the board until the fourth inning. Texas cut the lead to 6-3 but Lewis gave up another run in the sixth inning. By that time the Royals had turned the game over to the bullpen and the Rangers were in deep trouble. Kansas City relievers retired the first 15 batters they faced and struck out seven Rangers in two four innings. For the second-consecutive night the Rangers rested regulars as Elvis Andrus and Nelson Cruz go the night off. Still, the Texas hitters felt like they should have got the job done. "Offense is going to come and go at different times in the year," said David Murphy, who went 1 for 4 with an RBI double. "You can throw a lot of different things out there. We're getting guys rest. Lineups are changing. We had a tough travel schedule and an emotional series against the Angels. Bottom line is we didn't put as many runs on the board as we needed to."
Original Story:
http://www.foxsportssouthwest.com/05/...
THE BACKYARD
BEST OF MAXIM
RELATED ARTICLES
ARLINGTON, Texas With a bit of reluctance Texas superstar Josh Hamilton is the latest member of the Rangers to set up a Twitter account. The @therealjoshhamilton launched not because Hamilton has embraced social media, but because he got fed up with fake accounts. "It would be good to have an official deal so fans can know it's actually a post from me or response from...
ARLINGTON, Texas Batting ninth in the lineup is not the optimal place to provide spark to an offense, but Rangers center fielder Craig Gentry made the most of it Wednesday. Gentry got on base twice with a bunt single and an infield hit, the latter producing a run during the Rangers' only scoring rally in a 4-1 win over the A's. Gentry's two-out single in the fourth...
It was dog night at the ballpark, and I'm not sure the canine spectators or their human counterparts enjoyed tonight's game.  I know I didn't. But at least I was at home, so I could get up and go do something else. Colby Lewis looked terrible.  It was almost a repeat of last week's start in Baltimore … but without as many home runs … and more throwing errors.  The...
Except for one inning - actually one pitch - rookie Tommy Milone stood toe-to-toe with baseball's best hitting team on the road and their high-profile first-year pitcher, Yu Darvish. Milone gave up a two-run home run to Adrian Beltre in a decisive four-run fourth inning in the Rangers' 4-1 victory Wednesday. Beltre homer was his ninth against Oakland pitching the past two...
ARLINGTON, Texas (AP) -- Yu Darvish pitched 7 2-3 strong innings and Adrian Beltre had a two-run homer to help the Texas Rangers beat the Oakland Athletics 4-1 on Wednesday night. Darvish (6-1) gave up one run and four hits while striking out seven to win his sixth game in seven decisions. After giving up a run in the first, Darvish settled down and retired 11 of the last 15 batters...
Overnight ratings held steady for the final round of The Players Championship. In other news, the latest edition of MLB on FOX had a double-digit increase from last year, and the Texas Rangers continue to earn strong numbers in Dallas-Ft. Worth. Final Round Overnights Flat For The Players Championship: Final round coverage of the PGA Tour The Players Championship drew a 3.4 overnight...
Yu Darvish pitched 7 2-3 strong innings and Adrian Beltre had a two-run homer to help the Texas Rangers beat the Oakland Athletics 4-1 on Wednesday night. Darvish (6-1) gave up one run and four hits while striking out seven to win his sixth game in seven decisions. After giving up a run in the first, Darvish settled down and retired 11 of the last 15 batters he faced. He lowered...
Texas Rangers manager Ron Washington was upset with a close pitch call by the home plate umpire that went against his team in the top of the seventh inning during Sunday night's game in Arlington against the Los Angeles Angels. Washington expressed his frustration with some choice words, but unfortunately ESPN picked that exact moment to switch on his microphone, leading to...
Justin Grimm, RHP, Texas Rangers Current Level: AA 2012 Top 15 Prospects Ranking: NR Current Value: On the Rise A former top prep pitcher, Grimm's inconsistency in college slid him down the 2010 draft's depth chart and he landed in Texas' lap in the fifth round. The right-hander has been on cruise control since turning pro and reached double-A in just his second season (He...
It's been a rough week for Cacique's teams; Josh Hamilton has been the anti-Pujols this year. And Octomom's getting nekkid for money. Click here for the latest episode.
ARLINGTON, Texas (AP) -- Kansas City starter Bruce Chen was changing speeds, moving pitches inside and outside. Chen kept Josh Hamilton and the Texas Rangers off balance while pitching into the seventh inning for the Royals to win his second start in a row, 3-1 over the AL West leaders Monday night. "Against that lineup, he was unbelievable," Royals catcher Brayan Pena...
Not even the weather could stop Yu Darvish in his most recent trip to the mound, and it seems unlikely the light-hitting Oakland Athletics will either. The Texas Rangers look to continue their dominance of the visiting A's by giving the ball to Darvish in the opener of this two-game set Wednesday night. Darvish (5-1, 2.84 ERA) has won all three starts at Rangers Ballpark behind...
MLB News

Delivered to your inbox

You'll also receive Yardbarker's daily Top 10, featuring the best sports stories from around the web. Customize your newsletter to get articles on your favorite sports and teams. And the best part? It's free!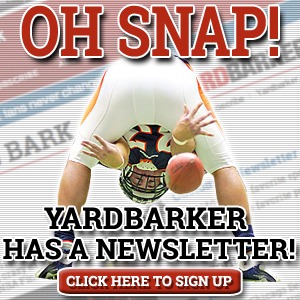 Latest Rumors
The Backyard

Today's Best Stuff

For Bloggers

Join the Yardbarker Network for more promotion, traffic, and money.

Company Info

Help

What is Yardbarker?

Yardbarker is the largest network of sports blogs and pro athlete blogs on the web. This site is the hub of the Yardbarker Network, where our editors and algorithms curate the best sports content from our network and beyond.