With the Detroit Tigers and Justin Verlander getting most of the Detroit News these days, I thought I would throw in a little fun segmant for you all. If there is one thing that you can count on in life, it's the complete foolishness and utter stupidity of a "Duechebag". They are not only foolish, but also predictable. If you need to set you watch just run out and grab your local Deuchebag and you will be fine. Being a "recovering Deuche" myself, I would like to consider myself an expert in spotting current deuche's. It's like the ol saying goes…"It takes one to know one". I don't know this to be 100% true or not and you always have to allow for exceptions to the rule and all that, but I think for there aren't too many "former or recovering Deuche's" out there. I only say this because it's been 3 years since my duecheness and almost everyone that has been responsible and "nice" their whole life, don't understand "WHY" deuches do what they do. This was the easiest answer for me…because they don't actually think they ARE being a Dueche! This one single fact of why Duechebag's continue to be DB's may help some of you realize "why", but I will admit from my own experiences how tough of a pill that theory it is to swallow. Just start to pay a bit more attention and see for yourself if what I am saying is true, next time you run into a Duecher. All Duechebags live by a "Code of Deuche" which forces them to always follow "dueche rules",  which appear to the general public as random acts of stupidity or irresponsibility. Since the general public a.k.a responsable adults don't ever hang out with deuchebags for long periods of time,  or on purpose, no one is around them long enough to actually point a a pattern, which has allowed the "Code of the Deuche" to go unnoticed since the beginning of time. From this day forward, Detroit Sports 360 with the help of The Sports 360 Calendar Girls will be starting a weekly award for ALL Detroit area Duechebag to be called out. We will be revealing Wallpapers and Graphics randomly on our website and Facebook with photos of a 360 Calendar Girl, with a Duechbag rule revealed or a funny situation. We will of course let anyone who wants to call out someone for being a Deuchebag, write in and we will pick a weekly winner and call em out for ya. As much as we would all like to SOLVE the Deuchebag infection, I have found it much easier to just accept their ignorance and have fun with it. Our FIRST EVER WINNER of the Deuchebag of the Week AWARD is.…SPINNING FROG INTERNET SERVICES Owner, Operator and HEAD Duechbag.. DEIRDRE SMITH   Dueche Rules that apply to situation (The CODE of the DUECHE) Dueche Rule #44 – If you are ever get caught red handed while stealing or committing a crime, and get called out on it… you must immediately act like you didn't hear said accuser and start randomly a accusing them of things back. Which will scare them into thinking you will tell on them for this. Dueche Rule # 79 – The "law" doesn't apply to you as long as you do not like what other people will think of you if they find out it's the truth. Therefor if you have to "break the law" to make sure people dont ever find out the truth.. it is allowed. Dueche Rule # 872 sec. 5 article a: No matter the proof presented or the amount others against you… as long you never say it out loud yourself (admit it) then it isn't true. Dueche Rule # 872 sec. 5 article b: If you know you are guilty and think your accuser will make things legal, you have to go to local lawyer store and pay to have seise and disist letter and maintain your "innocence". Which will TRICK most strangers into thinking its a "He said said she said situation".   Being a former duecher, I told Jason (Co-Owner) that she would follow dueche code and send a letter about 4 days ago. Like most adults who were never deuchebags before, Jason didn't believe me, as he probably related it to common sense and/or crazy thought. Ladies and Gentalmen of the Jury.. I present you with… The LETTER from the LAWYER! Wooo   (pretend I showed you letter) that we received yesterday from Spinning Frog Laywer  asking us to Pull down our Facebook Public Statement that says what Dierdre and Spinning Frog Internet Services did. What's funny about it – We had it looked over by lawyers before posted, so we were sure it all the TRUTH and FACTUAL information we said in public was not ok to say. AS we all know there are MANY laws that prevent us all from telling the full truth in public. As members of the media we know that rule better then anyone …and reminding the Media of this rule, would be like reminding  an internet company how to turn on a computer!   Our official response to pulling down the post - NOPE , but your letter inspired us to write more and remind everyone of letter by CLICKING HERE Or HERE Our Official Request  to you request of us writing a retraction statement:    LOL LOL LOL LOL .. but seriously..LMAO LMAO Lemme see if I understand this right… You still owe us our Data and all Copyrighted  material on the server we overpaid for. You still owe us over $20,000 in damages along with destroying our ability to make money and stealing ours and up to 27 different companies intelectual property. AND you would like us to now LIE to everyone with a retraction statement. Uhmmmmmm …LOL Deirdre .. You know I gave up lying on January 2nd 2010 and have  not told one single lie since that date. And you seriously expect me to start now.. ?? for you? lol   Even for a duechebag….. that is a stretch   So if you like to go to court…. WE OFFICIALLY DOUBLE DARE YA!         As you all know from our Public Statement (IF NOT CLICK HERE), this is the company and person that stole all of our content,  video, images and business plan… to make money for herself off of it. This company is the one they warn you about when you start an internet business and it gets too big too fast, to look out for. They WILL steal it if you aren't careful. It is for this reason that I can't COMPLETELY blame her for content being gone, as it's always going to be my fault for putting us in the situation in first place.. BUT… I CAN call her a Dueche in public for it… ESPECIALLY after het last act of duechiness, that I would like to share with all of you. The Set up –  After content was stolen Sports Media 360 LLC, Detroit Sports 360 and  all cities did what anyone else would do in their position and start to take legal action as any action they could to get content back. Since Dierdre refused to answer phones, emails and any attempt to communicate with us (cause she was steal our stuff) we went to Lawyers, reported her to Better Business Bureau and the Attorney General to name a few. We are currently awaiting results on most, but decided to not pursue legal action (only because of cost of it all)…. It appears she will get away with with it, chalk one up for bad guys. THE Deuchebag Move -       DUECHEBAG MOVE -
Original Story:
http://detroitsports360.com/detroit-d...
MORE FROM YARDBARKER
Tigers News

Delivered to your inbox

You'll also receive Yardbarker's daily Top 10, featuring the best sports stories from around the web. Customize your newsletter to get articles on your favorite sports and teams. And the best part? It's free!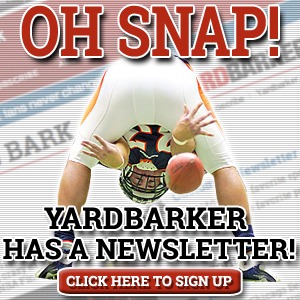 Latest Rumors
Best of Yardbarker

Today's Best Stuff

For Bloggers

Join the Yardbarker Network for more promotion, traffic, and money.

Company Info

Help

What is Yardbarker?

Yardbarker is the largest network of sports blogs and pro athlete blogs on the web. This site is the hub of the Yardbarker Network, where our editors and algorithms curate the best sports content from our network and beyond.