Found June 01, 2012 on Fox Sports Houston:
PLAYERS:
Phil Nevin
,
Derek Jeter
,
Jonathan Singleton
,
Jarred Cosart
,
Jason Hirsh
,
Eli Iorg
,
Derek Dietrich
,
Ken Griffey
,
Alex Rodriguez
,
Bryce Harper
,
Stephen Strasburg
,
Bud Selig
,
Shelby Miller
,
Justin Upton
,
Andrew McCutchen
,
Bryan Bullington
,
Matt Bush
,
Luke Hochevar
TEAMS:
New York Yankees
,
Houston Astros
,
Washington Nationals
,
Arizona Diamondbacks
,
Pittsburgh Pirates
,
Tampa Bay Rays
,
Kansas City Royals
,
Cal State Fullerton Titans
HOUSTON The process of painting the portrait of Jeff Luhnow as a general manager is ongoing, with perhaps the broadest strokes coming on Monday with the commencement of the 2012 first-year player draft. Everything observers have come to learn about Luhnow over his six months on the job could pale in comparison to what is revealed by the decisions the Astros make early next week. Some will seek to use the selections to confirm what is already suspected of Luhnow, whose entrepreneurial background and education-influenced analytics bent have stretched the bounds of understanding by those deeply rooted in the traditional approach of building farm systems. Plenty of the perceptions of Luhnow are based in bias and ignorance. As he sat to the left of Astros scouting director Bobby Heck on Friday and outlined their shared draft philosophy, what was obvious is the high regard Luhnow holds for the scouts who provide frontline evaluations. "A very important piece (of compiling useful information) is the opinions of our experts that are out in the field that are seeing those players first hand. And by experts I mean our scouts," Luhnow said. "And they are experts this is what they do for a living. We rely very heavily on their opinion, and their opinion is based off a lot of experience that they have and their best judgment. That's an important piece of us making our decision." The first and foremost decision the Astros will make on Monday is who to select No. 1 overall. After finishing last in the majors with 106 losses in 2011, the Astros own the top pick in the draft for the first time since 1992, when they selected Cal State Fullerton infielder Phil Nevin. Nevin proved to be a dreadful selection, producing a slash line of .117.221.133 with a -0.7 WAR in 18 games with the Astros in 1995. Five picks after the Astros took Nevin the Yankees tabbed Kalamazoo (Mich.) Central shortstop Derek Jeter, and 20 years later he is a surefire Hall-of-Famer with 3,159 hits, five World Series rings and a 69.7 WAR. The Astros' woebegone farm system, ranked among the worst in baseball before a prospect haul at last summer's trading deadline netted infielder Jonathan Singleton and right-hander Jarred Cosart, is a byproduct of a series of unsuccessful drafts. In the aughts the Astros were burned by the selections of Robert Stiehl, Chris Burke, Derick Grigsby and Jason Hirsh as their top picks from 2000-03. They swung and missed on Eli Iorg in 2005, Max Sapp in '06 and Derek Dietrich the following summer, and with the draft process facing increasing scrutiny through the boundless reach of the Internet, the direction the Astros take with the first pick of the first round will be extensively analyzed. "It's definitely gained popularity from multimedia and it obviously helps develop the fever of the fans because they want to see these players up here as well," Heck said. "The popularity has grown, especially with the high-profile players. People are knowing what they're doing in a high school game in California whether we're there or not." Since there is no Ken Griffey Jr. or Alex Rodriguez, no Bryce Harper or Stephen Strasburg available, the Astros must choose from a pool of candidates whose profiles aren't quite as glistening. Even given the lack of a consensus the Astros will likely deliver one of the following names to commissioner Bud Selig: Puerto Rican shortstop Carlos Correa; Atlanta high school outfielder Byron Buxton; or Stanford right-hander Mark Appel. Using history as a guide, there is no manner to determine in advance what option Luhnow will take. He claimed that the decision has yet to be made, with Heck and more than two dozen members of the scouting team set to resume deliberations throughout the weekend. Luhnow did not cleave to a static plan while running the Cardinals' draft from 2005-11. He helped build a championship roster by picking college players disproportionately in the first round, but the Cardinals' highest regarded prospect is Shelby Miller, a right-hander out of Brownwood High. Assuming Luhnow feels more comfortable investing in a collegian because the analytics are trustworthy when compared to prep players is folly. While averse to mentioning names, Luhnow was insistent that the Astros would take the best available player with factors such as makeup, projectable growth and past production all part of the profile. "I'm not a big believer in the high-floor philosophy that these guys are certain to make the big leagues," Luhnow said. "Making the big leagues is difficult, and anytime you pick a player in the draft that makes the big leagues, whether it's a first-round or a 10th-round (selection), you've had some level of success. It's hard to look at any of these players, high school or college, and say, Well there's a guy that's guaranteed to play in the big leagues, but we just don't know what kind of player he's going to be.' "We're going to look at players that we believe have an opportunity to make the big leagues, but not only making the big leagues (but) have an opportunity to impact the Houston Astros at the big-league level. And that's exactly that same philosophy that was used in St. Louis." Knowing in advance that their first choice will be theirs for the taking, the Astros observed every start of the college arms considered for the top spot, a group that includes right-handers Kevin Gausman (LSU) and Kyle Zimmer (San Francisco) as well as Appel. Heck estimated that his scouts witnessed 80 percent of the games of the position players in their candidate pool with Buxton, who has drawn comparisons to Eric Davis, Justin Upton and Andrew McCutchen, the most intriguing of that lot. There is an inherent pressure that accompanies picking first overall, especially in an age where the casual fan has in-depth knowledge of the prospects. Whereas the Pirates and Padres weren't mercilessly skewered for blowing the first picks on Bryan Bullington and Matt Bush in 2002 and 2004, respectively, Royals right-hander Luke Hochevar frequently has his struggles assigned to going first overall in 2006. Even the Rays, respected for their efficient and effective front office, are routinely chided for the bust that is shortstop Tim Beckham (2008). Thus the Astros have combined their trust in their scouting department with the evaluations of prospect health records completed by team physicians. Director of decisions sciences Sig Mejdal is an influential figure in their draft process, a nod to the sabermetric philosophy of Luhnow that has spread like wildfire throughout the major leagues. As Luhnow discussed weighing the risk against the return on draft investment while acknowledging that the investment in the top pick, an allotment of 7.2 million per the new collective bargaining agreement, puts a significant strain to hit a home run with that selection, the Astros' needs run deeper than what Appel or Buxton or Correa might provide. With 41 picks over three days and a system that remains largely barren, the Astros must win more than the public relations battle of picking a burgeoning star No. 1 overall. Their picking first will generate national headlines, but the quality of their draft will determine franchise health. "The reality is the results of this draft, and even the results of our first pick, won't be made evident until they get to the big leagues and until they have a career," Luhnow said. "We can be judged by did we take the guy that Baseball America or ESPN thought was the No. 1 player, or maybe next year judged by how well the player did their first year. But at the end of the day we won't really know if we made the right pick for five, six, maybe seven years, so we don't put too much pressure on ourselves because by then we'll have five more drafts. "The draft is something that you've got to continue to execute every single year. Yeah, it's a great opportunity to have the first pick and the opportunity to really add an impact player to the system, but it's not the only opportunity. They'll be other choices." Follow me on Twitter at moisekapenda
Original Story:
http://www.foxsportshouston.com/06/01...
THE BACKYARD
BEST OF MAXIM
RELATED ARTICLES
HOUSTON -- Jose Altuve is aware his body has been turned into a unit of measure, and he's totally OK with that. "It's funny, man," he said. "When they told me how many Altuves was a home run, I just laughed." There is a Web site for this. It is howmanyaltuves.com, and the concept is simple: You enter the measurement of something in feet, and it converts...
Badly timed injuries to first baseman Carlos Lee and outfielder Travis Buck have the Astros wondering just how short their bench can go in an effort to avoid disabled list stints. Buck was already banged up before, and Lee was injured during the Astros' 4-1 loss to the Cincinnati Reds on Friday at Minute Maid Park. Lee pulled his left hamstring Friday, and Buck has a sore right...
Although Houston Astros starting pitcher Bud Norris had an overall fantastic May, his last start of the month was a big disappointment. Norris coughed up a career-high nine runs in 1.2 innings while working through a hip flexor injury.
HOUSTON (AP) -- Drew Stubbs homered and drove in four runs, Brandon Phillips added three RBIs and the Cincinnati Reds outlasted Houston 12-9 Saturday night to hand the Astros their eighth straight defeat. Joey Votto went 4 for 4 with a home run and a walk. Todd Frazier and Ryan Ludwick also connected for the Reds, who set a season high for runs. Brandon Phillips doubled in the go...
DENVER (AP) -- Carlos Gonzalez homered again, Michael Cuddyer and Jordan Pacheco had three hits apiece and the Colorado Rockies beat the Houston Astros 11-5 on Thursday night. Gonzalez, who homered in his last three at-bats Wednesday, hit a three-run shot in the first inning against Bud Norris. He was intentionally walked in the second, doubled in the fourth and singled in the eighth...
HOUSTON (AP) -- Mike Leake was having trouble with his fastball, so he went to Plan B. He wouldn't say exactly what that meant, but whatever it was, it sure worked well on Friday night. Jay Bruce homered and drove in two runs to back a solid performance by Leake, leading the Cincinnati Reds to a 4-1 victory over the sliding Houston Astros. "When something is not working...
MLB News

Delivered to your inbox

You'll also receive Yardbarker's daily Top 10, featuring the best sports stories from around the web. Customize your newsletter to get articles on your favorite sports and teams. And the best part? It's free!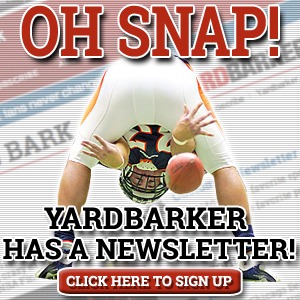 Latest Rumors
The Backyard

Today's Best Stuff

For Bloggers

Join the Yardbarker Network for more promotion, traffic, and money.

Company Info

Help

What is Yardbarker?

Yardbarker is the largest network of sports blogs and pro athlete blogs on the web. This site is the hub of the Yardbarker Network, where our editors and algorithms curate the best sports content from our network and beyond.