Found May 20, 2012 on Fox Sports Houston:
HOUSTON Don't call what Brandon Lyon managed on Saturday night against the Rangers a comeback. He's been optimally healthy for weeks. Lyon produced his ninth consecutive scoreless appearance at Minute Maid Park in the eighth inning, so in one sense what he delivered was par for the course. But the details of his latest outing provided a stark contrast to the progressive steps the Astros took with Lyon entering this season. If his scoreless string of seven appearances didn't capture the attention of Astros fans that lambasted Lyon throughout his struggles last season, the Houdini act of his eighth was impossible to ignore. In what could be considered his most white-knuckle hold of this season, Lyon preserved a one-run lead by retiring three consecutive batters with Rangers on base representing the tying and go-ahead runs. That the Astros managed to hold on for a 6-5 victory against the best team in baseball was in no small part related to Lyon and his ice-watered veins. "That's a veteran guy that's had playoff experience. He's been in big games like this," Astros catcher Chris Snyder said. "What you see out of Brandon is he's even-keeled no matter what the situation is. That's what makes him effective. And that was it right there for him: no panic, make your pitches, and you'll be all right. "When you've been in situations like that, the easier it gets. You're not worried about who you're (facing), all you're worried about is making your pitch, picking up the (catcher's) glove, locating it and making the pitch. That's what he did." Who Lyon faced with Michael Young and Brandon Snyder on base was no small detail. The Rangers (25-16) sent sluggers Nelson Cruz and Mike Napoli to the plate, a pair of postseason heroes from their run to a second consecutive American League pennant in 2011. While there are no soft spots in the Rangers' order, Cruz and Napoli are particular lethal, especially with runners aboard. Given what Lyon endured on the field and off last season, this spot seemed like the ultimate test of his health. Before succumbing to season-ending shoulder surgery last June 30, an uncommon procedure that entailed Lyon having his detached right biceps reattached as well as a tear in his labrum repaired, Lyon was a focus of fan derision. The Astros were careening toward necessary rebuilding, and a scuffling reliever in the middle of a three-year, 15-million contract made for an obvious target of fans' boiling frustration. Over his final five outings last season, Lyon surrendered 12 earned runs in three innings. His ERA ballooned more than seven runs to 11.47. It was easy to remain skeptical of Lyon even as he racked up scoreless appearances this season. The Astros were cautious with how they utilized him, almost handpicking moments of minimal leverage in April. "We tried to bring him along to build up that arm strength, and definitely he's better," Astros manager Brad Mills said. "He's been there for the last four or five outings. He's been nails, and he was nails again." Lyon had logged a pair of two-inning stints: at Washington on April 16, and last Tuesday in Philadelphia. He pitched in back-to-back-to-back games May 6-8. He'd been the picture of consistency, but the Rangers, with their stacked lineup of prolific hitters, proved a significant hurdle. Lyon induced Cruz to lift a weak fly ball to Brian Bogusevic in right for the first out. He almost escaped the inning when Napoli rolled into what initially appeared to be a 4-6-3 double play before second-base umpire Ted Barrett ruled that shortstop Jed Lowrie lost contact with the bag prior to recording the out. Instead of sitting in the dugout with the one-run lead intact, Lyon had to face pinch-hitter Craig Gentry with Young and Murphy in scoring position. He got Gentry to fly out to center field. Threat averted and eyes opened. Given how effectively he's pitched over the past several weeks, Lyon didn't view this appearance as validating. "I don't think it was a confirmation," Lyon (0-1, 1.76 ERA, 89.7 LOB) said. "I'm just going out there in any situation. Whenever the phone rings, they call my name to go out there to do the best I can. "Obviously when you're in a situation when you feel like you helped the team win you feel pretty good about it. But it wasn't any confirmation to make me feel like I'm back. I feel like I've been back for a while and I'm just going to go out there and keep doing what I can do." It didn't require rabbit ears to hear all the negativity spewed toward Lyon last season. And while Saturday night represented just another timely performance in a string of excellent ones for Lyon, it certainly confirmed Mills' trust in a right-hander whose career was on the brink. "I'm thrilled to death for him personally to be able to come back from something like that," Mills said. "To have the rough time that you remember from last year, and he comes back from that, get's that arm strength, and to pitch like he has has been great." Follow me on Twitter at moisekapenda
Original Story:
http://www.foxsportshouston.com/05/20...
THE BACKYARD
BEST OF MAXIM
RELATED ARTICLES
HOUSTON Admit it: All of your doubts concerning Jordan Lyles' faltering promise started clanging about in the back of your mind as the Rangers battered him in the first inning on Sunday at Minute Maid Park. The chasm between his big-league debut on May 31, 2011 and his laborious third start of this season never felt wider. Lyles once represented the very best the Astros'...
It has been fashionable for a certain segment of Houston baseball fans to bemoan the fact that Carlos Lee is still an Astro... or that he ever was signed as an Astro in the first place. They are no doubt influenced by his large contract that runs out after this season. But make no mistake about it. Carlos Lee has been a valuable Astro even if some feel he is not worth the dollars...
This past Saturday, Houston Astros general manager Jeff Luhnow took time out of his busy schedule to come speak to the local Society for American Baseball Researchers (SABR). He was delayed in arriving likely because he was coming back into Houston from scouting potential number one overall picks. Of course, he wouldn't divulge who he was scouting or even where he...
One of the few benefits of the Astros' pending move to the American League is that games against the Rangers may actually mean something. Because, with all due respect to the much-revered Silver Boot, in recent years this interleague match-up has meant little more than an opportunity to see Josh Hamilton up close and personal. To say that the Astros and Rangers are now a rivalry...
Justin Maxwell hit one of Houston's season-high three homers to put his team on top in the fifth inning and the Astros held on for a 6-5 win over the Texas Rangers on Saturday night. Maxwell's second home run of the year came with one on and two outs in the fifth inning to make it 5-4. Chris Snyder had a solo shot in the third and Carlos Lee's two-run homer in the fourth...
HOUSTON (AP) -- Justin Maxwell hit one of Houston's season-high three homers to put his team on top in the fifth inning and the Astros held on for a 6-5 win over the Texas Rangers on Saturday night. Maxwell's second home run of the year, and first since his first at-bat as an Astro earlier this season, came with one on and two outs in the fifth inning to make it 5-4. Chris...
HOUSTON It almost felt like Nolan Ryan was taunting beleaguered Astros fans, mashing their collective faces in the remnants of the club's egregious decision to eschew re-signing him following the 1988 season. He sat in the visitor's dugout at Minute Maid Park late Friday afternoon sporting a polo shirt emblazoned with the Texas Rangers' logo. As the media horde fawned...
Still not 25 and an assumed prospect flop, Fernando Martinez was always too hurt to ever achieve the potential that scouts saw in his first four minor league seasons.  Met fans grew accustomed to his name being on the list of their top 10 prospects and began to assume it was inevitable that he'd be patrolling right field by now. As we all know, that was not the case.  Fernando...
In 2013, the Houston Astros will be in the American League, making interleague play a daily occurrence. Does that mean the league will take a new vote on the DH? This week the MLB owner's had one of their quarterly meetings in New York. What a perfect time to have a new discussion on the subject. Unfortunately, it doesn't look like it was even brought up. What if baseball decided...
Houston Astros starter Bud Norris wanted to improve upon a spotty 2011, and he's doing just that. The slumping Chicago Cubs might not be able to do much to slow down his strong start to 2012. Norris will try to win a career-best fourth consecutive start Monday night at Minute Maid Park, where the Astros and Cubs begin the final season of their NL Central rivalry. Norris (4...
Kerry Wood strikes out 20 Houston Astros in the Chicago Cubs 2-0 win on May 6, 1998 at Wrigley Field. Every time you check twitter or facebook, think -- gotta check Bob's Blitz. ** Follow us on... Full story at Bob's Blitz ~ http://www.bobsblitz.com
MLB News

Delivered to your inbox

You'll also receive Yardbarker's daily Top 10, featuring the best sports stories from around the web. Customize your newsletter to get articles on your favorite sports and teams. And the best part? It's free!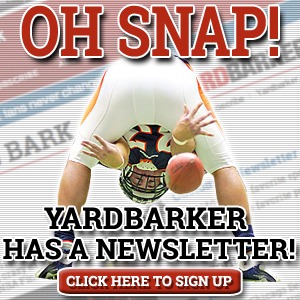 Latest Rumors
The Backyard

Today's Best Stuff

For Bloggers

Join the Yardbarker Network for more promotion, traffic, and money.

Company Info

Help

What is Yardbarker?

Yardbarker is the largest network of sports blogs and pro athlete blogs on the web. This site is the hub of the Yardbarker Network, where our editors and algorithms curate the best sports content from our network and beyond.