Found June 13, 2012 on SF Giants Nirvana:
In the past couple years, I've written thousands upon thousands of words in appreciation and admiration of the accomplishments of Madison Bumgarner. He's good. Unfortunately, I've just about run out of ways to say that. I suppose I could dig through a thesaurus and pick out every word I haven't yet exhausted.
Bumgarner's having a shipshape season. What a super-excellent start that was. 
I'm not all that good with words though, as you can see. Frankly, the numbers tell a better story than I could:
Madison Bumgarner had a 2.67 FIP last season.
Madison Bumgarner struck out 12, and allowed zero walks in 7.2 innings tonight.
When Madison Bumgarner walked four opposing hitters in his last outing — which isn't an absurdly high walk total, that was the first time he had allowed that many walks in a start since April of 2011.
I could go on and on. I want to. I probably will, eventually. But for the time being, I'm sure I've made my point. The most important stat, something I've stressed again and again throughout the existence of this blog, is this one:
He's done some great things. But in that context, "great" just doesn't do him justice. Tonight's game was classic Bumgarner. Pinpoint control, weak groundouts, decent right-handed hitters swinging and missing at that slider over and over again. And as if his pitching wasn't enough, Bumgarner belted a home run off Bud Norris in the third inning of tonight's game. A home run at AT&T Park. That's something that none of the Giants' hitters could manage to do over the last month. Only one to go before Bumgarner ties James Loney! As a National League pitcher, Bumgarner will be getting at-bats for a long time. And though nobody really pays much attention to what pitchers do with the bat, it kind of matters — especially over a long period of time. That Bumgarner has established himself as an above-average hitter is icing on the cake. It's a modest impact — maybe an extra 10% of value at most — but it all adds up. Basically, what I'm trying to get at here is that Bumgarner is good. And the best part? That magnificent contract. Man, what a steal that is. If you're ever feeling low, mull over those contract details — that'll surely cheer you up. It's truly a sight to behold. Roughly $70M to hang onto Bumgarner until he hits 30. I mean, wow.
Original Story:
http://feedproxy.google.com/~r/Splash...
THE BACKYARD
BEST OF MAXIM
RELATED ARTICLES
Last night was something special, something great, and just flat out amazing! It was the greatest game ever pitched at AT&T Park, and the greatest game ever pitched by any Giant in their long history.   It took 2 hours 36 minutes, 125 pitches, 14 strikeouts, great defensive plays, and the end result is Matt Cain pitching a Perfect Game! Cain tossed the Giants 1st perfect game...
Tim Lincecum insists he must rediscover his old swagger to start pitching like his old dominant self. The two-time NL Cy Young Award winner will start reminding himself that he is indeed one of baseball's best, and he must take the mound and show it. San Francisco's hard-throwing right-hander (2-7) is mired in an eight-start winless stretch in which he is 0-5 - and his next...
When you really want to attend a  game, but can't scrounge up the money, what do you do?  You grab your jet pack and head out behind the right field stands, of course.  That's what Joe Giants Fan did in the early innings of Matt Cain's perfect game Wednesday night.  It's one of the most bizarre videos you'll ever see from a sporting event. Your browser does not support iframes.
On Wednesday night, a man hovering above McCovey Cove wearing a water-propelled jetpack snuck a peek at the San Francisco Giants game against the Houston Astros. Your browser does not support iframes. The man was seen in the bottom of the first inning raising himself high enough to get a free peek at the game over the right field stands at AT&T Park. It was a heck...
As golfer Dustin Johnson crushed drives from home plate over the right-field wall and into San Francisco Bay, pitcher Matt Cain and manager Bruce Bochy glanced at each other before looking into the stands for approval from Giants general manager Brian Sabean. Then, the San Francisco ace grabbed a club and smacked one of his own - splashing the ball into McCovey Cove 310 yards away...
Not to be outdone by a knuckle baller or a rookie (Lance Lynn), Matt Cain cemented himself forever amongst the game's giants. Cain fired baseball's 22nd perfect game in history last night in a 10-0 Giants victory against the Houston Astros. You had to figure coming into the year that if anyone was going to get perfect game'd, the Astros were as prime of a candidate as anyone...
San Francisco Giants pitcher Matt Cain threw the 22nd perfect game in Major League Baseball history (and the first in San Francisco Giants history) in a 10-0 over the Houston Astros. It was the second perfect game this year behind the White Sox Phillip Humber as Cain struck out a career-high 14 along the way- 7 looking and 7 swinging. It's always said that games like Cain...
San Francisco was the place to be last night.
San Francisco Giants starter Matt Cain, who got a six year contract extension this spring, threw the 22nd perfect game in MLB history tonight against the Houston Astros. Cain's perfection was one of the best pitching performances in baseball history, totaling a game score of 101, due to Cain's 14 strikeouts in addition to his complete lack of baserunners all game. Cain...
Let me tell you a story about the invisible man, an invisible man that has it all. This is a guy that's been to the mountain tops of the game, both early and late, yet somehow he still slides beneath the radar. No matter what he does, no matter how big of a boom he makes, [...]
Madison Bumgarner had a season-high 12 strikeouts and hit his first major league home run to lead the San Francisco Giants to a 6-3 victory over the Houston Astros on Tuesday night. Bumgarner connected on a 2-1 pitch from Houston starter Bud Norris leading off the third inning. It's the first home run by any San Francisco player at AT&T Park since May 14. Brandon Belt added...
MLB News

Delivered to your inbox

You'll also receive Yardbarker's daily Top 10, featuring the best sports stories from around the web. Customize your newsletter to get articles on your favorite sports and teams. And the best part? It's free!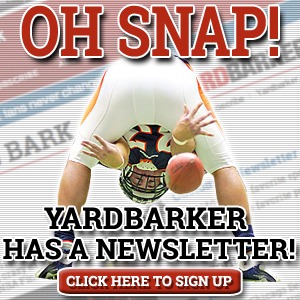 Latest Rumors
Best of Yardbarker

Today's Best Stuff

For Bloggers

Join the Yardbarker Network for more promotion, traffic, and money.

Company Info

Help

What is Yardbarker?

Yardbarker is the largest network of sports blogs and pro athlete blogs on the web. This site is the hub of the Yardbarker Network, where our editors and algorithms curate the best sports content from our network and beyond.