Found May 13, 2013 on NorthWest Sports Beat:
Saunders, Offense Click Seattle 6, Oakland 1 When: 4:10 PM ET, Sunday, May 12, 2013 Where: Safeco Field, Seattle, Washington Temperature: 68° Umpires: Home – Dan Bellino, 1B – Mike DiMuro, 2B – Ted Barrett, 3B – Alfonso Marquez Attendance: 27599 Boxscore  Happy Mother's day indeed, the northwest has reason to celebrate. All three Cascadian MLS teams won, the Mariners win another series, and the Canucks advanced to the second round Chris Hansen still has hope for the Sonics in Seattle. Try not to tell anyone, but the Mariners have won 9 of their last 13 games as they head to New York for a series beginning Tuesday. Felix Hernandez will take the mound because manager Eric Wedge moved Aaron Harang back two days so the King and Hisashi Iwakuma could pitch on normal rest. Golf claps all around Seattle baseball, golf claps indeed. Sunday's game concluded a good series for the Mariners, as the scored 6 runs twice and 15 runs overall. The offense is coming into form slowly but surely as the responsibilities/burden of carrying the offense is being shared by different players every game. Here is the love and hate from Sunday. Love 'em 1. Safeco Joe Safeco Joe was once again stellar at home. (Elaine Thompson/AP) Please, do not confuse this with Away-from-Safeco Joe, that is a different person that is not a very good pitcher, but Safeco Joe is fantastic. In the second inning, Saunders gave up only his third earned run in four games at Safeco this season, earning his third win of the year (all at home). 6.1 IP 5 H, 1 ER, 3 BB, 6 K's 2. Walls DH Kendrys Morlaes has been ok at the plate lately, but his power numbers have been inconsistent at best and nonexistent lately. All that changed in the first inning. Moving down to 4th in the lineup, Morales smacked a 3-run tater to give Saunders the only lead he would need. Why do I love the walls? Because a year ago, Morales' first inning blast doesn't make the warning track, but this season, it cleared the LF wall by a few feet. 3. Jason Bay and Kyle Seager Wedge is always tinkering with the lineup, which has become a constant hot topic for me on the weekly Mariners podcast. Why not leave Seager hitting second when he is crushing in the 2-hole? Why move Bay up when he is good where he is? Why play Raul Ibanez when he plays the outfield like a lost kid in a giant playground? Well, Wedge continues to tinker, and Kyle Seager and Jason Bay continue to produce. Seager has been doing it by getting on base, once today without a hit, and remaining consistent. Bay only started once this weekend (today) despite playing very productively the last few weeks, but he just did his job with two hits including a late home run that sealed the deal for the M's. Kudos to these guys playing well wherever Wedge puts them. Hate 'em 1. Andino and Ryan It is hard enough to swallow one of them hitting .150 and hitting 9th in the order, but playing both at the same time is nauseating. Sunday they were a combined 0 for 7 with 2 KO. It actually could have been a lot worse. Also, you rarely see this; Andino, Ryan, and Justin Smoak have higher OBP (on-base percentages) than slugging percentage-more walks than extra base hits is not good unless you walk every single time. 2. Schedule The schedule has sucked for Seattle so far. 30 games in April, then 4 straight Mondays/Thursdays with a day off to start May, and then the team plays 29 of the next 30 days starting Tuesday. Feel like someone should have noticed this earlier. 3. Depth Just a note from Saturday, the Mariners played well enough to win, but fell short because of depth. I think Saturday's game may be a microcosm of the season to come. Amazingly enough, this team has the pitching to keep them in every game despite a terrible back end of the rotation. Then, the offense is good enough to score three runs and generate realistic scoring opportunities throughout the game, as the M's did in the 7th, 8th, and 9th inning Saturday without scoring the tying and winning run. If players like Endy Chavez, Andino and Ackley are being asked to deliver the final blow with the game on the line, this team will fall short, but perhaps soon the team will have good bats throughout the 25-man roster that make Saturday's game even more winnable. That will be a good sign for the M's taking that step towards the postseason, a place they are just short on now. CLICK HERE TO CHECK OUT THE MARINERS BLOG IN OUR CLUBHOUSE TODAY AT NWSB!
Original Story:
http://www.nwsportsbeat.com/mariners/...
THE BACKYARD
BEST OF MAXIM
RELATED ARTICLES
Your browser does not support iframes. Seattle Mariners superstar pitcher Felix Hernandez was called for defensive interference on a play which he narrowly avoided serious injury in a minor collision at first base during Tuesday night's game in the Bronx against the New York Yankees. It happened in the bottom of the fourth inning as Yankees batter Lyle Overbay hit a grounder...
Goin' Yard The Mariners are officially rolling. May has been very good to us fans so far, and with the Mariners taking down Oakland on Sunday afternoon, second place in the AL West is now becoming more of a reality than it has been in a very long time. Pitching has been great. Runs are being scored. And defensive gems have been key. Three things you look for in a winning baseball...
Confusing numbers The Seattle Mariners are in the midst of a hot streak right now, dominated by solid pitching performances and perfectly timed run support. While we all wait and see if the team can crack .500, we have our own teams to worry about…our fantasy team. If you have been gun shy in the past about Mariners on a fantasy team, I hear you loud and clear. This time around...
Turning point The Seattle Mariners are on a nice little streak right now. Behind strong pitching performances and some decent run support, the Mariners have begun their slow climb up the AL West standings. Over the last week, Seattle took on the Blue Jays, Pirates and A's. They have won 10 of their last 15 games. They have won 5 of their last 6 series, splitting a short 2 game...
10. John Olerud Despite spending just over four seasons with Seattle Mariners, Olerud became an instant fan-favorite with his friendly personality and even-keel mentality on the field. He hit over .300 twice for the M's while taking home three gold gloves and appearing in the 2001 all-star game that featured eight Mariners. 9. Dan Wilson The trusty backstop gets on...
It's All Coming Together, FINALLY To the naked eye, the Seattle Mariners are the epitome of mediocrity. They are sitting at an 18-20 record, which is only good enough for third in the AL West. The question is, though, do they deserve praise and high hopes? Absolutely. After a slow start – and a few ass kickings by the little league squad that is the Astros – they have finally...
Aboard the Mariners' team flight toward his former home, Jason Bay tuned in to watch the New York Mets. ''I cheer for all those guys,'' he said. No signs or sounds of rancor from the Seattle outfielder in the Yankee Stadium dugout Tuesday night. Instead, he was looking ahead, preparing for his first game in New York since three disappointing seasons with the...
Joe Saunders won his ninth straight decision at Safeco Field and Kendrys Morales hit a three-run homer, leading the Seattle Mariners over the Oakland Athletics 6-1 Sunday. Saunders (3-4) allowed one run and five hits in 6 1-3 innings with six strikeouts and three walks. He is 3-0 with a 0.94 ERA in four home starts this year, improving to 9-0 with a 1.72 ERA in 13 career appearances...
Once Felix Hernandez tweaked his back, the whole game took an odd twist. Robinson Cano hit a two-run double, Lyle Overbay delivered a tiebreaking sacrifice fly and the New York Yankees rallied in the seventh inning after King Felix was forced to make an early exit, beating Seattle 4-3 Tuesday night. ''It was hard luck,'' Hernandez said. The Mariners' ace was...
Unbeatable in recent outings, Felix Hernandez will try to stay hot by continuing his recent success against the New York Yankees. The Seattle Mariners ace, though, might have a considerable challenge in this upcoming game at Yankee Stadium. That's because the Yankees' CC Sabathia will also be seeking his ninth win in as many starts against Seattle in Tuesday night's...
MLB News

Delivered to your inbox

You'll also receive Yardbarker's daily Top 10, featuring the best sports stories from around the web. Customize your newsletter to get articles on your favorite sports and teams. And the best part? It's free!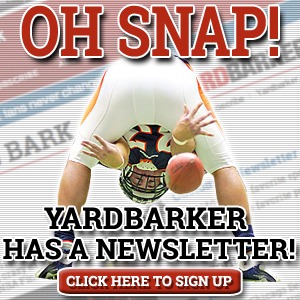 Latest Rumors
Best of Yardbarker

Today's Best Stuff

For Bloggers

Join the Yardbarker Network for more promotion, traffic, and money.

Company Info

Help

What is Yardbarker?

Yardbarker is the largest network of sports blogs and pro athlete blogs on the web. This site is the hub of the Yardbarker Network, where our editors and algorithms curate the best sports content from our network and beyond.