Found April 09, 2012 on The Daily Rival:
If Mark Buehrle wants to make his own sandwich, by golly, you better let him make his own sandwich. Unfortunately for him, he had to learn the hard way that it's probably best to let somebody do that for you when they offer. Prior to his Marlins debut last Thursday against the Reds, Buehrle reportedly cut his hand while trying to open a jar of mayonnaise when he was making a sandwich for himself. The Palm Beach Post has more:
"I came in to make a sandwich and they said 'You know we have people who can make sandwiches for you,''' Buehrle said. "(I said) 'I'm a grown man, I can make my own sandwich.' It was just a complete freak thing." Buehrle said he was thinking about the small slice in the first inning when he gave up a hit and a walk and hit a batter.
Buehrle gave up seven hits and two earned runs and received the loss. He says he'll be ready to go for his next start this Thursday in Philadelphia, so it's doubtful you'll be seeing his name on the injury report listed next to "mayonnaise jar injury." Regardless, let this remind us that the guy who invented the plastic squeeze bottle deserves the Nobel Peace Prize. [H/T Eye on Baseball; Photo by Keith Allison]
Original Story:
http://thedailyrival.com/2012/04/09/m...
THE BACKYARD
BEST OF MAXIM
RELATED ARTICLES
The Miami Marlins have a new ballpark, a new manager, a new name and a number of high-profile free agent signees joining a solid nucleus of young players who are developing into solid players. Adding Ozzie Guillen as the field general alone would make Miami a team to watch, but all these other factors make the Marlins one of the most difficult teams to project heading into the season...
Heath Bell's chance to impress his new teammates went awry. Scott Rolen drove in the winning run in the ninth inning with a sharp infield single that third baseman Hanley Ramirez failed to handle, lifting the Cincinnati Reds to a come-from-behind 6-5 win over the Miami Marlins on Sunday. Jay Bruce started the comeback with his second home run of the game and third of the season...
((HT: WFOR-TV Miami))Miami Marlins manager Ozzie Guillen blamed the Fidel Castro quote from his upcoming Life Magazine article on a mis-translation from English to Spanish, but he fell on the sword anyway... Here's the apology...The Marlins came out with a prepared statement before the presser:"The Marlins acknowledge the seriousness of the comments attributed to Guillen...
10) By doing this one single action, will prevent Ozzie from ever saying anything awkward, ill-informed, misguided or controversial ever again9) Would not want to offend the sensibilities of the ever-dwindling number of Cuban-Americans who actually remember Castro8) Afraid that unless they nip this in the bud, Ozzie will continue to extol the virtues of all of the world's Communist...
You know, Joe and I briefly discussed this last week and as days go by I think about it more and more. In my sports fan life, I have the teams I cheer for passionately. We are all Mets fans, but for me, I also cannot stand the Philadelphia Phillies, NY Yankees, Boston Red Sox (went to school surrounded by annoying Sox fans), and the Atlanta Braves. That is in order too. However,...
My colleague Rob Kelley has already levied his opinion on the Ozzie Guillen controversy. People all over the internet yesterday and today have called for the Marlins to fire Guillen, suspend Guillen, or send him to sensitivity training. Yet, I haven't seen anyone yet ask the most obvious question: why did the Marlins hire Guillen in the first place? It seems to me...
The Miami Marlins have announced that manager Ozzie Guillen has been suspended for five games effective immediately for his controversial remarks regarding Fidel Castro. Here's the Marlins' statement on the suspension:The Miami Marlins announced today the suspension of manager Ozzie Guillen for five games effective immediately. The Marlins acknowledge the seriousness of the comments...
Preseason NL East favorites look to get on track First pitch: 1:05 p.m.TV: Comcast SportsNet, MLB NetworkRadio: 1210 WPHT, 94 WIP Tickets Twitter: @Macho_Row, @MarlinsBigCatch Pitching Probables: Cole Hamels (Season debut) vs. Anibal Sanchez (Season debut) The Philadelphia Phillies and new-look Miami Marlins are supposed to be the strongest contenders in the National League...
Ozzie Guillen's spark was not quitewhat the Marlins envisioned. Was it?Photo: Drew Hallowell/Getty Images Miami Marlins manager Ozzie Guillen managed the team to a 6-2 victory in Citizens Bank Park on Monday afternoon, promising to fly home to address his recent statements about Cuban dictator Fidel Castro as soon as possible. It turns out Guillen will not be returning...
Mondays suck can really SUCK, especially when the Phillies drop 2 of 3 to the Pirates, and lose the Home opener to the Miami Marlins! But Listen, there's a product out there you make you feel better… "Phillitol." The official Pill of Phillies Fans.  Listen to the commercial from Philadelphia's very own, Wired 96.5:
The Marlins rightfully suspended Ozzie. Now they need to put the incident behind them.
After Miami Marlins owner Jeffrey Loria's comments belittling the surrounding population in Miami, the team's manager Ozzie Guillen decided to try and one-up him. In a story in Time Magazine, Guillen said that he loves Cuban dictator Fidel Castro and respects him for staying in power for so long. Not exactly the best thing to
Marlins News

Delivered to your inbox

You'll also receive Yardbarker's daily Top 10, featuring the best sports stories from around the web. Customize your newsletter to get articles on your favorite sports and teams. And the best part? It's free!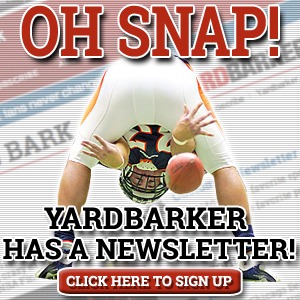 Latest Rumors
Best of Yardbarker

Today's Best Stuff

For Bloggers

Join the Yardbarker Network for more promotion, traffic, and money.

Company Info

Help

What is Yardbarker?

Yardbarker is the largest network of sports blogs and pro athlete blogs on the web. This site is the hub of the Yardbarker Network, where our editors and algorithms curate the best sports content from our network and beyond.