Found May 12, 2012 on Fox Sports Florida:
PLAYERS:
Greg Dobbs
,
Ozzie Guillen
,
Omar Infante
,
Jose Reyes
,
Emilio Bonifacio
,
Mark Buehrle
,
Heath Bell
,
Carlos Zambrano
,
Ricky Nolasco
TEAMS:
Miami Marlins
,
Chicago White Sox
,
New York Mets
MIAMI -- The way the Marlins have been playing lately, they might be most susceptible to injury while celebrating. Greg Dobbs singled in the winning run with two outs in the bottom of the ninth Friday night to give Miami a 6-5 win over the New York Mets at Marlins Park. Then he braced himself between first and second base when a swarm of teammates joyfully ran out to mob him. "You just feel things coming around you like you're in the middle of a hurricane," said Dobbs, who removed his batting helmet just in time so his "head didn't get pounded and I have concussion syndrome." Celebrations are becoming quite common lately for the Marlins. They've won nine of their past 10 games, with four having come in their final at-bat. It wasn't long ago some were wondering if the Marlins might sink after expectations had been so high due to an increased payroll and moving into a spanking new stadium. They were 8-14 nearly two weeks ago when they headed out West on a nine-game trip. But when they came back it was as if they were a new team. They swept series at San Francisco and San Diego and took two out of three at Houston. "That's baseball," said Dobbs, whose team is now 17-15. "Baseball is a funny game. It will humble you and reward you and things can change in a heartbeat. It took us leaving here going on a West Coast swing all the way across the country, and now things are clicking for us." Whatever changed on the trip, the Marlins brought it back with them. Miami trailed 5-3 Friday entering the bottom of the eighth before plating one run then and two in the ninth. "When things are going your way, that's what you're going to see," manager Ozzie Guillen said after his Marlins got an eighth-inning double by Omar Infante that scored Jose Reyes and in the ninth got a double by Giancarlo Stanton and a run-scoring single and a stolen base by Emilio Bonifacio before Dobbs' hit. Actually, Guillen expects to see a lot more of that out of his team. Although they pounded out 10 hits Friday, during most their trip out West the Marlins resembled the 1906 Chicago White Sox, known as the "Hitless Wonders" for winning the World Series despite a substandard offense. During their 8-1 trip, the Marlins won a game by scoring two runs, two when scoring three times and another two with four runs. The pitching was great but the offense often was brutal. "We're playing good, we're winning games and we're still not hitting," Guillen said before the game. "That's something that you say, Wow. How is this team going to look when we start hitting?"' The Marlins have an ERA of 3.21 to rank third in the National League while their batting average of .229 ranks 14th. At .330, Infante is the only regular hitting above .280. And Reyes is batting a meager .234, more than 100 points less than the shortstop's NL-best .337 average last season with the Mets. Reyes tripled to lead off Friday's game and scored the Marlins' first run as they took a 3-0 lead. He didn't get another hit rest of the night to finish 1-for-4, but at least that raised his average. "It's not the way that I want to (start the season), but at least we're winning," Reyes said. "I know that I have to get on base more. But it's going to come. It's a long season." Great things were expected from Reyes this season after he signed with the Marlins as a free agent, joining decorated pitching signees Mark Buehrle and Heath Bell. Reyes was on the cover of Sports Illustrated along with Guillen in March for an article that only raised expectations even more. All the media attention might have played a role in the Marlins getting off to a crummy start. At least that's the word from Stanton. "Anytime you get all this new anything, new players, new colors, new stadium, you're not just going to be thrown under the rug from the get-go," Stanton said. "So we got all this attention and we kind of dropped the ball a little bit in the beginning." Stanton said Guillen being suspended last month for five games after making a favorable remark about Fidel Castro played just a small role in the Marlins being distracted. Regardless, pitcher Aribal Sanchez said "nobody ever talks that anymore." So what do the Marlins talk about? Thanks to their recent hot streak, some of the conversation is about their bid to make the playoffs for the first time since they won the 2003 World Series, their second title in a seven-season span. "The team is pretty good," Sanchez said. "If we continue to do like this, definitely we're going to be in the playoffs. We've got the talent and the players for it." It sure helps the way Sanchez (2-0, 2.01 ERA) is throwing. He's one of four Miami starters with an ERA under 3.00, joining Carlos Zambrano (1-2, 1.98), Ricky Nolasco (4-0, 2.72) and Buehrle (2-4, 2.81). But one pitcher who mostly has bombed has been Bell. After predicting before the season he would be the best closer the Marlins ever have seen, he's blown four saves in seven chances and has an astronomical 9.28 ERA. But Bell, who recently lost his closing job but was said by Guillen on Friday he likely soon will get it back, did record his first Miami win Friday. He pitched a scoreless top of the ninth, and the Marlins rewarded Bell (1-3) in the bottom of the frame. "It means a lot for me to get my first win as a Marlin," Bell said. "We went on the road and I kind of stunk and I've been watching these guys play great ball and pick me up." When Bell was struggling, his teammates didn't get down on him. Bell said that was the case all around when the Marlins got off to their tough start. "We didn't play well and guys weren't playing up to their ability, but we all started patting each other on the back," Bell said. "We didn't go, Why aren't you doing this?' We kept patting each other on the back and saying, Don't worry, you can do it."' The Marlins are continuing to pat each other on the back. The difference now is it's often during victory celebrations. Chris Tomasson can be reached at christomasson@hotmail.com or on Twitter @christomasson
Original Story:
http://www.foxsportsflorida.com/05/12...
THE BACKYARD
BEST OF MAXIM
RELATED ARTICLES
Miami Marlins catcher Brett Hayes found himself caught in a turnpike traffic jam after a gunman shot and wounded two South Florida law enforcement officers. And the gunman walked past Hayes' car. Hayes said he and his wife were en route to a birthday party during the Marlins' off day Thursday when a traffic snarl in Hollywood left them barely moving. Hayes then spotted...
Marlins catcher Brett Hayes found himself ensnarled in a scary situation Thursday when he had a near front-row seat to a deadly police shootout on Florida's Turnpike. Sitting in traffic on his way to a birthday party, Hayes sent out this ominous tweet: Sitting in traffic on the turnpike and a man with a gun just walked by our car.. Not good. The gunman Hayes saw reportedly shot...
Control is usually Ricky Nolasco's strong suit, so he was surprised to walk three batters in the first inning. Then he hit two in a row in the fifth, including the pitcher with the bases loaded. Poor command resulted in Nolasco's shortest outing and first loss of the season Saturday, when the New York Mets beat the Miami Marlins 9-3. ''I apologize to my teammates...
And Josh Beckett acts like a d*ck to media when they ask about how he spends his 18 off days per MLB season. How about what happened to Marlins catcher Brett Hayes yesterday on the Florida Turnpike. As you can see from the tweet, Hayes watched a dude with a gun walk by his car and that guy eventually shot two officers before shooting himself. Suck it, Becket. According to the Miami...
Ricky Nolasco struggled as the Miami Marlins fell to the New York Mets 9-3 on Saturday.   A day after an exciting last at-bat victory, the Marlins were unable to solve R.A. Dickey while the pitching staff was unable to stop David Wright and the Mets.    With the loss, Miami fell two behind New York and is now 17-16 on the season. Nolasco allowed six runs in only four and two...
MIAMI (AP) -- David Wright homered and singled three times in his fourth consecutive multi-hit game Saturday, and R.A. Dickey earned his fifth victory by pitching six innings to help the New York Mets beat the Miami Marlins 9-3. The Marlins lost for only the second time in their past 11 games, while the Mets have won six of seven. Wright singled home a run in the first inning,...
The Miami Marlins are feeling confident following an impressive road trip, but that may be short-lived if they can't find a way to solve Johan Santana and the New York Mets. Miami looks to snap a five-game losing streak to the surging Mets on Friday night when it faces Santana, who has dominated the Marlins throughout his career. Miami (16-15) went 8-1 on a trip that ended...
After an off day on Thursday the New Y0rk Mets will get back to action and hopefully back to their winning ways tonight against the Miami Marlins in Marlins Park.  Johan Santana will tangle with Mark Buehrle as the Mets go for their sixth straight win and look to continue their domination over their NL East brethren in 2012. Santana picked up his victory of the season in his last...
Seriously, I'm more looking forward to seeing that new ballpark, if only to laugh/cry at that home run monstrosity. But I'm getting ready to laugh/cry at this lack of offense.  Melky, Belt, it's time to start delivering.
Tune into FOX Sports Florida at 6:30 p.m. to watch the Miami Marlins take on the New York Mets. The Miami Marlins are feeling confident following an impressive road trip, but that may be short-lived if they can't find a way to solve Johan Santana and the New York Mets. Miami looks to snap a five-game losing streak to the surging Mets on Friday night when it faces Santana,...
The New York Mets (19-14) look to win their series against the Miami Marlins (17-16) today at 1:10 PM at Marlins Park in Miami. Starting Lineups: #Mets Sunday lineup at Miami: Torres-CF, Nieuwenhuis-LF, Wright-3B, Duda-RF, Murphy-2B, Davis-1B, Cedeno-SS, Johnson-C, Niese-LHP — New York Mets (@Mets) May 13, 2012 Sunday #Marlins lineup vs. #Mets: Reyes 6, Infante 4, Ramirez 5, Kearns...
MLB News

Delivered to your inbox

You'll also receive Yardbarker's daily Top 10, featuring the best sports stories from around the web. Customize your newsletter to get articles on your favorite sports and teams. And the best part? It's free!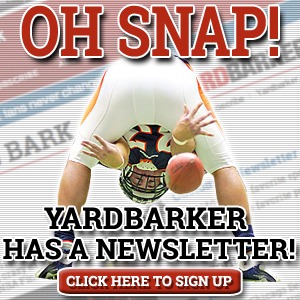 Latest Rumors
The Backyard

Today's Best Stuff

For Bloggers

Join the Yardbarker Network for more promotion, traffic, and money.

Company Info

Help

What is Yardbarker?

Yardbarker is the largest network of sports blogs and pro athlete blogs on the web. This site is the hub of the Yardbarker Network, where our editors and algorithms curate the best sports content from our network and beyond.