Found May 09, 2012 on Fox Sports Wisconsin:
MILWAUKEE When Brewers general manager Doug Melvin took over in late September 2002, after another disappointing season in Milwaukee, the city had meager expectations for its baseball team. A decade straight of losing seasons will do that. So when Melvin set out to rebuild the Brewers, he started with a seemingly simple goal in winning back the city of Milwaukee. "When I first took this job," Melvin said, "I said my goal was to have a team that was more popular than the sausage race." Nine years later, Melvin's team was dripping head to toe in champagne, having won an NL Central title and earned its second trip to the playoffs in four seasons. Melvin's rebuilding plan paid off. In a small market, having inherited a team that was known for its history of losing, Melvin's push to make Milwaukee a contender was an inspired one. And on Tuesday, he and manager Ron Roenicke were justly rewarded for their efforts, signing extensions that could keep both of them here through 2015. In Melvin's case especially, that extension could make a big difference in the future of the Brewers organization. Last year was an especially interesting segment of Melvin's plan to construct a franchise that can compete year in and year out. He traded away top prospects Alcides Escobar and Brett Lawrie, somewhat controversially, to bolster the pitching staff with Zack Greinke and Shaun Marcum moves that paid off in the short term for a team that decided it wanted to win now. Although both of those players might become big-time contributors in the majors, the moves finally put the Brewers over the hump. They were the right albeit tough moves to make. And now, over the hump with an extension through at least 2015, comes the hardest part of building a franchise from the ground up: staying there. "Everybody gets challenged when you have success," Melvin said Tuesday. "That's why there's never any dynasties in sports anymore. There's very few in all four major sports." This season, with a record that has put the team in the NL Central cellar for the time being, those challenges have already started to roll in. Three season-ending injuries have decimated the Brewers' regulars, as the team is now forced to use fill-ins at shortstop and first base and a long reliever in the fifth-starter spot. Early losses like that can doom a team before the summer months even begin. But Melvin is rightly apprehensive to make drastic moves too quickly. That's the kind of approach principal owner Mark Attanasio has grown to appreciate in his general manager as well as in Roenicke. "With both of them," Attanasio said, "the demeanor is not a lot different whether we win or lose, and you need that in this sport, both because you have so much failure and because it's a day-to-day grind. Neither guy gets too high or too low, and that's important now because this is a time to be low." How the Brewers respond to this latest low could be the most important move Melvin has made yet. Trades or free-agent signings this early in the season are unlikely, but near the halfway point, if the Brewers trail by single-digit games in the NL Central, you can count on some kind of deal being made to bolster the lineup. Such a move could put the team over the hump again and push it into the playoffs. Or, as always, it could have the opposite effect. That's how thin the line is between contender and pretender in the major leagues. One or two decisions can quickly change everything. "It's an ongoing challenge to manage it to the point that you don't put your team at risk," Attanasio said. Now, with the expectations of an up-and-coming franchise and a baseball team more popular than its own sausage race the Brewers are at a crucial point in their existence as a franchise. Being on the cusp as a major league baseball team is an awfully fickle position to be in. But in his nearly 10 years in Milwaukee, Melvin has shown that he's the right man to navigate a team in that spot, especially one that he built up from rock bottom. And if this year and the three remaining years of Melvin's contract go as planned, the Brewers may never have to see what rock bottom looks like again.Follow Ryan Kartje on Twitter.
Original Story:
http://www.foxsportswisconsin.com/05/...
THE BACKYARD
BEST OF MAXIM
RELATED ARTICLES
MILWAUKEE After an unprecedented year of success for the Brewers in 2011, with Milwaukee winning the NL Central and coming just short of a World Series appearance, the organization announced Tuesday that it has extended the contracts of current general manager Doug Melvin and manager Ron Roenicke. Melvin's extension also includes a promotion, officially naming him the Brewers...
This represents me touching on the Front Row Amy phenomenon. I guess? Wednesdays game wasn't your usual Milwaukee Brewers contest. No, no... they still lost. And, obviously, Travis Ishikawa managed to replicate the results of a slumping Ichiro Jones. The most sizable difference (well, two most sizable differences) between this Brewers/Reds rubber match and most other Miller Park...
Milwaukee Brewers manager Ron Roenicke says shortstop Alex Gonzalez will undergo surgery to repair a torn ligament in his right knee and will miss the remainder of the season. Gonzalez was injured Saturday, sliding into second base during the Brewers' 5-2 loss at San Francisco. Signed to a one-year deal before the season with the hopes of shoring up the Brewers' defense...
MILWAUKEE A few hours before Monday's game against Cincinnati, Brewers manager Ron Roenicke took his usual, pre-game stroll through the team's clubhouse. This time though, he was surveying a team that had changed quite drastically since its last game at Miller Park. Only pitchers Chris Narveson and Brandon Kintzler were injured the last time Milwaukee had laced up in its...
The Milwaukee Brewers announced that they have finalized contract extension for manager Ron Roenicke and General Manager Doug Melvin. Aaron Gleeman of NBCSports adds that Melvin's deal "runs through 2015," and Roenicke's deal "runs through 2014″ with team option for 2015. In 2011, his first year as a manager, Roenicke led the team to their first NL Central title with...
The Milwaukee Brewers are close to wrapping up contract extensions for GM, Doug Melvin and manager, Ron Roenicke according to their owner Mark Attanasio (via Tom Haudricourt of the Journal Sentinel). In 2011, his first year as a manager, Roenicke led the team to their first NL Central title with a 96-66 record. This season they're in fourth place with a 12-16 record. Melvin has...
The Milwaukee Brewers are unbeaten when Zack Greinke takes the mound at Miller Park. Ryan Braun's potential absence combined with Johnny Cueto getting the ball for the Cincinnati Reds may put that streak in serious jeopardy. Greinke might not have the NL MVP behind him as he goes for another home victory in the conclusion of this three-game set with the Reds on Wednesday afternoon...
MILWAUKEE Despite the team's well-noted struggles at the plate this season, Milwaukee Brewers manager Ron Roenicke said before Wednesday's game against the Reds that if the team's pitching staff had been throwing the past month like it had last season, then the team could've easily overcome its woeful hitting in the season's first month. There's reason to...
All we heard for like 18 hours from Milwaukee Brewers fan was that our Front Row Ashley marketing campaign was "lame" and a "complete failure" wouldn't be on TV in Wisconsin. Blah, blah, blah. And then we went out and put Ashley in the infamous seat usually occupied by Front Row Amy. The fans in attendance loved it. The beer vendors loved Ashley and Milwaukee's 1250...
Photo: Jeff Chiu/APThe Brewers learned yesterday that Alex Gonzalez has a torn ACL, meaning they have lost three regulars (totaling somewhere around five wins) for the rest of the season. In a year that has been almost nothing but bad news, this may be the worst break yet. The Brewers have already lost Chris Narveson and Mat Gamel, but they will likely be able to recoup most of their...
MILWAUKEE (AP) -- Aramis Ramirez hit a three-run triple, helping the Milwaukee Brewers shake off their recent offensive struggles in an 8-3 victory over the Cincinnati Reds on Tuesday night. Yovani Gallardo (2-3) gave up two runs in six innings and tied a season high with eight strikeouts for the Brewers, who had lost eight of their previous 11 games. Gallardo had an RBI single...
Aramis Ramirez hit a three-run triple, helping the Milwaukee Brewers shake off their recent offensive struggles in an 8-3 victory over the Cincinnati Reds on Tuesday night. Yovani Gallardo (2-3) gave up two runs in six innings and tied a season high with eight strikeouts for the Brewers, who had lost eight of their previous 11 games. Gallardo had an RBI single in the fifth, snapping...
MLB News

Delivered to your inbox

You'll also receive Yardbarker's daily Top 10, featuring the best sports stories from around the web. Customize your newsletter to get articles on your favorite sports and teams. And the best part? It's free!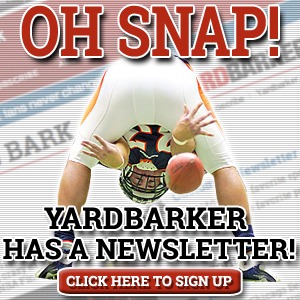 Latest Rumors
The Backyard

Today's Best Stuff

For Bloggers

Join the Yardbarker Network for more promotion, traffic, and money.

Company Info

Help

What is Yardbarker?

Yardbarker is the largest network of sports blogs and pro athlete blogs on the web. This site is the hub of the Yardbarker Network, where our editors and algorithms curate the best sports content from our network and beyond.