Found October 24, 2012 on hardballchat.com:
PLAYERS:
Jeffrey Loria
,
Ozzie Guillen
,
Heath Bell
,
Fredi Gonzalez
,
Edwin Rodriguez
,
Jose Reyes
,
Hanley Ramirez
TEAMS:
Miami Marlins
,
Chicago White Sox
,
Arizona Diamondbacks
,
Atlanta Braves
,
Los Angeles Dodgers
The Miami Marlins fired manager Ozzie Guillen yesterday after just one season. While I cannot say that I saw the move coming, especially after Miami traded their overpaid and outspoken closer, Heath Bell, to start with a fresh start in the dugout by dealing the player who criticized the manager most. While I felt that move was a clue that Guillen would get one more year at least to turn things around, I also cannot say that this came as a huge surprise. After all, can anything truly be a surprise when it involves the Marlins and their ignorant owner, Jeffrey Loria? Seriously, they do not get any more moronic than Loria. He has got to be one of the worst owners in all of professional sports. He has absolutely no idea how to successfully run a Major League Baseball franchise. The fact that not only does he not know that, but also surrounds himself with some of the most clueless front office executives on the planet further illustrates the problem. Loria has hired and fired four managers since the 2006 season. They include Joe Girardi, Fredi Gonzalez, Edwin Rodriguez and now Guillen. I am not including Brandon Hyde and Jack McKeon, who took over for Rodriguez in the middle of the 2011 season. They were replacements. In Girardi and Guillen, they both have a World Series ring as a manager. Gonzalez led the Atlanta Braves to the playoffs last season. Loria has dismissed so many people before ever truly giving them a chance. But even worse may be that he just doesn't even know when he has made a bad decision in the first place. Everyone knew that this wasn't going to work in Miami with Guillen. Loria wouldn't allow it. Guillen is controversial and outspoken. While that is not always a bad thing, it had no chance of working with Loria. Truth be told, I guarantee you that Loria would have preferred to have fired Guillen during the first week of the season following his comments regarding Fidel Castro. I don't know what made him stick with Guillen for the season, but this move was a long time coming. Now, I am not saying that none of this is Guillen's fault. The Marlins had their worst season in 13 years, although they had more talent than they had over that similar time span. But the Marlins never handle their business the right way. They signed Jose Reyes before even telling Hanley Ramirez that the move would force him to third base. They then went on to trade Ramirez for much less than they could have gotten for him had they just waited  a few more months. After that deal, the Marlins had one of their classic fire sales, with the only difference being that it did not happen the offseason after the team won a World Series. When Miami hires its' next manager, it will technically be the fifth one put in place since 2010. I would not envy whoever the team chooses, as it is almost guaranteed to not end well, as long as Loria owns the team and Larry Beinfest and David Samson are running the show. They may as well have been the trio in The Three Stooges movie remake last year. They are certainly baseball's version. Good luck to the Marlins and their next manager. They are going to need it. And don't feel too bad for Guillen. Miami still has to pay him $7.5 million over the next three years to sit on his couch and watch his former team continue to make unintelligent decisions. Brilliant.   The post Miami Marlins: Jeffrey Loria Cements Status As Most Ignorant MLB Owner As Marlins Fire Ozzie Guillen appeared first on Hardball Chat Baseball Blog.
Original Story:
http://www.hardballchat.com/2012/10/m...
THE BACKYARD
BEST OF MAXIM
RELATED ARTICLES
While Ozzie Guillen wasn't talking with the media in the immediate aftermath of his firing from the Miami Marlins on Tuesday after one season as manager, he did take to Twitter to share some thoughts.Thanks to my family and great friends for there support my kids mi wife and all my boys Ozzie Guillen (@OzzieGuillen) October 24, 2012to the fans that support me and for those who...
Ozzie Guillen lasted just one season with the Miami Marlins. The team announced the manager's firing Tuesday afternoon. "After careful consideration following the disappointment of the 2012 season, we decided to dismiss Ozzie," Marlins president of baseball operations Larry Beinfest said in a statement. "Our managerial search begins immediately and our hope is that...
We probably should have seen this one coming, but now, it's official: Ozzie Guillen is out as Marlins manager after just one season. Firing him nearly three weeks after the season ended seems like a bit of a low blow by Miami, with many major league coaching vacancies already filled. That also doesn't bode well for Miami's search for a replacement, as a lot of the sexiest...
My colleague Rob Kelley has been on the record as saying that if the Miami Marlins fire Ozzie Guillen it will be a sign that they are a bush league organization. I can certainly understand the impulse and today the Marlins became the bush league organization in his and many others eyes. That is because the Marlins announced that they have fired Ozzie Guillen one year into his four...
Prior to the 2012 season, the Marlins changed their name, their uniforms, their home address and most notably, their locks on the team's piggy banks.  Or to be more accurate, they got rid of those locks altogether, spending money freely to sign, sign and sign some more big-name players.  In addition to the well-known players they added to their roster, Miami also added a manager...
Ed Berliner joins Fox Sports Tonight to discuss the controversial firing of Ozzie Guillen from the Miami Marlins.
In 1968, 34 years before he would become the owner of the Florida (now Miami) Marlins, Jeffrey H. Loria published his second book -- What's it All About, Charlie Brown? The book is a philosophical look at life through the lens of the Charles Schultz comic strip, which is just too appropriate considering that the businessman and art collector has turned the organization into a...
It's a new managerial era in Major League Baseball. With the dismissals of Bobby Valentine and Ozzie Guillen from the Red Sox and Marlins, respectively, there's an undeniable trend in the sport in terms of hiring managers. No longer are the Billy Martin-like, outspoken and thoroughly controversial skipper en vogue. Rather, there's a clear movement towards "players...
If you are a Chicago White Sox legend, the past 48 hours have been the equivalent of one of those innings that is going so badly that Hawk Harrelson doesn't say anything at all. On Monday night, Sox (of both colors) Hall of Famer Carlton Fisk was arrested for DUI when cops in south suburban New Lenox, IL found Fisk passed out behind the wheel of his truck… in the middle of a...
MLB News

Delivered to your inbox

You'll also receive Yardbarker's daily Top 10, featuring the best sports stories from around the web. Customize your newsletter to get articles on your favorite sports and teams. And the best part? It's free!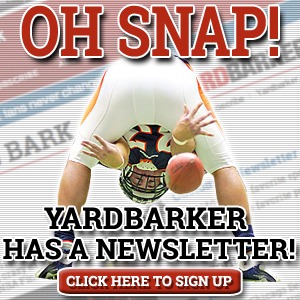 Latest Rumors
Best of Yardbarker

Today's Best Stuff

For Bloggers

Join the Yardbarker Network for more promotion, traffic, and money.

Company Info

Help

What is Yardbarker?

Yardbarker is the largest network of sports blogs and pro athlete blogs on the web. This site is the hub of the Yardbarker Network, where our editors and algorithms curate the best sports content from our network and beyond.