Found April 04, 2013 on Fox Sports:
PLAYERS:
Billy Hamilton
,
Nick Castellanos
,
Kris Medlen
,
Shelby Miller
,
Julio Teheran
,
Wily Peralta
,
Kyle Lohse
,
Roberto Hernandez
,
Jeff Niemann
,
Roberto Hernandez
TEAMS:
Cincinnati Reds
,
Detroit Tigers
,
Atlanta Braves
,
St. Louis Cardinals
,
Milwaukee Brewers
,
Tampa Bay Rays
With prospects, talent doesn't always dictate when a player gets an opportunity in the big leagues. Often, arrivals are delayed by arbitration clocks as teams look to maximize the amount of time they can control a player at a reasonable cost. In may cases, prospects have moved positions to ensure that opportunity presents itself as soon as possible (see: Billy Hamilton and Nick Castellanos, to name a few). He may not be the best example, and while he was no longer a prospect, had it not been for injuries and ineffectiveness, who knows if we would have seen the dominant force that Kris Medlen was down the stretch last season for the Braves. The point is that a simple opportunity is all it takes sometimes for players, especially prospects, to assume a permanent role. Here are a few prospects who could make an impact with their big league club on the mound this season. Shelby Miller (STL), RHP Surprise, surprise another good young pitcher ready to emerge for the Cardinals. The 22-year-old Miller sipped a cup of coffee last year with the Cards and dazzled in his final appearance of the regular reason on October 3 against Cincinnati, working six shutout innings while allowing one hit and two walks with seven strikeouts. He didn't earn the win, but he showed what scouts have been raving about since he was selected 19th overall in 2009. The Brownwood High School (Texas) product has nearly a 3.5 K/BB ratio in his minor league career and last year struck out a career-high 160 batters at Triple-A Memphis. While AutoZone Park in Memphis is one of the more pitcher-friendly parks in an otherwise hitter-friendly league, Miller's numbers took a bit of a hit. His 4.74 ERA in 136+ innings was more than a run worse than any full-season stop in his career and he surrendered 24 home runs after allowing a total of 11 long balls since making his professional debut in 2009. On Monday, the Cardinals named him their fifth starter and his value certainly increases in a starting role. Julio Teheran (ATL), RHP Teheran took a step back in last year after dominating the International League in 2011, a season in which he was named Triple-A Starting Pitcher of the Year by MLB.com and International League Pitcher of the Year. He appears to have put last season behind him, dominating this spring with a 1.04 ERA in six starts. The Braves will begin the season with him in the rotation, likely starting the fifth or sixth game of the season. The biggest concern from a disappointing 2012 was his home-run rate. Teheran allowed 18 homers last season after not allowing more than nine in a single season during his professional career and 13 more than he surrendered at Triple-A in 2011. Before last season only one time in his minor league career had his WHIP been over 1.20 and that was in 2008 when he was a 17-year-old. His strikeout numbers are not overly impressive, though he did strike out 35 batters in 26.0 innings this spring. With the addition of a certain pair of brothers, Atlanta should be a major factor in the National League East and if so, Teheran will need to play a big part. Wily Peralta (MIL), RHP The signing of Kyle Lohse didn't affect Peralta's spot in the rotation and he will start the team's third game of the season Wednesday against Colorado. After a less than impressive season with Triple-A Nashville last season, he was called up in September and made five starts for the Brewers including an eight shutout inning performance against the Mets on the 16th. He had a 3.78 ERA in his minor league career entering last season before scuffling to a 4.66 at Triple-A, due in large part to an elevated 1.59 WHIP which was a career-high for a season. If he can cut down on the walks from last season (a career-high 78) it's not out of the question to expect 10 wins with an ERA and WHIP around 3.50 and 1.30 respectively, numbers similar to his minor league totals. Chris Archer (TB), RHP Archer will not begin the season in the Rays' rotation and will start at Triple-A Durham. The final spot in the rotation was given to Roberto Hernandez while Jeff Niemann will assume the long relief role to begin the season. Hernandez, formerly known as Fausto Carmona, has given up at least three runs in 10 consecutive starts dating back to August 27, 2011 and pitched to a 5.33 ERA this spring with the Rays. Archer would be next in line, assuming he pitches well at Triple-A, if an injury occurs to one of the starts or if someone in the rotation struggles to begin the season. It's hard to imagine him not contributing for the Rays at some point this season. He lost both June starts last season before a September callup and in his first start September 8 against Texas, struck out 11 batters and allowed two runs in seven innings, earning a no-decision. He pitched to a 3.66 ERA in 25 starts, despite a nine-run outing in his second start of the season at Durham on April 13, but only pitched seven innings once and exceeded 100 pitches just four times. Those numbers don't say a whole lot, but they are something to keep an eye on. Archer's numbers began to improve in July, going 3-1 with a 1.93 ERA in 11 starts while holding opponents to a .190 average through the end of Durham's season. He gained some valuable major league experience down the stretch with a team still in the playoff hunt. If he puts up numbers like he did at the end of 2012 it shouldn't be long before we see Archer join that solid Tampa Bay staff. Get a FREE RotoWire 10-day trial (no credit card required) at RotoWire.com .
Original Story:
http://msn.foxsports.com/fantasy/base...
THE BACKYARD
BEST OF MAXIM
RELATED ARTICLES
A few months after the St. Louis Cardinals lost Albert Pujols to the Las Angeles Angels, they signed catcher Yadier Molina to an extension.  One can infer from the timing that, losing Pujols freed up the money the Cards needed to make the Molina deal and, with that, the Cardinals made Molina the face of the franchise. Of course, ask any Cardinals fan back then who they would rather...
ST. LOUIS – April 5, 2013 – Monday, April 8th marks the annual return of baseball to St. Louis as the Cardinals take on the Cincinnati Reds in a 3:15 p.m. game. Opening Day 2013 will feature a pre-game ceremony that will pay tribute to Stan Musial.   Following is a schedule of official activities and information to help baseball's best fans enjoy what has become an unofficial...
COMMENTARY | The St. Louis Cardinals ensured that a core of players would be in place when they offered long-term contracts to some of their most talented employees. Allen Craig received one of those contracts based on his potential. If the Cardinals are going to be successful in 2013, that potential will need to be realized. No one doubts Allen Craig's abilities when he...
Hot News for 3B David Freese
Ok, it took a while. But we're hooked on Vine. Hadn't really found a great reason to Vine until last night. And then it dawned on us... HOME RUNS!  Behold... the magic of Vine:    
ST. LOUIS – April 5, 2013 – Monday, April 8th marks the annual return of baseball to St. Louis as the Cardinals take on the Cincinnati Reds in a 3:15 p.m. game. Opening Day 2013 will feature a pre-game ceremony that will pay tribute to Stan Musial. Following is a schedule of official activities and information to help baseball's best fans enjoy what has become an unofficial...
During a recent broadcast of an Arizona Diamondbacks-St. Louis Cardinals game, the announcing crew for the D-Backs spent several minutes of air time obsessing over a young man seated behind the Cardinals dugout who kinda looks like Justin Bieber but not really. Referring to the supposed Justin Bieber doppelganger as "Biebs" and his younger companion as "Lil' Biebs," the...
The St. Louis Cardinals opened the season in a competitive fashion in Arizona, splitting the first two games of the series, before dropping the final contest in a long, 16 inning affair last night. It was fight throughout with a Diamondbacks club that shows a lot of potential, but still is a frustrating effort, because of some of the details that led to the verdict. And while the...
"Nice Going, boyfriend" St. Louis Cardinals' Pete Kozma drilled a home run to deep center against Heath Bell of the Arizona Diamondbacks in the top of the seventh inning last night.  The ball traveled directly at two fans enjoying the game.  The dude bailed out of the way.  The chick decided to wear the baseball like a new necklace. If this girl hasn't already dumped this...
An ongoing thread to be updated as the St. Louis Cardinals full-season rosters come into focus. The preliminary rosters for Memphis, Springfield, Palm Beach and Peoria rosters are confirmed.
SAN FRANCISCO (AP) - Barry Zito is coming off his biggest season in years, a redeeming, comeback season. Yet he sees absolutely no reason to be nostalgic about anything he accomplished during the Giants' 2012 championship run. Not even that season-saving Game 5 win he pitched in the NL championship series against St. Louis. The Cardinals come to AT&T Park on Friday for...
We all know from reading numerous analyses that the Reds probably have the upper hand in the NL Central. The Cardinals rotation is a bit of a question mark, and the Cardinals lost Chris Carpenter, Rafael Furcal, and perhaps their closer (how long will Jason Motte be out? I don't know if I want to know the answer). But let's compare the two teams position by position, and try...
MLB News

Delivered to your inbox

You'll also receive Yardbarker's daily Top 10, featuring the best sports stories from around the web. Customize your newsletter to get articles on your favorite sports and teams. And the best part? It's free!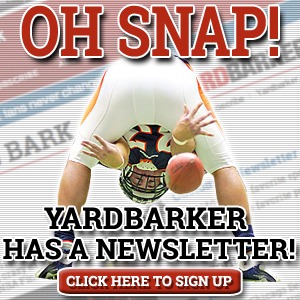 Latest Rumors
The Backyard

Today's Best Stuff

For Bloggers

Join the Yardbarker Network for more promotion, traffic, and money.

Company Info

Help

What is Yardbarker?

Yardbarker is the largest network of sports blogs and pro athlete blogs on the web. This site is the hub of the Yardbarker Network, where our editors and algorithms curate the best sports content from our network and beyond.