Found November 01, 2012 on hardballchat.com:
PLAYERS:
Jim Leyland
,
Jose Valverde
,
Delmon Young
,
Victor Martinez
,
Omar Infante
,
Anibal Sanchez
,
Octavio Dotel
,
Phil Coke
,
Joaquin Benoit
,
Al Alburquerque
,
Jake Peavy
,
Gavin Floyd
,
Chris Sale
,
John Danks
,
Francisco Liriano
,
Jose Quintana
,
Kevin Youkilis
,
AJ Pierzynski
,
Wil Myers
,
Billy Butler
,
Mike Moustakas
,
Alcides Escobar
,
Alex Gordon
,
Salvador Perez
,
Eric Hosmer
,
Jonathan Sanchez
,
Jeremy Guthrie
,
Ubaldo Jimenez
,
Justin Masterson
,
Roberto Hernandez
,
Chris Perez
,
Josh Willingham
,
Ryan Doumit
,
Jamey Carroll
,
Denard Span
TEAMS:
Detroit Tigers
,
Chicago White Sox
,
Minnesota Twins
,
Kansas City Royals
,
Baltimore Orioles
,
Cleveland Indians
The Detroit Tigers took the crown for the second season in a row and they advanced one step further in 2012 than they did in 2011. Unfortunately, that is not enough for an owner that is approaching his 90s. They made the decision to bring Jim Leyland back, but that is only the beginning in a division that could become more competitive in 2013. The White Sox came close last season. Let's see if anyone else can surprise in 2013. Detroit Tigers The coaching staff will return in 2013 and it appears as if some major decisions have already been made. Jose Valverde and Delmon Young will not be returning in 2013. That cuts somewhere in the neighborhood of 20 million dollars from the payroll. Additionally. they will have Victor Martinez returning to the lineup as the primary designated hitter. If he produces as he has done in the past then this will be one of the top five offenses in baseball. If the Tigers can manage to re-sign Omar Infante and Anibal Sanchez they will return one of the deeper lineups and rotations in the American League. Unfortunately, their bullpen is another story. Octavio Dotel will return and Phil Coke did a good job in the playoffs subbing for the ineffective Valverde, but a collection of relievers that includes Joaquin Benoit and Al Alburquerque is not enough to get through a post season. The Tigers might have to let either Sanchez or Infante go in favor of a proven closer. The question is where that closer is going to come from since there are few on the free agent market. Chicago White Sox The Sox decided to bring most of their rotation back as they re-signed Jake Peavy and picked up Gavin Floyd's option. They will pair with Chris Sale and John Danks to give the White Sox four solid starters in their rotation. Francisco Liriano is a free agent and he was shaky down the stretch for the White Sox. Of course, he has been shaky for most of the past three seasons. Jose Quintana made a solid debut and Phillip Humber is still hanging around as well. I would expect Liriano to sign elsewhere. Additionally, the club declined the option on Kevin Youkilis's contract, so he will test the free agent market as well. The problem for the White Sox has been that while they have several good players, they have some key positions that are manned by woefully inadequate players. A.J. Pierzynski had a banner season, but he was one of those players as recently as 2011. Will they give into his demands or will they allow someone else to bite on his amazing 2012 campaign? That leaves catcher, second base, and third base as significant question marks coming into the offseason. Add in the back end of the bullpen and you have a busy offseason for Kenny Williams. Kansas City Royals This is as high as the Royals have finished in over a decade. They are a tale of two teams. The lineup side of the equation is on the rise. If they can swallow Jeff Francouer's contract they can let Wil Myers take over in right field and perhaps contribute the last piece to an already impressive puzzle. Billy Butler and Mike Moustakas took steps forward this season and Alcides Escobar played out of his mind offensively. Add in Alex Gordon and Salvador Perez and you already have the makings of a very good offense. If Eric Hosmer lives up to his potential then this team will be the next powerhouse in the AL Central. Then, there is the pitching staff. Jonathan Sanchez was a flop. So, the Royals doubled down yesterday by picking up Erwin Santana from the Angels yesterday. He was virtually in the same situation as Sanchez. If he pitches well and if they bring back Jeremy Guthrie they could become the Baltimore Orioles of 2013. Cleveland Indians They used to be a model franchise, but they've become a mess almost overnight. Their starting rotation became a joke in the second half, but the pieces are there for them to compete again. They have to get Ubaldo Jimenez to live up to his massive potential. If Justin Masterson can pitch like he did in 2011 rather than last season then they could compete again. Plus, they have the artist formerly known as Fausto Carmona. Still, some or all of those guys may not be around once the dust settles. They must find four or five productive starting pitchers somewhere. Getting another decent bullpen piece wouldn't hurt either, but they may use closer Chris Perez as a bargaining chip to bring in some of that starting pitching they most desperately need. Minnesota Twins Terry Ryan has done some good things with this team. Josh Willingham, Ryan Doumit, and Jamey Carroll were all solid additions. The problem is that there is nothing on the pitching side of the equation. They have gotten two top five draft picks in a row and organizations can build themselves up with a couple of solid drafts, but they need to start competing before they lose all of that momentum from Target Field. So, Ryan must add at least two or three credible starting pitchers before this thing starts to slide away from him. Late inning relief help wouldn't hurt either, but the question is where the budget is there for him to add all of these things. If it isn't then he is going to have to be creative and deal guys like Denard Span. The post MLB 2013 Offseason: AL Central appeared first on Hardball Chat Baseball Blog.
Original Story:
http://www.hardballchat.com/2012/11/m...
THE BACKYARD
BEST OF MAXIM
RELATED ARTICLES
The Detroit Tigers have identified their main offseason need. For a refresher on yesterday's "State of the Team' address from GM Dave Dombrowski, click here. As it stands right now, the Tigers have a few objectives. Attempt to re-sign Anibal Sanchez, and Find a corner outfielder who can play defense and hit with reliability, especially against lefties Regarding Sanchez, he...
The Detroit Tigers have been one of the highest spending team in terms of payroll over the last few years. They have spent north of 100 million dollars in each of the past five seasons. The Tigers payroll has been as low as 106 million in 2011, and right around 140 million for 2012 when we factor in the half year earning of Anibal Sanchez and Omar Infante. With a lot of the...
Dave Dombrowski said Tuesday that the Detroit Tigers will hunt for corner outfielders this offseason. Which players might be on their short list? Continue reading →
In my last piece, I analyzed three main outfield targets for the Detroit Tigers this offseason. Now that Angel Pagan and Torii Hunter are officially free agents, the games will begin. Click here for more on that story. Another point of interest this offseason is what the Tigers will do with their bullpen. Jose Valverde is out. And with that, Tigers fans can finally breathe. But they...
The Detroit Tigers are set to sever ties with former Minnesota Twins outfielder Delmon Young, according to the Detroit Free Press.Tigers president and general manager Dave Dombrowski met with the media and said his club doesn't plan to bring back Young, this year's American League Championship Series MVP. With Victor Martinez expected to be Detroit's designated hitter...
If you're still in disbelief and infuriated about the World Series — I'm right there with you. But, let's not get too hung up on the loss in the World Series and overlook some very memorable moments the Detroit Tigers brought their fans throughout a successful 2012 campaign. Lets reminisce and take a look back on the top 10 moments of the 2012 season: 10. The rise of...
Detroit Tigers, Miguel Cabrera As one of a few left in Yankees Universe who actually admits to being a fan of Alex Rodriguez, at least openly, I must share something with you. A-rod might not always make the best decisions, as most recently seen during ALCS Game 1 in the Bronx. Just in case you missed this story here is a quick summary, or you can read the original breaking story...
What if the Detroit Tigers could add some speed, defense, and a pretty decent hitter to the lineup? What if I told you there is one player that is hitting the free-agent market that provides all three things? Outfielder Michael Bourn is that man, and he finds himself on the free-agent market for the first time in his career. The free-agent center fielder has played for the Philadelphia...
The Detroit Tigers announced yesterday that skipper Jim Leyland will return to the team for his 8th season. Wait? That was a freaking TEAM decision? It's not uncommon for someone of Leyland's age to just want to just hang out … Continue reading →
What went wrong in the World Series for the Detroit Tigers? We start this week's podcast on Blog Talk Radio by trying to figure out just that. Continue reading →
Last off-season, Detroit made a big splash in landing Prince Fielder as part of owner MIke Ilitch's "World Series or bust" mandate.  The Tigers reached the World Series but fell just short.  Having been to the brink of the promise land, Ilitch is hungrier for a title than ever (especially since his Red Wings won't be able to go after a Stanley Cup this year) and...
MLB News

Delivered to your inbox

You'll also receive Yardbarker's daily Top 10, featuring the best sports stories from around the web. Customize your newsletter to get articles on your favorite sports and teams. And the best part? It's free!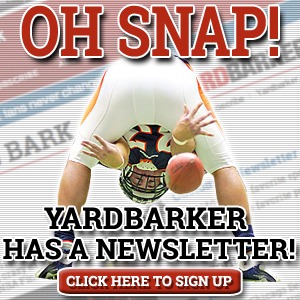 Latest Rumors
Best of Yardbarker

Today's Best Stuff

For Bloggers

Join the Yardbarker Network for more promotion, traffic, and money.

Company Info

Help

What is Yardbarker?

Yardbarker is the largest network of sports blogs and pro athlete blogs on the web. This site is the hub of the Yardbarker Network, where our editors and algorithms curate the best sports content from our network and beyond.