Found October 09, 2012 on hardballchat.com:
PLAYERS:
Alex Rodriguez
,
Derek Jeter
,
Ichiro Suzuki
,
Robinson Cano
,
Curtis Granderson
,
Mark Teixeira
,
Nick Swisher
,
Russell Martin
,
Raul Ibanez
,
Eduardo Nunez
TEAMS:
New York Yankees
,
Baltimore Orioles
The New York Yankees did their job against the Baltimore Orioles in the 2012 ALDS by taking one of the road games. But if New York has any plans of advancing past the first round of the MLB Playoffs, they may need to adjust their batting order, most notably, dropping Alex Rodriguez down at least a few spots.Rodriguez may be the highest paid player in the game today, but he is nowhere near the most productive. Not even close. Not only is he not the best in the game, he may not even be one of the top five on his own team.And I am not talking about Rodriguez not being one of the top five players on the Yankees.I am talking about him not even being one of the five best hitters on his own team.Since they can't drop him completely, it is time to move him down in the lineup.Rodriguez is no longer a bonafide No. 3 hole hitter. He strikes out far too often, hits into too many key double plays and flies out weakly more than a No. 3 hitter can afford to do and still help his team. Rodriguez has hurt the Yankees to the point that they could easily be up two games to none had they gotten anything out of him. He is just 1-for-9 to begin the 2012 MLB Postseason.The Yankees are all set with Derek Jeter leading off and Ichiro Suzuki batting behind him. That works. Robinson Cano could slide up to the No. 3 spot, although I would prefer to keep him in the clean up spot. He may strike out a lot, but I would move Curtis Granderson up to the third spot in the lineup.After Cano at four, Mark Teixeira is fine, although he needs to look more like he did last night than he did down the stretch this season. This is where Rodriguez could fit. Either he or Nick Swisher could be sixth and the other can hit seventh. After all, both have been horrible in their last handful of playoff games.Russell Martin and Raul Ibanez or Eduardo Nunez can round out the starting nine for the Yankees, depending on whether New York is facing a right or left handed pitcher.But Rodriguez needs to be dropped in the lineup. Not just for the sake of the Yankees, but even for his own well being at this point. Returning back to Yankee Stadium for game 3 should be a pressure cooker for Rodriguez if he continues to disappoint with runners on base. Drop him down to sixth or seventh and the fans would not be able to get on him quite as much.Either way, something has to change, or the Yankees could suffer the same disappointing fate that they have the past couple of years, which is an early ousting. The post MLB Playoffs: New York Yankees Need To Drop Alex Rodriguez And Change Batting Order In ALDS For Game 3 appeared first on Hardball Chat Baseball Blog.
Original Story:
http://www.hardballchat.com/2012/10/m...
THE BACKYARD
BEST OF MAXIM
RELATED ARTICLES
HUUUGE DOUCHE
The Donald has never been shy about sharing his opinions, even when no one wants to hear them, and now he thinks he knows more about putting together a lineup than Joe Girardi.
The Yankees and the ALDS have an eerie relationship. It serves as either a small stepping-stone towards alarger pedestal or a heartbreaking roadblock of a larger goal. The Yankees aren't like your favorite baseball team. The Baltimore Orioles have already had a successful season, anything in addition to making the ALDS is icing on a historic cake. They are playing with house money...
ESPN struck again putting together another headline that appears to be racist.After New York Yankees slugger Alex Rodriguez struck out three times against the Orioles, ESPN's Wallace Matthews posted "KKK-Rod" as the headline to his Rapid Reaction blog.Check out a screenshot of the headline below, courtesy of Deadspin. (click to enlarge)Paul M. Banks is CEO of The Sports Bank...
Alex Rodriguez carried the New York Yankees to the 2009 World Series title with an amazing power display. His more recent postseason memories all too often involve ending with a swing and a miss. A-Rod struck out to end the Yankees' 3-2 loss to the Baltimore Orioles in Game 2 of their division series Monday night, and calls to drop him from the No. 3 spot in the lineup and give...
With one hit and five strikeouts through nine at-bats in the American League Division Series, New York Yankees third baseman Alex Rodriguez hasn't been performing like a middle-of-the-order hitter. It's possible he won't be in that part of the lineup when the best-of-five series against the Baltimore Orioles, which is tied 1-1, resumes Wednesday at Yankee Stadium. ...
Down by a run in an all-even AL division series, Joe Girardi approached Alex Rodriguez and told baseball's highest-paid player he was going to pinch hit for him. Bold move, benching one of the game's great sluggers. ''I just had a gut feeling,'' the Yankees manager said. ''I just went to him and I said, `You're scuffling a little bit right now...
For all of his home runs, All-Star accolades and huge salaries, Alex Rodriguez finds himself in a most familiar spot this season. A-Rod is an October lightning rod. With every swing and miss, memories of his amazing run during the New York Yankees' championship season in 2009 fade even further. Instead, fans are becoming more and more vocal, calling for manager Joe Girardi...
The team that scored more runs this season than anyone except the Texas Rangers has a problem with its offense. And it remains to be seen what the New York Yankees do to try to fix it. The talk heading into Game 3 of the American League Division Series between the Yankees and Baltimore Orioles on Wednesday night centered on whether Alex Rodriguez would be dropped from the third...
NBC Sports Baseball Analyst Darryl Hamilton joins Fox Sports Tonight to discuss the batting struggles for Alex Rodriguez.
Like manna from the heavens, it's more John Sterling bloopers!  Last week we unearthed ten minutes of sterling gaffes (*doffs punnery cap*) and this week there's another brand new collection also put together by Youtube user viteminj.  If any announcer is worthy of earning "elite" blooper reel status, it's John Sterling.  This compilation is nothing...
MLB News

Delivered to your inbox

You'll also receive Yardbarker's daily Top 10, featuring the best sports stories from around the web. Customize your newsletter to get articles on your favorite sports and teams. And the best part? It's free!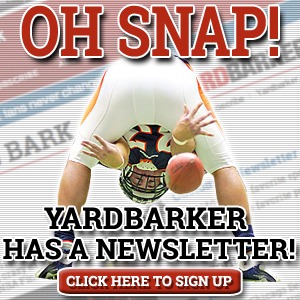 Latest Rumors
The Backyard

Today's Best Stuff

For Bloggers

Join the Yardbarker Network for more promotion, traffic, and money.

Company Info

Help

What is Yardbarker?

Yardbarker is the largest network of sports blogs and pro athlete blogs on the web. This site is the hub of the Yardbarker Network, where our editors and algorithms curate the best sports content from our network and beyond.