Found November 05, 2012 on hardballchat.com:
PLAYERS:
Rafael Soriano
,
Jose Valverde
,
Mariano Rivera
,
Jonathan Papelbon
,
Ervin Santana
,
Danny Haren
,
Ernesto Frieri
,
Drew Storen
,
Phil Coke
,
Al Alburquerque
TEAMS:
New York Yankees
,
Detroit Tigers
,
Philadelphia Phillies
,
Milwaukee Brewers
,
Los Angeles Angels
,
Chicago Cubs
,
Washington Nationals
Once Rafael Soriano officially opted out of the final year of his contract, leaving over $12 million on the table, many people felt as if he immediately became the top closer available on the open market this free agency season. After watching how poorly Jose Valverde performed for the Detroit Tigers throughout the 2012 MLB Postseason, it became even more evident that Soriano would opt out in an effort to cash in this offseason. But does that mean that teams should line up to offer big money and potentially overspend to sign Soriano? Sure, he was arguably the New York Yankees' savior in 2012 once Mariano Rivera went down with a season ending injury, but does that mean that we should all forget about how he is more than a bit injury prone? Regardless, we all know that this is Major League Baseball. Closers are hard to come by and, because of that, are often paid quite handsomely, if not overpaid. Look at what the Philadelphia Phillies gave Jonathan Papelbon at the start of free agency last offseason. Soriano could reap the rewards this winter. Here is a look at 5 MLB teams who could overspend to sign Soriano, although that does not necessarily mean that they should. 5. New York Yankees – When it comes to overspending, how can you not put the Yankees on this list? It is rumored that Soriano is seeking a four year deal worth roughly $60 million. Mariano Rivera has reportedly told the Yankees that he wants to come back to pitch in 2013. If healthy, it would most likely be his final year, meaning that New York will still need to find a closer to replace the all-time saves leader. But should it be Soriano? He was great last season – as a closer. He would not be the closer in 2013. He has not performed nearly as well in his career as anything but a closer. I also don't see the Yankees giving Soriano a four year deal. To me, it is time for New York to start spending a bit more fiscally responsible and saying no to Soriano is the first step. 4. Milwaukee Brewers – The Brewers blew 29 saves in 2012. They score runs, so taking leads late into games should not be a problem. They could also use another starter, but finding a more reliable closer is a must. I am not sure if they would pay that much for any closer, but, if they decide that is their top priority entering this offseason, Soriano is the most likely candidate for the Brew Crew. 3. Los Angeles Angels – They already got rid of Ervin Santana and his big contract for 2013. They were close to trading Dan Haren as well, but their deal with the Chicago Cubs fell through. That is not to say that Haren may not be soon moved, but it just won't happen yet or take place with the Cubs. They still are quite motivated to move his contract this offseason. That could free up enough space for them to sin Soriano, as Ernesto Frieri did not exactly finish last season quite as well as he had started. Blowing 22 saves will never endear yourself to any team. 2. Washington Nationals – They would not give Soriano the years or the amount of money he is seeking. But if time went on and Soriano remained unsigned, the Nats could bite. After watching how the bullpen cost them advancing in the playoffs, they may not wish to stick with Drew Storen as their closer. Soriano would be an upgrade, although not at his current asking price. 1. Detroit Tigers – I am not saying that the Tigers are the favorites to sign Soriano, but one could see why they may. Jose Valverde was awful toward the end of last season and throughout the entire playoffs for Detroit. Simply put, there is no way that the Tigers could ever consider bringing him back. Unless they are content to go forward with Phil Coke or Al Alburquerque as their next closer, they are going to need someone. We have also seen that the Tigers are all-in to win right now, meaning that money may be no object to the Tigers looking to get closer to finally win the World Series. After all, money makes a team do strange things. So does getting swept in the World Series.   The post MLB Rumors: 5 Teams Who Could Overspend To Sign Rafael Soriano appeared first on Hardball Chat Baseball Blog.
Original Story:
http://www.hardballchat.com/2012/11/m...
THE BACKYARD
BEST OF MAXIM
RELATED ARTICLES
According to the NY Times, this past Saturday New York Yankees GM Brian Cashman confirmed that star closer Mariano Riverawill return in 2013; it will be the 43-year olds 19th season in pinstripes. New York Yankee closer Mariano Rivera before a game against the Baltimore Orioles on May 8, 2009 in Baltimore, MD. (Photo credit: Wikipedia) I heard the news yesterday via the back cover...
Squawking about the state of the Yankees is the last thing on my mind this days. Squawking about the state of New York City and surrounding regions after Hurricane Sandy is what I am most focused on. Here is the latest from Staten Island:I was heartened to see that Mayor Bloomberg finally cancelled the New York City Marathon (and TheWeek.com cited this blog and the argument I made...
Abraham Lincoln once famously said "A house divided against itself cannot stand." Do you think that applies to infields, too? The Yankees' Derek Jeter and Alex Rodriguez have become famous over the years first for their friendship and then for their falling out. Perhaps it has something to do with their political beliefs. In an interview with ESPN back in September, Jeter let...
Yesterday, some Trenton tweetybird leaked Baseball America's top 10 Yankee prospects for the coming meltdown year. You know the deal: It's the annual Yankiverse salivation-fest, where we analyze stool samples and promote the rising studs, even if other teams have far more in the pipeline than we do. In fact, this year's list has a few disturbing cracks: Two of our 10...
The New York Yankees have claimed off waivers right-hander David Herndon from the Toronto Blue Jays and lefty Josh Spence from the San Diego Padres. The 27-year-old Herndon was claimed by Toronto from Philadelphia on Oct. 23. The Blue Jays then designated him for assignment Oct. 31. Herndon made five appearances for the Phillies this season before having elbow ligament-replacement...
Joakim Soria was one of the top closers for the Kansas City Royals over the past few years, prior to missing all of the 2012 MLB season due to Tommy John surgery. Now facing a decision in free agency, Soria would like to once again establish himself as one of the elite closers in the game. Unless, of course, the New York Yankees made a phone call. That would be an entirely different...
The big news in Yankee Universe today is that Mariano Rivera has informed General Manager Brian Cashman that he wants to come back and pitch in 2013. This news comes just days after Rafael Soriano informed the team he is opting out of the last year of his contract to test the free agent market. Rivera, as many know, tore the anterior cruciate ligament, or better known as his ACL...
MLB News

Delivered to your inbox

You'll also receive Yardbarker's daily Top 10, featuring the best sports stories from around the web. Customize your newsletter to get articles on your favorite sports and teams. And the best part? It's free!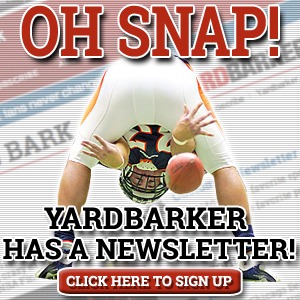 Latest Rumors
Best of Yardbarker

Today's Best Stuff

For Bloggers

Join the Yardbarker Network for more promotion, traffic, and money.

Company Info

Help

What is Yardbarker?

Yardbarker is the largest network of sports blogs and pro athlete blogs on the web. This site is the hub of the Yardbarker Network, where our editors and algorithms curate the best sports content from our network and beyond.