Found November 09, 2012 on hardballchat.com:
Anibal Sanchez is hoping to cash in on a strong postseason performance with the Detroit Tigers this offseason. When I say cash in, I really mean cash in. Big time. As in $90 million over six years. Really? For Sanchez? We are talking about a starting pitcher who boasts a career record of three games under .500 with an ERA in the upper three's. Serviceable, certainly. But $90 million? That is C.J. Wilson money from a year ago, as far as roughly $15 million per season. If he gets what he wants in all, he will make more than Wilson over the life of the contract. While I never put as much stock into Wilson as other people – mainly the Los Angeles Angels – did last offseason, he clearly had a better track record than Sanchez. But, like was the case with Wilson last winter, there is not a lot of other available starting pitching on the open market this offseason. That allows a pitcher such as Sanchez to benefit from less competition. And he is sure hoping to benefit. I need to make it clear that I do not believe Sanchez is a bad pitcher. Like I said, he is serviceable. Clearly, he was in a rough spot with the Miami Marlins, as he posted decent numbers but never received the run support necessary to win many games. But we are also talking about a pitcher who threw the ball so poorly at times that he was demoted to the minor leagues as recently as 2009. He has finished over .500 just twice in his big league career, and has been a bit up and down in terms of health and overall consistency. Does that sound like a $90 million pitcher to you? Overall in 2012, Sanchez went 9-13 with a 3.86 ERA. That takes into account 19 starts with the Marlins before finishing his final 12 starts with the Tigers. He was 5-7 with a 3.94 ERA in Miami, followed by a mark of 4-6 with a 3.74 ERA in Detroit. Granted, Sanchez did go 1-2 with a 1.77 ERA in the postseason, but can we even count his numbers against the New York Yankees? I'm pretty sure that I still could have gone seven or eight innings and allowed just a run or two against that lineup these playoffs. We are talking about a pitcher with a career record of 48-51. His career ERA is 3.75 in the majors. He is best suited as a No. 3 or perhaps even a No. 4 starter with many teams. He is not a No. 1 or No. 2 type of starter, yet that is the type of money he is seeking this offseason. And, with many pitching starved teams out there, he is likely to get it somewhere. I just feel that team will be making a big mistake.   The post MLB Rumors: Does Anibal Sanchez Really Expect $90 Million? appeared first on Hardball Chat Baseball Blog.
Original Story:
http://www.hardballchat.com/2012/11/m...
THE BACKYARD
BEST OF MAXIM
RELATED ARTICLES
This past July, I wrote about the Detroit Tigers and the potential that they might trade for Justin Upton prior to the deadline. Click here to read that story again. Instead, the Tigers grabbed Anibal Sanchez and Omar Infante to fill out their pre-August wish list. But back to Upton, other than the month on the calendar, little has changed. Perhaps most notable from that piece back...
Could the Red Sox be in line for a reunion seven years in the making? It looks like they're at least open to the idea, as the Red Sox have expressed interest in free-agent starter Anibal Sanchez, according to the Boston Herald. The Sox, of course, signed Sanchez as an amateur free agent in 2001 while general manager Ben Cherington was overseeing international scouting for the organization...
Jeremy Bonderman may not have thrown his last pitch in the majors. The now 30-year-old right hander has not pitched since 2010 after undergoing Tommy John surgery. Bonderman is intent on pursuing a comeback. An eight year veteran, Bonderman has only pitched for the Detroit Tigers during his major league career. The deal for Bonderman is likely non-guaranteed and may require him to...
INDIAN WELLS, Calif. Emboldened by the right-handers strong postseason with the Detroit Tigers, the agent for free-agent starter Anibal Sanchez is currently asking teams for a contract in the range of six years and 90 million, multiple major-league sources told FOXSports.com. The request works out to an average annual value of 15 million very close to what C.J. Wilson received...
Emboldened by the right-hander's strong postseason with the Detroit Tigers, the agent for free-agent starter Anibal Sanchez is currently asking teams for a contract in the range of six years and $90 million, multiple major-league sources told FOXSports.com. The request works out to an average annual value of $15 million - very close to what C.J. Wilson received as the top pitcher...
Now that the Toronto Blue Jays have filled their middle infield need by signing free agent Maicer Izturis, the team is left to focus on the outfield and its starting rotation, which has brought high profile names such as Anibal Sanchez and Justin Upton into question. Are either a realistic fit in Toronto? While the Blue Jays recognize their need in left field, they...
Notes and analysis on the market for starting pitchers, near the end of Day 1 at the general managers' meetings in Indian Wells, Calif.: -- Free agent Anibal Sanchez is in a "favorable position" within the marketplace, according to one club official. Sanchez may not reach the $100 million mark, but multiple people within the industry believe he's headed for a deal similar...
Would Nick Swisher satisfy the Tigers' needs? Two different ESPN baseball writers mentioned a Swisher-to-Detroit possibility this week. Continue reading →
So far this offseason the Minnesota Twins have reached out to several free agent starting pitchers, including Brandon McCarthy, Anibal Sanchez, Joe Blanton, Ryan Dempster, Brett Myers, Brandon Webb and Scott Baker, reports Darren Wolfson of 1500 ESPN. More realistic targets are free agent pitchers Joe Blanton and Ryan Dempster, whom the Twins have contacted...
The Los Angeles Dodgers are interested in just about every free agent this offseason, as they have bags of cash stacked up waiting to be spent. The latest name to surface is Anibal Sanchez, Jerry Crasnick of ESPN.com reports. The Dodgers have been linked to Zack Greinke and Hiroki Kuroda, as they look to probably add one free agent arm to the mix of Aaron Harang, Chris Capuano, Josh...
Norm Cash was a well known 1B for the Detroit Tigers, known for his all time 1961 season. He hit .361, 41, 132 with 193 hit and 119 RS. His 124 walks gave him a .487 OBP and 1.148 OPS which makes it amongs one of the best seasons ever. He would have been 78 today, having drowned during a fishing accident on my seventh birthday, 10/12/1986. During the time he played (1958-1974), he...
Baseball expert Jim Bowden's trade proposal: Nick Castellanos, Avisail Garcia and Drew Smyly for Upton and a second piece. Continue reading →
MLB News

Delivered to your inbox

You'll also receive Yardbarker's daily Top 10, featuring the best sports stories from around the web. Customize your newsletter to get articles on your favorite sports and teams. And the best part? It's free!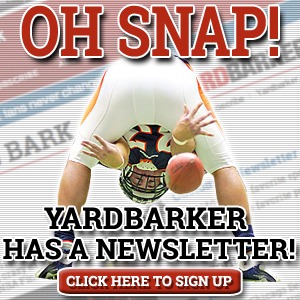 Latest Rumors
Best of Yardbarker

Today's Best Stuff

For Bloggers

Join the Yardbarker Network for more promotion, traffic, and money.

Company Info

Help

What is Yardbarker?

Yardbarker is the largest network of sports blogs and pro athlete blogs on the web. This site is the hub of the Yardbarker Network, where our editors and algorithms curate the best sports content from our network and beyond.