Found November 15, 2012 on hardballchat.com:
Anyone hoping that the New York Yankees would trade Alex Rodriguez this offseason can forget about that happening. It is no longer even a possibility. We more or less can now conclude that there is virtually no chance whatsoever that the Yankees trade Rodriguez, especially considering the Miami Marlins were the only team who may have been willing to acquire him. But given the Marlins latest and more shameful fire sale, it all but guarantees that Rodriguez will be playing for the Yankees in 2013 and beyond. I am sorry to be the one to break the bad news to Yankees Universe. I am sure that many of you were hoping New York would finally rid themselves of Rodriguez and his massive ego. And his massive contract as well. It just isn't going to happen. Could the Marlins take on Rodriguez if the Yankees agree to pay about $112 of the $114 million remaining on his deal? Sure. Just don't hold your breath. The Yankees aren't looking to unload him quite that badly. Plus, Miami has made it clear that they have absolutely no plans to compete for the foreseeable future. Rodriguez would now have next to no interest in playing for a team who is going to be so bad. Although, there would be absolutely no pressure on him at all. He could hit .245 with 13 home runs and 57 RBI next year, and nobody would even notice. It is not as if there will be more than 8,000 people in attendance at any point next season, unless fans of Miami's opponents buy the tickets that may have already been sold, but to people who will have absolutely no desire to actually show up to the game. Taxpayers who helped fund the majority of that ugly new ballpark for the Marlins should keep that in mind next year. When your despicable and disgraceful owner, Jeffrey Loria, tries to flash up on the score board the fact that the paid attendance for certain games may still be 22,000, that will pretty much never mean that anywhere near that number of people are actually in attendance. The Boston Red Sox tried that trick the past year. Nobody was buying it. All you had to do was open your eyes and look into the stands. Sure, it was a sell-out on paper, but many of those people were nowhere to be found. The same will happen with the Marlins. But thanks to more reprehensible behavior by Loria, Rodriguez will not be a part of it in 2013, or any other year. Like it or not Yankees fans, you are stuck with A-Rod for the foreseeable future.   The post MLB Rumors: No Chance Yankees Trade Alex Rodriguez Following Marlins Fire Sale appeared first on Hardball Chat Baseball Blog.
Original Story:
http://www.hardballchat.com/2012/11/m...
THE BACKYARD
BEST OF MAXIM
RELATED ARTICLES
While the New York Yankees saw free agent outfielder Torii Hunter, who signed with the Detroit Tigers yesterday, as a good fit, their focus at this point is on re-signing right-handers Hiroki Kuroda and Mariano Rivera, reports Erik Boland of Newsday. Yankees,while seeing Hunter as good fit, never made offer.Haven't offered any pos players on market as yet.Focus right now...
It had been assumed that Hiroki Kuroda would either re-sign with the New York Yankees or return to Japan. That may not be the case. According to ESPN Los Angeles the pitcher has informed his friends that he would prefer to pitch in Southern California. This would enable him to be closer to his two daughters, who are attending elementary school. This news would seemingly make the...
There are a couple of things that New Yorkers have come to count on at Yankee Stadium every Opening Day — the sight of what MLB's fattest payroll looks like and Derek Jeter filling the gap at shortstop.  This might be the first spring that the team has neither. While general manager Brian Cashman breaks down the Yankees' payroll so it is under the luxury tax limit,...
The top minor league affiliate of the New York Yankees is looking to northeastern Pennsylvania's history for its new identity. After spending all of last season as the Scranton/Wilkes-Barre Yankees, the club renamed itself the RailRiders on Wednesday in a nod to the region's railroading history. The new logo features a porcupine mascot in navy and gold with maroon lettering...
The new logo for the Scranton/Wilkes-Barre RailRiders (Photo: MiLB.com) One of the first changes made by new ownership of the of New York Yankees' Triple-A affiliate was to announce their intention to change their name from the Scranton/Wilkes-Barre Yankees and allow the fans to select the new name in an online poll. As a result, the Scranton/Wilkes-Barre Yankees are no more. At...
New York Yankees prospect Mark Montgomery discusses the details of his Arizona Fall League experience.
If they do lose Martin, Napoli would be a pretty good replacement. After a great 2011 campaign, Napoli fell off a bit last season hitting .227/.343/.469 with 24 HR and 56 RBI in 108 games for the Rangers. Not great, but better than the numbers Martin put up the last two years.
My entry:For starters, zombie Bowie Kuhn claws his way up from the grave - (He's dead, right?) - and steals Bud Selig's hairpiece, holding it for ransom unless Selig nullifies the deal. Peter Gammons throws himself off the street side of the Green Monster, bounces three times, and goes through Bill Buckner's legs, and at the funeral, the shamed Redsocks announce they...
The Midtown buzz today is the Yankee Broadway play which supposedly will open next year. (Hey, they did one for Billy Joel; why not Billy Martin?) But it's hush-hush, just like Brian Cashman's plans for right field. Nobody knows, and nobody's talking.That means: SPECULATION TIME!So here are the best bets for titles of the Broadway musical about the icons of Yankeehood...
When Gil Patterson left the Oakland A's organization for the New York Yankees, the A's didn't have far to look to find their newest minor league pitching coordinator. Scott Emerson, a longtime and well-respected pitching coach in the A's organization, takes over a program that has developed some of the best young pitchers in baseball over the past 20 years. We spoke...
When I first heard of the deal made by the Blues Jays, I became a bit unruly.  Needless to say, a bender followed from which I am now emerging.I realize now we should all be happy.The guys the Blue Jays got for nothing are much too young to be Yankees.  I mean, we didn't sign Torri Hunter because he was only going to be 37, right?In addition, and this is the real story; Miami...
MLB News

Delivered to your inbox

You'll also receive Yardbarker's daily Top 10, featuring the best sports stories from around the web. Customize your newsletter to get articles on your favorite sports and teams. And the best part? It's free!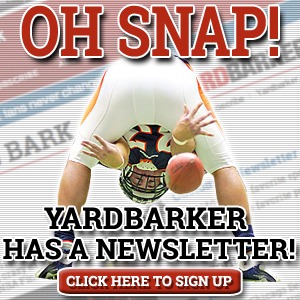 Latest Rumors
Best of Yardbarker

Today's Best Stuff

For Bloggers

Join the Yardbarker Network for more promotion, traffic, and money.

Company Info

Help

What is Yardbarker?

Yardbarker is the largest network of sports blogs and pro athlete blogs on the web. This site is the hub of the Yardbarker Network, where our editors and algorithms curate the best sports content from our network and beyond.