Found December 19, 2012 on hardballchat.com:
The New York Yankees know that they need at least one more right handed bat in their lineup entering the 2013 MLB season, having an all southpaw hitting outfield as of right now, featuring Ichiro Suzuki, Curtis Granderson and Brett Gardner. Manager Joe Girardi loves to alternate righties and lefties throughout the order, but as of now, he is lacking enough right handed bats, especially ones who can provide some pop. That is why the Yankees should place a phone call to the Chicago Cubs about bringing Alfonso Soriano back to New York. Yes, Soriano is still owed $36 million over the next two years. Those are astronomical numbers for a soon-to-be 37-year-old slugger whose best years may be well in the rearview mirror. Still, Soriano managed to hit 32 home runs and drive in 108 runs in a very weak Cubs lineup in 2012. Think about what he could do in the middle of the Yankees' lineup? Better yet, just remember what he did back in 2002 and 2003 before the Yankees foolishly traded him to the Texas Rangers for Alex Rodriguez. He is no longer the same player who averaged 30 home runs and 30 steals, but would it be that bad if he hit 25 home runs and stole 10 bases in New York in  2013? While the salary would initially scare teams off, especially ones who are trying to avoid a future luxury tax bill of nearly $20 million down the road, Soriano's contract and price tag comes with a caveat. The Cubs know that they are still in the early rebuilding stages. Chicago is not going to compete for another two or three years, so they are still trading off pieces of value to other teams. Because of that, the Cubs would reportedly be willing to eat upward of $26 million of the remaining $36 million owed to Soriano. With that being said, if the Yankees could steal him and only have to pay him $10 million over the next two years, what is there not to like? Look at his numbers and tell me he isn't still a $5 million a year hitter. His defense is less than stellar, but his bat makes up for that. Platoon him as a left fielder with Gardner or use him as a designated hitter. After all, Rodriguez may miss at least half of the upcoming season, if not the entire year. The Yankees are going to need a strong right handed bat to replace him and, sorry to be the bearer of bad news, but Kevin Youkilis is not the answer. Even in a bad season, as long as he plays at least 120 games, you can expect Soriano to hit at least 20 home runs and drive in 75 runs. Are those numbers really that much different than what Nick Swisher would be giving them over the next couple of seasons? At least they would come at a much lower cost to the Yankees.     The post MLB Rumors: Should New York Yankees Look To Bring Back Alfonso Soriano? appeared first on Hardball Chat Baseball Blog.
Original Story:
http://www.hardballchat.com/2012/12/m...
THE BACKYARD
BEST OF MAXIM
RELATED ARTICLES
Ichiro Suzuki is staying in pinstripes. The free agent outfielder signed a two-year deal with the New York Yankees, the team announced Wednesday. Financial terms weren't revealed, but various media reports put the contract's total value between $12 million and $13 million. "The Yankees are the kind of team that I always envisioned being a part of," Suzuki said...
Click on the photo for more of Lina Posada I keep thinking that this is Jorge Posada's wife or relative but it isn't.  Speaking of which Jorge's wife is pretty darned hot in her own right.  Anyway,  Lina is a completely different person altogether and she really likes to show off in front of the [...]
Someone tell Brian Cashman that the return of Mariano Rivera and the acquisition of Kevin Youkilis as Christmas gifts for CC Sabathia just won't do. Those two things are only stocking stuffers compared to what the New York Yankees big lefty really wants — a 'Doc McStuffins' doll. Preschoolers seem to be turning the Disney TV show's animated star into this year...
Adjusted numbers released today for the New York Yankees end of year payrolls just made their wallet hurt that much more. Late last week the Yankees were said to have been hit with a Luxury Tax bill of $18,917,994 on an end of year player payroll of $222,512,928. SEE ALL-TIME MLB LUXURY TAX DATA But, today, after accounting adjustments, that player payroll figure that accounts...
Seattle was once considered a possible landing spot for free agent outfielder Nick Swisher. The two no longer seem to be a match as the 32-year-old will no longer meet with the Mariners this week. If Seattle were to sign Swisher they would forfeit the twelfth pick in the 2013 draft. Signing Michael Bourn would also cost the Mariners the draft pick. Seattle has been trying to find...
There have been rumors going around for weeks now that the Cleveland Indians are interested in acquiring the services of former Yankee outfielder Nick Swisher. The latest rumors say that Swisher has visited Cleveland and met with Chris Antonetti and was offered a deal worth more than $50 million for the next four seasons. After years of claiming poverty it is inexplicable where the...
The Los Angeles Angels are supposedly shopping outfielder Vernon Wells, and the New York Yankees are rumored to be the team who is very interested. Vernon Wells in 2009 (Photo credit: Wikipedia) Now why would the Yankees want Wells? Well, here are some Wells- facts to sleep on: -       2006 signed to a 7-year, $126 million contract with Blue Jays; is considered the worst contracts...
Who's the most borderline Hall of Fame candidate ever? There will always be guys like Joe Jackson, Pete Rose and (more recently) all of the steroids era players, but opinion on them will always be greatly divided in both directions. You're usually a vehement defender of Rose's Cooperstown case, or you think he was a cancer upon baseball. Likewise, the steroids guys are usually...
I've made mention before that I'm not the world's biggest fan of the New York Yankees, but, man...it's hard NOT to like team captain Derek Jeter.And dude just keeps making it harder to say anything bad about him.Victoria Soto, the young 27-year-old teacher who died last Friday in the Sandy Hook shootings was, according to everything written about her, a huge fan...
Derek Jeter, a hero to many, made a phone call to Donna Soto, the mother of a real hero, the day Donna's daughter was laid to rest. Donna's daughter is Victoria Soto, the 27-year old teacher from Sandy Hook Elementary School who was killed in last Friday's massacre.  Victoria was shot and killed while shielding her students from the piece of trash who tore apart Newtown, Connecticut...
Not to say "I told you so,'' but I've been saying for years that the world would end before the Cubs ever won the World Series. For me, it wasn't so much about studying a Mayan calendar as spending a lifetime watching a team on the cheap until it decided to overpay ... for Alfonso Soriano, an outfielder afraid of the wall. So the day has come. The world is going...
MLB News

Delivered to your inbox

You'll also receive Yardbarker's daily Top 10, featuring the best sports stories from around the web. Customize your newsletter to get articles on your favorite sports and teams. And the best part? It's free!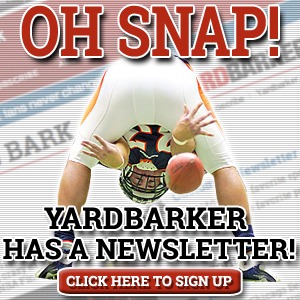 Latest Rumors
Best of Yardbarker

Today's Best Stuff

For Bloggers

Join the Yardbarker Network for more promotion, traffic, and money.

Company Info

Help

What is Yardbarker?

Yardbarker is the largest network of sports blogs and pro athlete blogs on the web. This site is the hub of the Yardbarker Network, where our editors and algorithms curate the best sports content from our network and beyond.