Found November 21, 2012 on hardballchat.com:
PLAYERS:
Zack Greinke
,
RA Dickey
,
Hiroki Kuroda
,
Jeremy Guthrie
,
Cole Hamels
,
Matt Cain
TEAMS:
Los Angeles Angels
,
New York Mets
,
New York Yankees
,
Kansas City Royals
,
Milwaukee Brewers
,
Philadelphia Phillies
,
San Francisco Giants
Generally speaking, at least in terms of baseball free agency, the top free agent will set the market for the rest of the free agents as soon as he signs his big contract during the start of the offseason. Not to take away from the rest, but it is the best player who will sign a large contract, setting the parameters for the others to fall in line, almost sort of like a domino effect. It almost always happens that way, especially with hitters. Nut that has not been the case with free agent pitchers, as some have either already signed or are deep in negotiations, while Zack Greinke has created no buzz as of yet. And, with all due respect to pitchers such as R.A. Dickey, Hiroki Kuroda and Jeremy Guthrie, Greinke is far and away a more attractive free agent option in terms of any starting pitchers are concerned. Yet he has not truly been linked to any teams, while Kuroda and Guthrie have already signed, and Dickey is in discussions. Greinke could wind up becoming a bargain. Usually, the first pitcher off the board will get the biggest deal, and then other teams will sign the rest as fall back options. They are more like consolation prizes. But the longer Greinke remains available, especially as other lesser pitchers continue to sign, Greinke could be a steal, even if he dies still get his big pay day. The problem is, the big market teams are obviously the ones who spend the most money. Due to his anxiety and other personality issues, Greinke may not be viewed as a big market sort of guy. Granted, he did well when he was traded to the Los Angeles Angels during the 2012 season after having only previously played for the Kansas City Royals and Milwaukee Brewers. But while Los Angeles is a big market, it isn't the same sort of market as far as media and fans are concerned as, say, New York, Boston or Philadelphia. They are much more ruthless, especially when things don't go quite as well as expected. Still, after seeing the types of deals that Cole Hamels and Matt Cain received during last season so that the Philadelphia Phillies and San Francisco Giants could avoid letting two of their top pitchers hit the open market, Greinke is not rumored to be receiving those types of offers. Those two will average well over $20 million per year over the next six seasons, while Greinke is expected to sign for closer to around $17 million. When you look at their numbers, Greinke stacks up to Hamels and Cain quite well. Whichever team does wind up making a play and signing Greinke could be getting a top notch pitcher at a discount price. Still, it is a bit strange that he was not the first free agent starting pitcher to sign a new deal this offseason, thus setting the market price for the rest. Of course, that does not mean that it will not work out well for Greinke or his new team. That much remains to be seen.   The post MLB Rumors: Why Hasn't Zack Greinke Set The Free Agent Market For Starting Pitchers This Offseason? appeared first on Hardball Chat Baseball Blog.
Original Story:
http://www.hardballchat.com/2012/11/m...
THE BACKYARD
BEST OF MAXIM
RELATED ARTICLES
Right handed pitcher Zack Greinke could be considered the top free agent starter this off season, and both the Angels and Rangers are expected to bid against each other to land him, but according to Michael Silverman of the Boston Herald, the Dodgers are viewed as the favorites to land Greinke. Earlier this month, we learned that the Angels' top priority this offseason is to...
 By Jonathan Northrop - AngelsWin.com Columnist Williams and DiMaggio, Mays and Mantle, Bonds and Griffey…baseball has a history of paired superstars, players of similar talent that are associated with each other for much of their careers. Mike Trout and Bryce Harper, AL and NL Rookies of the Year of 2012, will almost certainly be paired in name for the rest of their careers...
  AngelsWin.com is never short on running contests through the season and offseason. This month we're proud to have teamed up with egraphs.com in an effort to bring recognition to this new way of receiving an autograph from your favorite players electronically. An egraph is a shared moment between you and your favorite star. It is immortalized forever with a beautiful high...
The November 20th, 2012 edition of daily news for the Los Angeles Angels of Anaheim including Angels meet with Fujikawa, wondering if the Angels be better off without Greinke and much more... The Story: The Angels hosted Japanese closer Kyuji Fujikawa for a visit yesterday. The Monkey Says: This was expected as Fujikawa is meeting many teams right now.  Hopefully this means...
The Angels have intensified their pursuit of Japanese reliever Kyuji Fujikawa, who toured Angel Stadium on Saturday and then went out to lunch with General Manager Jerry Dipoto and Manager Mike Scioscia. Upon returning to Japan on Sunday, Fujikawa, a 32-year-old right-hander who has been Japans top closer for six years, told reporters, I was very impressed with the way the Angels...
Scott Kazmir's comeback season isn't done just yet.  Kazmir recently made his debut in the Puerto Rican Winter League with the Gigantes de Carlina. In four innings, he surrendered two runs on four hits, while walking one and striking out six.  He was all but written off once the Los Angles Angels released him at the beginning of the 2011 season. Months after being let...
Right near the top of Jerry Dipoto's off-season shopping list has to be bullpen help.  It is probably listed right underneath rotation help and maybe milk and eggs.  Regardless, getting some better, more reliable relievers is a major priority for the Halos after their 2012 season was largely torpedoed by the Bullpen of Perpetual Sorrow. This glaring need has become somewhat...
The Arizona Fall League season has commenced and now most baseball junkies are tuning into late night or early afternoon ESPN to watch the Latin American winter leagues.  But what can we really take away from these offseason leagues?  In truth, not a lot.  Players can sink or swim for any number of reasons in the offseason.  The most common, players can simply be too exhausted...
The Case for James Shields By Robert Cunningham - AngelsWin.comAuthor's Note: I originally wrote this article near the trade deadline (late July 2012) as I felt very strongly that the Angels wanted to acquire Shields for the division run. However, this event did not come to pass for, probably, the following two reasons: 1) The Rays, rightfully, felt that they were still in contention...
The November 21st, 2012 edition of daily news for the Los Angeles Angels of Anaheim including Angels add three to 40-man roster, Kuroda signs with the Yankees, considering a trade for James Shields and much more... The Story: The Angels added Brandon Sisk, Ryan Brasier and Travis Witherspoon to their 40-man roster in lieu of the Rule V Draft. The Monkey Says: Sisk and Brasier...
  Today is the one time of the year that everyone, no matter how well-off or unfortunate, gives thanks to what they have in their lives. Do you hear that Angel fans? This is the one time of the year that you all HAVE to thankful with what the Angels have given to you without any undue whining or griping. It's the season for thanks, the season for positive reflection, so...
The November 19th, 2012 edition of daily news for the Los Angeles Angels of Anaheim including Dodgers frontrunners for Greinke, Angels interested in Howell, the worst anti-Trout MVP column and much more... The Story: An "industry source" claims the Dodgers are the clear frontrunners for Zack Greinke. The Monkey Says: Honestly, I wouldn't put any credence in...
MLB News

Delivered to your inbox

You'll also receive Yardbarker's daily Top 10, featuring the best sports stories from around the web. Customize your newsletter to get articles on your favorite sports and teams. And the best part? It's free!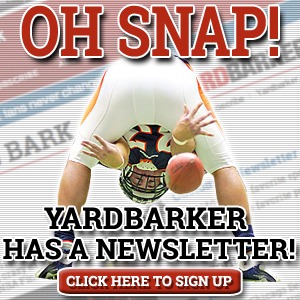 Latest Rumors
Best of Yardbarker

Today's Best Stuff

For Bloggers

Join the Yardbarker Network for more promotion, traffic, and money.

Company Info

Help

What is Yardbarker?

Yardbarker is the largest network of sports blogs and pro athlete blogs on the web. This site is the hub of the Yardbarker Network, where our editors and algorithms curate the best sports content from our network and beyond.