Found May 29, 2012 on NorthWest Sports Beat:
PLAYERS:
Franklin Gutierrez
,
Brandon League
,
Felix Hernandez
,
Eric Wedge
,
Chone Figgins
,
Miguel Olivo
,
Casper Wells
,
David Letterman
TEAMS:
Seattle Mariners
,
Texas Rangers
,
Milwaukee Brewers
,
Chicago White Sox
Another poor week After the high of the weekend sweep in Colorado last weekend, the Mariners added a fourth win in a row, then one more out of the three game set against the Texas Rangers. A good start to the week, then the bane of my existence came for a visit. The California er, Anaheim er, what ever the hell they are called this year Angels. I hate the Angels. Hate their fans. Hate their stupid red hats, and their stupid waterfall in their outfield. I pretty much hate everything that the Angels stand for. Especially when they play the Mariners. We had a nice little hot streak going for us. We were looking back at the Angels after taking two out of three from the Rangers, and then the four game sweep came. God I hate that team! Any ways, it was a busy week for us baseball loving Americans, with the three day weekend, the BBQ's, and parades to go to, I guess this was the perfect weekend for us to get swept. Too much else going on in the world for us to get too worked up over it. It still sucks losing to the Angels though. Especially when they turn a promising week into a 2-5 performance. With that, I give you my top ten! 10: The win streak snapped As mentioned above, the M's had a nice little hot streak going for the better part of a week. A four game winning streak, capped with a 2-1 series with the Rangers. All was well until those blasted Angels came to town. 9: Guti gets extended stay in Arizona In an effort to get some sort of worth out of our ailing center fielder, the M's have assigned Franklin Gutierrez to their spring training facility to get some rehab work in. This could turn out to be a long stay, but if it gets him healthy, it is a good move. Brandon League finally taken out of closers role 8: Throwback time y'all One of my favorite things about sports is the throwbacks. Teams pay homage to an earlier era, and since our existence only goes back a mere 35 years, and the Seattle Pilots are now the Milwaukee Brewers, the M's used a 50′s style Rainiers uniform. These looked damn nice too! 7: King's court gets a face lift Since Felix Hernandez' start fell on the throwback night, the Mariners decided to get some throwback 50′s era King's Court shirts made for the weekly #HappyFelixDay start. They also opened up another section for the event. Instead of the normal sea of yellow, the seats were filled with the red shirts. A nice change if you ask me. 6: All hail Eric Wedge! For once the M's skipper has done something that all of the fans of this great team has wanted him to do. Kick blown save leader Brandon League out of the closers role. The move is only temporary says Wedge, but let's hope that the closer by committee move has a little more oomph than League has had. 5: Figgy gets another shot In an effort to get the most out of his lovable bunch of losers, Eric Wedge decided to use Chone Figgins in center field on Sunday. It's not like it can't hurt, especially coming off of three straight losses. 4: Seattle welcomes back Gaylord Perry King's Court goes retro (photo craigs_magic_cards ebay.com) Undoubtedly one of the most decorated pitchers to ever wear a Mariners uniform, Hall of Famer Gaylord Perry was invited back to the Emerald City to toss out the ceremonial first pitch before Friday night's game. Too bad some of his magic didn't rub off on the Mariners though, as we dropped the game 6-4 after another one of Brandon League's ninth inning collapses. 3: Hey, let's not forget we did win two against the Rangers It's sometimes hard to remember the good times, when there are so many bad times that surround them. The M's did take two at home against division leading Texas. That's got to count for something right? 2: Olivo back The M's finally welcomed back their starting catcher Miguel Olivo on Thursday. To make room for the activation, they optioned Momma's boy Casper Wells back down to AAA Tacoma Rainiers. I doubt his mom is going to be making too many of these games. 1: Ichiro still hitting third I guess with the money that Ichiro is being payed, he deserves to be in the three spot. Now only if his bat would agree with Eric Wedge's decision to keep him there, we all could be a little happier about this. Well that's it. Another week in the books, and another poor performance by your Seattle Mariners. It doesn't get any easier to watch them lose, even after the ten year drought that they've been in. Up next for the M's. At Texas for three, then off to Chicagoland to square off against the Sox in a three game weekend set. CLICK HERE TO CHECK OUT THE MARINERS BLOG IN OUR CLUBHOUSE TODAY AT NWSB! © Clinton Bell for North West Sports Beat, 2012. | Permalink | No comment | Follow NWSB on Twitter or join US on Facebook for real-time updates OR... | Share This on Twitter | Share NWSportsBeat.com on Facebook Post tags: #HappyFelixDay, 2012 MLB Season, 2012 Seattle Mariners, Brandon League, Chicago White Sox, David Letterman, Eric Wedge, Felix Hernandez, Franklin Gutierrez, Gaylord Perry, LA Angels, M's, Mariners, Mariners blog, Mariners News, Miguel Olivo, Milwaukee Brewers, Moments In Time, Seattle Mariners, Seattle Mariners blogs, Seattle Pilots, Tacoma Rainiers, Texas Rangers, Week That Was
Original Story:
http://www.nwsportsbeat.com/mariners/...
THE BACKYARD
BEST OF MAXIM
RELATED ARTICLES
Can't close a door… The closer role is the ultimate reminder that the game of baseball is a mental game unlike any other. When things are going right, there's nothing quite like the look of confidence and pure focus on the face of your team's closer. Even the fans in the stadium have a confidence about them, singing along and dancing to his song of choice almost knowing that...
Lets make a deal There is no doubt that now as the season has surpassed the 50 game mark, the Seattle Mariners front office is in overdrive looking for deals to be made to take the next step in the rebuilding process. When it comes to the trade deadline, teams that feel they have a real shot at the playoffs will sacrifice the future of the club for a chance to get their hands on...
How 'bout some D for once This week I am going to be doing a defensive segment, instead of the usual offensive plays. There were a couple "web gems" to choose from, but the one I picked was Brendan Ryan throwing out Bobby Wilson on a very impressive play. I know a lot of Mariners fans are fed up with the play of Brendan Ryan this year, I include myself in this list, but this...
The Seattle Mariners were in pretty good shape, having avoided last place in the A.L. West for most of the season hovering near .500 while the Angels got off to a slow start. However, that was until the Angels came into Seattle. In the teams' first meeting of 2012, the Angels swept four straight from Seattle to catapult the Mariners in the standings. Even with snapping a five-game...
Who's hot, who's not? The Seattle Mariners had another tough week. After taking 2 of 3 shockingly from the Texas Rangers at home, the Mariners then continued to be swept by the Angels in a 4 game series, also at home. They scored 21 runs total in their 2-5 week and are hitting the road, starting this week in Arlington to take on the Rangers. With the weak performance as a team...
5/27/12: Brendan Ryan ranges up the middle to glove a grounder, then makes a terrific spinning throw to get Bobby Wilson by a step http://mlb.mlb.com/video/play.jsp?co...y_21809721&v=3 Ryan's spinning throw
Mariners News | Links Hey there folks and Happy Monday to you! Surfing around for your Mariners coverage for today? Looking for Seattle Mariners, News, Links, Gossip, links, Analysis and observations? We all love the Mariners right? But we all don't have the time to go thru the web to try to find the latest news and the articles from the best writers on the planet. The men that...
"My, Oh My" Professional sports in the Northwest has a long illustrious history, and part of that history includes the story telling that the announcing crew brings to life. For fans that are unable to attend the game in person, these gentlemen (and ladies) make you feel as if you were sitting front row. When I sit back and think about Seattle sports announcers there are two...
Homers, homers, and more homers … but not from the Mariners. The opponents' long ball killed them this week, as the Mariners were swept 4 games by the Angels. While Eric Wedge and his ballclub won 2 out of 3 against the Texas Rangers before going into the series, the Anaheim Angels motored through them on their way to claiming the 2nd place seat in the AL West. The Mariners have...
John Jaso drove in three runs, Jason Vargas pitched into the seventh inning and the Seattle Mariners snapped a five-game losing streak with a 10-3 victory over the AL West-leading Texas Rangers on Tuesday night. Jaso's two-run homer in the second put the Mariners ahead to stay on way to matching their highest run total this season. They scored twice with two outs in the fifth...
ARLINGTON, Texas (AP) -- John Jaso drove in three runs, Jason Vargas pitched into the seventh inning and the Seattle Mariners snapped a five-game losing streak with a 10-3 victory over the AL West-leading Texas Rangers on Tuesday night. Jaso's two-run homer in the second put the Mariners ahead to stay on way to matching their highest run total this season. They scored twice...
MLB News

Delivered to your inbox

You'll also receive Yardbarker's daily Top 10, featuring the best sports stories from around the web. Customize your newsletter to get articles on your favorite sports and teams. And the best part? It's free!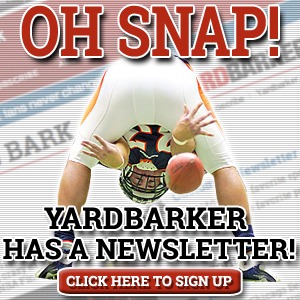 Latest Rumors
The Backyard

Today's Best Stuff

For Bloggers

Join the Yardbarker Network for more promotion, traffic, and money.

Company Info

Help

What is Yardbarker?

Yardbarker is the largest network of sports blogs and pro athlete blogs on the web. This site is the hub of the Yardbarker Network, where our editors and algorithms curate the best sports content from our network and beyond.