Found May 16, 2013 on Fox Sports Florida:
PLAYERS:
David Price
,
Joe Maddon
,
James Shields
,
LeBron James
,
Tiger Woods
,
Darrelle Revis
,
Randy Jones
TEAMS:
Tampa Bay Rays
,
Boston Red Sox
,
Kansas City Royals
,
Miami Heat
,
Tampa Bay Buccaneers
,
Winnipeg Jets
,
San Diego Padres
ST. PETERSBURG, Fla. Early in the third inning Wednesday, Tampa Bay Rays left-hander David Price was presented another obstacle in a season of many for him, another strange turn that will test his resilience in what is already an uncommon year for the ace. Adversity presents a number of possible outcomes, ranging from the positive to negative and points in between. And once again, the reigning American League Cy Young Award winners resolve will be stretched in the coming days after new drama this time because of left triceps tightness that leaves his next start in doubt. Its hard to tell whats to follow. Following his teams 9-2 loss to the Boston Red Sox at Tropicana Field, Rays manager Joe Maddon said results from an MRI looked positive and that Price will be re-evaluated Thursday. Meanwhile, Price smiled as he said, Im not, no, when asked if he had ruled out making his next scheduled appearance, set for Monday in Toronto. This is something I take pride in, being available every fifth day and being out there for my team, said Price, who threw 57 pitches in 2 13 innings before motioning toward Maddon, head Rays athletic trainer Ron Porterfield and pitching coach Jim Hickey after feeling a sensation he had never experienced before. I dont know how thats looking right now. Whatever the outcome, Wednesdays event meant another struggle for Price. This season, only six weeks old, has included pain through multiple pinpricks: the heightened profile after winning the Cy Young Award the early doubts after being held without a victory in his first five starts the repeated questions about the velocity on his fastball, which at times has been a few ticks slower than last season the odd verbal spat with umpire Tom Hallion on April 28 in Chicago the blurred vision because of allergy issues revealed Tuesday now the left triceps strain. This was never going to be a normal season for him. That much was clear in spring training, when questions about his future Will he become too expensive for the Rays? were fielded to him, Maddon and principal owner Stuart Sternberg. Add to that an assumed larger leadership role after right-hander James Shields was traded to the Kansas City Royals last December, and little about this summer was going to be similar to the last. Only Price knows how much peripheral factors, both internal and external, have impacted his play. Each athlete, no matter the stage, manages adversity in personal ways. Expectations seemed to weigh on LeBron James in the 2011 NBA Finals. Tiger Woods still searches for his first major championship since 2008, after his private life became wrecked. Later this fall, well learn how Darrelle Revis handles a transition with the Tampa Bay Buccaneers after recovery from a torn ACL in his left knee sustained last September. David is really, really good, Maddon said. Hes going to handle this moment, I believe. Hes going to be well. I dont think its anything serious from what Im hearing. So hopefully, its going to be just a couple days, and well figure out what were going to do tomorrow. So much about sports is mental what happens in the head separates stars from the mere good, after all but physical fortune is important as well. Former National League Cy Young Award winner Randy Jones can relate to Prices situation. Jones, the 1976 winner as part of the San Diego Padres, sustained an injured nerve in his throwing arm in the last start of his Cy Young Award-winning campaign. That year, the left-hander earned a 2.74 ERA in a career-high 315 13 innings. Jones finished with a career-best 22 victories in 40 starts that season. But it came with a cost: The nerve injury lingered into the following season, and he struggled to stay healthy during a summer in which he went 6-12 with a 4.58 ERA. Mine was kind of unique and frustrating, Jones told FOX Sports Florida about his experience the year after winning the Cy Young Award. In the last start of the 76 year, when I won the Cy Young Award, I snapped that nerve in my arm. Once I did that, I had to rehab through that. It was a question of whether that nerve was going to regenerate, because I couldnt fix it. How you are mentally (is important), then another thing is how you are physically in that scenario. I just kind of got bamboozled by the injury. Like Jones then, Price must react to physical adversity. Prices situation doesnt seem as severe, but there are parallels between the two. Mainly, both examples show how much of a grind life can be after winning a Cy Young Award. Jones went on to pitch five more seasons after the frustrating 77 campaign. Now that hes two decades removed from the slide, he only recalls the high moments. Likely, the same will apply to Price in years ahead. Likely, this stretch will be wiped from memory. But for now, there are more questions. The struggles dont usually come up, Jones said. I think everybody remembers the glory years, 76. It was just magical. It was a magical year for our fans and for me. For Price, the shine of 2012 can return, but it seems more distant after he walked toward the dugout Wednesday after an odd delay. For now, there are more unknowns, only more adversity. You can follow Andrew Astleford on Twitter @aastleford or email him at aastleford@gmail.com.
Original Story:
http://www.foxsportsflorida.com/mlb/t...
THE BACKYARD
BEST OF MAXIM
RELATED ARTICLES
Tampa Bay Rays  ace David Price was placed on the disabled list after  training the triceps in his pitching arm last night against the Boston Red Sox.  It marks the first time the Price has been on the disabled list in his career. An MRI  last night revealed that there was no structural damage and the team doesn't believe it's a long-term situation for  the reigning Cy Young...
Credit: Kim Klement/USA TODAY Sports Tampa Bay Rays LHP David Price suffered triceps tightness on his throwing arm in the third inning of Wednesday's game, a major blow to a team struggling to hang on the back of the pack of a competitive AL East.  The reigning Cy Young Award winner has been off to a tough start at 1-4 with a 5.24 ERA.  For reference, Price was 20-5 with a 2...
The Tampa Bay Rays can ill-afford an injury to their ace David Price.  He has already struggled enough this season after winning the American League Cy Young last year, a serious injury could really derail his season.  So when he was pulled from his start yesterday, fingers were hovering over the panic button.  Fortunately, Rays' manager Joe Maddon doesn't think Price...
Tampa Bay Rays ace David Price has been placed on the 15 day disabled list after suffering a strained left triceps during yesterday's start against the Boston Red Sox. Price began to feel tightness at the start of the 3rd inning, throwing around 4-5 pitches before realizing he "didn't think it was going away". Initial expectations are that Price will miss around 2 weeks...
The Rays' clubhouse is a fun place these days, but no one in Tampa Bay is laughing about David Price's season. Price, who won 20 games en route to earning the AL Cy Young award last season, has long been a key character in the debate over which pitcher could crack the $200-million plateau with his next contract. It's probably unlikely that Price, who has two more years of arbitration...
AL Cy Young Award winner David Price has left the Tampa Bay Rays' game against the Red Sox with left triceps tightness. Price departed with one out in the third inning in Wednesday night's game after allowing an RBI single to David Ortiz. The left-hander walked toward the plate after delivering the pitch to Ortiz and appeared to grimace. Tampa Bay manager Joe Maddon, a...
Just when Tampa Bay Rays fans thought the season couldn't get any worse for their young stud pitcher David Price, it did. Leaving the game against the Boston Red Sox Wednesday with tighness in his left triceps, the left-handed starter very well could make a trip to the disabled list. The 27-year-old, who won the 2012 American League Cy Young award, is just 1-3 with a 4.78 earned...
Tampa Bay Rays ace David Price left his start against the Boston Red Sox with triceps tightness in his pitching arm. Price left after allowing an RBI base hit to David Ortiz in the third inning. He appeared to grimace and was flexing his left hand. Tampa Bay manager Joe Maddon, a team athletic trainer and the Rays infield all joined Price on the mound after the play. Jamey Wright...
ST. PETERSBURG, Fla. David Price addresses a common question about his unfamiliar start, the results different but his expectations the same. The left-hander and reigning American League Cy Young Award winner has faced a number of these queries in the past month Whats wrong? What has changed from last year? and he finds himself doing so again. It is a recent Monday in the home...
Jon Lester stayed unbeaten, Stephen Drew hit his second career grand slam and the Boston Red Sox roughed up AL Cy Young winner David Price and the Tampa Bay Rays 9-2 on Wednesday night. Price (1-4) departed from the marquee pitching matchup because of left triceps tightness during Boston's eight-run third inning, which Drew finished with his towering homer off Jamey Wright....
MLB News

Delivered to your inbox

You'll also receive Yardbarker's daily Top 10, featuring the best sports stories from around the web. Customize your newsletter to get articles on your favorite sports and teams. And the best part? It's free!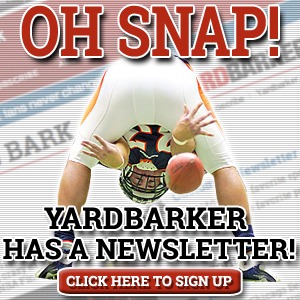 Latest Rumors
The Backyard

Today's Best Stuff

For Bloggers

Join the Yardbarker Network for more promotion, traffic, and money.

Company Info

Help

What is Yardbarker?

Yardbarker is the largest network of sports blogs and pro athlete blogs on the web. This site is the hub of the Yardbarker Network, where our editors and algorithms curate the best sports content from our network and beyond.