Found March 14, 2013 on NorthWest Sports Beat:
PLAYERS:
Ken Griffey
,
Shaun Alexander
,
Kasey Keller
,
Alex Rodriguez
,
Edgar Martinez
,
Joe Dimaggio
,
Stan Musial
,
Ted Williams
,
The 123 Kid
,
Bryce Harper
,
Hank Aaron
TEAMS:
New York Yankees
,
Washington Nationals
,
Chicago White Sox
,
Seattle Mariners
The best of the best For a city that's had more than its fair share of losers, Seattle has been home to some of the most perennial athletes of the past half century as well. From Steve Largent, Jerry Rice, and Shaun Alexander, to Slick Watts, Lenny Wilkens, Shawn Kemp, and Gary Payton, to Kasey Keller, to Alex Rodriguez, Randy Johnson, Ichiro, and Edgar Martinez. But out of all of those future and current Hall of Famers, and all of the other players to play in the greatest city in North America, I chose Ken Griffey Jr. Jr. epitomized what a baseball icon should be. Going back to the glory days of baseball, when names like Joe DiMaggio, Stan Musial, or Ted Williams filled the stories of my youth just like folk lore that was passed on from an older generation to my own. Ken Griffey Jr. will be a part of stories just like those, when people my age sit around the TV and watch baseball with their grandchildren. The Kid I can still remember the day that Junior got drafted. My father told me that the Mariners had drafted Ken Griffey Jr. with the first pick. I asked "who is that?" I was only 10 at the time, but my father had never told me about a Mariners pick prior to that year, or any year after for that matter, so I knew he had to be a special player. Growing up around his father at the ballpark who was a member of the Big Red Machine, the last NL team to win multiple World Series' consecutively, this kid was groomed to be a major league star. And he didn't disappoint upon arrival in the Emerald City. Ken Griffey Jr., the savior of baseball in Seattle (Photo: Google) They Hype The word phenom gets tossed around pretty regularly in the baseball world, and rarely does said player rise to the occasion and become a star in the big leagues. In today's game, Bryce Harper comes to mind as a player who had the title, and has actually showed signs of becoming an all around super star in this league. But Jr. displayed something that people hadn't seen since 1984 when Roy Hobbs took over the big screen, natural talent. He was a lock to win the rookie of the year honors, until an injury set him back, something that fans would come accustomed with over his career. His bat was a little slow coming out of the gate, but that is to be expected from a 19 year old facing major league pitching for the first time in a competitive setting. It came around though, and soon there was talk that Jr. would be the one to pass Hank Aaron for the all time home run record. It wasn't to be, though he did give it a valiant effort despite missing half of his career with injuries, especially during the Cincinnati days. The legend Going back to the players mentioned above, Jr. seemed to go above and beyond what today's superstars do. Number one, he smiled. He had fun on the field, in the batting cages, in the dugout, but most importantly he had fun with the fans. When Jr. decided to return to the Emerald City after his stint with the Chicago White Sox it was by far my favorite moment in Mariners history. He finally got the chance to play at Safeco Field, the house that Junior built, as a member of the Seattle Mariners. His career had come full circle, and even though he didn't end up over taking Hank Aaron for the home run record, he had done so much more for the city of Seattle. Our hero was home. Our savior to be honest. Even though he "tanked" and retired abruptly, his time spent back with this club during his swan song was the right thing to do, not only for the fans of Seattle, but for the game of baseball too. Baseball talent like his will not be seen around these parts for a very long time again, and that is why I cherish every moment and memory that I have of Ken Griffey Jr. CLICK HERE CHECK OUT THE SEATTLE MARINERS CLUBHOUSE AT NWSB!
Original Story:
http://www.nwsportsbeat.com/mariners/...
THE BACKYARD
BEST OF MAXIM
RELATED ARTICLES
Smell the Hot Dogs & Beer?! The 2013 commercials are finally OUT. We look forward to baseball season every single year. And one event that lets us Seattle Mariners die-hard fans know the season is right around the corner is the Mariners releasing their commercials. The M's unveiled their ads Tuesday morning. The newest season features Dustin Ackley wearing his love for fans...
Scratchin My Hat I was originally going to title this article, "5 players who are surprising me in Mariners spring training." The more I thought about it, though, the less surprised I was and the more annoyed I was getting. Most of this annoyance is directed toward the Seattle Mariners' veteran AAA outfielder, Carlos Peguero.  It isn't that I don't like Peguero; in fact...
It is Ackley's Breakout Time! The 2009 number 2 overall pick has been fine, but the Mariners need more than that in 2013. In the land of the rising sun, where the 2012 season began for the Seattle Mariners a year ago, 2B Dustin Ackley kicked off his sophomore season with a bang. In the 4th inning, Ackley took A's pitcher Brandon McCarthy to dead center for his first home run...
He could probably talk to a Buffalo too! The young 3B has been ahead of schedule his entire career; Mariners fans are looking forward to year three. At the ripe age of 25, 3B Kyle Seager is heading into his third season with the Seattle Mariners, his second complete season. Called up in 2011, Seager surprised both fans and experts by arriving at the show only a month after 2B Dustin...
The Seattle Mariners continue to play in Peoria, Arizona, yet the tune sounds a bit different as of late. The Mariners have lost 6 of their last 7, which comes after winning 10 straight. Young and old pitchers keep rotating, and the lineups continue to shift and adjust, in hopes of finding a groove; it will take a little longer for the young, old, and new to mesh. A few things...
As the 2013 MLB season grows closer every day, the Seattle Mariners find themselves with an interesting predicament in the outfield. In the previous 3 to 4 years, the Mariners have struggled tremendously to find 3 competent outfielders to place on the field at one time. Circumstances are different this year. For the first time in years, the M's starting outfield could be one of...
It's safe to say there's general acceptance that using a small sample in data sets has the potential to result in spurious correlations or unreliable conclusions. Yet every Spring, there's a long list of reclamation projects who will no doubt be judged on a very small sample size of data. Just ask Kelvim Escobar who found himself looking for a new team after two-thirds of a...
Michael Morse made the Mariners out of camp five years ago thanks to big offensive production in spring training. Now he's back, and even though he's a big league regular, he's still having another fruitful spring for Seattle. Morse hit two home runs and drove in five runs to lead the Mariners back from a six-run deficit for an 8-7 win over the Cincinnati Reds Thursday...
Felix Hernandez struck out three in three innings of his second spring training start, but the Seattle Mariners lost to an Arizona Diamondbacks split squad 5-4 Tuesday. Hernandez, who became the highest-paid pitcher in baseball when he signed a seven-year, $175 million contract in February, walked one and gave up one hit - a solo home run to Eric Hinske. In two spring appearances...
MLB News

Delivered to your inbox

You'll also receive Yardbarker's daily Top 10, featuring the best sports stories from around the web. Customize your newsletter to get articles on your favorite sports and teams. And the best part? It's free!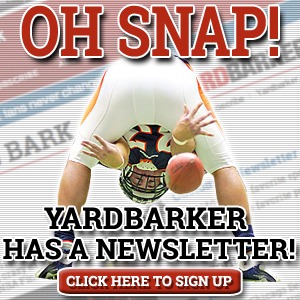 Latest Rumors
Best of Yardbarker

Today's Best Stuff

For Bloggers

Join the Yardbarker Network for more promotion, traffic, and money.

Company Info

Help

What is Yardbarker?

Yardbarker is the largest network of sports blogs and pro athlete blogs on the web. This site is the hub of the Yardbarker Network, where our editors and algorithms curate the best sports content from our network and beyond.