Found March 30, 2013 on Fox Sports Wisconsin:
MILWAUKEE -- Brewers left-hander Chris Narveson is fully on board with the team's decision to move him to the bullpen instead of beginning the season in the team's starting rotation. Narveson was limited to just one start last season because of a torn rotator cuff, and he doesn't want to overdo things early in the season. "I'm not reading too much into it," Narveson said of the mutual decision. "It's just one of those things where it kind of gives you a little bit of a break between here and kind of cranking things up. "I'd much rather be strong and know I can go every fifth day come August and September than all of a sudden you are shut down due to innings or physically you just hit that wall." Narveson referenced the situation Brewers right-hander Mark Rogers faced last season when the team was in the heat of the playoff race. Rogers was in the rotation and pitching well, but the Brewers shut him down because he hit his innings limit coming off an injury. Atlanta's Kris Medlen implemented a similar plan last season in his recovery from Tommy John surgery. Medlen spent the first four months of the season in the bullpen before moving into Atlanta's rotation in August. He then ended up starting the Wild Card game for the Braves. "If I had to start, I could do it," Narveson said. "There's no qualms about it. It's one of those things like 'Let's look at this logistically from a smart point of view'. If we can do this, why not take advantage of it? "If something happened tomorrow, I'd still be ready to go. It's one of those things where you can sit there and be like we have a little bit of a luxury right now with our situation, take advantage of it and make sure you are ready to go when your name is called." Narveson was scheduled to start Saturday's exhibition finale against the White Sox at Miller Park, but the Brewers are having him come out of the bullpen instead as sort of a dry run. Rotation becomes clearer: With Narveson in the bullpen, Milwaukee knows the five pitchers in its rotation, but there was some cloudiness as to which pitcher would go when. Things became a bit clearer Saturday when Brewers manager Ron Roenicke said Yovani Gallardo, Marco Estrada and Wily Peralta will start the season-opening three-game series against Colorado. Kyle Lohse will start either Friday or Saturday against Arizona, with Mike Fiers likely pitching the other game. Fiers will pitch in an intrasquad scrimmage Sunday at Milwaukee's spring training complex in Phoenix to get some work in. The Brewers still might skip the fifth starter's turn in the rotation because Thursday is a day off. "The off day really gives us an opportunity," Roenicke said. "That fifth starter doesn't have to pitch until April 9." Short on the bench: The Brewers will open the season with 13 pitchers on the roster, which means Roenicke will have just four players on the bench. "I think if the starters are going length, there's going to be somebody who's not pitching," Roenicke said. "We'll see how it starts off. The first couple series will determine on what we want to do." Roenicke wants to drop down to 12 pitchers as soon as he can. "When you look at a four-man bench and one of them has to be your backup catcher who you can't afford to put in too early in games, you are really looking at a three-man bench," Roenicke said. "In a National League game, that's hard to do." Lefty catcher? It's not often that a team has to use its emergency catcher, but it's always a fun question to pose. Who is Milwaukee's emergency catcher this season? Its none other than outfielder Logan Schafer. And yes, he's left-handed. "I'm making a call to get my left-handed catchers' glove sent out," Roenicke said. "I don't know if it was high school, but he's caught quite a bit it sounded like." Roenicke is left-handed and played the outfield in his big-league career, but he spent his youth baseball days pitching and catching only. "I was a pitcher-catcher because our catchers were brutal and couldn't catch the ball, so I had to catch," Roenicke said. The Brewers' manager doesn't understand the negative stigma placed on left-handed catchers. Not only does a lefty behind the plate look goofy because nobody is used to seeing it, there's a belief throws would be more difficult because there are more right-handed hitters. "You can still throw down," Roenicke said. "If you are throwing to third you have to throw behind the runner anyway. "I don't why they (don't have any). You certainly throw to first base better. When you go out to field a bunt you don't have to spin, you just go out and field it and throw to first. I don't know why it started, but now pitchers freak out a little bit. I would always catch bullpens in the major leagues and I would go out in between innings and catch guys and some pitchers would freak out. They don't like it. It's a bad visual for those guys." Follow Andrew Gruman on Twitter.
Original Story:
http://www.foxsportswisconsin.com/mlb...
THE BACKYARD
BEST OF MAXIM
RELATED ARTICLES
MILWAUKEE -- Milwaukee Brewers left-hander Chris Narveson will open the season as the team's long reliever and not in the starting rotation. Narveson is recovering from shoulder surgery and a torn rotator cuff that cut his 2012 season to just one start. "We want to back off him a little bit," Brewers manager Ron Roenicke said. " ... He's OK but he's really...
MILWAUKEE -- Milwaukee Brewers right-handed pitcher Josh Stinson has been claimed off waivers by Oakland. Milwaukee tried to pass Stinson through waivers to open up a spot on the 40-man roster, but the gamble didn't pay off. Right-hander Alfredo Figaro and catcher Blake Lalli both are competing for the final spots in the bullpen and on the bench, but neither are on the 40-man...
MILWAUKEE It's that time of year again. Every team has some kind of hope on Opening Day, as the pundits try to decipher which fan bases are delusional in thinking their team is a contender. Can the Milwaukee Brewers make another run at the postseason? They'll only go as far as their pitchers take them. The Brewers finished just five games back of the final Wild Card spot...
When you gotta go, you gotta go, so it makes sense to BYOP — bring your own potty. Experienced tailgaters at the Brewers' Miller Park have been known to bring their own portable commode with them to the parking lot. As of this season, though, the Brewers will no longer allow that practice. The Milwaukee Journal Sentinel is reporting that Waste Management, the company that has...
Milwaukee Brewers fans who wanted to bring their own potty to games this season will have to leave it at home.In the past, fans have been known to bring their own portable bathrooms with them for convenience sake. But because of the team's contract with a sanitation company, that practice will no longer be allowed.It seems Waste Management, which has the sanitation contract with...
Kyle Lohse will make his first start for the Milwaukee Brewers on Friday against the Arizona Diamondbacks. Lohse waited until there was only a week left of spring training before signing a deal with the Brewers. The official deal for Lohse was for three-years and $33 million. Last season Lohse pitched for the St. Louis Cardinals where he had a career best season finishing 16-3 with...
MILWAUKEE (AP) -- Rickie Weeks hit a two-run homer in the first inning and the Milwaukee Brewers beat the Chicago White Sox 5-4 Saturday in the final spring training game for both teams. White Sox starter Dylan Axelrod came on in relief and threw 5 1-3 scoreless innings before tiring in the eighth. Axelrod, scheduled to start Friday against Seattle, was pulled after RBI doubles...
Rickie Weeks hit a two-run homer in the first inning and the Milwaukee Brewers beat the Chicago White Sox 5-4 Saturday in the final spring training game for both teams. White Sox starter Dylan Axelrod came on in relief and threw 5 1-3 scoreless innings before tiring in the eighth. Axelrod, scheduled to start Friday against Seattle, was pulled after RBI doubles by Jonathan Lucroy...
(Photo: Mike Ehrmann) Adam Wainwright has not been generous to the Brewers over the years.  Among current players with a fair number of at bats against Wainwright, only Aramis Ramirez (.404) and Corey Hart (.265) hit him respectably.  Although I could not find Wainwright's career numbers versus the Brewers overall (apparently I need to be a STATS LLC client for that) I was...
MILWAUKEE (AP) -- Hector Santiago pitched three perfect innings and the Chicago White Sox beat the Milwaukee Brewers 7-2 on Friday night. Santiago struck out five while throwing 35 pitches. Adam Dunn went 3 for 3 with two RBIs for the White Sox, who finished with 12 hits. Jeff Keppinger and Paul Konerko each drove in a run. Ryan Braun hit a two-run homer for the Brewers. Wily...
MLB News

Delivered to your inbox

You'll also receive Yardbarker's daily Top 10, featuring the best sports stories from around the web. Customize your newsletter to get articles on your favorite sports and teams. And the best part? It's free!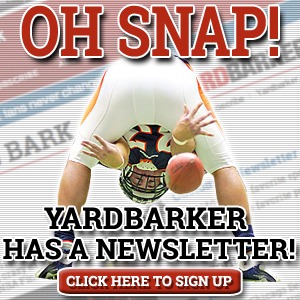 Latest Rumors
The Backyard

Today's Best Stuff

For Bloggers

Join the Yardbarker Network for more promotion, traffic, and money.

Company Info

Help

What is Yardbarker?

Yardbarker is the largest network of sports blogs and pro athlete blogs on the web. This site is the hub of the Yardbarker Network, where our editors and algorithms curate the best sports content from our network and beyond.