Found March 28, 2013 on Blog So Hard Sports:
Congratulations Washington Nationals fans, your team is finally being recognized as a legit world-series contender. After a heart-breaking Game 5 loss to the St. Louis Cardinals last season, the team is facing huge expectations, including from Manager Davey Johnson, who called this season, "World Series or bust." With Stephen Strasburg finally off the innings limit, the emergence of Bryce Harper, and the additions of Dan Haren, Denard Span, and Rafael Soriano, the team is expected to take a big leap. The Nats wouldn't be wise to overlook the rest of the division though (excluding the Miami Marlins). The Atlanta Braves are always dangerous, yes—even with Nat-killer Chipper Jones retired. The Braves have added the Upton brothers to an already dangerous line-up that includes Freddie Freeman and Jason Heyward. They already have a strong rotation that includes Tim Hudson and Kris Medlen to go with one of the best bullpens in the MLB that includes the one-two combo of Jonny Venters and Craig Kimbrel. Even with a down year last season, don't disregard those Phillies. Their rotation is still rock solid with Roy Halladay, Cole Hamels, Cliff Lee. They also have added Michael Young, Ben Revere, and Delmon Young to their lineup with a healthier Chase Utley and Ryan Howard. The Nats will face stiff competition from the Braves and possibly the Phillies, but their starting rotation of Stras, Gio, Zimm, Haren, Detwiler, strong bullpen, and lineup should give them the edge to win the East. We already know how strong the big league club is expected to be, but Washington also has a very strong minor league system in place as well. Since the Nationals have such strong minor league depth, expect them to be competitive not only for the present but for a long, long time. Let's take a look at their top 5 prospects: Anthony Rendon, 5-11, 3B: Your prototypical third-baseman. Great bat, great glove. Can also hit for power. Rendon put up great numbers during spring training but he is blocked at third-base by Ryan Zimmerman. He has been optioned to the minors where he'll play at SS and 2B. If Rendon makes the team during the season it will be at second-base where Danny Espinosa didn't put up numbers last year. He is also known to be injury-prone. He missed most of his first year in the minors thanks to a broken ankle. Might be a trade-chip if the Nats can't find a place for him. Lucas Giolito, 6-6, RHP: He might have the highest ceiling out of all the prospects in the farm. He fell in the draft thanks to an elbow injury, which eventually led to a Tommy John surgery with the Nats. Still only 18, and has big time potential. Great fastball to go along with advanced secondary pitches for a kid this young. Brian Goodwin, 6-0, CF: I am a huge Goodwin fan. He is about 2-3 years away from the minors. He has the ability to get on base, steal, and also hit for power. He gets to spend more time in the minors with the addition of Denard Span. A.J. Cole, 6-4, RHP: The Nats drafted Cole two years ago, then traded him in the Gio Gonzalez deal but got him back in the Michael Morse deal. He had an encouraging first year with the Nats but surprisingly regressed in single A with the Athletics. The Nats had enough confidence in the 21 year old right hander to trade back for him. He like Giolito has a good fastball with developing secondary pitches. Matt Purke, 6-4, LHP: Purke has been dealing shoulder issues since he was drafted by the Nats. Pre-injury, Purke could crank up his fastball to 96MPH and had advanced secondary pitches, but he hasn't been healthy for a while. The good news on him is that there is nothing torn in his shoulder and he expects to start the minor league year on time and says that his shoulder is healthy. Honorable Mentions: Matt Skole 3B, Sammy Solis LHP, Destin Hood RF, Zach Walters SS, Eury Perez CF. With the strong roster that the Nats have already built combined with their strong minor league system, this is going to be one exciting season for DC baseball fans. And with the depth of their farm system, I expect them to be around as title contenders for some time now. Related posts: Nationals Release Rick Ankiel Trade Targets for the Nationals A Look At Your 2013 Washington Nationals Roster (GUEST POST)
Original Story:
http://blogsohardsports.com/nationals...
THE BACKYARD
BEST OF MAXIM
RELATED ARTICLES
Two thumbs up for the new Jayson Werth NLDS Game 4 walkoff banner at Nationals Park (sorry, Zim). There it is above, photo via @Nationals. Now, while we're not so enthusiastic about the NL East Champions signage around the park -- although once we saw what they did to the foul pouls at Space Coast Stadium this spring we pretty much knew they'd be "milking the sh*t...
"Everyone's already mentally in D.C. right now, ready to go." (Gio Gonzalez, via Nationals Journal, 3/28/2013) And so, the Washington Nationals have left Viera and are homeward bound to D.C. Photo of Gio and Wilson Ramos packed and waiting to head to the airport on Thursday via @GioGonzalez47. It seems players were a little excited about leaving: ...
Dave Nichols of District Sports Page organized the 2013 Washington Nationals rountable this year, where a few Nats bloggers (including me) were asked to make predictions about the coming season. It's a seven-part series, and I'll be crossposting the links here as well as my answers to each of the questions. In case you missed it, you can check out parts one, two, three...
Washington Nationals outfielder Bryce Harper is expected to sit out the team's next two exhibition games to allow his swollen left thumb to heal, according to Mark Zuckerman of CSN Washington. Harper hopes to return to action Friday in preparation of playing on Opening Day. The thumb has been hampering Harper since Friday. He suffered the injury when he was jammed...
Washington Nations center fielder Bryce Harper and Los Angeles Angels center fielder Mike Trout are the future of Major League Baseball. Harper is only 20 years old and Trout is just 21, but they are already two of the game's biggest superstars after their breakout seasons in 2012. Dan Haren, who pitched for the Angels last season and is now with the Nats, has had an opportunity...
A lot of people hate on me for liking Bryce Harper so much. I was a little undecided on the guy until I read a book about his only amateur season. And then I wanted to immediately learn more about the guy. Then I saw him play. From his first big league at-bat, I saw that he wasn't a fraud. I always believed in his ability, and then I decided that when you watch him play; this is...
Ryan Zimmerman hit three home runs and Wilson Ramos hit two more as a split squad of Washington Nationals beat the Atlanta Braves 11-2 Wednesday. Tyler Moore also homered for the Nationals, giving them six for the afternoon. Zimmerman and Ramos each had four RBIs. Zimmerman opened the fourth inning with a home run off Daniel Rodriguez, then started the fifth with a drive against...
Truth be told, Nats Enquirer staff doesn't believe in jinxes, but the Mr. October thing makes us all a little nervous. (Photo via @SInow)  
  Key Additions SIGNED/RESIGNED: Adam LaRoche (1B), Dan Haren (P), Zach Duke (P), Rafael Soriano (CP), Craig Stammen (P), Chris Young (P) Key Losses Mark DeRosa (3B), Cesar Izturis (SS), Brad Lidge (P), Edwin Jackson (P), Chien-Ming Wang (P), Tom Gorzelanny (P), Jesus Flores (C), John Lannan (P) Projected...
NY Met Anthony Recker gets robbed by Nationals third baseman Chad Tracy. Your browser does not support iframes. **Follow us on Twitter or Facebook. Subscribe, or Return to BobsBlitz.com.Follow... Full story at Bob's Blitz ~ http://www.bobsblitz.com
Chris Young has made just 28 major league starts over the last three seasons, but it appears there's no shortage of interest in the 6-foot-10 right-hander. Young, who was an All-Star as a member of the Padres in 2007, had been pitching for the Nationals this spring, but the club granted him his release on Tuesday. Young reportedly "loved" playing with the Nationals, but he...
Nationals News

Delivered to your inbox

You'll also receive Yardbarker's daily Top 10, featuring the best sports stories from around the web. Customize your newsletter to get articles on your favorite sports and teams. And the best part? It's free!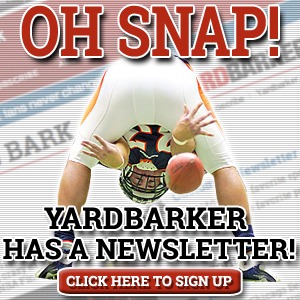 Latest Rumors
Best of Yardbarker

Today's Best Stuff

For Bloggers

Join the Yardbarker Network for more promotion, traffic, and money.

Company Info

Help

What is Yardbarker?

Yardbarker is the largest network of sports blogs and pro athlete blogs on the web. This site is the hub of the Yardbarker Network, where our editors and algorithms curate the best sports content from our network and beyond.