Found July 19, 2012 on Blog So Hard Sports:
"Don't look so sad Rick, I'm sure another team will want you."
The Nationals designated Rick Ankiel for assignment this afternoon to make room on the roster for Drew Storen,  which will most likely end his time in Washington.
The emergence of Tyler Moore, recent solid play from Roger Bernadina, the return of Mark DeRosa from the DL along with Jayson Werth and Chad Tracy poised to return from the DL in the next few week all played a part in this decision.
After Bryce Harper was called up and Michael Morse returned from the DL, Ankiel saw his playing time decrease to that of a spot starter and a late game defensive substitution.  His struggles at the plate –batting just .218 since the beginning of May – didn't help him either.
Once Werth returns, the rotation in the outfield will feature Werth, Harper and Morse as the starters with Bernadina, Moore, DeRosa and Tracy as options off the bench.  Bernadina has shown over the course of his career that the main strength of his game is in the field, and while he doesn't have the arm that Ankiel does he is faster and has more range.  Take away a rough April at the dish and Bernie's averaging close to .300 since the beginning of May and has been dynamite in pinch hitting situations over the past few weeks.
Most Nats fans, including myself, will be sad to see Ankiel go.  He became a fan favorite over the past season and a half in DC due in a large part to his laser-rocket arm (another good one here), and occasional tape measure home run.
This move is just another indication that the Nationals are a solid team, as good teams sometimes have to cut quality players due to a lack of room on the bench.  I'm sure Ankiel will wind up on a major league roster soon and deservedly so.
I would love to see him take the ticket to Syracuse, but doubt we are that lucky.
Original Story:
http://blogsohardsports.com/nationals...
THE BACKYARD
BEST OF MAXIM
RELATED ARTICLES
(You wouldn't know if he won or lost from watching a Jordan Zimmermann postgame interview. Screencap via MASN/TV) Nationals 4, Mets 3: Ho-hum. Just another series win for the Nats. 17 wins over .500. Ho-hum; just another quality start for Jordan Zimmermann. His line: IP, 4 H, 0 R, 0 BB, 4 K, 95 pitches, 68 strikes. Hey, he got the W for this one! Dear Steve...
Now that we've made it past the All-Star break, Ryan Zimmerman is due for another cortisone cocktail, according to the Washington Post. The shot in his shoulder will reduce inflammation in his AC joint, and prevent him from feeling pain when he hits. Zimmerman said that the ability he regained after receiving the shot made him "happier," and it has been making Nationals fans...
Washington Nationals general manager Mike Rizzo says he and he alone will make the decision on when to shut down pitcher Stephen Strasburg for the season. No number of innings has been announced as the stopping point for Stasburg, who is coming off Tommy John surgery, but speculation has the limit at around the 161 1/3 innings that Jordan Zimmermann, also coming off elbow surgery...
As one of the most underrated starters in baseball, Jordan Zimmermann had a typical Jordan Zimmermann outing on Wednesday as the Washington Nationals beat the New York Mets 4-3 and win the series.  Zimmermann lasted six innings, surrendering just four hits and striking out four. He didn't give up any runs or walks. It's ben remarkable to watch how good JZimm has been, and it...
      The Washington Nationals were defeated by the New York Mets 9-5 this afternoon so the guys have the evening to themselves. Washington relief pitchers Drew Storen (who made his season debut today) and Tyler Clippard are planning to see the highly anticipated movie The Dark Knight Rises, like just about everyone else [...]
According to Adam Rubin in this tweet, when the Mets arrived in town the Nats inquired about the Mets interest in Rick Ankiel.  The Nats were probably attempting to maintain some level of leverage prior to placing him on waivers, now that he's been designated if the Mets want him they can wait to sign him at league minimum.The Mets were rumored to be interested in Ankiel this...
Braves 11, Nationals 10. 11 innings. With AP Photos. Up by nine runs with Stephen Strasburg on the mound, the Washington Nationals seemed to be in perfect position to take the first of a four-game series with Atlanta and jump another game ahead of the Braves in the standings. Then everything went wrong. Strasburg gave up four runs in the sixth inning, the Braves scored another four...
Big Stretch Upcoming For Nats Last night's thrilling win against the Mets in extra innings could act as a spring board to propel the Nationals on a hot streak as they prepare to host all four of their NL East opponents over the next two plus weeks in what could be the most important stretch of the regular season.   (Photo by Greg Fiume/Getty Images) Between today and August 5th...
  The hot stove is heating up with the non-waiver trade deadline coming up on July 31st. Now seems like the right time to look at what players the Nationals could go after and what players Washington could offer in order to make a deal happen. Last month we talked about the limitations the Nats may face as the deadline approaches.  Now that we have seen Bryce Harper show that...
ZNN is brilliant yet again as Nats take series from Mets. [WaPo] Drew Storen is coming back today, it appears. [Nats Journal] Jayson Werth begins rehab at Potomac tomorrow. [Nats Journal] Bonus baby Alex Meyer also called up to Potomac. [Nats Journal] Davey Johnson's bench has performed at a star level. [Tom Boswell] O's beat Twins 2-1 behind Tommy Hunter, Adam Jones. [O'...
WASHINGTON -- Adam LaRoche smacked a two-run home run, Steve Lombardozzi had two RBIs and the Washington Nationals survived two ninth-inning home runs for a 4-3 win over the free-falling New York Mets on Wednesday night. Jordan Zimmermann stymied the Mets with six shutout innings and three relievers danced around trouble over the final three frames to preserve second consecutive...
By Ben Standig WASHINGTON – What's the difference between urgency, pressing and panic? That's something outfielder Jason Bay pondered in the Mets clubhouse following New York's latest loss. Unless they snap out of their current slump, the Mets could experience all three soon enough. Adam LaRoche smacked a two-run home run, Steve Lombardozzi had two RBIs and the...
Nationals News

Delivered to your inbox

You'll also receive Yardbarker's daily Top 10, featuring the best sports stories from around the web. Customize your newsletter to get articles on your favorite sports and teams. And the best part? It's free!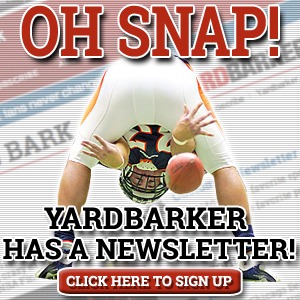 Latest Rumors
Best of Yardbarker

Today's Best Stuff

For Bloggers

Join the Yardbarker Network for more promotion, traffic, and money.

Company Info

Help

What is Yardbarker?

Yardbarker is the largest network of sports blogs and pro athlete blogs on the web. This site is the hub of the Yardbarker Network, where our editors and algorithms curate the best sports content from our network and beyond.