Found February 20, 2013 on Fox Sports Arizona:
PHOENIX On a rainy morning at Phoenix Municipal Stadium on Wednesday, Chris Young worked out in a cramped exercise room alongside new Oakland Athletics teammates. It was a far cry from the sprawling complex he'd used last spring at Salt River Fields but merely a small change in the big picture for the center fielder. After being traded from the Diamondbacks after last season, Young faces a slew of adjustments with the A's, from new teammates and coaches to a new role and new positions. "I know guys get moved around quite a bit in baseball, but it was a little different for me just because I had been there my entire major league career," Young said. "So it's been a tough adjustment period, for sure. I'm not going to say it's easy." The first challenge Young faced was moving on from life as a Diamondback, the only team he'd known for all 885 games of his major league career. The D-backs were going in a different direction, which Young understood, but that didn't make the news of his trade any easier. "The season wasn't even over yet, really it was still the playoffs, so it was a little surprising for me," Young said. "I had a lot of strong ties to Arizona, and I loved it over there. Especially after six years, you build a lot of friendships and relationships with your team and the fans." As if leaving his team of seven seasons weren't enough, Young also had to wonder how he fit the plan in Oakland, where Coco Crisp was already entrenched in center field. Young says he didn't let that question consume him, instead waiting to see how things played out in the spring. A's manager Bob Melvin, who managed Young when he broke in with the Diamondbacks, has already made it abundantly clear Young will play a primary role in the team's plan, though its a role that will come with some adjustments. Oakland also has established regulars in left (Yoenis Cespedes) and right (Josh Reddick) field. "We don't look at him as a fourth outfielder," Melvin said. "The one thing he's going to have to differently than he has in his career is play left and right at times, and he knows that. "We have two great center fielders on our team. It's a luxury to have, and it will be a little uncomfortable for Chris, but he knows the drill, he knows what's expected." Melvin said Young will also see time as Oakland's designated hitter, a role he has played just twice in his career during interleague play. As for the outfield, Young has never appeared in right or left field in the majors. Young is not sure what to expect yet from the transition to utility outfielder, but said he knows he must make the adjustment as quickly as possible. "It's not easy playing any position, and all I've ever played is center field," Young said. "All I know is center field right now. I definitely have to make a strong attempt to do the other things as well." Even with the uncertainty, Young is grateful for the chance. It means a great deal to him, he said, that the organization has publicly and privately expressed such strong belief in his ability and value. It turns out the A's have believed in Young for quite some time. General manager Billy Beane said he's "always been a fan of his talent," and Melvin had first-hand experience managing him as a young player including a notable 2007 season when Young hit 32 home runs and stole 27 bases as a rookie, helping the Diamondbacks advance to the NL Championship Series. Given all that, Beane saw an opportunity when Young became available amid the D-backs offseason purge. Just two days after the A's were eliminated from the playoffs, Beane was talking with D-backs general manager Kevin Towers. Within a week, they had a deal. "In our opinion, Chris was just too good of an all-around player, and the fact that he was available, for us not to be aggressive," Beane said. "It's hard to find a center fielder or find a guy who plays center field that well. And that right-handed power again, I've been a fan of his for a long time." Young got off to a blazing start last season, notching 13 RBI, five home runs and a 1.397 OPS the first two weeks off the season. Then a separated shoulder, suffered making a catch against the outfield wall, sidelined him for a month. Young rushed himself back, which he doesn't regret, and never found that groove again. His 325 at-bats, 14 home runs and eight stolen bases were all low marks since becoming a regular. Now rested and healthy, Young says the sky's the limit this year an approach he takes into each new season. He is still just 29 years old, two seasons removed from an All-Star campaign and regarded as one of the game's better defensive center fielders, having saved 45 runs above average over the past three seasons according to FanGraphs. The catch, though, is how much playing time and how many at-bats Young will get in his new floater role and how he manages the inconsistency of it. That remains undetermined. "We'll take spring to figure kind of what we're going to do during the season as far as a formula for getting guys the consistent playing time," Melvin said. "That will be the difficult part, barring injury." Added Beane: "Chris is going to get playing time because he's too good of a player not too. I think he'll be just fine." Among the easier adjustments for Young so far has been location. Because the A's train in Arizona, Young kept his home in the Valley. He hasn't yet found a place in the Bay Area for the season, but said staying in Arizona has made transitioning smoother. Young also had no trouble jelling with his new teammates, whom he met for the first time at A's FanFest last month. The notably loose group that made Young feel welcome right away. "Everyone's been extremely nice since I've been here, and it seems like a very close-knit ballclub," Young said. "Guys stay close and have each other's back in here. I like that about them. They have a lot of fun, but when they get on the field it's about business and about winning." However great Young's new challenges prove to be, he's as confident as ever things will work out fine in Oakland. Perhaps the best way to adjust, he said, will be to not worry about the adjustments at hand. "I believe in my ability," he said. "Sometimes you just have to go out there and do it, not think too much about it and play."
Original Story:
http://www.foxsportsarizona.com/02/20...
THE BACKYARD
BEST OF MAXIM
RELATED ARTICLES
Oakland Athletics outfielder Josh Reddick received a memorable birthday present Tuesday when someone lent him the World Wrestling Entertainment Championship belt to take pictures with. No word yet as to how he got the WWE belt, but he's certainly making the most of it, and who wouldn't? Photo via @MLB. H/T Buzzfeed. Visit us at holdoutsports.com and follow...
2012 was a vintage performance by the Oakland A's. They were just kind of cruising along under the radar, sitting at 43-43 at the All-Star break, and then BAM, they went on a roll like old times and shockingly bypassed the Rangers on their way to an AL West pennant. Under Manager Bob Melvin, the A's took their $52M payroll and went 51-25 in the second half of the season to finish...
You have to give the guy credit. He wants to play baseball! A few months back, Jose Canseco was under contract with the Worcester Tornadoes of the Can-Am League, and then left the team to join the Rio Grande Valley WhiteWings of the North American League.  That deal never came to fruition, but he's back in Texas and he's ready to play. The Valley Morning Star reported that...
The emergence of Addison Russell gives the organization a potential corner-stone talent to eventually build around. The last two drafts have also added some depth into a system that has been slowly depleted over time.   #1 Addison Russell (SS) Age PA H 2B HR BB SO SB AVG OBP SLG wOBA 18 244 79 10 7 23 48 16 .364 .428 .590 .456 Russell exploded in his first taste of pro...
Josh Reddick not only looks like Terrence Maddox (Will Ferrell's "Homeless Model" character from Saturday Night Live) he's just as funny. Tuesday marked "Picture Day" for MLB teams at spring training and the A's outfielder took first prize in the entertainment category for rocking a WWE championship belt to go with an unkempt coif and beard. Check out the photos...
Josh Donaldson enters this spring as the Oakland A's starting third baseman. But does he have competition for the job? And who else might get at-bats at the position? We take a look at the A's spring battles at the hot corner.
Bartolo Colon on Tuesday broke his silence after his suspension for PEDs last year, speaking to the media about the 50-game ban that ended his season on Aug. 22. "The only thing I can say about last year is I apologize to everyone, even the fans, the team, the front office about what happened." The right-hander tested positive for testosterone, but after pitching well in the...
Oh, another Oakland A's player linked to PED use. What's new? Anyway, reliever Jordan Norberto on Tuesday was among five additional baseball players named by an ESPN report to have ties with Anthony Bosch's Biogenesis of America, the Miami-area clinic at the heart of baseball's latest fast-developing steroid scandal. Sources said the players, like those who have been named...
MLB News

Delivered to your inbox

You'll also receive Yardbarker's daily Top 10, featuring the best sports stories from around the web. Customize your newsletter to get articles on your favorite sports and teams. And the best part? It's free!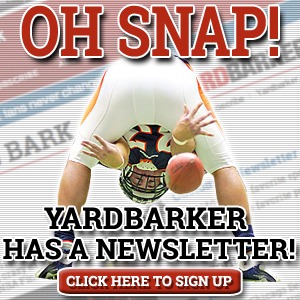 Latest Rumors
The Backyard

Today's Best Stuff

For Bloggers

Join the Yardbarker Network for more promotion, traffic, and money.

Company Info

Help

What is Yardbarker?

Yardbarker is the largest network of sports blogs and pro athlete blogs on the web. This site is the hub of the Yardbarker Network, where our editors and algorithms curate the best sports content from our network and beyond.