Found July 13, 2012 on The Daily Stache:
PLAYERS:
Dillon Gee
,
Josh Edgin
,
RA Dickey
,
David Wright
,
Terry Collins
,
Chris Young
,
Tim Hudson
,
Ruben Tejada
,
Daniel Murphy
,
Ike Davis
,
Lucas Duda
,
Scott Hairston
,
Kirk Nieuwenhuis
,
Josh Thole
,
Michael Bourn
,
Martin Prado
,
Jason Heyward
,
Chipper Jones
,
Dan Uggla
,
David Ross
,
Jack Wilson
TEAMS:
Atlanta Braves
,
New York Mets
,
Washington Nationals
,
Arizona Diamondbacks
After an All-Star break with some highs and lows, the Mets are ready to begin the second half of 2012 after some mild roster tailoring.
The glaring difference for now is the lack of Dillon Gee after the discovery of a blood clot which has him sentenced to shoulder surgery which could potentially end his season. Lefty reliever Josh Edgin has entered the fray however.
The Mets were also well-represented at the All-Star game with a scoreless inning from R.A. Dickey and some appearances from David Wright and Terry Collins.
But now the Mets must look forward and consider some new bullpen options and right-handed hitting options on the trade front.
First things first however, as the Mets will be challenged by the Braves in Atlanta. A series win here would push them back into second place in the NL East and give them that momentum that they need to carry them back into the first place dogfight with the Washington Nationals that one NL East team has to look forward to.
Atlanta has outscored the Mets 31-27 in the season series this year. That hasn't stopped the Mets from going 4-2 against them so far.
Chris Young draws the Braves for the first time this year against Tim Hudson.
Lineups
New York Mets
1) Ruben Tejada SS
2) Daniel Murphy 2B
3) David Wright 3B
4) Ike Davis 1B
5) Lucas Duda RF
6) Scott Hairston LF
7) Kirk Nieuwenhuis CF
8 ) Josh Thole C
9) Chris Young RHP
Atlanta Braves
1) Michael Bourn CF
2) Martin Prado LF
3) Jason Heyward RF
4) Chipper Jones 3B
5) Freddie Freeman 1B
6) Dan Uggla 2B
7) David Ross C
8 ) Jack Wilson SS
9) Tim Hudson RHP
Matchup
NYM: Chris Young (2-2, 3.41 ERA) Unless you are referring to the Diamondbacks outfielder, there are no faults you can find in Chris Young's game this year. Even if you're the nit-picky, you are aware that he has strung together four quality starts and has yet to allow more than three runs in a game after six starts already. The pessimist knows that the iffy start he could be due for must be on the horizon somewhere, but Young is healthy and is pitching a brand of baseball right now based on control and consistency. He's not out there to blow his arm right now. He's hitting his spots, and its worked so far.
ATL: Tim Hudson (7-4, 3.56  ERA) The perennial resilience that Tim Hudson demonstrates is scary good. This is a guy that has pitched roughly 12 complete seasons in baseball and has seen his yearly ERA rise above four only twice in his career. He's chasing 200 wins, currently at 188, and boasts a career ERA of 3.41. The fact that he is a serious threat at age 36 and still has years left in him is all you need to know about Hudson. It only doesn't hurt his resume that he has beaten the Mets 15 times his career. That is the most times he has beaten any single opponent.
Stache Keys to the Game
This game will start and end with Chris Young. I wouldn't expect a complete game, but he's on a consistency kick, and with the right amount of run support, he'll look good again.
A win right out of the gate in the second half of the year would do wonders. Obviously.
Let's see continued production from guys like Ike Davis and Daniel Murphy. If the core returns to form, 2012 Mets success has only just begun.
Slated for a 7:35 PM ET start, catch the game live on SNY and WFAN 660.
Original Story:
http://dailystache.net/archives/2540?...
THE BACKYARD
BEST OF MAXIM
RELATED ARTICLES
According to Adam Rubin of ESPN New York, New York Mets starter, Dillon Gee, will undergo potential season-ending surgery "to fix artery damage in his pitching shoulder, which should prevent a recurrence of clotting."  Rubin went on to state the following on his blog: Photot by Michael G. Baron "After doctors dissolved a clot but determined Gee's artery was damaged, he was...
It's late summer, the last week of July. It's mad hot outside. A fella gets out of bed to go to work. He's got a slight grabbing pain in his lower back. "I must've slept funny," he says to himself. After showering and getting dressed, the fella finds himself a little short of breath. "I must've smoked too many cigarettes last night. I'll take it easier today...
New York Mets right-hander Dillon Gee says he could pitch again this season after surgery to repair an artery in his throwing arm. Gee said on a conference call Tuesday that he could be cleared to throw within six weeks. He doesn't believe it will take long to regain his strength after that. Gee complained of numb fingers on his right hand July 8, a day after he pitched eight...
New York Mets right-handed pitcher Dillon Gee may have thrown his last pitch of 2012, with word coming Wednesday that he will have surgery Friday in St. Louis to repair a damaged artery in his pitching shoulder. ESPNNewYork, the New York Post and several media outlets reported the development late Wednesday. It is hoped that the surgery will prevent further blood clots in Gee&...
New York Mets' 26-year-old right-hander, Dillon Gee, had surgery this week to break up a blood clot in his pitching shoulder. The clot was discovered with testing on Monday after Gee complained of numbness in his fingers on Sunday, one day after a winning performance against the Cubs.  The clot, referred to as a thrombus in medical terminology, was broken up using a catheter,...
The Mets will be faced with an upcoming roster move soon as Gee is about to go on the DL till at least September. You can read about that story everywhere, it's not the focus here. What are the Mets supposed to do? Do they trade for another pitcher? Do they rely on Batista? Do they rush Harvey? Harvey says he's ready, and his last several starts have shown improvement but Mets...
New York Mets right-handed pitcher Dillon Gee underwent surgery Friday on his right shoulder to repair a damaged artery in his pitching shoulder, the team announced. The surgery went as expected, and Gee is expected to be released from the hospital on Tuesday or Wednesday. Gee was placed on the disabled list on Wednesday amid the news that he required. It is hoped that the procedure...
Few Mets fans have been riding the Dillon Gee bandwagon for as long as I have. To me, and some of my closest Mets fan friends, he's the second-coming of Rick Reed, down to sharing the number the veteran righty wore in his time in New York. Over the All-Star break, Gee was revealed to have a blood clot in an artery located in his right shoulder, which will require...
On Monday, the Mets World found out that Dillon Gee had a blood clot in his throwing shoulder and would be forced to the disabled list because of the injury. At first it was thought to not be as serious and like many assumed a Miguel Batista or Jeremy Hefner would be good enough for a spot start or two until Gee returned. However, Gee did require surgery and will likely miss the...
No evaluation of the Mets is complete without a list of disappointments. While 46-40 at the break, the Mets have more to be happy about than not.  However, that doesn't mean there aren't laments. Had everything broken right in the first half, the Mets could be sitting on top of the NL East. Here's what went wrong: The struggling bullpen: Most of Sandy Alderson's off-season...
Can You Pick Out The Mets Fan? Buffalo 8, Pawtucket 5 By Sean Kenny In their first game after the All-Star break, possible replacement for Dillon Gee, Jeremy Hefner had a rough outing but the Bisons made a key ninth inning rally in their 8-5 win against the Paw-Sox Jeremy Hefner didn't fare too well in his second outing since returning to Buffalo, going four and one-third innings...
MLB News

Delivered to your inbox

You'll also receive Yardbarker's daily Top 10, featuring the best sports stories from around the web. Customize your newsletter to get articles on your favorite sports and teams. And the best part? It's free!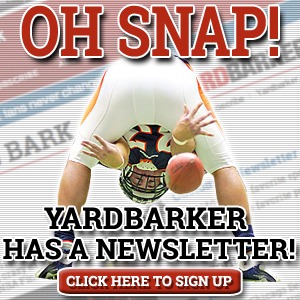 Latest Rumors
The Backyard

Today's Best Stuff

For Bloggers

Join the Yardbarker Network for more promotion, traffic, and money.

Company Info

Help

What is Yardbarker?

Yardbarker is the largest network of sports blogs and pro athlete blogs on the web. This site is the hub of the Yardbarker Network, where our editors and algorithms curate the best sports content from our network and beyond.