Found March 29, 2013 on Major League Digest:
by Terry CookOccupy Eutaw StreetManny Machado, Photo: Keith Allison, Flickr.comOrioles 2013: Magic again, or Burt Wonderstone?Last Year:Orioles Magic returned to Camden Yards in 2012, to the delight of a downtrodden fan base that sat through 15 years of losing baseball and 0 playoff appearances.  93 wins, a Wild Card win, and a hard-fought ALDS that saw the Orioles stretching the Yankees to 5 games; ultimately losing to a dominant CC Sabathia for a 2nd time in the series, but bringing back an excitement to the Yard and team not seen or heard for well over a decade. To the generation of Baltimore baseball fans that never experienced Oriole Magic, or had no idea what it even was, it was well-defined for them in a miracle season last year.  The O's went into the '12 season without a clearly labeled Ace, and ended up using 12 different starters throughout the year.  Only one had more than 20 starts in Wei-Yin Chen, and only one had double digit wins (Chen again).  A brand new, pieced together bullpen logged more innings than any other playoff team (4th-most in MLB).  Brian Matusz, the highly touted prospect who was finally set to dominate as a starter, went 5-10 in the 1st half with an ERA just under 5.50.  Their longtime 2B, Brian Roberts, after missing most of 2011 with concussion symptoms, had another disastrous injury and played only 17 games.  The most consistent and durable Oriole of the last decade, Nick Markakis, went on the DL twice.  Nolan Reimold, who is seemingly always in line for a breakout year, again crashed and burned, playing only 16 games.    One would think this adds up to another basement finish in the AL East, right?  Wrong.  The O's willed themselves to W after W and settled into the All-Star Break at 45-40.  Sitting on a -26 run differential (the darling stat of prognosticators everywhere), the Orioles were bound to come back to earth during the dog days of summer…but they refused.  Boasting a +33 run differential in the 2nd half, the Orioles continued to win, continued to prove pundits and stat nerds everywhere wrong.  Miguel Gonzalez and Chris Tillman proved to be very effective as starters. Ballyhooed as the team's savior, Manny Machado was called up from AA Bowie, providing sterling defense, and better than expected results at the dish for a 20 year old Rookie.  The bullpen never faltered like everyone (myself included) thought, and the O's finished with a 29-9 record in one run games...good for the best win percentage in the history of the game.  25-14 in 2 run games.  74-0 record in games leading after 7 innings.  93-69 overall.  This led to an AL Wild Card berth, subsequent road win at Texas, then the aforementioned trip to the ALCS.  Magic.  Feel it.  Offseason:The Orioles, now equipped with playoff experience, a solid nucleus, and heavily-touted pitching prospect phenoms Dylan Bundy and Kevin Gausman on the way, seemed poised to finally make a splash in the free agent market for the "big, middle of the order bat" that had been promised for years, and potentially a veteran starter to anchor was has been a solid, but patchwork rotation.  The fans of Baltimore were quickly reminded that this is the Baltimore Orioles front office we're talking about, and it never happened.  Out are fan favorites SP Joe Saunders and 3B/1BMark Reynolds, two players that led the teams 2nd half surge to the playoffs.  Also gone is Robert Andino, the weak hitting, marginally defensive utility infielder that covered most of Brian Roberts' time off at 2B.  In, were more under-the-radar, Dan Duquette-esque players such as Danny Valencia from Boston, Russ Cantzler from the Yankees, and Alexi Casilla from Minnesota.  Only Casilla looks to make the Opening Day roster, and that's as the Utility IF. Coming into 2013, the Orioles were looking for permanent needs at LF, 2B, 1B, DH, and possibly a SP. They never even kicked the tires on Josh Hamilton, the premier bat on the market.  Understandable, as the guy's got a ton of baggage, and comes at a hefty price tag, but I don't think a dinner to feel him out would have hurt.  Zack Greinke, the number one SP on the market was never linked the Orioles in any serious manner.  This was not unexpected, as I don't believe Greinke wanted anything to do with the AL East, and Orioles owner Peter Angelos has a strict rule about not paying a guy that only plays once every 5 days.  Rumors swirled about a potential Nick Swisher signing, as he could cover LF, 1B, and DH.  Manager Buck Showalter likes to keep his DH position fluid, so this seemed to be decent match.  No dice.  Adam LaRoche, playing down the road in DC, and a perennial .270/25/90 guy at 1B, tested the waters, and landed right back in DC.  Once this happened, Mike Morse, another potential .300/30/100 1B/LF/DH candidate could be had for a song (well, a once high but now middling, prospect).  And he was…back to Seattle.  The Orioles were never close to anything involving Morse, even knowing the Nats were in a tough spot and had no where for him to play.  Kendrys Morales, another potential 1B/DH candidate, was in a similar position with the Angels after they signed Hamilton, but again, his name never surfaced in Baltimore.The Hot Stove season has come and gone, Billy Butler trade rumors teasing the fans all the way, and the Orioles front office stood its ground that it would have a go at the 2013 season with basically the same team intact from 2012, minus their starting 1B, Mark Reynolds.Lineup:The 2013 lineup is shaping up to look very similar to the playoff team of 2012, with a few small changes.With Reynolds gone at 1B, Chris Davis will look make his mark there full-time.  Davis had a breakout year in 2012, with a .270/33/85 line in his first full year of AB's.  He's coming into his age 27 year, and if he can cut down on his strikeouts (169 last year), and take more walks (37), he could be a force in the middle of the order.  The Orioles have done nothing to address their 2B situation over the last few years, as if Brian Roberts is going to "Magically" come back and be the star he once was before steroids, concussions, and other ailments took the last couple of years of his career away.  Roberts is purportedly healthy again, and has hit all spring like he is.  I don't think anyone is expecting a full year out of him, but if he can stay healthy, he's still a doubles machine and can set the table for the middle of the order.  Word around camp this spring is that he doesn't look nearly as nimble at 2B as he used to…but, the guy's 35 years old and is shaking off years of rust.  Only the regular season grind will tell if BRob can make it all the way back.JJ Hardy is somewhat locked into the SS position for the time being.  He has average range and arm strength, is generally unspectacular, but very solid defensively.  His average took a 30 point dip last year after a couple years near the .270 mark, and his homers were a bit down (22 from 30), but he still has a lot of pop for the SS position.  It's widely thought that he's just holding the position down for pending superstar Manny Machado, so if he continues to slide, and prospect Jonathan Schoop continues to play like he has this spring in camp and the WBC, look for some changes to be made here by '14.Manny Machado, the number 3 pick in the 2010 draft, fast-tracked his way to the big club last year, taking over 3B full time for the last 51 games of the regular season.  The Orioles went 33-18 during that time, and Machado played a big part in their playoff push, going .262/7/26 and 4 game winning hits.  Machado has the look, instincts, and projectable body of a superstar.  Whether or not he'll be doing it at 3B, or going back to his natural position, SS next year, is anyone's guess.  For now, the hot corner is his.Matt Wieters is another of the Orioles high draft picks (#5 overall, 2007) making an impact as an everyday player.  He is unquestionably one of the top defensive catchers in all of baseball, and his 2 All Star Game appearances prove it.  Highly touted as a Joe Mauer type hitter, Wieters has yet to be that type of force, but he was very consistent last year, going .250/23/83.  Road/home, pre/post ASG splits are all nearly identical.  He hits for better average as a Right hander, but much more power as a lefty, making him dangerous from both sides of the plate.  Entering his age 27 year, he's due for a breakout at the plate, something fans and scouts have been waiting on since his arrival to the majors.  I do expect minor growth in all raw stats, but I don't think he'll ever be a true .300 hitter in this lineup.Nick Markakis has held down the RF spot for the Orioles going on 8 years now.  Widely considered a future superstar after posting a .298/19/90 average raw line over his first four years of play, Markakis' power has never developed as it should have; in fact, it has regressed over the last 3 years.  Entering his age 29 year, one would have expected Markakis to be a perennial .300/30/100 hitter firmly entrenched in the middle of the order.  But after years of being a 2 or 3 hitter (at one point, I thought Markakis was contractually obligated to hit 2nd or 3rd), manager Buck Showalter started using him as a leadoff hitter.  He flourished in this role, and went .335/.390/.489 over 54 games in this spot.  Showalter would be right to continue using him there this year, as he's clearly a table setter, not a masher.  Defensively, he owns property in RF, and no Oriole has gotten to know the electronic scoreboard wall in right like he has.  Injuries plagued Markakis in '12, and he's had a herniated disk in his neck for much of this spring, but all signs point to him being fine for the opener.  The O's need him as anyone else is liability in RF.Adam Jones was the centerpiece of the Erik Bedard trade to Seattle after the 2007 season, and has now become the centerpiece of the Orioles offense, as well as the everyday centerfielder, where he's a 2-time All Star, Golden Glove winner, and de-facto leader of the O's clubhouse.  Jones has pieced together a string of consecutive seasons with at least .280/25/80, and entering his age 27 year, looks to explode as a household name in '13. If he can eliminate his down streaks where he's chasing out of the strike zone (which seemed fewer and farther in between last year) he can add .300 hitter to his resume.   The rumor mill was crazy with reports that AJ would be traded by the All Star break last year, but instead was rewarded with a 7- year, $86 million dollar contract extension, guaranteeing him status as "The Man" in Baltimore for years to come.  Left Field is position that remains a mystery for the Orioles.  After his late season success, the O's re-signed Nate McLouth to a 1 year deal, hoping he can capture some the magic of his earlier days with the Pittsburgh, where he was once an All Star.  He's an average LF, with a below average arm.  McLouth was thought to be platooning with the indescribable enigma that is Nolan Reimold.Reimold has shown promise of something great every year since his first call up in 2009, when he played 104 games, and posted a .279/15/45 raw line.  Unfortunately, he hasn't played more than 87 games in any of the following years, due to a myriad of ailments and personal problems.  Thought to finally be healthy, Reimold looks to take over the DH spot while Wilson Betemit is on the DL with a torn PCL in his right knee.  Reimold has been vocal over the years that he does not want to play 1B or DH, but he is only an average defender, and will have to concede at some point to stay on the field…unless the injury bug bites him again.The Orioles bench looks to have Alex Casilla as the utility infielder.  Conor Jackson has had a great spring, and gives them options at 1B and OF.  With the Betemit injury, there could be room for last year's Rule 5 pick, Ryan Flaherty.  It was believed that now armed with options, Flaherty would start the year at AAA Norfolk, but he has been very consistent this spring and is a Showalter favorite.PitchingThe 2013 pitching staff looks very similar to that of 2012.  Jason Hammel will be their opening day starter.  Though he suffered a late-season injury, Hammel enjoyed his best year as starter in the bigs in '12.  His 3.43 ERA was at least a full run better than his previous best effort, and his K/9 almost 2 better.  If he can take ball every day for the O's, hopes are high that he will anchor a staff in need of an identity. Wei-Yin Chen was one of many surprise success stories for Dan Duquette and his scouts.  An import from Taiwan, Chen posted a 4.02 ERA, with 12 wins in 192 innings in his first year in the Show.  Chen tired a bit down the stretch, likely from the heavier than usual workload of pitching every 4 days instead of 5.  Still, Chen was the workhorse of the Orioles in '12, and looks to be their number 2 in '13.  Miguel Gonzalez was another of Dan Duquette's magical finds.  Signed in March '12 off a tip from a scout who saw him in a Mexican Winter League game, Gonzalez went on to win 9 games with an ERA of 3.25 in 15 starts.  There's nothing special about Gonzalez, but he got it done when the Orioles needed someone to step up last year.  Even with Joe Saunders, I would have started Gonzalez in the Wild Card game against Texas, that's how good he was down the stretch.  He lost his only ALDS start, but only gave up 1 run in 7 IP, with 8 K's.  He hasn't thrown much this spring, and screams one hit wonder, but we're talking about Magic, aren't we?  He'll be the number 3 SP to start the year.Chris Tillman was another big piece in the Erik Bedard trade.  He has been both electric and terrible in his time with the Orioles.  Topic of trade rumors himself for a couple years, it looks as if Tillman is finally starting to live up to the hype of his prep and minor league days.  Starting 15 games down the stretch for the Orioles, Tillman went 9-3, with a 2.93 ERA.  He lowered his walks, and upped his K's as well…the sign of a pitcher growing up.  I fully expect Tillman to be the number 2, if not ace of this staff by the end of the year.  Once part of the "Calvary" of young arms including Brian Matusz and Jake Arrieta, he could soon be the veteran of a new cavalry including Dylan Bundy and Kevin Gausman.Speaking of the Calvary, Matusz and Arrieta have been locked in a battle all spring for the 5th starter spot, but the favorite and now clear winner is Arrieta.  It says a lot for this group of starters that Arrieta was the Orioles opening day starter in '12, and now is fighting for the final slot in the rotation.  He had a tough year last year, and will be on a short leash this year with the depth the Orioles have at the position.The bullpen will also be similar to where it was at the end of last season.  Jim Johnson remains the closer with his heavy sinker and low strikeout total.  Pedro Strop will serve as the primary setup man, and has looked fantastic in the WBC already this spring.  Darren O'Day looks to continue his dominance as a 2nd setup, having had 3 seasons with a WHIP under 1.  Brian Matusz should return to the bullpen as lefty specialist, where he thrived down the stretch last season for the Orioles.  He certainly looks much more comfortable in the role.  Same goes for Tommy Hunter.  The converted flame-throwing right hander saw his velocity increase when he pitched in relief as opposed to starting.  Luis Ayala is a proven relief commodity, and has done well for the Orioles, but they are currently looking to trade him to make room for this year's Rule 5 draft pick, TJ McFarland.  Troy Patton rounds out what is widely considered to be a top five bullpen in all of baseball.  Management:Non roster X factors for the Orioles is the team of Buck Showalter and Dan Duquette.  Duquette, out of baseball for a decade, and thought to be just another in a succession of "Yes" men to owner Peter Angelos, has proven that his finger was never that far off the pulse of the game.  His reach has stretched to Asia, the Caribbean, Mexico, and the minors, picking up castoff after castoff.  The rotation would have never survived if he didn't grind all year finding new, undiscovered talent.  The playoffs never would have happened if he sat on his hands and waited for things to happen as some previous GM's have.  Duquette deserves a lot more credit than he gets, and another big year could see a lot more attention his way. Buck was, in my biased East coast opinion, the hands down Manager of the Year in '12.  With the talent coming into the season, the constant shuffling of pitchers and position players, along with the aforementioned injuries, and an owner that refuses to open the ever-bulging coffers, the job he did last year was, well magical.  Showalter's teams have a history of getting better after he takes over, but no performance was better than last.  He took a team that should have won 60 games, and forced them to compete every single day, leading to 93.  He took a bunch of players that had experienced nothing but losing ways, a beautiful empty stadium, and poor attitudes, and transformed them into hungry, competitive ballplayers, payroll be damned.  Showalter has brought back "The Oriole Way" in teaching the right way to practice, and play the game.  There is competition every day, and if a player doesn't want to compete for their spot, or do things the right way…there is someone right behind them that does.   With another year of teaching this team under his belt, and many of the team entering their prime, can Buck finally win a World Series title that has eluded him on two different teams?Prediction:World Series?  No.  AL East title?  Questionable.  Even with all the momentum coming into the 2013 season, I think the Orioles are due for a bit of regression.  Here's why…While everyone likes to correlate the Orioles record down the stretch with Manny Machado being called up, I think a lot of that success was because of Mark Reynolds.  Yes, whiff-machine Mark Reynolds.  He played 1B like a top-tier defensive 1B, saving many of the errors that Orioles racked up in the first half.  This made Manny Machado much more comfortable in the field, and at the plate.  Also remember that Reynolds caught absolute fire in the second half (16 HR/46 RBI), and almost single-handedly destroyed the Yankees in August.  His bat helped those around him and made that lineup much stronger.  And unlike Chris Davis, Reynolds took walks.  One more comment on Reynolds, it is widely known that he was the "Guy" in the clubhouse.  AJ gets on the mic and Twitter a lot, but amongst players, Reynolds was the leader of that clubhouse.  Someone has to step up in this role for the Orioles to have success this year.  AJ talks a good game, but has he matured enough as a person to be that guy?  Markakis has made it clear it's not him, I'm afraid if Roberts yells too loud, he'll get another concussion, and it doesn't seem Wieters wants it either.   That's a lot of slack to pick up from one guy.There are also many, many question marks coming into the season.  I don't trust Brian Roberts.  Love him as a player, but I just don't trust him to be the guy he was.  Even if he's shaken off the injuries, he's 35.  Reimold, same deal…prove me wrong.  I'm also not a huge fan of Chris Davis as a defensive 1B.  While I do think he can have a big year with the stick, I don't think he's going to be able to help develop Machado at 3B.  A frustrated 20 year old racking up errors because his 1B can't scoop could get ugly in a hurry. The LF/DH situation is suspect.  Where do the Orioles go if McLouth can't get it done every day, and Reimold does get injured like every other year?  The starting rotation looks to be a strength because of its depth, but when you're relying on a bunch of guys that have never put it together for a full season over multiple seasons, you're playing the odds. The bullpen is easily the strongest part of this team.  But bullpen guys are bullpen guys for a reason.  Any number of them could unravel send this team spiraling downward.  Look, I'm not going to disrespect what this bullpen did last year by saying they were lucky in winning 29 1-run games.  They were filthy, bottom line.  I'm just saying it's highly improbable to do it again.  1-run games are a coin flip from year to year.Now, do I think ALL that will go wrong?  Absolutely not, but enough to send this team back to the .500 mark.  I think the Orioles will finish the year 83-79, not contending down the stretch.  2014, with Bundy, Gausman, and Schoop on the way…that's a much different story. 
Original Story:
http://feedproxy.google.com/~r/MajorL...
THE BACKYARD
BEST OF MAXIM
RELATED ARTICLES
Brian Matusz has made the Orioles roster for Opening Day. The 26-year-old lefty was told by manager Buck Showalter that he would start the season in the bullpen for the Orioles. Matusz entered spring competing for a rotation spot with Jake Arrieta. The Orioles opted to go with Arrieta for the final rotation spot after he out pitched Matusz this spring. Last season Matusz appeared...
The Baltimore Orioles completed their starting rotation by picking right-hander Jake Arrieta to start their home opener on April 5. Manager Buck Showalter chose Arrieta to start the first game in Baltimore for the third straight season. The Orioles play Minnesota at Camden Yards. Arrieta joins Jason Hammel, Wei-Yin Chen, Miguel Gonzalez and Chris Tillman, who'll start the season...
The Baltimore Orioles put right-hander Chris Tillman on the 15-day disabled list with a strained left abdominal muscle. The move announced Thursday is retroactive to March 22, which allows Tillman to pitch in the Orioles' fifth game of the season on April 6 against Minnesota. Tillman was scratched from his scheduled March 10 start because of abdominal soreness and has pitched...
  The reports of the Oriole's demise have been greatly exaggerated. Yes there are the stat-sheets and theorems and analyses that say the Orioles will not stand a chance. Baseball Prospectus pegs the Orioles as a 74-win team next year.   SEVENTY-FOUR.   "Hogwash," I say. "Humbug," I cry! "Bullfeathers," I add. The Orioles unlikely rise to the postseason...
Nate McLouth hit two home runs and the Baltimore Orioles concluded their spring training schedule by holding the New York Mets to one hit in a 7-1 victory Saturday. Miguel Gonzalez, the No. 3 starter for Baltimore, gave up a leadoff single in the fifth to Marlon Byrd, who scored on Ruben Tejada's sacrifice fly. Gonzalez struck out four and walked one in five innings. McLouth...
Baltimore Orioles: The Orioles migrated this winter but didn't pick up anyone along the way. NY Yankees: The Yankees scraped up the bottom of the free agency bowl. Kevin Youkilis (3B) is an aging player who can still put some balls over the fence, but his playing time will get spotty once A-Rod (3B) recovers from hip-surgery half-way through the season. Travis Hafner (DH) is...
Here's your very first 2013 installment of Free Agent Frenzy. We're going to call this one the I Can't ****ing Believe That Guy is Still Out There edition, since that's what always happens in March. The masses forget about some useful players, and you get to swoop in before Opening Day to rescue them. Also, please note that it's perfectly OK to make roster moves...
The Indians went all out this offseason to pick up some tremendous offensive talent increasing the power (Nick Swisher and Mark Reynolds) and speed (Drew Stubbs and Michael Bourne). Along with the attributes that the Indians were trying to improve in, they added another. An incredible ability to swing and miss at a baseball. Mark Reynolds is the most famous of the group of newcomers...
MLB News

Delivered to your inbox

You'll also receive Yardbarker's daily Top 10, featuring the best sports stories from around the web. Customize your newsletter to get articles on your favorite sports and teams. And the best part? It's free!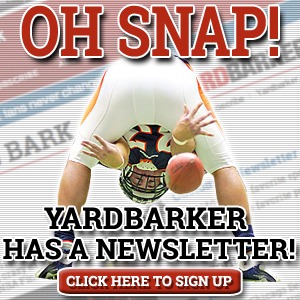 Latest Rumors
The Backyard

Today's Best Stuff

For Bloggers

Join the Yardbarker Network for more promotion, traffic, and money.

Company Info

Help

What is Yardbarker?

Yardbarker is the largest network of sports blogs and pro athlete blogs on the web. This site is the hub of the Yardbarker Network, where our editors and algorithms curate the best sports content from our network and beyond.