Found February 08, 2013 on Fox Sports Wisconsin:
PLAYERS:
John Axford
,
Burke Badenhop
,
Tom Gorzelanny
,
Jim Henderson
,
Brandon Kintzler
,
Santo Manzanillo
,
Michael Olmsted
,
Jesus Sanchez
,
Josh Stinson
,
Doug Melvin
,
Francisco Rodriguez
,
Kameron Loe
,
Jose Veras
,
Manny Parra
,
Tim Dillard
,
Mike McClendon
,
Livan Hernandez
,
Chris Narveson
,
Mark Rogers
,
Wily Peralta
TEAMS:
Milwaukee Brewers
,
Houston Astros
,
Cincinnati Reds
,
Colorado Rockies
This is the second part in a five-part series previewing the Milwaukee Brewers by position heading into spring training, which starts Tuesday with pitchers and catchers reporting. Friday: Starting pitchers Today: Relief pitchers Sunday: CatchersMonday: InfieldersTuesday: OutfieldersON THE ROSTER (alphabetical order): RHP John Axford (5-8, 4.67 ERA, 35 saves), RHP Burke Badenhop (3-2, 3.03 ERA with Tampa Bay), LHP Michael Gonzalez (0-0, 3.03 ERA with Washington), LHP Tom Gorzelanny (4-2, 2.88 ERA, 1 save with Washington), RHP Johnny Hellweg (7-11, 3.29 ERA in Double-A), RHP Jim Henderson (1-3, 3.52 ERA, 3 saves), RHP Brandon Kintzler (3-0, 3.78 ERA), RHP Santo Manzanillo (0-4, 6.08 ERA in Double-A), RHP Michael Olmsted (1-4, 1.52 ERA, 19 saves in minors), RHP Jesus Sanchez (4-1, 1.71 ERA in Triple-A), RHP Josh Stinson (0-0, 0.96 ERA)OFFSEASON CHANGES: A complete bullpen overhaul was Milwaukee's top priority this offseason, and general manager Doug Melvin didn't disappoint.Gone are Francisco Rodriguez, Kameron Loe, Jose Veras, Manny Parra, Tim Dillard, Mike McClendon and Livan Hernandez from a bullpen that posted a MLB-worst 4.66 ERA and 29 blown saves. Melvin set out to not only improve the team's weak spot but to make it more versatile. He accomplished his goal by adding left-handers Gorzelanny and Gonzalez and right-hander Badenhop.Badenhop, 30, was Melvin's first piece and will serve a role in the bullpen similar to the one Loe filled. Acquired from Tampa Bay in a trade, Badenhop uses his sinker the majority of the time and will be valuable when a ground ball is needed. He's proven himself as a reliable reliever for four seasons, and the Brewers gave up just a low-level prospect to get him.By adding the pair of left-handers, Melvin gives manager Ron Roenicke two quality lefties for the first time in his tenure. With Gonzalez on board, Gorzelanny can be used in a variety of different roles and not just as a lefty specialist. Since moving to the bullpen full-time, Gorzelanny has found success and had his best season in 2012, going 4-2 with a 2.88 ERA for the Nationals.Gonzalez is one of the best lefty specialists in baseball. Left-handed hitters hit just .179 against Gonzalez in 2012 and hit just .209 against the 34-year-old in his career. Though he's going to be valuable against the Joey Vottos and Jay Bruces of the division, Gonzalez also has experience closing and could be a fallback option if Axford doesn't bounce back.STARTER SPOTLIGHT: Well, these guys aren't starters, but Axford and Henderson are the other locks to make the Opening Day roster.Henderson made his big league debut July 26 and provided some stability to the struggling bullpen. He finished with a 3.52 ERA in 30 23 innings and will get the first crack at being the setup man and pitching the eighth inning.That leaves five of the seven spots sewn up before pitchers and catchers even report to Phoenix. Barring an injury or struggles in spring training, Kintzler has shown he's a capable reliever when healthy and will likely grab one of the two open spots. Minor league free agent Olmstead is a hard thrower and put up eye-popping numbers in the minors last season. Boston didn't want to let Olmstead go, but it didn't have an open spot on its 40-man roster. Stinson had a good year in Double-A as a starter and came up to Milwaukee and gave up just one run in 9 13 innings out of the bullpen. A former catcher in the minor leagues, Sanchez impressed the Brewers enough with two straight stellar seasons in Double-A and Triple-A to add him to the 40-man roster. This will be just his fifth season as a pitcher, but he's a dark-horse candidate for the final bullpen spot.However, Olmstead, Stinson and Sanchez all may be competing for a spot in the bullpen that doesn't exist. With at least six pitchers competing for five rotation spots, somebody is going to be left out. If Chris Narveson misses the rotation, he'll more than likely be kept in the bullpen. Mark Rogers is out of minor league options, so he'd certainly be used as a reliever. If Wily Peralta is the odd man out, Milwaukee will send him to Triple-A to continue to work as a starter, freeing a bullpen spot. There's a good chance there will be no bullpen slots open if Kintzler sews up his job. Considering how many relievers the Brewers parted ways with, that's impressive.SPRING TRAINING QUESTION: Will this bullpen be any better? It would be hard to be any worse than the 2012 bullpen. Still, the pressure is going to be on this group to perform at least early on because of the toll 29 blown saves took on a club that finished just five games out of the playoffs.It's impossible to predict the success of a bullpen. Last year was case in point as to why. Nobody expected the group of relievers the Brewers had to all have down seasons career-worst seasons in the same year. In fact, the Brewers' bullpen was lauded by many as a strong point heading into Opening Day last season, especially the eighth- and ninth-inning duo of Axford and Rodriguez.So, how can anyone be certain about anything with relievers? All that can be judged is the pieces and their track records. Melvin had to replace a lot of the parts and he did so successfully on paper. Gorzelanny, Gonzalez and Badenhop all are proven and provide Roenicke with tremendous flexibility. Henderson and Kintzler showed at the end of last season they can pitch at this level. The S-factor will be Axford. With fewer closing options on this year's team, he has to bounce back and pitch like he did in 2011 and at the end of last season. It was encouraging to see the closer shake off struggles and finish the year strong because this bullpen will only be as good as its anchor. This question will be answered when we know which Axford shows up in 2013.BADENHOP SAYS: "I think the front office has done a great job (with the bullpen). All you can do is kind of get the pieces and from Game 1 to Game 162 see how those pieces fit and how things kind of shake out (is up to us). (Gorzelanny and Gonzalez) were on a winning team last year so they know how to win, coupled with John Axford, one of the best closers in the game, and Jim Henderson who was from what I could tell pretty much lights out."We want to be reliable out there so when Ron picks up that phone he is not pressed to who he is going to get up." FollowAndrew Gruman onTwitter.
Original Story:
http://www.foxsportswisconsin.com/02/...
THE BACKYARD
BEST OF MAXIM
RELATED ARTICLES
Larisa Fraser in a bikini is exactly what we need on a day like this. It's freezing cold and a massive blizzard is about to ruin our weekend, but at least we can count on Larisa to keep us warm, right? Fraser, Brewers slugger Ryan Braun's fiance, recently shot these photos for Venus Swimwear. If you are Braun would you pay her off to get her to stop modeling? The guy just signed...
MILWAUKEE -- Rickie Weeks will never fully admit it because he's as tough as nails. Though he had every reason to use his gruesome ankle injury as an excuse for a forgettable first half of 2012 in which many called for him to be yanked from the lineup or even sent to Triple-A, he didn't say one word about it. But in reality his ankle wasn't healthy in the first half...
Former Milwaukee Brewers first-round pick Eric Arnett underwent reconstructive surgery on the ACL in his right knee Thursday and is expected to be sidelined for five to six months. The Brewers made the expectation of Arnett's ACL diagnosis public Tuesday and said the right-hander was scheduled to be evaluated by team physician Dr. William Raasch in Phoenix on Wednesday to confirm...
When I think back on Rickie Weeks' 2012 fantasy season, I'm mostly overwhelmed with negative thoughts and emotions. If you look at his end-of-season stat line, though, it wasn't really all that bad. Yes, his .230 batting average over 588 at-bats was a category killer, but his 21 homers, 16 steals, and 85 runs were actually pretty useful. What really soured me on Weeks last...
Milwaukee Brewers manager Ron Roenicke strongly defended slugger Ryan Braun on Saturday night, saying he's upset over the possibility that the 2011 NL MVP was linked to baseball's latest drug investigation for no good reason. Braun's name appears in records from the Biogenesis of America LLC clinic, a defunct business in Coral Gables that allegedly provided performance...
This is the first in a five-part series previewing the Milwaukee Brewers by position heading into spring training, which starts Tuesday with pitchers and catchers reporting. Friday: Starting pitchersSaturday: Relief pitchersSunday: CatchersMonday: InfieldersTuesday: Outfielders ON THE ROSTER (alphabetical order): RHP Nick Bucci (2-2, 1.99 ERA in Single-A), RHP Hiram Burgos (2-2...
We've seen this before Ryan Braun, the most popular and by far best player on the Milwaukee Brewers is accused of using drugs.  Last time he got off on a technicality.  This time he got off because he was reviewing the technicality.   What in the hell are we even talking about? Hi Ryan. I don't care if you are a juicer. Really. Rookie of the year, 202 home runs so far, a...
FOX Sports Wisconsin on Thursday released the Milwaukee Brewers spring training television schedule for the 2013 season, and it will begin at 3 p.m. Monday, March 11 with a matchup against the Los Angeles Dodgers.FOX Sports Wisconsin also announced plans to televise "Brewers On Deck 2013 at about 10 p.m. Monday, Feb. 11 following the Milwaukee Bucks game. The spring training...
MLB News

Delivered to your inbox

You'll also receive Yardbarker's daily Top 10, featuring the best sports stories from around the web. Customize your newsletter to get articles on your favorite sports and teams. And the best part? It's free!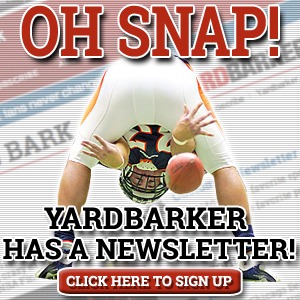 Latest Rumors
The Backyard

Today's Best Stuff

For Bloggers

Join the Yardbarker Network for more promotion, traffic, and money.

Company Info

Help

What is Yardbarker?

Yardbarker is the largest network of sports blogs and pro athlete blogs on the web. This site is the hub of the Yardbarker Network, where our editors and algorithms curate the best sports content from our network and beyond.