Found June 30, 2012 on StraitPinkie.com:
On Paper
Aaron Hill Cylces
The Diamondbacks, Aaron Hill, has done something that is amazingly rare. Hitting for the cycle is on the same level as a no hitter. 294 times a player has hit for a cycle in a game and 276 times has a pitcher accomplished a no-no. On Friday night, Hill's triple in the 6th clinched the cycle for Arizona 2nd baseman. The cycle is a great feat yet what Hill has accomplished in the last 12 days is one of the rarest baseball accomplishments in MLB history. On the 18th Hill hit for the cycle against the Mariners, which by having 2 cycles in the same season, he has become just the fourth player in history to accomplish that feat. 4 is coincidentally the number of pitchers who have had multiple no-hitters in the same season! Congrats to Hill and his amazing feat.
Upset Potential
Worlds Fastest Man
We remeber the summer of 2008 for Phelps golds and Usain Bolt's ridiculous speed, yet what has happened since then? Many may not have been paying attention but Bolt didn't win the most recent World Championship, due to a false start, and now he has been beaten on his own island! World Champion Yohan Blake defeated Bolt in the 100M by running a pedistrian 9.75! This type of rivalry makes for an even more exciting London. People who haven't paid attention will be wondering how early Bolt will be able to celebrate during the 100M finals. The same people will be even more surprised if Blake blows by him with a gold medal on the line.
Don't Bother
Staying Cool
Listen with the temps hitting triple digits, I will give you most important information. If you are under the age of 1, stay inside. If you are 12, go outside and take a water bottle and drink water often. If you are 90, stay inside. If you are between the ages of 17-50, does anyone have to tell you how to survive in the heat? Oh and don't ask the Thunder how to survive the Heat!!
Original Story:
http://www.straitpinkie.com/sports/on...
THE BACKYARD
BEST OF MAXIM
RELATED ARTICLES
Hitting for the cycle once in a season is rare, just ask the San Diego Padres.* Getting a single, double, triple and a home run in the same game twice in eleven days?  Remarkable. Aaron Hill hit for the cycle tonight in Milwaukee for the Arizona Diamondbacks.  It was the 2nd time Hill has had a single, double, triple, and home run in the same game in 11 days.  Hill...
MILWAUKEE (AP) -- Aaron Hill has hit for his second cycle of the season Friday night against the Milwaukee Brewers, becoming the second major league player since 1900 to accomplish the feat twice in the same year. The Arizona Diamondbacks' second baseman also singled, doubled, tripled and homered on June 18 against Seattle. Brooklyn's Babe Herman had two cycles in 1931...
Call him Aaron History. Diamondbacks second baseman Aaron Hill became the second player in major league history to hit for the cycle twice in a season when he repeated in a 9-3 victory at Milwaukee on Friday. It was the second time Hill had done it in 11 days and the first double-cycle since Babe Herman had two for the Brooklyn Robins in 1931. "He's been locked in lately...
The repetitive cycler Friday night was a tremendous one for Aaron Hill of the Arizona Diamondbacks. Not only did he double in the first inning for his 1000th MLB hit, but he went on to hit for the cycle for the second time this season. This tremendous feat makes Hill only the second player to accomplish this in the same season since 1900. Only Babe Herman of the Brooklyn Dodgers...
Going Cycling Did we really witness two cycles in less than two weeks? As if it was easy to hit for one, let alone two. Arizona Diamondbacks' 2B Aaron Hill did it all on Friday, June 29, 2012. He ended his spectacular night by going 4-5, 1 HR, 3 RBI, 1 SB, and 2 runs. His first cycle of the year was on June 18 and he enjoyed it so much that he went and did it again. Hill joins...
No posing, no salutes, no fist pumping. Yohan Blake simply paced in front of the jam-packed grandstand at National Stadium and stared up into the crowd, letting all those fans soak in a nice, long look. This, ladies and gentlemen, is the man to beat at the London Olympics. In a result that can no longer be considered a surprise, Blake beat Usain Bolt in the 200 meters at Jamaican...
The Fastest Man in the World wasn't the fastest man in Jamaica on Friday night. That honor goes to Yohan Blake, who got out of the blocks fast and finished the 100-meter final in 9.75 seconds to upset world-record holder Usain Bolt by 0.11 seconds in the Jamaican Olympic trials. A shocker? Well, that's for the world to decide. One thing for sure, however, is that the calculus...
An early wake-up call, a quick run and a nap. Could've been a typical Saturday morning for almost anyone in Jamaica, though for Yohan Blake and Usain Bolt, this was anything but typical. Less than 12 hours after Blake stunned the world-record holder in the final of the 100 meters at Jamaican Olympic trials, the sprinters returned to National Stadium for a 9 a.m. start for 200...
Usain Bolt can thank me anytime for helping ensure that he gets a good night's sleep at this summer's London Olympics. Organizers held a slumber party this weekend, opening the big glass doors and immense dining halls of the Athletes' Village to several hundred journalists, local officials and assorted others in a trial run - giving games planners a chance to work out...
The San Diego Padres are hoping the momentum they've gained on their current road trip will help them end a long history of struggles in Arizona and the Diamondbacks' recent dominance at home. The Diamondbacks return from a rough trip looking to continue their success at Chase Field while trying to prevent the Padres from a third straight win Monday night. After salvaging...
      With the 2012 Summer Olympics less than a month away Olympic trials are taking place with battles we're sure to see on the world stage in the not-so-distant future. Americans Michael Phelps and Ryan Lochte have been dueling it out in the swimming pool in Omaha, Nebraska. In Jamaica some of the fastest [...]
Diamondbacks News

Delivered to your inbox

You'll also receive Yardbarker's daily Top 10, featuring the best sports stories from around the web. Customize your newsletter to get articles on your favorite sports and teams. And the best part? It's free!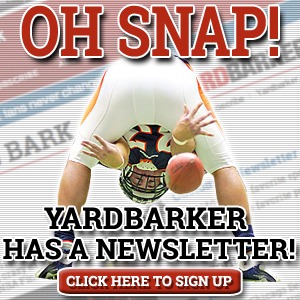 Latest Rumors
Best of Yardbarker

Today's Best Stuff

For Bloggers

Join the Yardbarker Network for more promotion, traffic, and money.

Company Info

Help

What is Yardbarker?

Yardbarker is the largest network of sports blogs and pro athlete blogs on the web. This site is the hub of the Yardbarker Network, where our editors and algorithms curate the best sports content from our network and beyond.