Found March 07, 2012 on Dempsey's Army:
I wanted to comment on
this article
in Baseball America last week that breaks down the Orioles' debacle involving the attempted signing of Korean high school pitcher Seong-Min Kim.
I have been pretty approving of all the changes the Orioles have been making under Dan Duquette and thought that shaking up the organization and focusing on international markets are fine ideas. The organization needed that and my opinion was that any change was better than the status quo.
However, the details regarding the signing of Kim make one wonder about the judgement of the people heading up some of these efforts. For one, the pitcher was not even considered a great prospect to begin with.
More notable than the breach of protocol, however, was the amount the Orioles agreed to pay a player regarded by most teams that scouted him as a marginal prospect. (Dan) Duquette declined to comment on Kim's scouting report now that he's no longer under contract...
Many believed the Orioles were the only team interested in Kim. Several teams turned him in as a non-prospect.
"Where was the competition," asked one international scouting director, "to drive the bonus to $575,000 when they could have signed him for $5,000?"
That's a good question. Why are the Orioles so anxious to sign a fringy prospect that they jump the gun and break protocol? There is one man who can answer that.
After hiring Duquette in November, the Orioles announced the hiring of Ray Poitevint as their new executive director of international baseball in a Jan. 9 press release. Poitevint has extensive experience signing players in Asia, including during Duquette's tenure as Red Sox GM from 1994-2001. The two have worked together since Duquette began his career in baseball with the Brewers in 1981. Poitevint said in an interview that Duquette started out as his assistant, and the two were together in Milwaukee until Duquette left to join the Expos after the 1987 season.
Poitevint said he scouted Kim for two and a half years, and that he and an associate he has known for 30 years—whom he declined to name—evaluated Kim for the Orioles. When asked who else was interested in signing Kim, Poitevint said, "Everybody," adding, "This is the type of guy who draws scouts...."
"We'll see what happens," Poitevint said. "If we have an opportunity to introduce ourselves again to him, we'll try to sign him, just like anyone else. We know there's going to be a lot of competition."
So the first issue is that Mr. Poitevant and his scouts are far, far off the reservation when it comes to the general scouting consensus on this kid. That is troublesome, as is the amount of money they threw Kim's way, but sometimes an individual scout can see things others may miss.
But an even bigger issue is that Mr. Poitevant and his "extensive experience" in Asia managed commit a huge gaffe, nullifying a contract and losing access to Korean baseball, less than 3 months into his job.
Questionable talent assessment and procederal ignorance? This is not the kind of change this team needs.
Original Story:
http://dempseysarmy.blogspot.com/2012...
THE BACKYARD
BEST OF MAXIM
RELATED ARTICLES
The Orioles need Brian Roberts back in their starting lineup. Not only is he Baltimore's best second baseman and base stealer, he's the Orioles only obvious leadoff hitter. As Roberts continues to recuperate from the effects of his second concussion last May, the Orioles have stockpiled alternatives for him at second base. However, filling the leadoff spot would be much...
The Orioles won their second game of the Grapefruit League season as they defeated the Boston Red Sox in Fort Myers, 5-4. Baltimore showed Boston their B-lineup, as most of the regulars played last night in Sarasota. Starter Dana Evelend gave up a run in two innings; meanwhile, Chris Tillman – who is trying to make the club – struggled, going two innings and giving up three...
I have finally come to terms with the fact that I will not be attending Oriole Spring Training 2012 and I have not been since the inaugural training in Sarasota in 2010. (sigh....)Since I cannot accurately update my Unofficial Guide to Oriole Spring Training, I instead point you to Spring Training Connection's review of Ed Smith Stadium. It is very thorough and a great resource...
This afternoon, the Orioles defeated the Atlanta Braves, 2-1, in Grapefruit League action. Jai Miller and Xavier Avery drove in runs late in the game after trailing 1-0; however, the Orioles got another solid pitching performance from the hurlers on the mound. Jason Hammel pitched his first game as Oriole, tossing two scoreless innings. He allowed two hits and walked one. Pitchers...
This afternoon, the Orioles earned their second win of the Grapefruit League exhibition season as they defeated the Minnesota Twins, 6-0. Wei-Yin Chen – who is one of the new Asian arms on the roster – struck three in two innings. In his first time against major league hitters, he did well and considering his struggles in the beginning of camp, it was nice to see. According...
SARASOTA, Fla. (AP) -- Baltimore newcomer Wei-Yin Chen made a neat debut, pitching two scoreless innings Wednesday as the Orioles beat the Minnesota Twins 6-0. Chen, a native of Taiwan, pitched in Japan the last four seasons. He retired the Twins in order in the first and, after giving up a leadoff single to Aaron Bates in the second, struck out Brian Dinkelman, Sean Burroughs and...
From the good folks at MASN... *** MASN Announces 2012 Orioles Broadcast Schedule MASN, the television home of the Baltimore Orioles, today announced its Major League Baseball schedule for the 2012 season. Once again, all Orioles games broadcast by MASN will be available in crystal-clear high definition, including the home and season opener against the Minnesota Twins on...
When I look at Chris Tillman, I see a prototypical young pitcher – tall, good-sized and a guy who should throw in the high-90's. However, during his tenure with the Baltimore Orioles, Tillman has been a bust. Overall, he has been an extraordinarily inconsistent pitcher and fans – along with executives – have been wondering "will this guy ever figure it out? Is Tillman...
Baltimore newcomer Wei-Yin Chen made a neat debut, pitching two scoreless innings Wednesday as the Orioles beat the Minnesota Twins 6-0. Chen, a native of Taiwan, pitched in Japan the last four seasons. He retired the Twins in order in the first and, after giving up a leadoff single to Aaron Bates in the second, struck out Brian Dinkelman, Sean Burroughs and Ben Revere. Robert...
MLB News

Delivered to your inbox

You'll also receive Yardbarker's daily Top 10, featuring the best sports stories from around the web. Customize your newsletter to get articles on your favorite sports and teams. And the best part? It's free!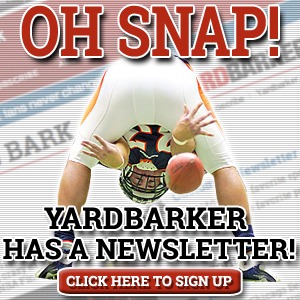 Latest Rumors
The Backyard

Today's Best Stuff

For Bloggers

Join the Yardbarker Network for more promotion, traffic, and money.

Company Info

Help

What is Yardbarker?

Yardbarker is the largest network of sports blogs and pro athlete blogs on the web. This site is the hub of the Yardbarker Network, where our editors and algorithms curate the best sports content from our network and beyond.