Posted March 21, 2012 on AP on Fox
PLAYERS:
Tsuyoshi Wada
,
Jeremy Guthrie
,
Jason Hammel
,
Matt Lindstrom
,
Buck Showalter
,
Tommy Hunter
,
Brian Matusz
,
Jake Arrieta
,
Zach Britton
,
Chris Tillman
,
Brad Bergesen
,
Dana Eveland
,
Alfredo Simon
,
Kevin Gregg
,
JJ Hardy
,
Mark Reynolds
,
Adam Jones
,
Matt Wieters
,
Wilson Betemit
,
Brian Roberts
,
Chris Davis
TEAMS:
Baltimore Orioles
,
Boston Red Sox
,
Colorado Rockies
,
New York Yankees
The Orioles will celebrate the 20th anniversary of Camden Yards this season, taking fans on a journey back to when the team attracted sellout crowds every night and often made life miserable for the New York Yankees, Boston Red Sox and the rest of the AL East. Baltimore's charming ballpark hasn't changed much since Rick Sutcliffe launched the Orioles' 89-73 season by blanking Cleveland on April 6, 1992. Unfortunately, the state of the team - and attendance at Camden Yards - is in no way similar to the past. The Orioles have suffered through 14 consecutive losing seasons and finished in last place in each of the last four years. Their backing at home has declined accordingly: Most of the sellouts in recent years have come when the Yankees or Red Sox are in town, and at least half the crowd at those games consists of fans backing the visitors. Dan Duquette intends to change all that. Hired in November as executive vice president of baseball operations, Duquette spent eight seasons in the Montreal Expos' front office before becoming general manager of the Red Sox from 1994-2001. No task he faced in baseball will be more difficult than the one he has undertaken as the replacement for Andy MacPhail, one of many on a long list of men who have tried and failed to win in Baltimore. ''I'm glad to be back,'' Duquette said. ''This is a great ballpark. I can't believe it's been 20 years. We'd like nothing better than having a winning team. That's our goal.'' For that to happen, the Orioles need to improve a pitching staff that had a major league-worst 4.89 ERA last season. After being out of the game for nine years, Duquette quickly identified Baltimore's most glaring deficiency and immediately set out to correct the problem. He signed Wei-Yen Chen, the Orioles' first Taiwanese native, and Tsuyoshi Wada, who was 107-61 with a 3.13 ERA in Japan, to rectify a starting rotation that was decimated by injury in 2011. He took a chance by trading workhorse Jeremy Guthrie, the team's opening day starter in three of the last four years, to Colorado for right-hander Jason Hammel and reliever Matt Lindstrom. That leaves manager Buck Showalter with plenty of options to go along with veteran Tommy Hunter and up-and-coming Brian Matusz, Jake Arrieta, Zach Britton, Chris Tillman and Brad Bergesen. Sorting out the starting rotation has been a delightful exercise for Showalter, who often had to scramble to find a capable arm last season. ''Some of the things we hoped would happen are happening,'' Showalter said. ''We hope that it's not kind of like last year, where it's the last man standing. That's the good part of it. There's a lot of good things going on. We're healthier. Guys are in a position to pitch better. We have the potential of definitely being a better pitching staff.'' The depth in the rotation could improve the bullpen. Dana Eveland, Wada and Alfredo Simon are all able to start, but might end up pitching in relief before late-inning specialists Lindstrom, Jim Johnson and Kevin Gregg. As a whole, the staff appears more confident and capable than in 2011. ''So far, from I've seen what I've seen from our pitchers, they're throwing the ball with more conviction than they did last year,'' shortstop J.J. Hardy said. ''They're getting ahead of hitters, so I definitely feel better about it.'' Power shouldn't be a problem for the Orioles. Mark Reynolds hit 37 home runs last year, and Hardy (30), Adam Jones (25) and Matt Wieters (22) each set career highs. Duquette realized this, so he signed free agent Wilson Betemit (.343 on-base percentage in 2011) to help make those homers count for more than one run. The offense has the potential to be even better if the Orioles can get back second baseman and leadoff hitter Brian Roberts, who's still bothered by concussion-like symptoms after being limited to 39 games last year. The defense up the middle, with Wieters behind the plate, Hardy at shortstop and Jones in center field, is solid. But Reynolds made a whopping 26 errors at third base, and although he played decently at first base in the latter part of the season, Showalter has opted to move him back to the hot corner and use Chris Davis at first. Baltimore is also counting on Reynolds and Davis to cut down on their strikeouts. Reynolds whiffed 196 times and Davis fanned 63 times in 199 combined at-bats with Texas and the Orioles. ''If we can get some solid defense at the corners in Reynolds and Davis, and if those guys can make a little bit more consistent contact, we can be a competitive team,'' Duquette said. Competitive would be an upgrade. The Orioles believe they can make it happen and, in the process, make the significance of the 2012 season about something more than the anniversary of Camden Yards. ''There's a lot of great fans out there that are ready for a winning season,'' Matusz said. ''I almost get chills thinking about what we have in front of us - the opportunity. I think everybody's ready. It's going to be a special year.'' No one is talking about making a run at the AL East title, but taking a step in that direction would be satisfying. ''I'm not saying we're going to do this or do that, but we're going to have a better year than last year,'' Jones said. ''We've got a group of hungry guys, hungry pitchers who want to prove themselves, and we've got the manager who knows how to get the most of the guys. Let's go out there and put this team to a test. I'll put this team against anybody.''
Original Story:
http://msn.foxsports.com/mlb/story/Or...
THE BACKYARD
BEST OF MAXIM
RELATED ARTICLES
No one can exactly determine the benefit or harm a baseball manager brings to his team. The oft-trotted out discourses are the chemistry, organization, inspiration sides of what a manager does. But how to you measure that? You can't. Fairly or unfairly, a manager is judged by the bottom line of wins and losses. If his team wins, the manager gets to hang around. If it loses, he...
Anytime a player hears their name and Dr. James Andrews in the same sentence, it is never a good thing. Yesterday, the Orioles announced that pitcher Zach Britton will be visiting the renowned sports doctor to have his shoulder looked at. From the Orioles.com: Orioles left-hander Zach Britton continues to deal with left shoulder inflammation, the latest case likely costing the...
It's hard to believe nobody wants Vladimir Guerrero's services.  Maybe he's just being stubborn.  The 37-year old with 449 career home runs has been awaiting a call from an MLB club all offseason and has heard nothing.  Guerrero last played for the Baltimore Orioles in 2011, where he made $8 million, hit .290, 13 home runs,
According to Danny Knobler of CBSSports, the Baltimore Orioles are shopping right handed pitcher Kevin Gregg and third baseman Mark Reynolds. Gregg is owed $5.8 million for 2012 and Reynolds $7.8 million. Gregg was 0-3 with a 4.37 ERA in 59.2 innings last season with the Orioles. He also had a 1.1 HR/9, 6.0 BB/9 and 8.0 SO/9. Reynolds hit .221/.323/.483 with 37 HR's and 86 RBI...
FORT MYERS, Fla. (AP) -- Carl Pavano struggled as the Baltimore Orioles had finished with 14 hits in an 11-1 win over the Minnesota Twins on Thursday. The Twins' opening day starter allowed six earned runs and eight hits in four innings. Joe Mauer went 2 for 3 with a double and an RBI for the Twins. Wei-Yin Chen had another impressive outing for the Orioles, giving up four...
Carl Pavano struggled as the Baltimore Orioles had finished with 14 hits in an 11-1 win over the Minnesota Twins on Thursday. The Twins' opening day starter allowed six earned runs and eight hits in four innings. Joe Mauer went 2 for 3 with a double and an RBI for the Twins. Wei-Yin Chen had another impressive outing for the Orioles, giving up four hits and one run in five...
According to Forbes Magazine, the Baltimore Orioles are worth $460 billion, and the value of franchise has increased 12% since 2011. As well, Forbes reported that the Orioles made $179 in terms of revenue, and $12.9 million of operating income. Of course, no one can say this is all true or not since teams do not open up their books; however, the estimates by Forbes Magazine is a...
The Baltimore Orioles are hoping to do something that the Detroit Tigers, Arizona Diamondbacks, Cincinnati Reds and Philadelphia Phillies could not do over the past four years. The Orioles have signed pitcher Dontrelle Willis in hopes that they can resurrect his career. They should not be holding their collective breathes. Willis, the former 22 game winner with the Florida...
The Baltimore Orioles have signed Dontrelle Willis to a minor league contract, Jerry Crasnick of ESPN reports. Dan Connolly of The Baltimore Sun notes that Willis will earn $700k while in the Majors. Last week the Philllies released Dontrelle Willis who they had signed to a $1mm deal back in December. Willis was attempting to earn a spot in the Philly bullpen but allowed five runs...
From the FCBL Lynn, Mass. – The North Shore Navigators of the Futures Collegiate League added three more players to their 2012 roster on Thursday: sophomore infielder Cody Slader (photo right) and freshman third baseman Ryan Muno(photo left), both of San Diego State University; and Lynnfield native Alex Markakis, a sophomore from St. Joseph's College in Maine. Slader and Muno...
MLB News

Delivered to your inbox

You'll also receive Yardbarker's daily Top 10, featuring the best sports stories from around the web. Customize your newsletter to get articles on your favorite sports and teams. And the best part? It's free!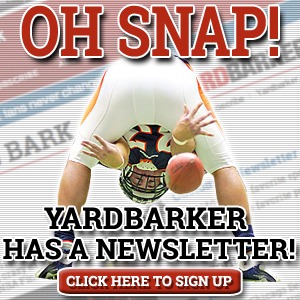 Latest Rumors
The Backyard

Today's Best Stuff

For Bloggers

Join the Yardbarker Network for more promotion, traffic, and money.

Company Info

Help

What is Yardbarker?

Yardbarker is the largest network of sports blogs and pro athlete blogs on the web. This site is the hub of the Yardbarker Network, where our editors and algorithms curate the best sports content from our network and beyond.