Found March 13, 2013 on Boston Sports Then & Now:
PLAYERS:
David Ortiz
,
John Farrell
,
Lyle Overbay
,
Mike Carp
,
Daniel Nava
,
Mike Napoli
,
Mauro Gomez
,
Ryan Lavarnway
,
Ryan Sweeney
,
Jarrod Saltalamacchia
,
David Ross
,
Jonny Gomes
,
Jackie Bradley
TEAMS:
Boston Red Sox
,
Toronto Blue Jays
That two year deal the Red Sox gave David Ortiz is already not looking good. David Ortiz will not be ready for opening day.  I know shocker.  After what seemed to be a rewarding offseason for the slugger getting a new 2 year deal he had been long waiting for, his achilles and heals will not be healed for opening day.  This injury happened in July running out a double and then flared up for a one game return.  I'm not saying Ortiz came into camp out of shape but how long will this injury effect the slugger who is expected to be a big part of the middle of the Red Sox lineup? Many people were skeptical of the two year deal the Red Sox gave Ortiz and saw it as a public relations move as he got three one year deals in a row in past offseasons. Why give him a two year deal at age 37, when he is one of the only true designated hitters in the league? Throw him in the Christmas at Fenway commercials and make him the main part of the Red Sox brand and bring the fans back.  I was one of the people who would not have been upset to have seen Ortiz walk this offseason.  The Red Sox are working on short term deals trying to restore faith in the team and win now while waiting for the young players to come in a year or two.  Ortiz can sometimes be a diva, like looking for his one RBI.  He is here now and here through the 2014 season. How long will Ortiz miss? That we do not know.  He has not even played in a spring training game yet and can barely run the bases, so it could be a while.  Sox manager John Farrell said that he will rotate the DH while Ortiz is out. Look for two and possibly all three in the group of Lyle Overbay, Mike Carp and Daniel Nava to make the team.  All are trying to make the team being the first person off the bench for Mike Napoli at first base and fill in a little bit in the outfield.  Also Mauro Gomez and Ryan Lavarnway could be thrown into the mix for the DH while Ortiz is out as they can hit.  Overbay is the only one of that group who is not on the 40 man roster so his chances are lower than the rest.  Overbay was willing to play outfield for the first time in his career for the Red Sox so if he continues to perform down the stretch of spring training, can't see how the Red Sox cut him. Carp and Lavarnway are the youngest of the crew looking to capitalize on this injury of Ortiz.  Carp coming over from the Mariners at the beginning of spring training for cash seems to be performing in spring training, where he almost surely has a spot on this team before the Ortiz injury.  Carp bats left handed which would fill in nicely for Ortiz and also help John Farrell with his lineup, which he has talked about going right, left, and so forth.  Nava seems to be holding onto a reserve outfield spot unless Ryan Sweeney beats him out.  Nava a switch hitter is giving first base a try in an attempt to make the team.  Another fill in could be Jarrod Saltalamacchia where David Ross, who is stronger defensively, could see more time behind the plate. There has also been talk of having Jonny Gomes DH and have Jackie Bradley Jr be the left fielder.  I find that to be a great idea in the short term but I feel Bradley needs a month or two at AAA. Spring Training stats do hold some value and the kid is going to be a player for sure but an extra month of tearing minor league pitching should not be a problem for Bradley. The Red Sox will need Ortiz to come back and be a big part of the middle of their lineup.  We don't really know the extent of the injury but this week he has been shut down from baseball activities. This opens up opportunities for other players to capitalize. Here's to hoping someone steps up for Ortiz, cause if they do, you bet John Farrell will find more at bats for them.
Original Story:
http://boston.sportsthenandnow.com/20...
THE BACKYARD
BEST OF MAXIM
RELATED ARTICLES
David Ortiz has tried to come back from this injury several times before. This time, he's going to take it slow and steady. Ortiz says he's opting for rest, including taking some anti-inflammatory medicine, to help deal with persistent pain and inflammation in his heel as he continues to come back from an Achilles injury suffered last July. "Opening Day was my goal," Ortiz...
It's still early yet in the spring, and already the Red Sox are dealing with a couple major injury headaches. While shortstop Stephen Drew is still suffering concussion symptoms, the even bigger worry for Boston is Big Papi. The Sox' designated hitter basically missed the last two months of 2012 with an issue with his Achilles heel, and now it's both heels that are said to...
Making sure David Ortiz is healthy is far more important than having him rush back for Opening Day. Looking at this roster his absence will be felt more than it would have been in recent years. For the first time since 2007 or 2008, Big Papi is being relief upon to carry the offense. This also ties into the narrative that giving Ortiz a two-year deal is as Gary Tanguay said, &quot...
  [caption id="attachment_58527" align="aligncenter" width="300"] It is unlikely that David Ortiz will be ready for Opening Day 2013 (Photo credit - CBSSports.com)[/caption] It was July 16, 2012. The Boston Red Sox were facing the Chicago White Sox in a midsummer match-up of two American League teams. One of whom was struggling to find its identity...
By now I'm sure everyone has heard the bad news regarding David Ortiz; the Red Sox DH will likely be out until past Opening Day. Well, with the news coming out this morning, manager John Farrell had some explaining to do. Upon reiterating that although Ortiz is not experiencing pain in the same Achilles tendon that ended his season last year, the slugger is struggling with the...
With the looming long absence of designated hitter David Ortiz the Red Sox are currently exploring players within their organization that could take the place of Ortiz while he is recovering from injury. One of the most recent paths that the manager John Farrell is exploring is right handed hitter and catcher Ryan Lavarnway. With the addition of David Ross in the offseason it was...
For the last 10 years David Ortiz has been a staple in the Red Sox offense. On April 1st he may not step into the batters box and be the DH for the team due to injury. Ortiz has not yet played in a game all spring training and is still not able to participate in running drills in consecutive days. To learn more about what Farell said about Ortiz's recent setback click here. So...
Fresh off the news of the David Ortiz injury that already left all of Red Sox Nation with a headache, Mike Napoli had a quick scare as well. In the third inning of yesterday's exhibition game against the Miami Marlins, Napoli took a fastball from Kevin Slowey right on his left wrist. Teammates, coaches, and even John Henry who was watching from the stands felt their hearts...
Soon it will be time for players to focus on the real thing, so get your autographs while you can. Spring training is almost at its half way point and before you know it, it's going to be April 1 and games will begin to have meaning again. Until then, spring training offers the players a time to sharpen up before the season starts and it gives the fans a good glimpse at everyone...
MLB News

Delivered to your inbox

You'll also receive Yardbarker's daily Top 10, featuring the best sports stories from around the web. Customize your newsletter to get articles on your favorite sports and teams. And the best part? It's free!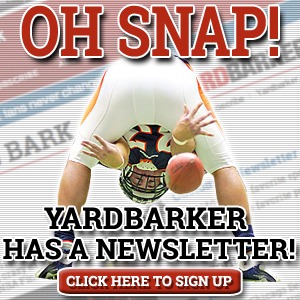 Latest Rumors
The Backyard

Today's Best Stuff

For Bloggers

Join the Yardbarker Network for more promotion, traffic, and money.

Company Info

Help

What is Yardbarker?

Yardbarker is the largest network of sports blogs and pro athlete blogs on the web. This site is the hub of the Yardbarker Network, where our editors and algorithms curate the best sports content from our network and beyond.