Found April 24, 2013 on Fox Sports Wisconsin:
MILWAUKEE -- With talented young pitchers come growing pains.The Milwaukee Brewers know there will be plenty of outings this season in which Wily Peralta makes people take notice of his talent but that there will be plenty of other times where the young right-hander leaves them scratching their heads. In four starts this season, the good Peralta has shown up for two outings, and the shaky version has come out in the other two. At age 23, ups and downs are going to be there. But as long as Brewers manager Ron Roenicke keeps seeing improvement, Peralta is going to learn on the fly in Milwaukee's starting rotation. "When you think about Wily at the beginning of the year, in spring training, I thought this was going to happen," Roenicke said. "(I knew there was going to be) some not so good games. As long as we see some good ones from him, because of the upside that he has, I would like to give him every opportunity to do well. But I don't know how far that goes and how bad it has to be before I change my mind." Though there's certainly no reason to pull the plug on Peralta in the rotation this quickly, he had two drastically different outings last week alone. Against San Francisco on Tuesday, Peralta was given an 8-3 lead but couldn't get out of the fifth inning to even qualify for the victory. He wasn't sharp in the early innings, then fell apart in a hurry in the fourth and fifth. His delivery sped up, his mechanics got out of whack and he couldn't locate his pitches. "He lost velocity in the fourth inning, and he lost velocity in the fifth inning," Roenicke said. "I don't know if it's because he's aiming the ball, but the ball didn't come out the same. "I don't know what happened in the fourth and fifth inning (against the Giants). He gets out of rhythm and starts aiming the ball and the fastball doesn't have the same life on it." Sensing something was going on with Peralta, Roenicke decided to pair him with catcher Martin Maldonado for his Sunday start against the Cubs. Not that Peralta's struggles have much to do with Jonathan Lucroy catching for him, but Peralta seems to have a certain comfort level with Maldonado dating back to their time together in the minor leagues. Against the Cubs, Peralta was much sharper and made just one mistake a hanging slider Anthony Rizzo hit out of the park for a two-run home run in tossing 6 23 innings to pick up his first win of the season. "The key to the outing was I wasn't just using fastballs," Peralta said. "My off-speed was much better. I was struggling my last outing with my off-speed (pitches), and today I finally got it (going)." Peralta has a history of inconsistency at the start of seasons. The Brewers caught a glimpse of the ceiling Peralta has when he was called up at the end of last season and are hopeful he'll settle in. Command of his live fastball that can reach 96 to 97 mph and the continued development of his slider and change-up will go a long way in how successful Peralta is this season. "His command last year, it took him a while to get it," Roenicke said. "He had a lot of starts in Triple-A where he didn't have his command and then he got to the point where he'd have command and the next start he wouldn't. Then he got to a stretch of 10 games where his command was really good before he came up here. Once he came up here, he was good. "I don't know if he is just going through a period where he starts slow in his command. Obviously, the longer he plays, we will be able to see. He's young. He's finally getting into his body and figuring out his mechanics enough to the point where he can repeat pitches." Not only is Peralta trying to adjust to pitching in the big leagues, he's trying to get comfortable with all the attention that comes with being a starting pitcher at this level. Peralta is confident but very soft-spoken.There's likely going to be a day when Peralta consistently pitches to his ability, but it might not be this season. It's hard to have patience in sports, especially when a team expects to contend for a spot in the postseason, but baseball is a game of patience. Peralta's day will come; there are just going to be plenty of speed bumps along the way. Follow Andrew Gruman on Twitter.
Original Story:
http://www.foxsportswisconsin.com/mlb...
THE BACKYARD
BEST OF MAXIM
RELATED ARTICLES
Ouch. And again we say: Ouch. Brewers pitcher Kyle Lohse incurred a nasty pinky injury on his left hand in Monday night's game, and he did it the last way a pitcher wants to get hurt: running the bases. Well, to be more precise, he was trying to get to first base after laying down a sacrifice bunt. Instead, Lohse's finger got caught on Padres second baseman Jedd Gyorko, who was...
It took only six days, but Major League Baseball has finally determined that Brewers shortstop Jean Segura and anyone else who might want to run backward on the basepaths doesn't have the right to "steal" first base. During Milwaukee's Friday night victory against the Cubs, Segura was on second base and Ryan Braun was on first base when Segura got caught in a...
Yuniesky Betancourt crushed a three-run homer to left field to give the Brewers an early lead in the top of the first, but it was the play in the stands which got the most attention. Check out the young Padres fan who laid out backwards to haul in the dinger with no regard for his safety. Very impressive work. Your browser does not support iframes. Article found on: Next Impulse Sports
It was a tough way for the Milwaukee Brewers to have their nine-game winning streak come to an end. With the tying run on second base and two outs, Brewers first baseman Martin Maldonado fouled a pitch that hit off the dirt and bounced up and hit him in the shoulder. Home plate umpire Paul Emmel ruled Maldonado was out of the batters' box when the ball hit him, ending the game...
Milwaukee Brewers right-handed starting pitcher Kyle Lohse dislocated his left pinky finger during Monday night's contests against the San Diego Padres. While certainly painful, the injury is to Lohse's non-throwing hand, and the veteran told reporters – including Tom Haudricourt of The Journal Sentinel – that he's hoping to make his next scheduled start. &quot...
With Ryan Braun leading the way, the Milwaukee Brewers find themselves on the verge of their longest winning streak in 10 seasons. Victories, in contrast, haven't been easy to come by for the San Diego Padres - especially at home. Milwaukee aims for a ninth consecutive win when it continues a three-game set against the slumping Padres on Tuesday night at Petco Park. After opening...
Earlier today, Jim Breen / @JP_Breen - head writer at the wonderful Disciples of Uecker site and a contributor at fangraphs.com - asked fans, via twitter, if they thought Yuniesky Betancourt had "fundamentally changed as a player." This question was asked in light of Betancourt's unexpected offensive contributions as an everyday player so far this season. For those...
The Milwaukee Brewers continue to roll and aren't showing any signs of slowing down. The slumping San Diego Padres are surely glad to see them leaving town. Seeking a 10th consecutive win, the Brewers try to sweep the Padres for the first time in 10 seasons Wednesday night. After winning 7-1 in Monday's series opener, Milwaukee (11-8) jumped all over San Diego starter Clayton...
Yovani Gallardo pitched into the seventh inning and the Milwaukee Brewers rode an early offensive outburst to another win, beating the San Diego Padres 6-3 Tuesday night for their ninth straight win. Gallardo (2-1) allowed three runs and eight hits in 6 2-3 innings, with five walks and two strikeouts. Jonathan Lucroy hit a two-run double in the Brewers' five-run second inning...
*Yuniesky Betancourt, Spring Training 2013 casualty, is now with the Milwaukee Brewers and is batting .279/.795 with 3 HR and 15 RBI.  Instead of releasing him, Amaro should have signed him to a 5 YR/$125M contract.  Don't ya think?!*Ben Revere might be a defensive whiz, but his offense negates any good he does with the glove.  His OPS is .472, which ranks 186th out of 192...
(Photo: TOM LYNN/AP) Last weekend, the Brewers won two games thanks to several timely errors by the Cubs.  In games started by Edwin Jackson and Scott Feldman, the Brewers took the lead on unearned runs both times.  It seems like a shame for Jackson and Feldman to get tagged with losses in those cases (as much as the Cubs losing can be a "shame" anyway). It got me thinking...
MLB News

Delivered to your inbox

You'll also receive Yardbarker's daily Top 10, featuring the best sports stories from around the web. Customize your newsletter to get articles on your favorite sports and teams. And the best part? It's free!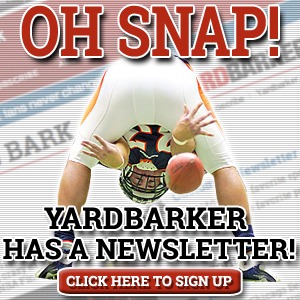 Latest Rumors
The Backyard

Today's Best Stuff

For Bloggers

Join the Yardbarker Network for more promotion, traffic, and money.

Company Info

Help

What is Yardbarker?

Yardbarker is the largest network of sports blogs and pro athlete blogs on the web. This site is the hub of the Yardbarker Network, where our editors and algorithms curate the best sports content from our network and beyond.