Found June 13, 2012 on isportsweb.com:
Kyle Kendrick of the Philadelphia Phillies is a temporary starter.  How do the fill-ins for Washington match-up with the locals?  The Apocalyptic Horsemen Stats are in my recent coverage linked below.
TAL'S HANDY STATS
WELCOME, NEWCOMERS:
I am alternating a game-day 2012 ERA For The NL East and a 2012 ERA For The MLB 5. See link section below. In each publication, the number after the title will be based on the quantity of outcomes played by the Phillies.
Top Performance Last Night: Mike Minor Pictured During 7.1 Solid Innings At The Ted Against The Yankees
Check out:  Philadelphia Phillies storyline: Trade partners
REASONING For The Stats:
These numbers are a glimpse over the pitching coach's shoulder, because they warn of difficulty ahead. The rule of thumb is that the bullpen load should be no more than 33.3%, which is a 6-complete average per scheduled outing. That is why going a distance into the game is 6.1 frames or more, which is 70.4%. The added detail of 1 out per contest is 54 innings over the long summer's course. This also shows the mound masters that give the relievers a well deserved night off, but there is a rust factor due to lack of backend chances. If there are any questions, please ask.
Note:  All old ERA tables are automatically updated.
STARTING & RELIEF PITCHING:
CLUBSP INNSP ERSP ERASP PERRP PERRP INNRP ERRP ERA Phillies405.11733.8471.5%28.5%161.10784.35 Braves364.21634.0266.0%34.0%187.20813.89 Fish394.21663.7970.7%29.3%163.20754.12 Nats364.11202.9666.9%33.1%180.00613.05 Mets371.21513.6667.7%32.3%177.11005.08
TOTAL PITCHING & STARTS OF 6.1 INNINGS OR MORE:
CLUBINNERERAARMSCONVGMSPER Phillies566.22513.996326350.8% Braves552.12443.986256240.3% Fish558.12413.895366258.1% Nats544.11812.995246040.0% Mets549.02514.126276243.6%
KEYS:
ABRVS.MEANING ARMSPitchers With 6.1 Innings Plus CONVConverted Start Of 6.1 Innings Or More LastLast Conversion ResultOutcome Of Last Start UpdateNext Start Or Status Change Note:Listing is in order of conversion, including time of day. SESeason Ending IRInjury Replacement
STARTERS WITH OUTINGS OF 6.1 INNINGS OR MORE:
NOTE:  Click entries button to open more than the visible 10.
CLUBHURLERCONVLASTRESULTUPDATE 01MIASanchez09 of 136/05Short 02PHLHalladay08 of 115/17 DL'ed 02PHLHamels08 of 126/02 5:44 PMNight 02ATLBeachy08 of 126/02 5:56 PM 02NYMGee08 of 126/09 02MIABuehrle08 of 136/12CONV 07NYMDickey07 of 126/07Night 07MIAJohnson07 of 136/11 8:56 PM 07WASJackson07 of 126/11 9:30 PM 10NYMSantana06 of 126/01 10MIAZambrano06 of 126/03 10PHLLee06 of 106/05 Short 10PHLBlanton06 of 126/08 10WASGonzalez06 of 126/09 10WASZimmermann06 of 126/10 CONV 16MIANolasco05 of 126/02Night 16ATLHudson05 of 086/05Night 18ATLHanson04 of 136/09 18ATLMinor04 of 126/12CONV 20WASStrasburg03 of 126/02Day 20ATLDelgado03 of 126/06Short 20NYMNiese03 of 126/10CONV 23PHLWorley02 of 094/30 23PHLKendrick02 of 095/26Short 25NYMPelfrey01 of 034/21 SE DL'ed 25WASDetwiler01 of 095/03 IR PEN'ed 25NYMBatista01 of 045/14IR PEN'ed
LINK-UP BELOW:
There are previews–time permitting–of my next storyline at Tal's Handy Caps on Facebook.  Join for notification of future glimpses, which will be almost daily.  You'll also know immediately when my isportsweb post goes up.  It might be worth your while because there are delays of 2 hours on most feeds.
Check out my previous publication (Importance Defined) and the 66 storylines–so far–for 2012 on the Phillies page or my author archives, where there is an excerpt photo.
Tal's Handy Stats is daily coverage. I am alternating the 2012 ERA For The NL East and the 2012 ERA For The MLB 5. Thank you, to all who bookmarked the Phillies page.
TAL'S HANDY LINKS
TAL'S HANDY CAPS on Facebook (time problem lately)
Philadelphia Phillies storyline: The new dynamic
Philadelphia Phillies: 2012 ERA for the MLB 5 at game 62
Original Story:
http://isportsweb.com/2012/06/13/phil...
THE BACKYARD
BEST OF MAXIM
RELATED ARTICLES
OK, so now that the Chase Utley news has sunk, let's examine what the commencement of a minor league rehab stint means for the Phillies' second baseman… - It means first and foremost that Utley begins a 20-day clock, which is true for all position players once an official minor league rehab assignment begins. This means that, barring a setback, Utley will be back in the major...
The Philadelphia Phillies were three games over .500 and had won seven of nine after Kyle Kendrick pitched them to victory June 1 - right around the time the Minnesota Twins began their current surge. Much has changed for the Phillies since. Kendrick takes the hill looking to help Philadelphia avoid a ninth loss in 10 games when it makes its first visit to Target Field on Tuesday...
Cole Hamels- AP Nothing comes east these days for the Phillies, as the National League East division's last place club went down to the wire on Wednesday night to notch a victory over the Twins by a score of 9-8. Behind a less-than-sharp Cole Hamels, the Phils were able to lock down a win in a month when such results aren't very common.  The game marked just the third time...
MINNEAPOLIS This three-game series between the Philadelphia Phillies and Minnesota Twins is likely Jim Thome's last go-round at Target Field, the site of some of his mammoth home runs over the past few years. Thome added one more to the list Wednesday. In the fourth inning of the Phillies' 9-8 win, Thome took Twins reliever Anthony Swarzak deep for a two-run homer to...
It is official; Chase Utley will begin his rehab assignment with Class-A Clearwater today. This gives him 20 days to return to the big league club, putting his return around or before July 2, 2012. Are you totally psyched? No? Yeah, I am not terribly optimistic either. It would just be wrong to expect the Utley of 2008 with 33 homers and a .380 on-base percentage to return. He has...
At the start of the season, everyone was worried about the Phillies offense being strong enough to carry a solid starting pitching staff to wins. Now that the offense is slowly piecing runs together, the entire pitching staff has fallen apart. Let us examine the grisly evidence: Roy Halladay is on the DL. Vance Worley is pitching will bone chips in his elbow. Cliff Lee has no wins...
Here is tonight's Phillies lineup, game time is 7:05 on Phl 17:  Jimmy Rollins-  SS Placido Polanco-  LF Hunter Pence-  RF Jim Thome- DH Shane Victorino-  CF Carlos Ruiz- C Ty Wigginton-  3B John Mayberry- LF Michal Martinez- 2B             Joe Blanton- P  
The Phillie Phanatic tends to mess around with people, but he may have taken things too far recently. The Phillies mascot has been sued for allegedly throwing a woman into a hotel pool in July 2010. The woman, Suzanne Pierce, claims she was hurt pretty badly after landing in the shallow end, suffering "severe and permanent injuries to her head, neck, back, body, arms and legs...
MINNEAPOLIS -- In desperate need of some good news, the Philadelphia Phillies pounded out 15 hits and survived the Minnesota Twins' rally on Wednesday, snapping a three-game skid with a 9-8 win. Cole Hamels (9-3) pitched into the seventh inning and got much-needed run support for the Phillies, who remain 9 1/2 games behind the Washington Nationals in the NL East. John Mayberry...
It wasn't the debut Colby Shreve wanted to make at the Double-A level. On Thursday, fresh off the excitement of his second promotion of the season, the 24-year-old surrendered three hits and walked three batters, while letting up six runs (five of those earned) in two-thirds of an inning, in relief for the Reading Phillies. The disappointment was far greater than he had felt at...
MINNEAPOLIS -- In desperate need of a win, the Philadelphia Phillies pounded out 15 hits and survived a Minnesota Twins rally on Wednesday, snapping a three-game skid with a 9-8 win. Cole Hamels (9-3) pitched into the seventh inning and got much-needed run support for the Phillies, who entered the evening 10 games out of first place in the NL East, but kept pace with the Nationals...
Here's a running list with injury updates around the Major Leagues: – According to Todd Zolecki of MLB.com, doctors found a a pars fracture in Freddy Galvis' lower back and he will be in a brace for the next three weeks. "Then we're going to reexamine him and see where we're at," said the Phillies head athletic trainer Scott Sheridan. "Based on his symptoms...
MLB News

Delivered to your inbox

You'll also receive Yardbarker's daily Top 10, featuring the best sports stories from around the web. Customize your newsletter to get articles on your favorite sports and teams. And the best part? It's free!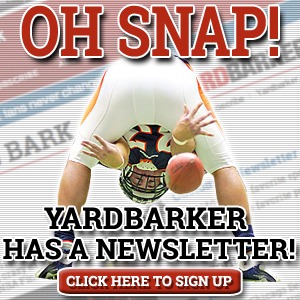 Latest Rumors
The Backyard

Today's Best Stuff

For Bloggers

Join the Yardbarker Network for more promotion, traffic, and money.

Company Info

Help

What is Yardbarker?

Yardbarker is the largest network of sports blogs and pro athlete blogs on the web. This site is the hub of the Yardbarker Network, where our editors and algorithms curate the best sports content from our network and beyond.