Found July 23, 2012 on isportsweb.com:
Joe Blanton of the Philadelphia Phillies slots in behind the aces.  How do the Braves compare at the bottom of their rotation?  The Apocalyptic Horsemen Stats are in my recent coverage linked below.
TAL'S HANDY STATS
WELCOME, NEWCOMERS:
I am alternating a game-day 2012 ERA For The NL East and a 2012 ERA For The MLB 5. See link section below. In each publication, the number after the title will be based on the quantity of outcomes played by the Phillies.
Top Performance Yesterday: Kentucky Joe Dials-Up A 2-Seam Fastball At The Bank During 8 Strong Innings Against The Giants
Tal's Handy Stats will be delayed until the daily article's feed is completed.
Check out:  Philadelphia Phillies storyline: Plan B 
REASONING For The Stats:
These numbers are a glimpse over the pitching coach's shoulder, because they warn of difficulty ahead. The rule of thumb is that the bullpen load should be no more than 33.3%, which is a 6-complete average per scheduled outing. That is why going a distance into the game is 6.1 frames or more, which is 70.4%. The added detail of 1 out per contest is 54 innings over the long summer's course. This also shows the mound masters that give the relievers a well deserved night off, but there is a rust factor due to lack of backend chances. If there are any questions, please ask.
Note:  All old ERA tables are automatically updated.
STARTING & RELIEF PITCHING:
CLUBSP INNSP ERSP ERASP PERRP PERRP INNRP ERRP ERA Phillies622.02753.9872.0%28.0%242.11274.72 Braves545.22634.3464.5%35.5%300.21163.47 Fish585.02624.0368.8%31.2%265.21264.27 Nats561.02013.2365.7%34.3%293.01113.41 Mets580.22463.8168.9%31.1%262.01465.02
TOTAL PITCHING & STARTS OF 6.1 INNINGS OR MORE:
CLUBINNERERAARMSCONVGMSPER Phillies864.14024.196549656.3% Braves846.13794.037359536.8% Fish850.23884.115489550.5% Nats854.03123.296339435.1% Mets842.23924.196459547.4%
KEYS:
NOTE:  Click entries button to open more than the visible 10.
ABRVS.MEANING ARMSPitchers With 6.1 Innings Plus CONVConverted Start Of 6.1 Innings Or More LastLast Conversion ResultOutcome Of Last Start UpdateNext Start Or Status Change Note:Listing is in order of conversion, including time of day. SESeason Ending IRInjury Replacement PCPitch Count Limit 6M6th Man (Starter) C1Call-Up For 1 Start
STARTERS WITH OUTINGS OF 6.1 INNINGS OR MORE:
NOTE:  Click entries button to open more than the visible 10.
CLUBHURLERCONVLASTRESULTUPDATE 01PHLHamels14 of 197/21CONV 02MIASanchez13 of 197/22CONV 03MIABuehrle12 of 197/14 03NYMDickey12 of 197/19 03PHLBlanton12 of 197/22CONV 06NYMGee10 of 167/07 DL'ed 06PHLLee10 of 167/18 06NYMNiese10 of 197/22CONV 09WASZimmermann09 of 197/08Night 09MIAJohnson09 of 187/18Night 09WASJackson09 of 187/21CONV 12PHLHalladay08 of 125/17 Night PC 12ATLBeachy08 of 136/02 SE DL'ed 12ATLHudson08 of 157/06 15MIAZambrano07 of 196/26Short 15NYMSantana07 of 196/30 15ATLHanson07 of 207/07 18WASGonzalez06 of 196/09 18MIANolasco06 of 196/25 20PHLKendrick05 of 137/06 20PHLWorley05 of 167/14 22ATLMinor04 of 186/12Night 22ATLDelgado04 of 176/17ShortIR AAA'ed 22WASStrasburg04 of 196/20 22WASDetwiler04 of 147/22CONV 26NYMYoung03 of 087/04Night 27ATLJurrjens02 of 107/08Short 28NYMPelfrey01 of 034/21 SE DL'ed 28NYMBatista01 of 055/14ShortIR PEN'ed 28WASLannan01 of 017/21CONVC1 AAA'ed
LINK-UP BELOW:
Tal's Handy Caps on Facebook is for notification of posts and any holdups that may occur. It might be worth your while because there are delays of 2 hours on most feeds.
Check out my previous publications (One More Series) and the 80 storylines–so far–for 2012 on the Phillies page, where there is an excerpt photo.
Tal's Handy Stats is daily coverage. I am alternating the 2012 ERA For The NL East and the 2012 ERA For The MLB 5. Thank you, to all who bookmarked my page.
TAL'S HANDY LINKS
TAL'S HANDY CAPS on Facebook 
Philadelphia Phillies storyline: 11th-hour remedies
Philadelphia Phillies storyline: Near the edge (Horsemen Stats)
Tal Venada (Author Archives)
Philadelphia Phillies: 2012 ERA for the MLB 5 at game 96
Original Story:
http://feedproxy.google.com/~r/isport...
THE BACKYARD
BEST OF MAXIM
RELATED ARTICLES
According to the New York Post's Joel Sherman (@Joelsherman1), the Phillies have elevated their offerings to left hander Cole Hamels to $140 million. Although the offer is close to Hamels' asking price, Hamels has not yet said yes to it. Hamels is 11-4 with a 3.23 ERA in 19 starts this season, the last of his contract with Philadelphia. The lefthander has been in the Phillies...
Cole Hamels is the first name on the to-do list for the Philadelphia Phillies.  Is he the only player with an expiring contract that will return? TAL'S HANDY CAPS WELCOME, NEWCOMERS: I will publish after every battle that is not washed out.  I will have many season-long highlights of puzzle pieces, especially important after drubbings and defeats. If you were directed here...
As I wrote over the weekend, third base is an exceptionally thin position. The Phillies are finding that out, again, as Placido Polanco deals with a balky back that has him in the MRI tube. It's becoming abundantly clear that they'll have to go in a new, and hopefully younger, direction next season. Ryan Roberts could be the move. Roberts, 31, won't be mistaken for Mike Schmidt...
Something to smile about for Jimmy and the Phils. (AP) So, they won one. Cue the fireworks! I kid, I kid. Jimmy Rollins singled in the winning run in the 12th inning to give the Phillies a 4-3 win over the Giants to avoid being swept. John Mayberry Jr. homered twice, giving him eight for the season. Chase Utley hit his first triple of the season. Joe Blanton gave them eight...
SOMETHING YOU DON'T SEE...
Your browser does not support iframes. Any home run hit by a pitcher is a rare accomplishment. We see maybe a handful or so each season, and oftentimes it looks like complete luck. What happened on Saturday with Cole Hamels and Matt Cain was rarer than rare. Both the Giants and Phillies starting pitchers hit home runs — in the same inning. The last time two pitchers hit homers...
The bad Cliff Lee showed up tonight for the Phils, but it wouldn't matter. (AP) For the second straight night, the Phillies managed to pull off a remarkable, come-from-behind victory over the Brewers, once again defeating them 7-6 after taking the lead late. Erik Kratz and Carlos Ruiz fueled an exciting four-run eighth inning to put the Phillies in front. It looked bleak for...
Phillies lock up Cole Hamels with monster extension, sources say.
Will we be kissing Vic goodbye soon? (ESPN) -Jim Salisbury of CSNPhilly.com says the Phillies are still actively trying to sign Cole Hamels as we're just over seven days from the July 31 trade deadline. "They're trying — actively trying," a person with knowledge of the situation told CSNPhilly.com on Monday afternoon. "They're making offers." I've never doubted...
Cole Hamels is reportedly close to a six-year extension with the Phillies. (Philliedelphia/Kevin Durso) After winning three straight games in dramatic fashion, maybe things are turning around for the Phillies. One of the big things that say their not sellers: extending Cole Hamels. The Phillies appear to have done that. After making a six-year offer worth upwards of $140 million...
Roy Halladay returned to Citizens Bank Park for the first time since coming off the disabled list during the Dodgers series. He would face Randy Wolf and the Milwaukee Brewers.  It didn't start out on a good note for Doc. In the first inning, Carlos Gomez was able to score on a double from Aramis Ramirez. Corey Hart later brought home Ramirez with an RBI single, giving the...
The last time the Philadelphia Phillies and Milwaukee Brewers were preparing to open a series, both clubs were rolling toward a division title. That's definitely not the case this time. Roy Halladay will try to give the Phillies back-to-back home wins for the first time in nearly a month in Monday night's series opener against the struggling Brewers. When the Phillies...
Danielle Wilson/Philliedelphia  This didn't look promising from the sixth inning on, but another burst of offense would lead the Phillies to another comeback win, as crazy as it sounds.  Another rough start to tonight's game led the Brewers to scoring the first run. This happened in the top of the first when Corey Hart singled to score Ryan Braun. Cliff Lee's pitch...
Phillies News

Delivered to your inbox

You'll also receive Yardbarker's daily Top 10, featuring the best sports stories from around the web. Customize your newsletter to get articles on your favorite sports and teams. And the best part? It's free!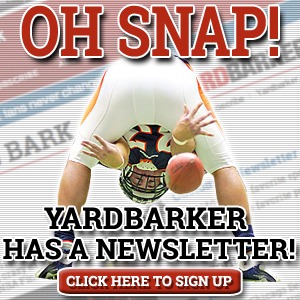 Latest Rumors
Best of Yardbarker

Today's Best Stuff

For Bloggers

Join the Yardbarker Network for more promotion, traffic, and money.

Company Info

Help

What is Yardbarker?

Yardbarker is the largest network of sports blogs and pro athlete blogs on the web. This site is the hub of the Yardbarker Network, where our editors and algorithms curate the best sports content from our network and beyond.